The holiday season is a time for warmth, joy, and the spirit of giving. One of the best ways to embrace the festive atmosphere is by adorning your home with holiday decor. While we often focus on the tree and other interior elements, don't overlook the potential of your walls and the wall art it can be home to. It's the perfect place to add Christmas decor for small spaces or large rooms.
With the festive season approaching faster than you can say "Santa's sleigh", it's high time to glam up those blank walls and transform your living spaces into a magical winter wonderland. So, buckle up, because we've got some rockin' Christmas wall decor ideas that are perfect for the season!
1. Jolly Wall Art Art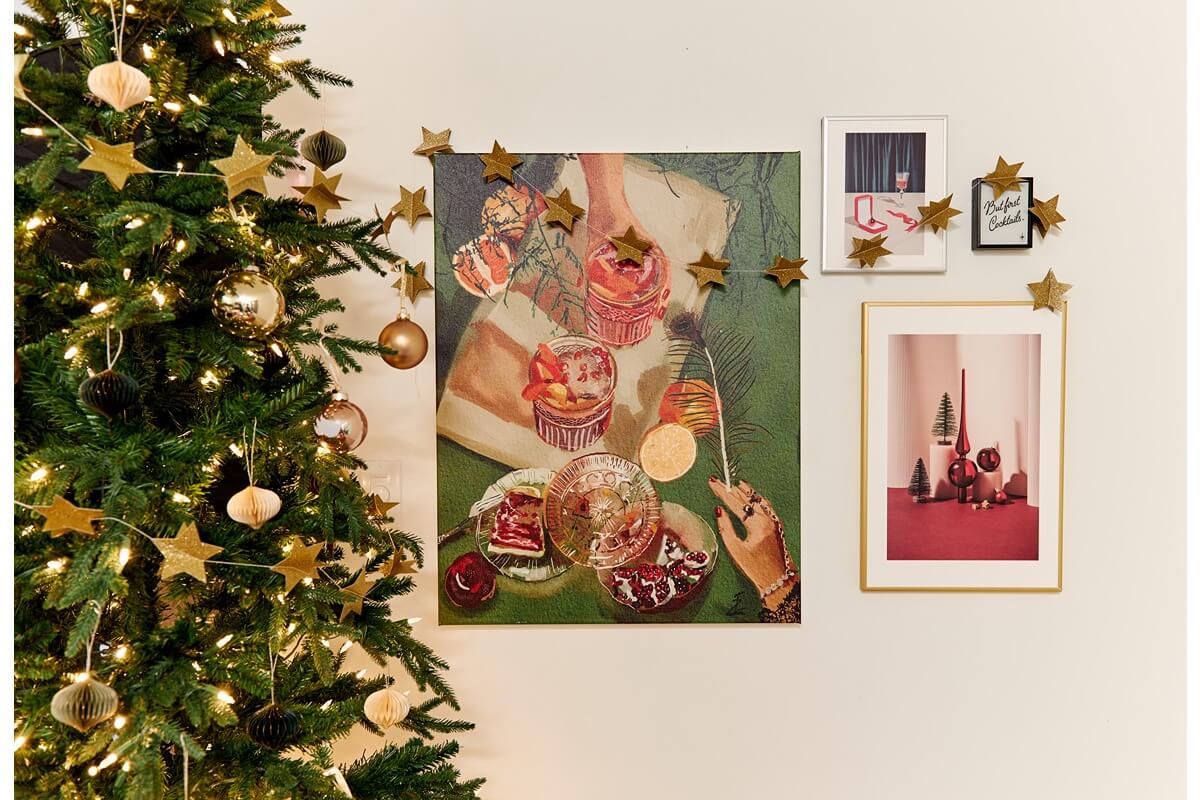 Turn your space into a veritable Christmas comic strip with vibrant and quirky wall art decor. Think Andy Warhol meets Rudolph. A blend of bold colors and classic Christmas icons will surely make your heart—and your walls—jingle! Consider hanging Christmas wall art like a pop art Santa Claus painting above your fireplace for a festive focal point.
2. Botanical Wreath Medley
Nature lovers, rejoice! The Christmas decor trend of incorporating earthy elements is here. Craft a handmade wreath with eucalyptus, pinecones, and holly. It's rustic, charming, and farmhouse chic. Add a touch of sparkle with fairy lights or glittery ornaments.
3. Glamorous Gilded Frames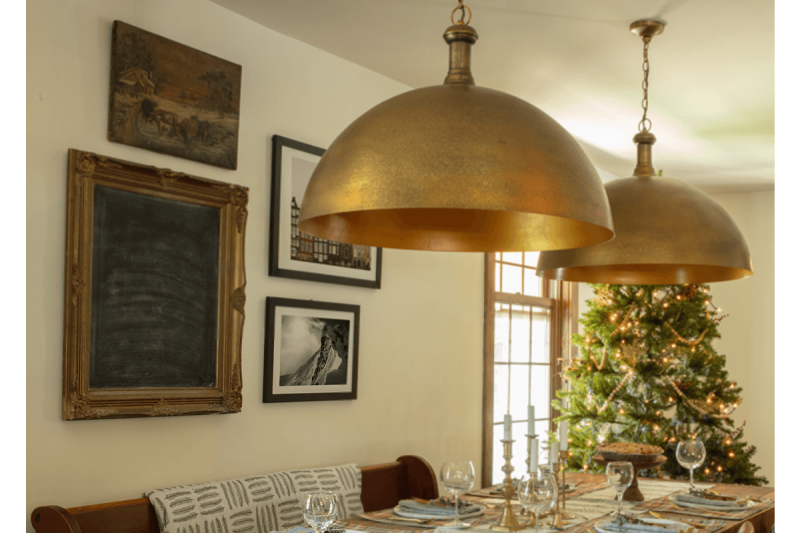 For those who believe more is more, ornate golden frames are the ticket. Fill them with vintage Christmas cards or old family holiday photos. A gilded touch oozes opulence and brings the splendor of Christmases long, long ago. Hang them in a gallery wall layout for a truly eye-catching display.
4. Dazzling Disco Ball Ornaments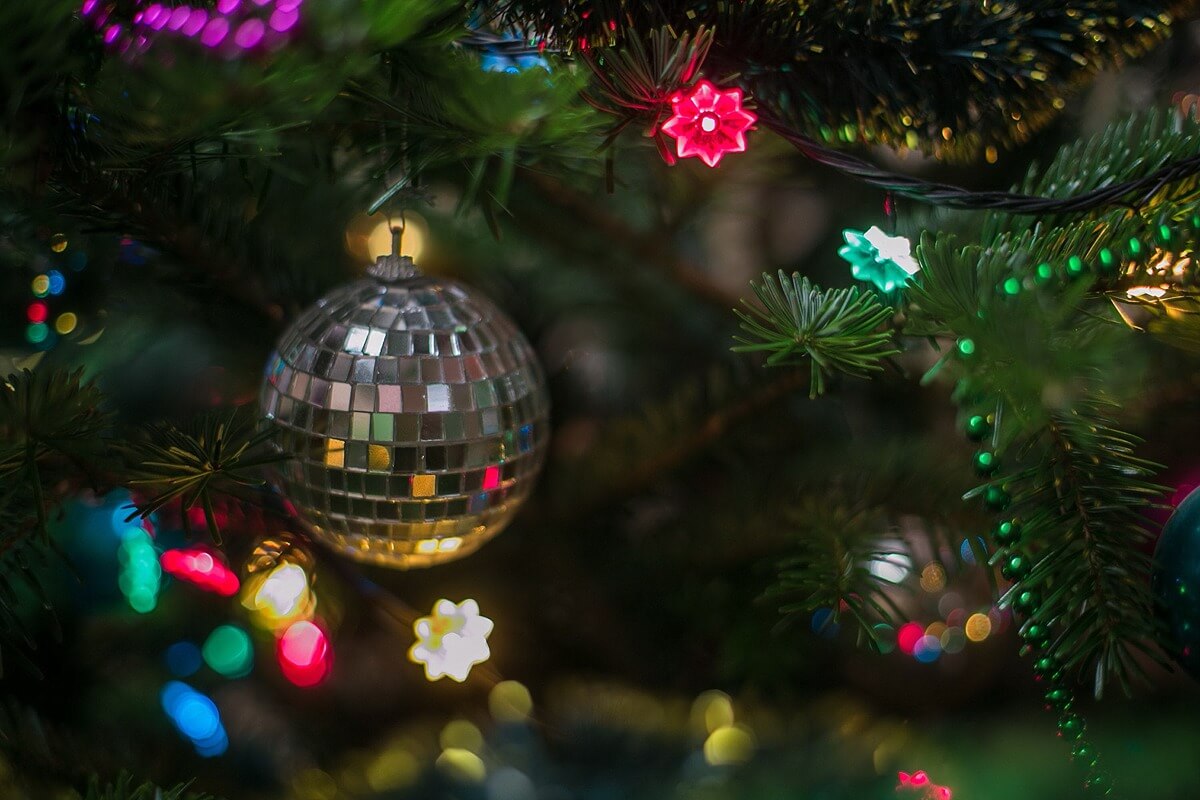 Here's a twirl on the classic Christmas bauble. Hang multiple disco ball ornaments against a brightly colored wall. They'll catch the light, dazzle your guests, and make every day feel like a festive dance party. Add a mirror ball to the center of the display for a truly disco-glam look.
5. Farmhouse Wooden Christmas Signs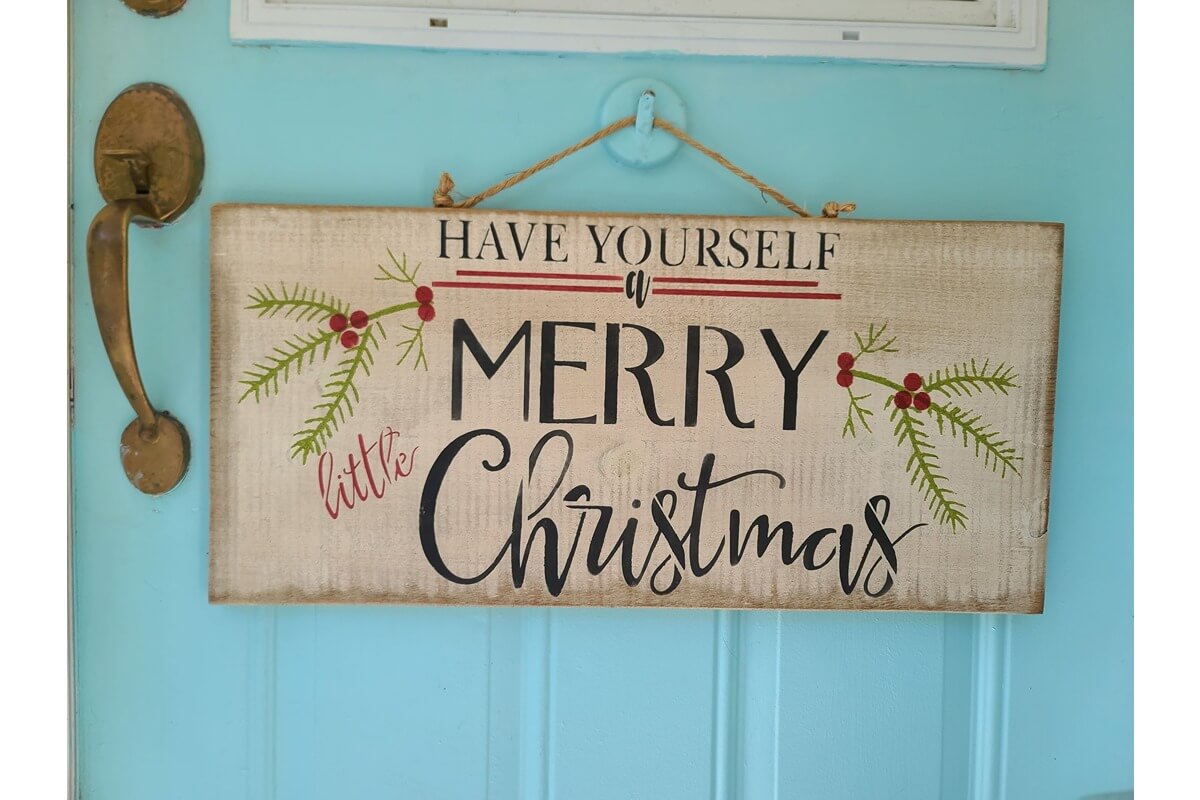 Crank up that countryside charm! Wooden signs with rustic finishes, painted with heartwarming festive messages, are all the rage. These wall decor ideas for Christmas are as warm as grandma's cookies. Display them in a cozy corner of your home for a welcoming and inviting feel.
6. Vintage Velvet Tapestries
Ah, the luxury of velvet! Hang lush, deep-colored velvet tapestries adorned with golden thread embroidery. They add texture, warmth, and a hint of vintage royalty to your Christmas wall decoration ideas. Pair them with other luxurious accents, such as velvet pillows and throws, for a truly decadent look.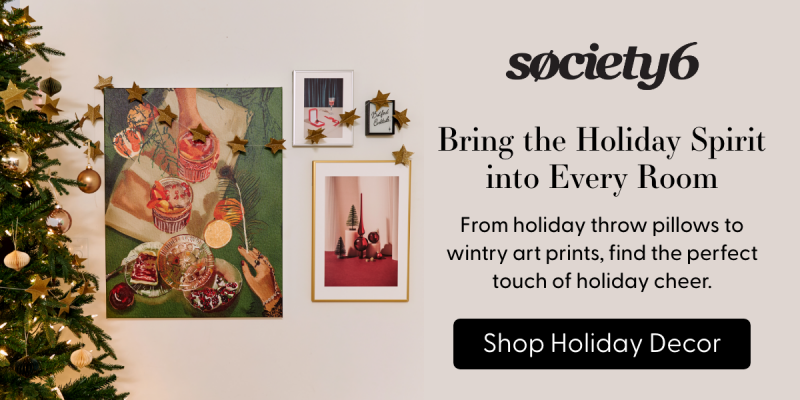 7. Neon Noel Signs
Give traditional Christmas decorating ideas for walls a neon twist. 'Noel', 'Joy', or 'Merry' in bright neon lights will ensure your home interiors are lit with holiday cheer, quite literally! Hang them in a central location of your home so they can be seen and enjoyed by everyone.
8. Magical Mason Jar Lanterns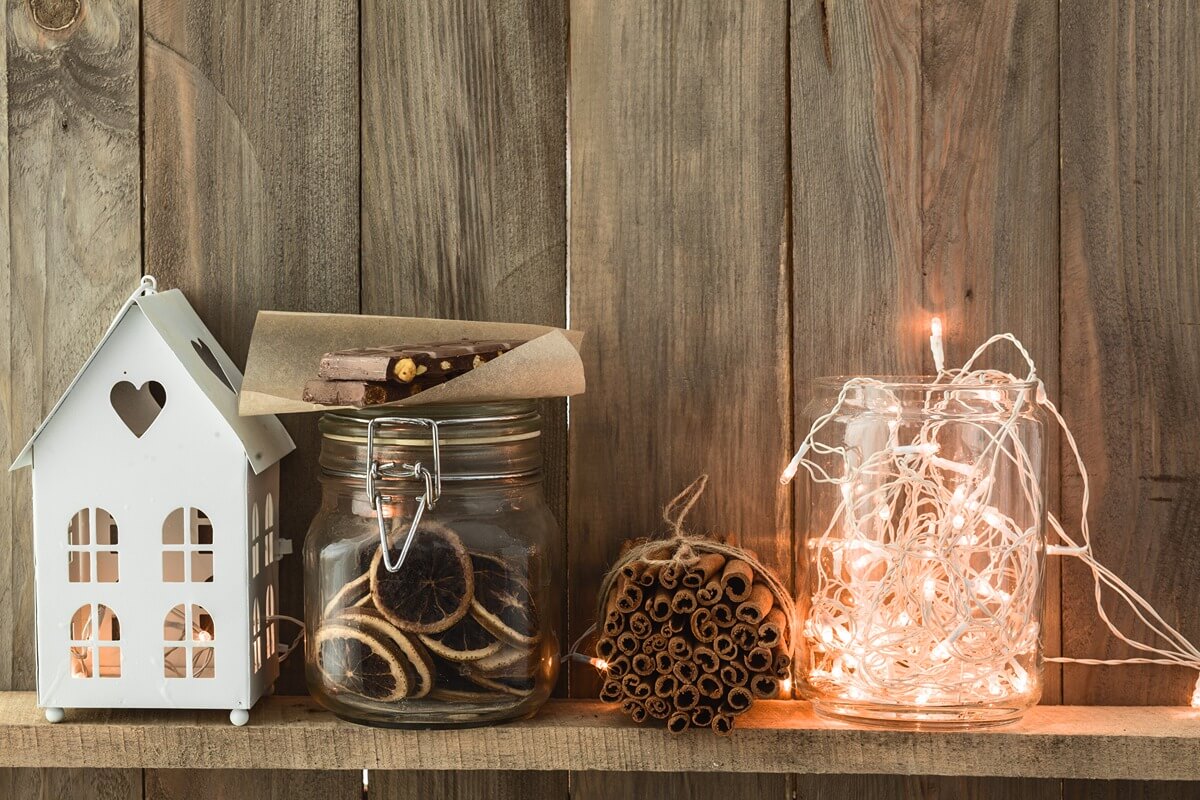 Why let mason jars gather dust when they can shine bright? Fill 'em up with fairy lights, sprigs of pine, or even some faux snow. Arrange them on a wooden shelf or hang them in a staggered manner. The soft glow will make your walls come alive with a dreamy ambiance.
9. Baroque-inspired Wall Mirrors
Reflection, reflection on the wall, who has the fairest Christmas of them all? Baroque-inspired mirrors with intricate designs can double up your Christmas lights and decor, making the space feel grand and festive. Place them across from a window to reflect the natural light and create a dazzling display.
10. Woodland Creature Silhouettes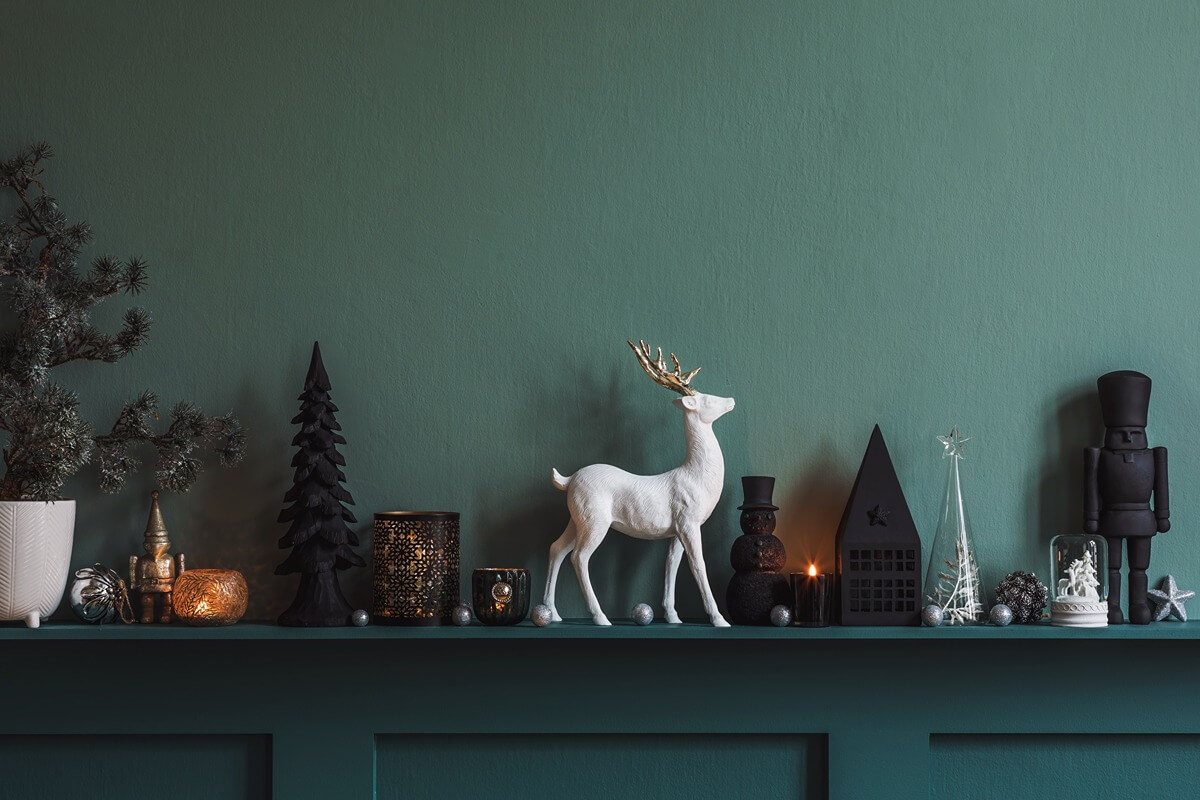 Think deer, squirrels, and owls in wooden cut-outs or gold sculptures. These silhouettes give a nod to the serene beauty of winter forests, making your space cozy and earthy. Arrange them in a whimsical pattern on a wall for a unique and eye-catching display. You can do the same with reindeer for an even more festive look!
11. DIY Yarn Wall Hangings
Unleash your inner artist with DIY yarn wall hangings. Mix and match bright colors, tassels, and beads. They're boho, festive, and full of personality. Display them in a group or as individual pieces to add a touch of whimsy to your walls.
12. Enchanted Elf Ladder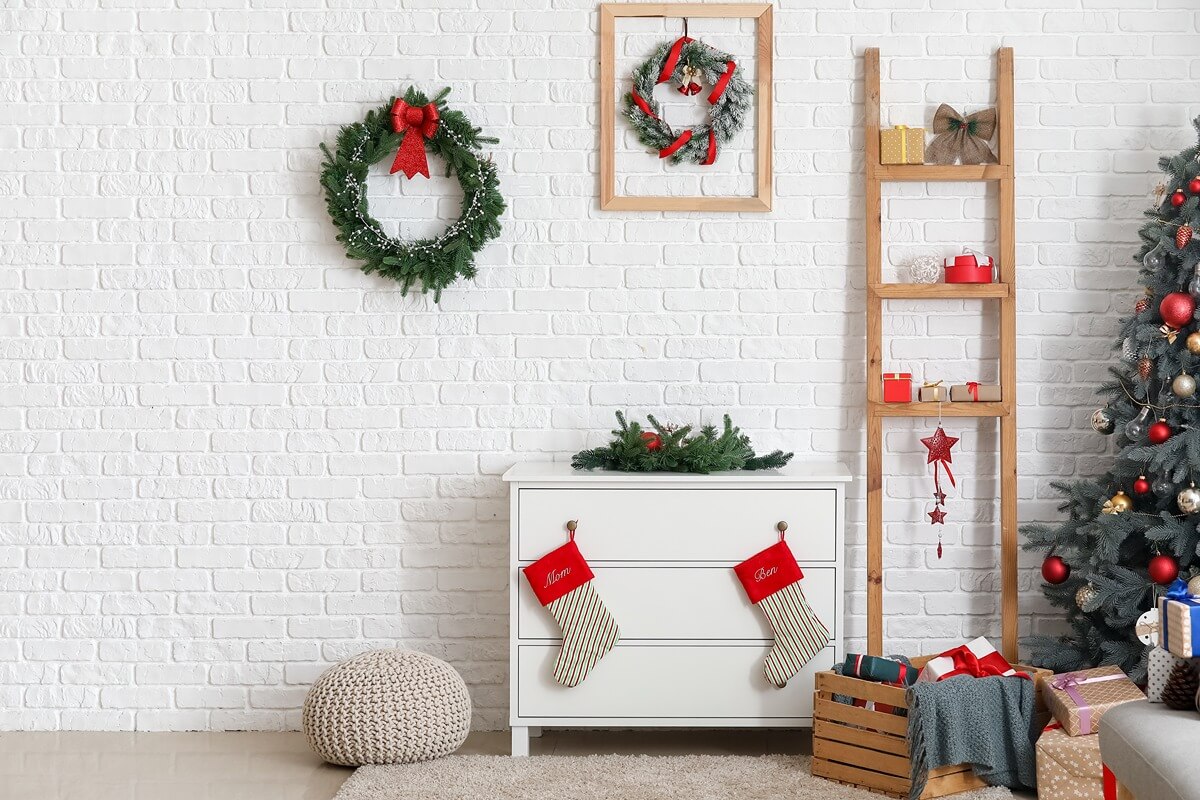 Little elves climbing a ladder to string lights or hang stockings? Cute as a button! Prop up a mini ladder against your wall and let the elves have their fun on your wall.
13. Geometric Christmas Trees
Swap traditional for trendy with 2D geometric Christmas trees on the wall. They're artsy, minimalistic, and oh-so-modern. Hang a geometric Christmas tree on a blank wall in your living room or bedroom to add a touch of style and sophistication.
14. Ho-ho-homemade Advent Calendar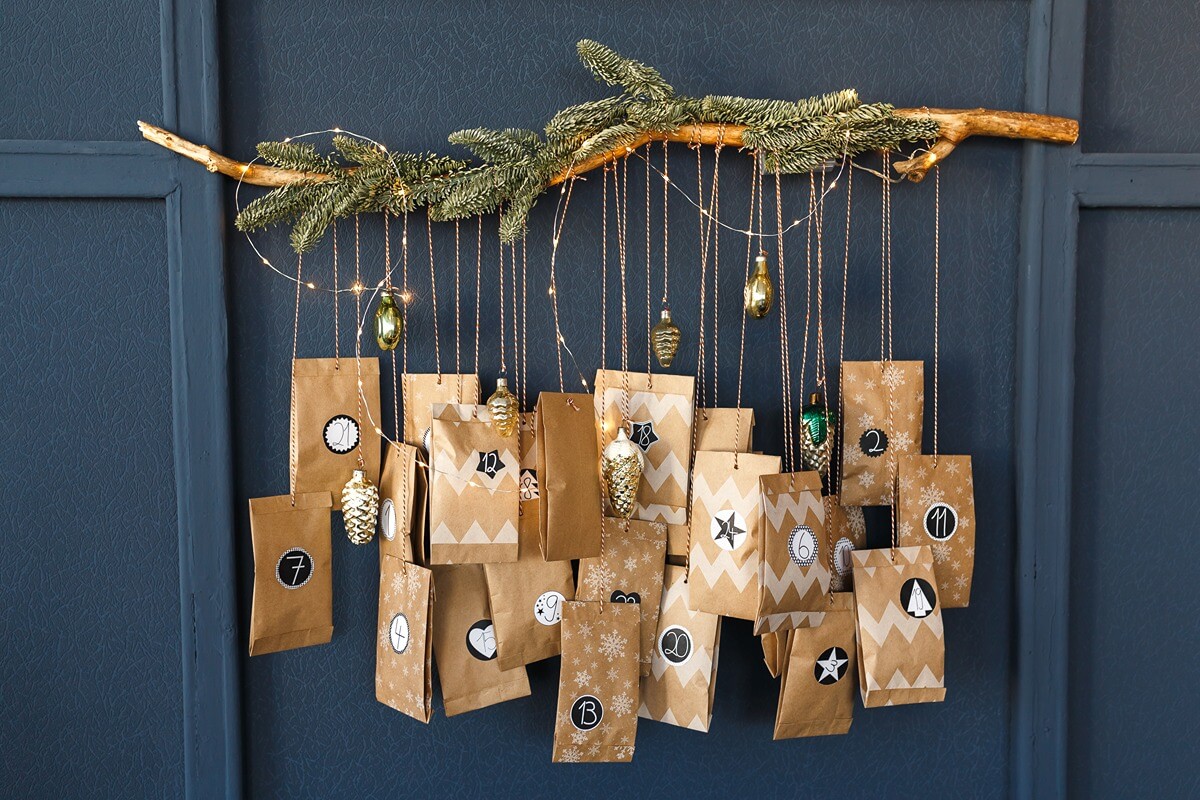 Ditch the store-bought ones and craft your own wall-hanging advent calendar. Fill each day with treats, notes, or tiny trinkets. The countdown to a Merry Christmas has never looked this good! Place your wall-hanging advent calendar in a central location of your home so everyone can enjoy it.
15. Starry Night Walls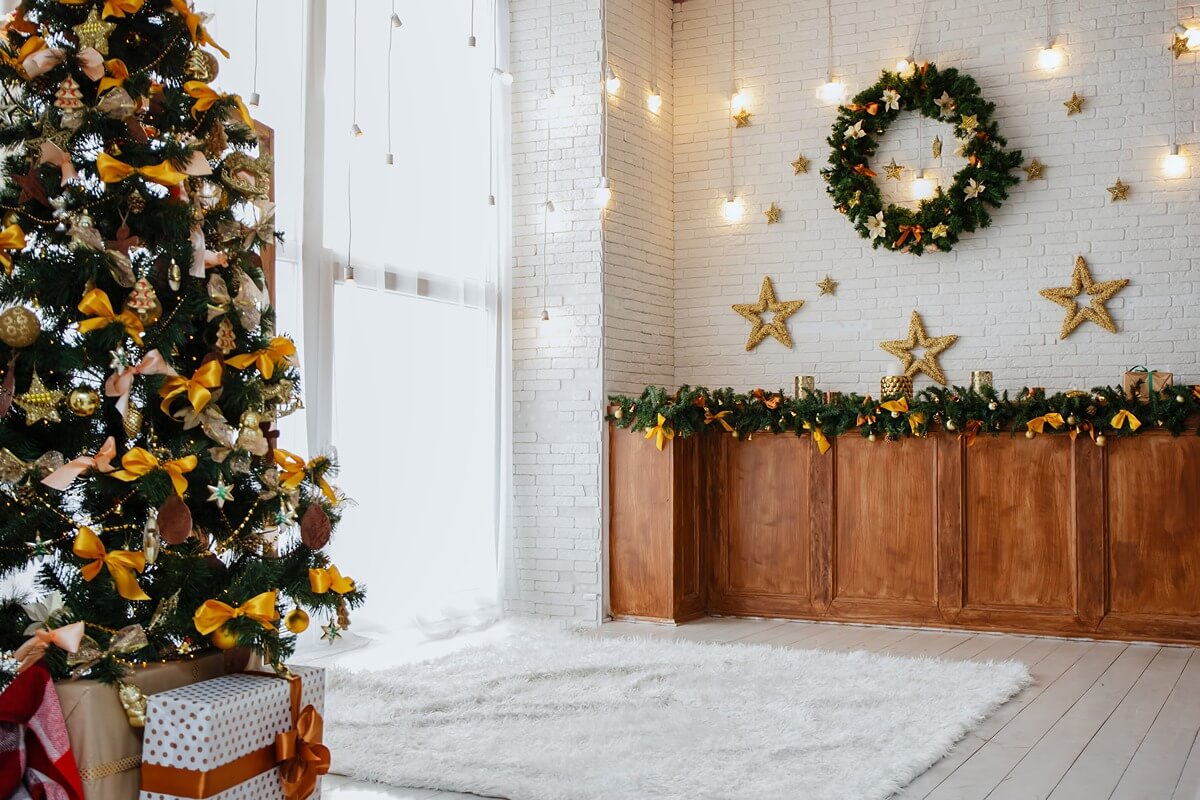 For a magical Christmas feel, cover your walls with twinkling gold star ornaments – whether they're shimmering metallic, dusted in glitter, or crafted from shiny paper. Lay them out on your wall, weaving them into a mesmerizing constellation that rivals the Milky Way on a clear winter's eve. Drape some fairy lights behind sheer curtains for an added dash of magic, giving your wall the ethereal glow of the North Star. With gold stars set against a snowy white wall, you'll wrap your room in a cozy Christmas embrace. Each time your eyes wander over, it won't just be a silent night, but a silent, starry, Christmas night.
16. Festive Wallpaper
Who says wallpapers are just for your phone or computer screen? This season, let's take it to the walls! Dive into the world of festive holiday wallpapers to instantly transform your space. From subtle snowflakes to jolly Santas dancing across a red backdrop, there's a design for every style. And the best part? If you opt for peel-and-stick wallpaper, you can easily switch it out once the holidays are over. It's like giving your room a Christmas outfit – stylish, festive, and oh-so-merry!
17. Hanging Herb or Citrus Garlands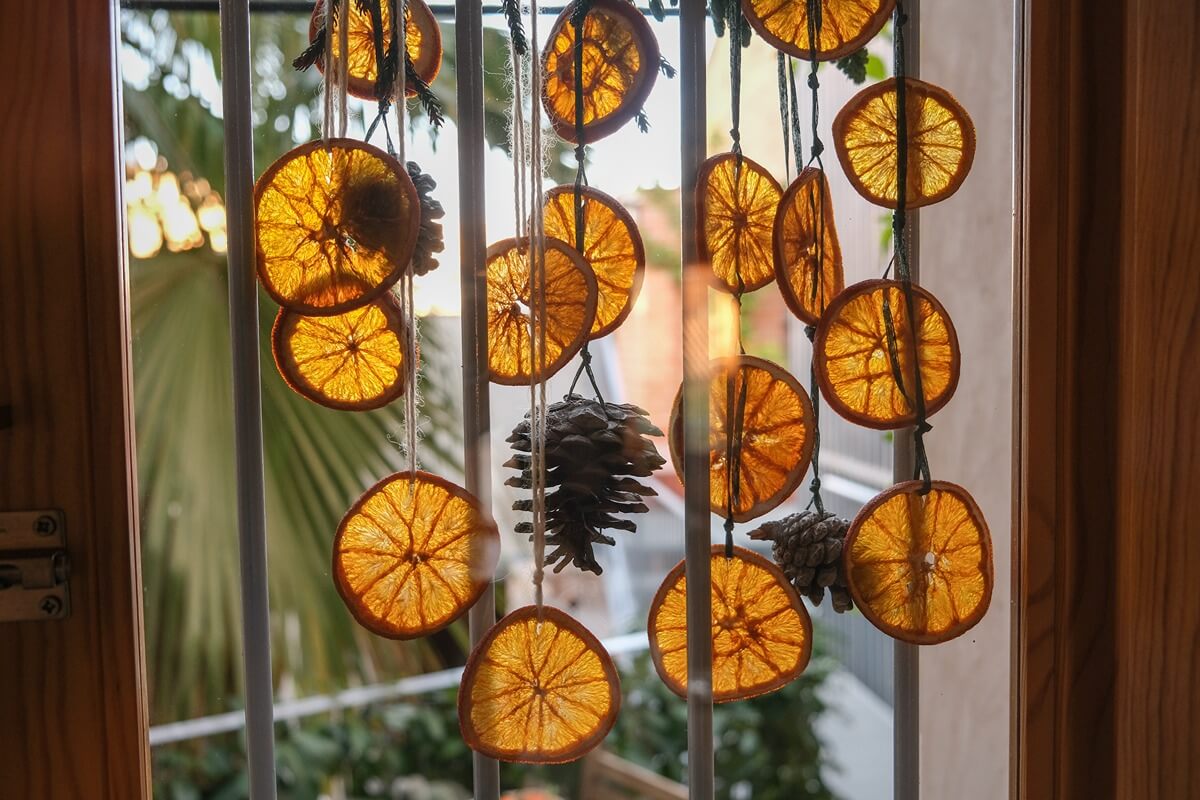 String together rosemary, thyme, and other herbs for fragrant garlands. They look beautiful and smell heavenly, and you can even pluck some for your holiday cooking! You can also dehydrate slices of oranges or lemons to create a colorful and unique garland. Hang an herb-based or citrus Christmas garland in your kitchen or dining room to add a touch of festivity and freshness.
18. Heirloom Christmas Plates Display
This season, bring out those porcelain treasures, especially ones with intricate golden details. Arrange them in an artful display on your walls. Not only do they tell tales of yesteryears, but they also add a luxurious, vintage touch to your festive decor. Each plate, with its unique story, will be a conversation starter and whisk you away to a golden era of Christmases past. 
19. 3D Snowflakes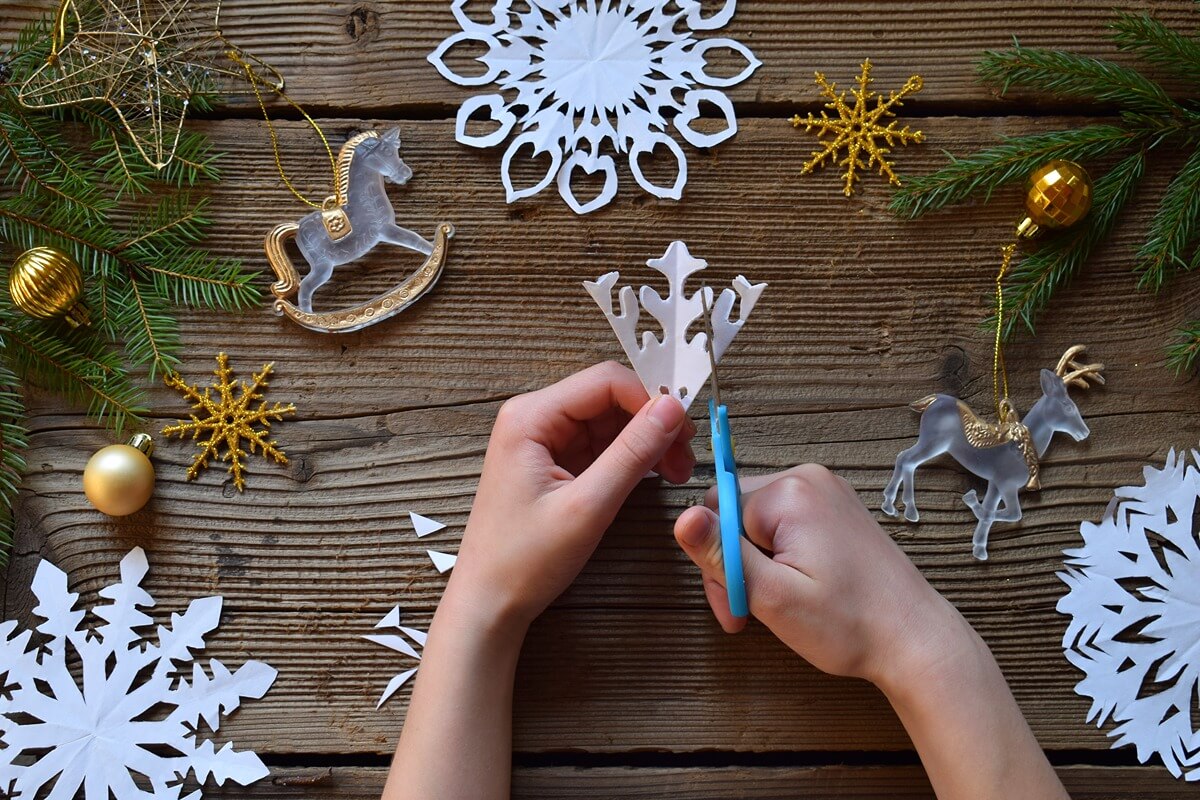 Throw on your DIY hat and add some dimension to your decor with 3D snowflakes. There's also no need to settle for regular snowflakes when you can have them in a riot of colors. Create snowflake ornaments in fluorescent hues like electric blue, neon pink, and zesty lime. Position them against a stark white wall and watch them dance with vibrancy. These snowflakes don't just fall; they party!
Spread Holiday Cheer to Your Walls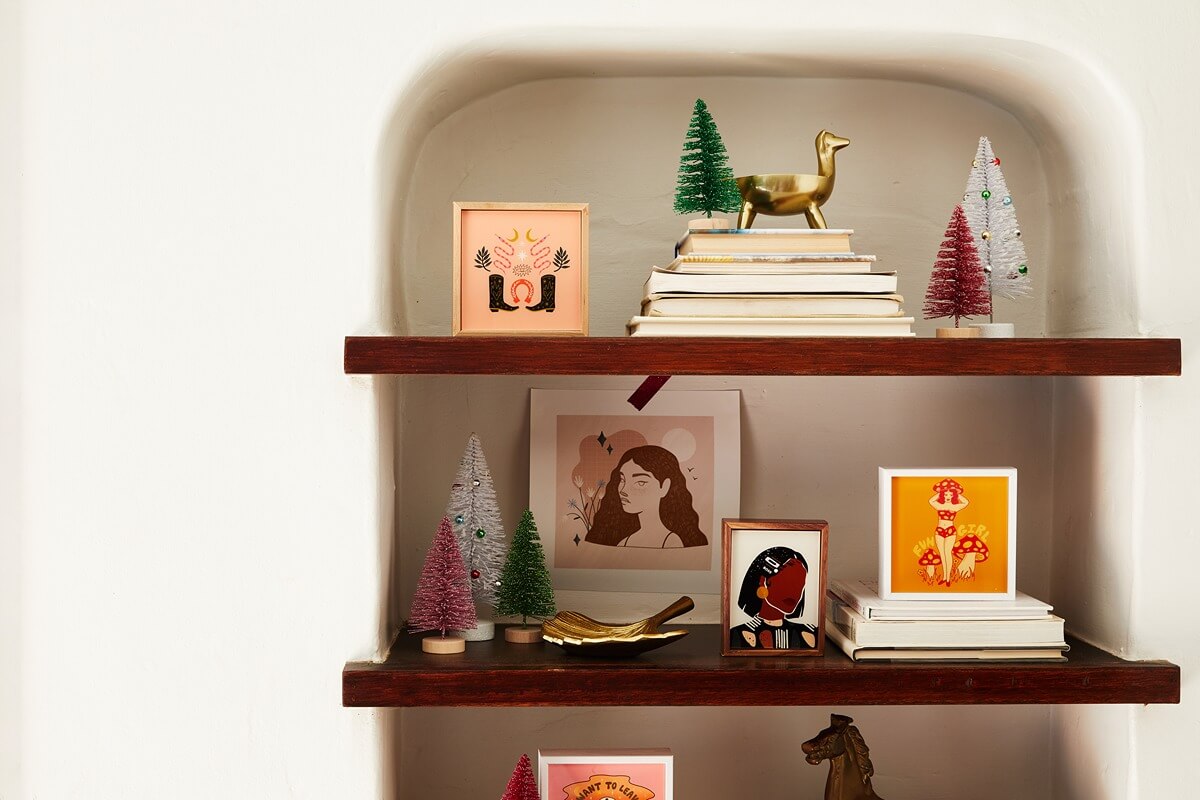 When it comes to Christmas wall decor, there are plenty of options available at Society6. We offer a wide collection of wall art for holidays and everyday home decor. So whether you are aiming to bring festive optimism to your home with bright palettes, reconnect with nature using botanical Christmas decor, or relive past holiday memories with a vintage touch, Society6's selection can help get you started.
Feeling inspired yet? From traditional to festive, natural, glamorous, crafty, and chic, we've covered the gamut of Christmas decoration ideas that'll infuse warmth, joy, and oodles of style into your walls and overall space. Remember, the holiday season is all about expressing yourself and making memories. So get those hands ready, dive in, and deck those walls! 
Sources:
"How to Make a 3D Paper Snowflake Christmas Ornament." The Spruce Crafts, 07 June 2020, https://www.thesprucecrafts.com/3d-paper-snowflake-christmas-ornament-2584996.  Accessed October 8, 2023.
"How to Make a Dried Orange Garland." francoisetmoi.com, https://francoisetmoi.com/diy/how-to-make-dried-orange-garland/. Accessed October 8, 2023.