Elle Chen makes the world her fantasy and invites us to live in it.
The LA-based creative, whose real name is Linda and works under the name Creepy Gals, wears many hats, from illustrating Rubenesque devils and designing heart-shaped pins and patches to producing installations featuring her world of kitschy characters. At the root of her signature pink and red aesthetic–which is two parts frilly and one part feisty–is a desire to embrace individuals' identities, subvert the norm and build a community of support, especially when it comes to mental health. Here, we caught up with Elle to talk vintage Valentines, drag shows and her fave ways to take care of herself.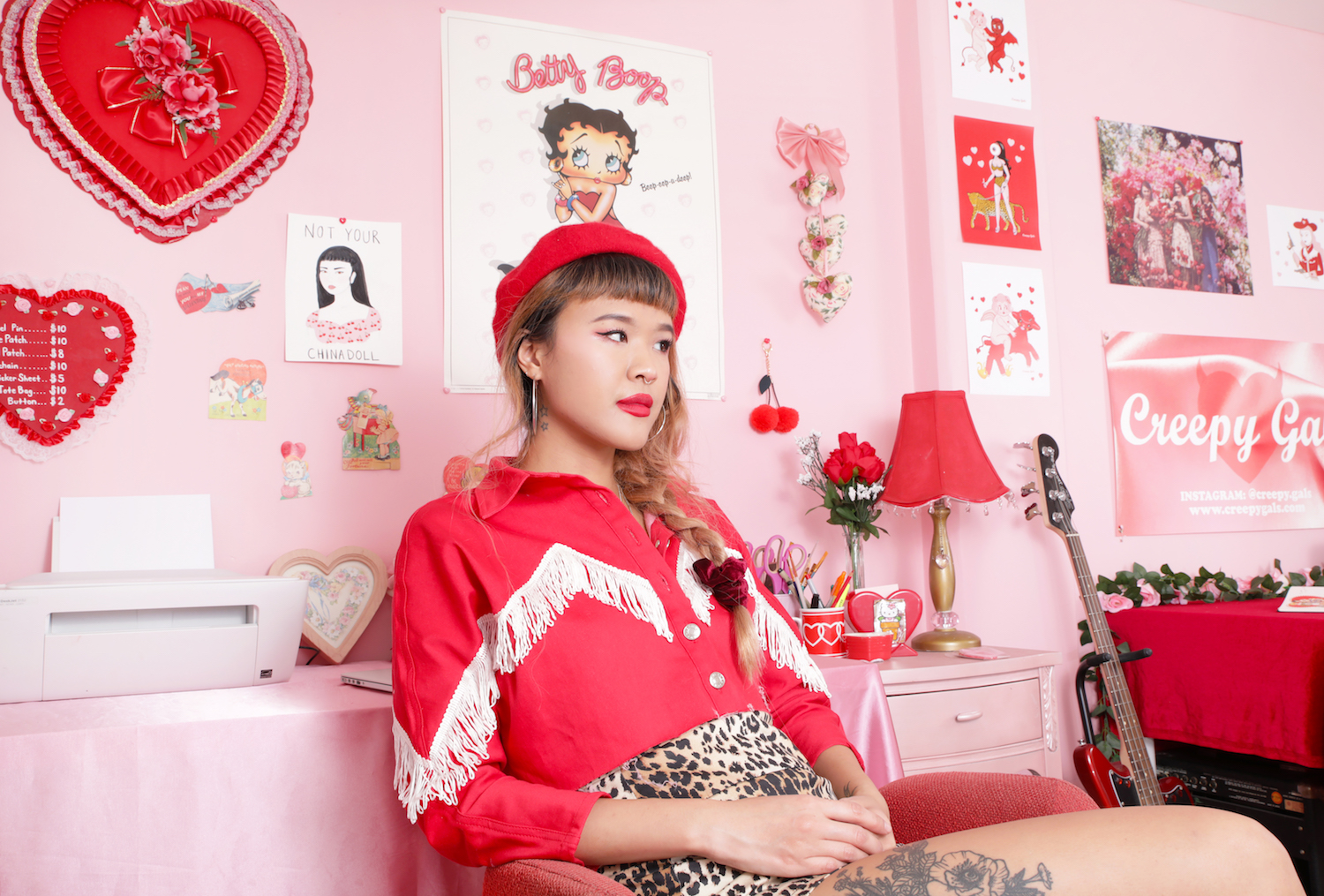 Hi Elle! To get us started, can you tell us a bit about Creepy Gals? 
My name is Linda, though most people on the internet know me as Elle. I'm the artist behind the fantasy of Creepy Gals. The subjects I explore span from femme empowerment, to breaking down societal norms, to mental health and to my love of kitsch, camp, irreverence and clowns. I have a deep and extravagant inner world, and I've always had an insatiable need to create tangible manifestations of that world. I've delved in illustrations, photography, performance, music, you name it.
In 2014, I opened my Etsy Shop as another outlet to satiate my creative appetite. At first, I thought it would just be a fun way to share my work with people. I started with pins and patches of cute little designs, but my work has transformed and evolved tremendously over time. I've spent a lot of time honing in on my style and message since moving to Los Angeles in early 2017, and I've added many characters to my fantasy world. In 2018, I expanded the Creepy Gals universe from simple merch to an immersive art installation (called the Creepy Gals Love Motel). My work has brought me through so many phases, and I'm excited to see where this journey takes me next.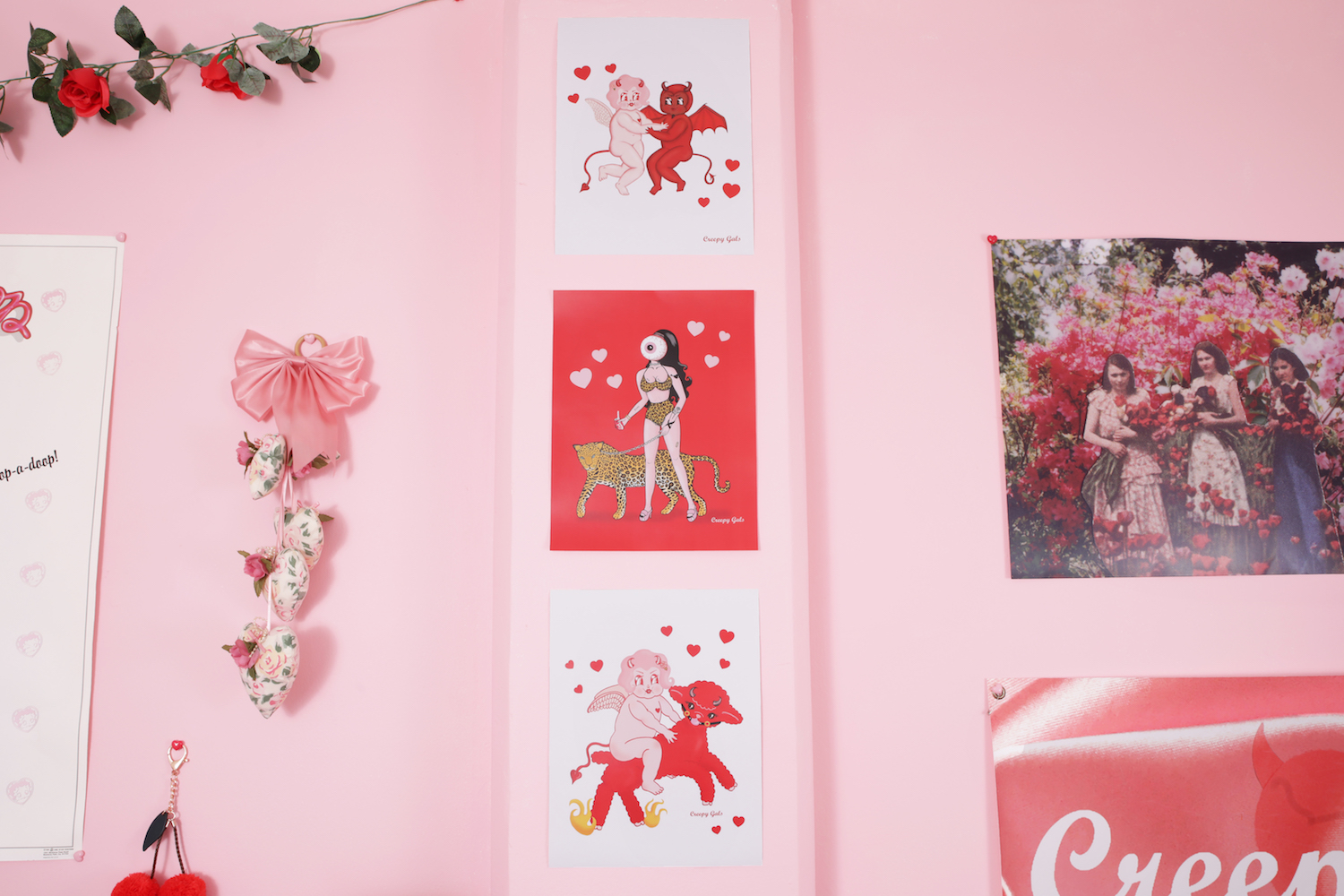 You've definitely cultivated a style that's all your own–just one look at your illustrations and we're living in your feminine, edgy world where every day is Valentine's Day. How would you describe your aesthetic? Where do you find inspiration? 
My work serves vintage Valentine fantasy with a side of filth. I'm drawn to tacky imagery and kitsch, but I also have a need to subvert that imagery with a dose of irreverence.
My style is a culmination of all my interests. I'm all about weird vintage Valentines from the 50s. There is something inherently off-putting about them and I love it. You can absolutely see that influence in my work. Betty Boop and Dolly Parton are my main mamas and are constant sources of inspiration. Desperate Living, Female Trouble and Pink Flamingos are super important to me (John Waters is my anti-hero). Other films that inform my style are the Czech New Wave film Daisies, the Japanese horror-comedy Hausu and Russ Meyer films like Faster, Pussycat! Kill! Kill!
I'm inspired by so much, I could go on and on.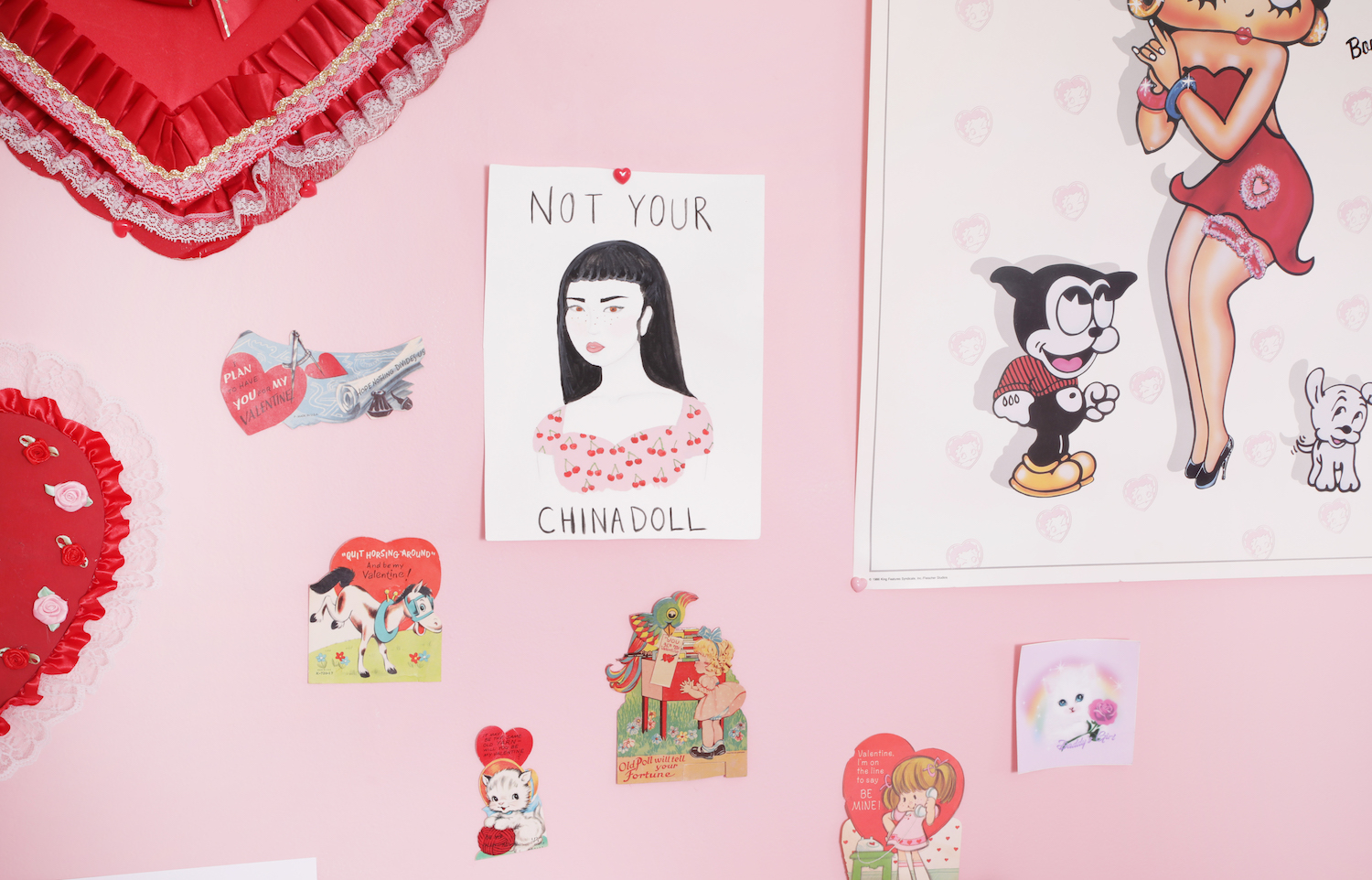 "The truth of the matter is, we all are dealing with something. We have become experts at bottling it up under the guise of composure and normality, and that's often to our detriment. I was just tired of suffering alone and constantly keeping up this facade of feigned happiness."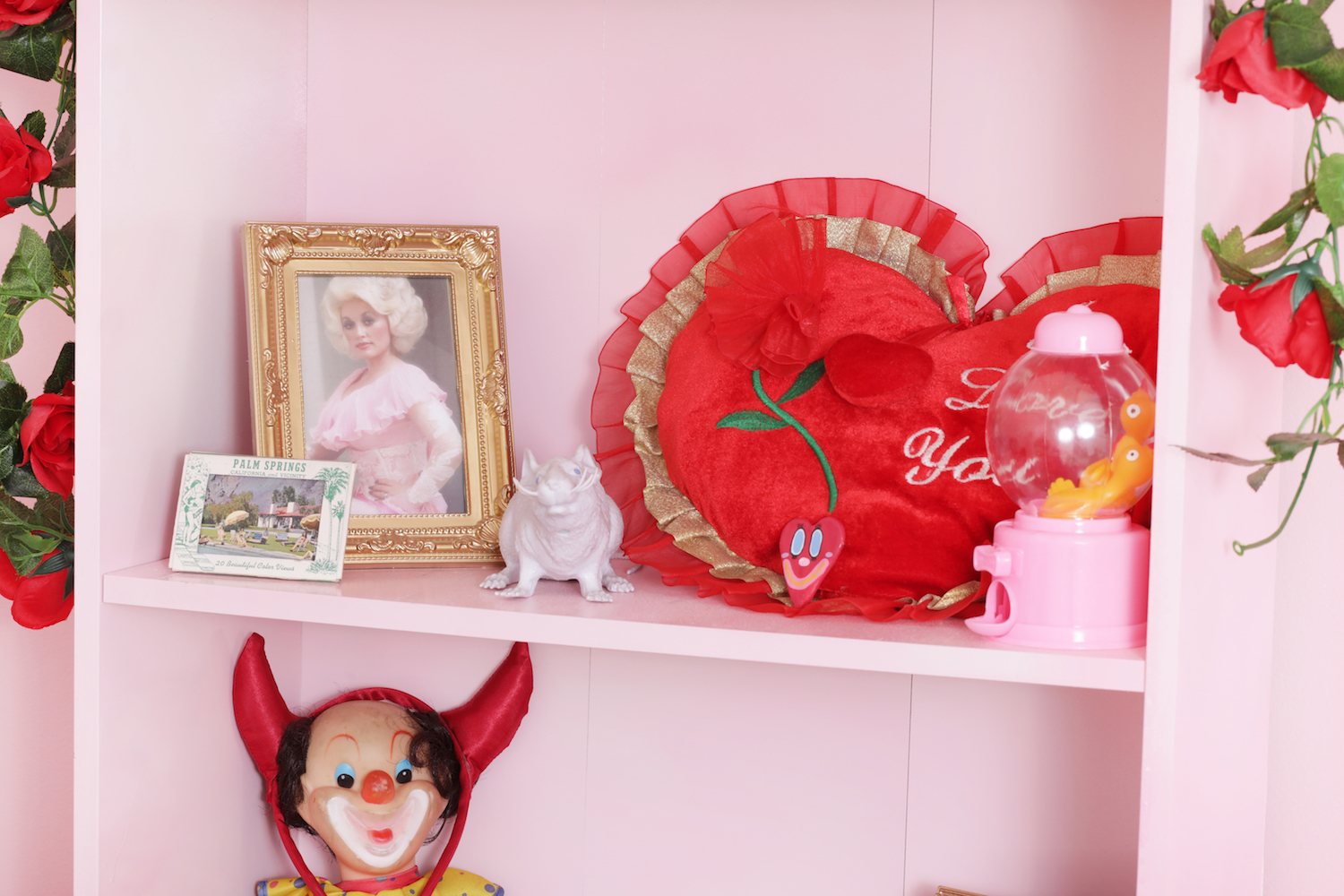 You seem to place a lot of emphasis on bringing this world to life IRL too, whether it's by creating installations like your Love Motel this past summer, dressing up like some of your characters or even just giving your room the Creepy Gals treatment with floor-to-ceiling pink and tons of florals and frills. Can you speak to why this immersive aspect is important to you? 
Creepy Gals is my ultimate fantasy, and I truly believe that your fantasy is an expression of your authentic self. It is where you feel the most powerful. The culture and art form of drag really inspired this belief. This is my fantasy and I want to live it and embrace it fully. It feels good to immerse myself in this world I've created, so why not extend the experience beyond my wildest imagination?
Your Instagram is one of my favorite accounts. Perfect grid aside, I've always admired how open you are about your mental health in your posts. You've talked openly about your anxiety and depression and how you cope. Do you feel a responsibility to speak up about mental health given your large following? 
Part of what my work tries to do is break the taboos around discussing mental illness. We were made to believe that we are weak, broken and unworthy of love if we struggle with it. But that is simply not true. That is an outright fabrication made to reinforce societal ideals.
The truth of the matter is, we all are dealing with something. We have become experts at bottling it up under the guise of composure and normality, and that's often to our detriment. I was just tired of suffering alone and constantly keeping up this facade of feigned happiness. Opening up about my mental illness has become part of my healing process. It has really helped me, and it seems to inspire others to open up as well. We've all become each other's support system and that is a beautiful thing. I don't think the size of the following matters in this case. I think it is SO important for every single one of us to break through the taboos and open up the discourse because we all have a sphere of influence. Your coming out can help others to come out as well. We can begin to heal as a community and subsequently as a society.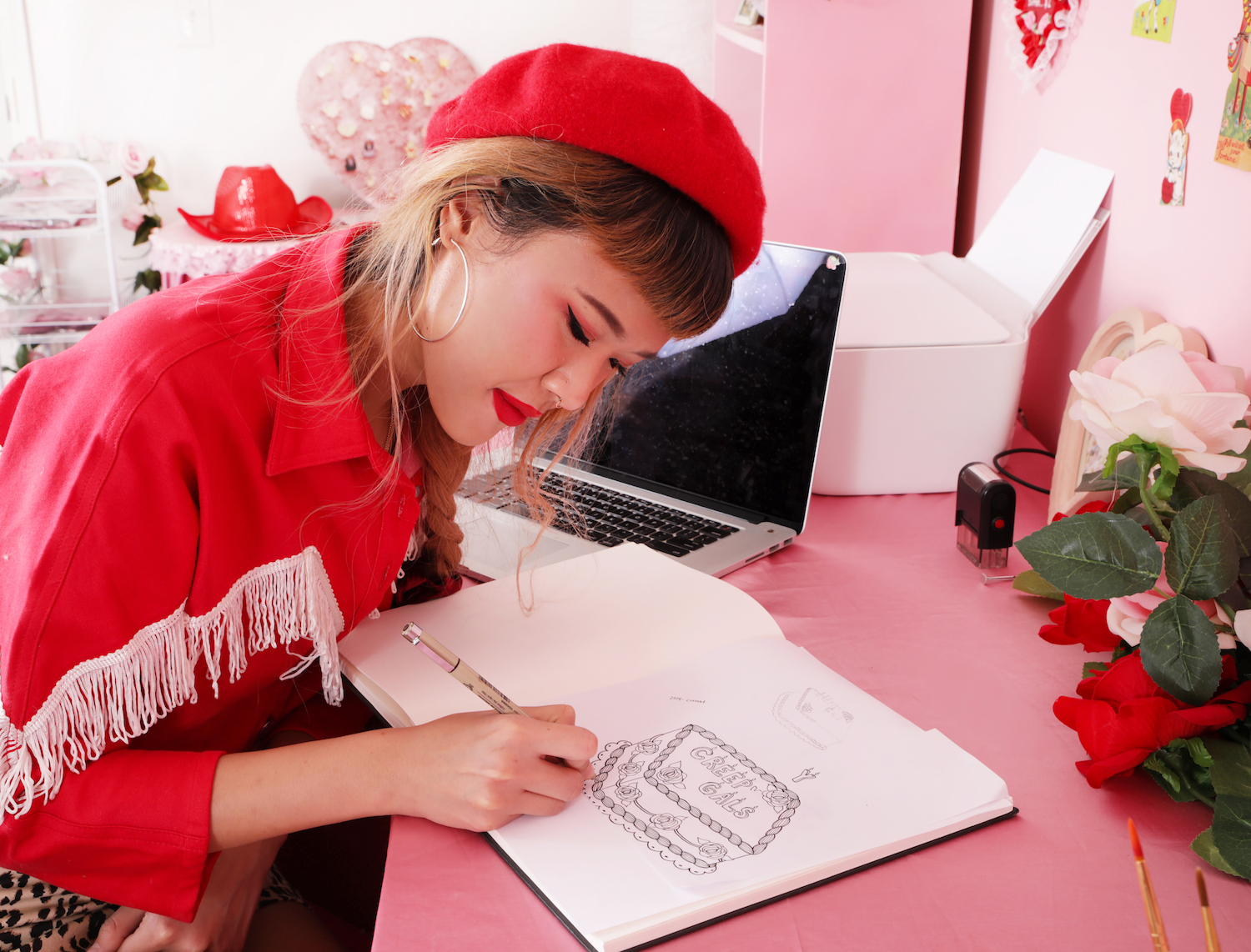 "For me, the simple act of creating is a way for me to tend to my mental health. It's a kind of therapy."
How does mental health play into your works and artistic practice, if at all?
For me, the simple act of creating is a way for me to tend to my mental health. It's a kind of therapy. It helps quell my anxiety and depression because I can channel them into my work.
One of my designs opens up a direct dialogue about my most persistent mental struggle. I created a shirt design with the word "ANXIETY" featured prominently. I wanted to bring visibility to an often invisible condition as a way to de-stigmatize mental Illness and diminish its power over us. My hope is that it will help facilitate discourse between the wearer of the shirt and the people they come across. By getting ourselves to open up to each other, we can bring about deep healing. We can find solace in knowing we are all in this together.
What are some ways you practice self-care? Any advice for those who might also relate to your posts?
Meditation has played a huge part in my healing and self care practice. It's important to take moments to slow down, check in with yourself and reflect on things. Of course, that's easier said than done. I'm prone to excessive/obsessive thoughts. I can get really caught up in the whirlwind and not even realize how much I've spiraled. In moments like this, it's important to be kind to yourself and not beat yourself up about it. Realize that there will always be ebbs and flows in life. Take every negative event as a learning lesson because it helps to remove any bitterness you might feel about it. And give gratitude for all the wonderful things, people and moments in your life. It may sound cheesy, but it's the real T.
Epsom baths are another part of my self-care regime, and if I'm feeling real extra about it, slothing around at the Korean spa for 12 hours straight—it feels like an absolute utopia. Also, I'll often go to the arcade to play some DDR. Not only am I exercising, but I'm on my way to adding DDR Champion to my resume!
Everyone's form of self-care will vary. Find what works for you and treat yo' self!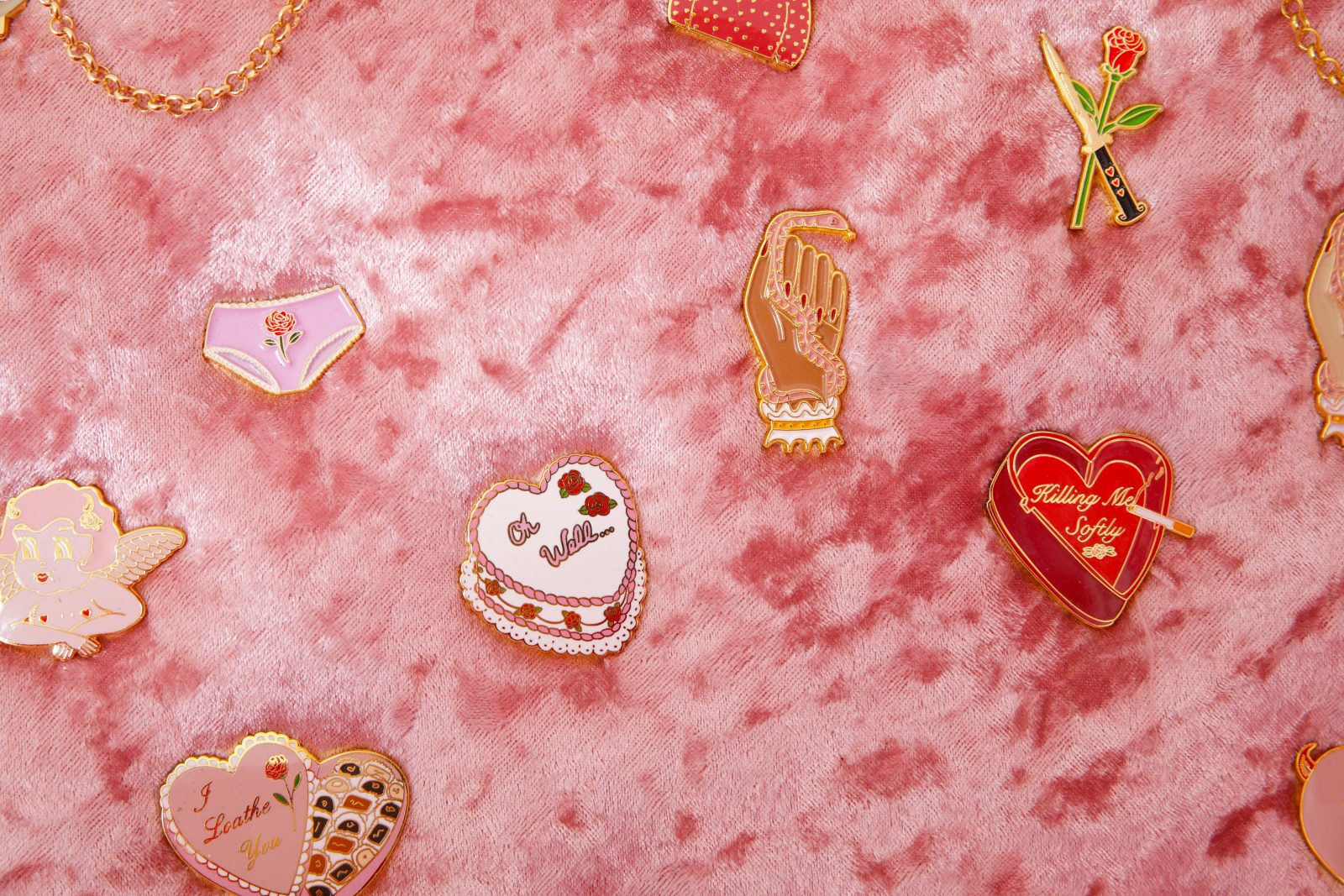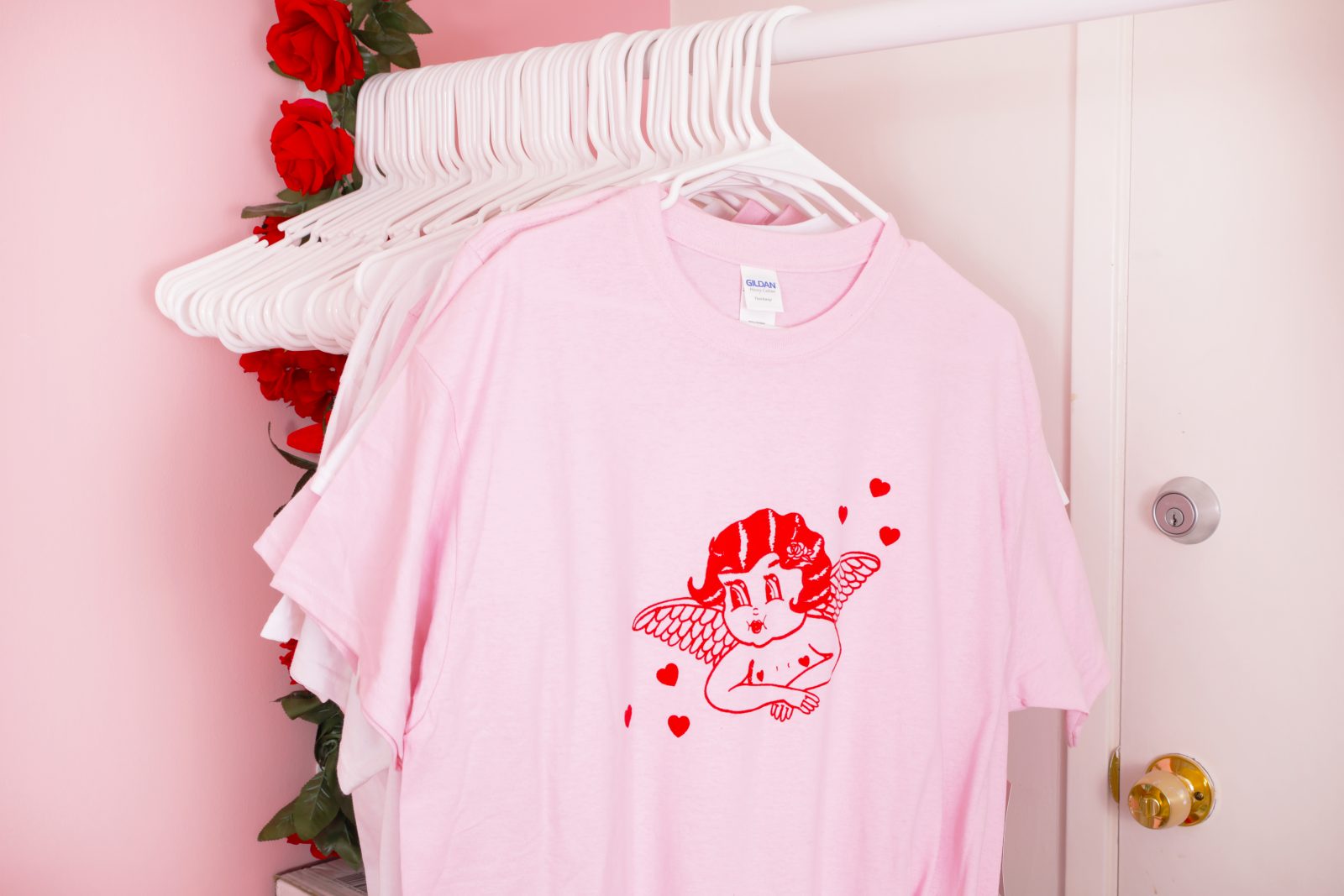 You're involved in a ton of creative projects beyond your illustrations, whether it's designing pins and apparel, collaborating with friends on photo projects or styling shoots with your pet roach(!!). Are there any new creative frontiers you'd like to tackle next? 
Yes! I am always figuring out new ways to broaden the Creepy Gals universe. Right now I'm working on a comic that I'd like to turn into a cartoon series, eventually. Another project is a Creepy Gals tarot deck. Tarot has become such a transformative part of my life because it has illuminated things about myself that I had never realized. I think creating this deck will not only allow me to connect deeper to the art of tarot, but it will also further my journey of self-exploration in the most magical way.
You moved to LA to do more of these passion projects. Do you have any advice for creatives looking for a like-minded community in a new place?
Yes! I made the decision to move to LA because I wanted to step outside of my comfort zone (NJ) and to fully immerse myself in my work. But moving to a totally new place, especially a big sprawling city, was truly daunting. If you are a shy introvert like me, Instagram is a godsend. I had connected with so many incredible like-minded artists prior to moving here, which made the transition so much easier. Gotta love the digital age. Also, go to all sorts of art shows. That's an easy way to meet creatives like yourself. If you're already in Los Angeles, check out Junior High, Laser Kitten or Superchief. The coolest people frequent those galleries.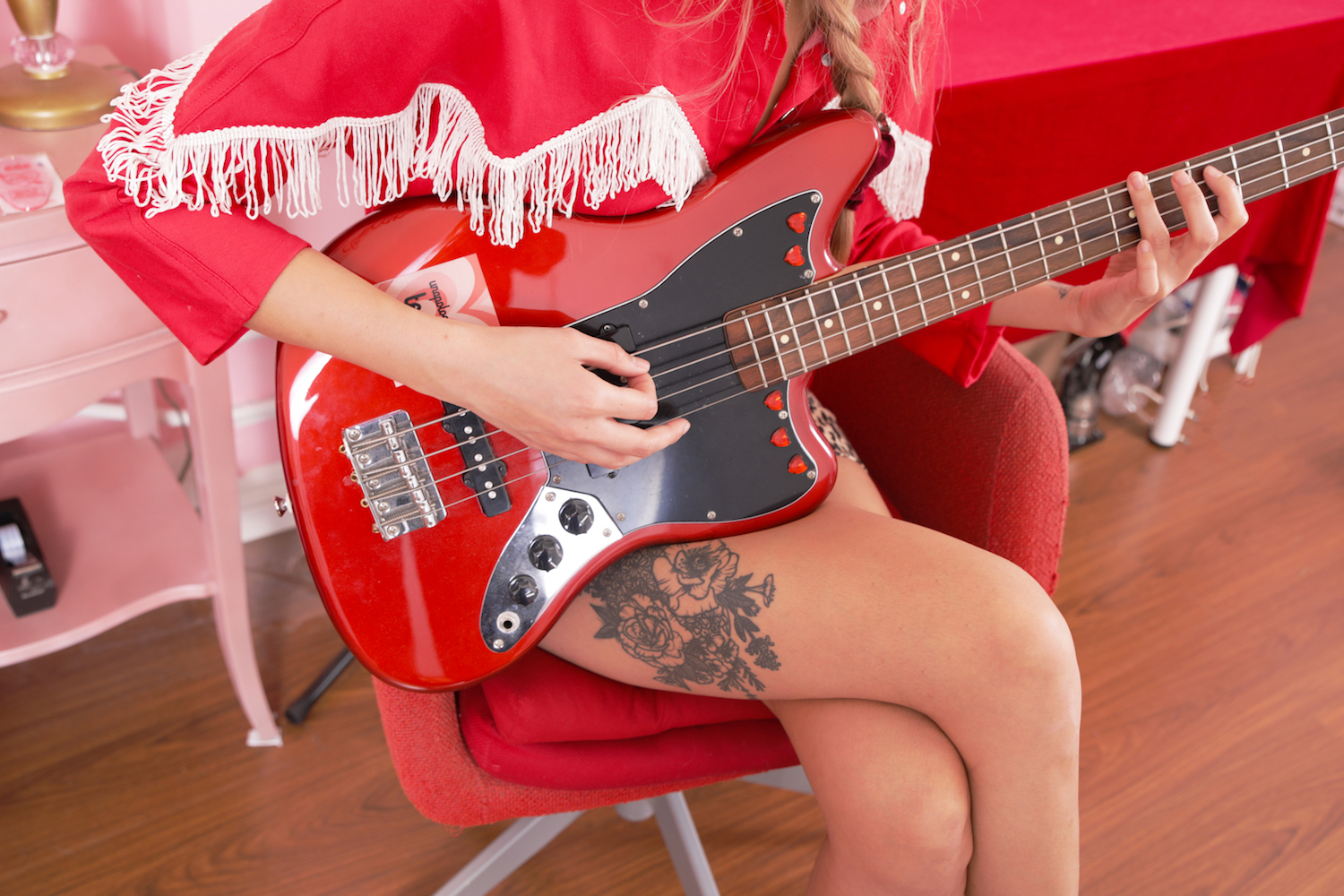 And where can we find you when you're not working on any of the above? Do you ever feel the need to press pause, or is the constant creative flow what keeps you going? 
You can find me at a drag show living for the fantasy, at the arcade boogying on the DDR machine, playing guitar and singing in my room, cloud gazing at the park, watching films or hanging with friends and doing something cute. I'm hoping to do more traveling soon. A trip to Japan would be a dream come true.
I think it's important for all creative people to press pause sometimes. Doing anything in excess can run you into the ground. It's good to step back from the canvas so that you can come back with fresh eyes. In the meantime, go out into the world and take some time to decompress and find inspiration that can help fuel your art.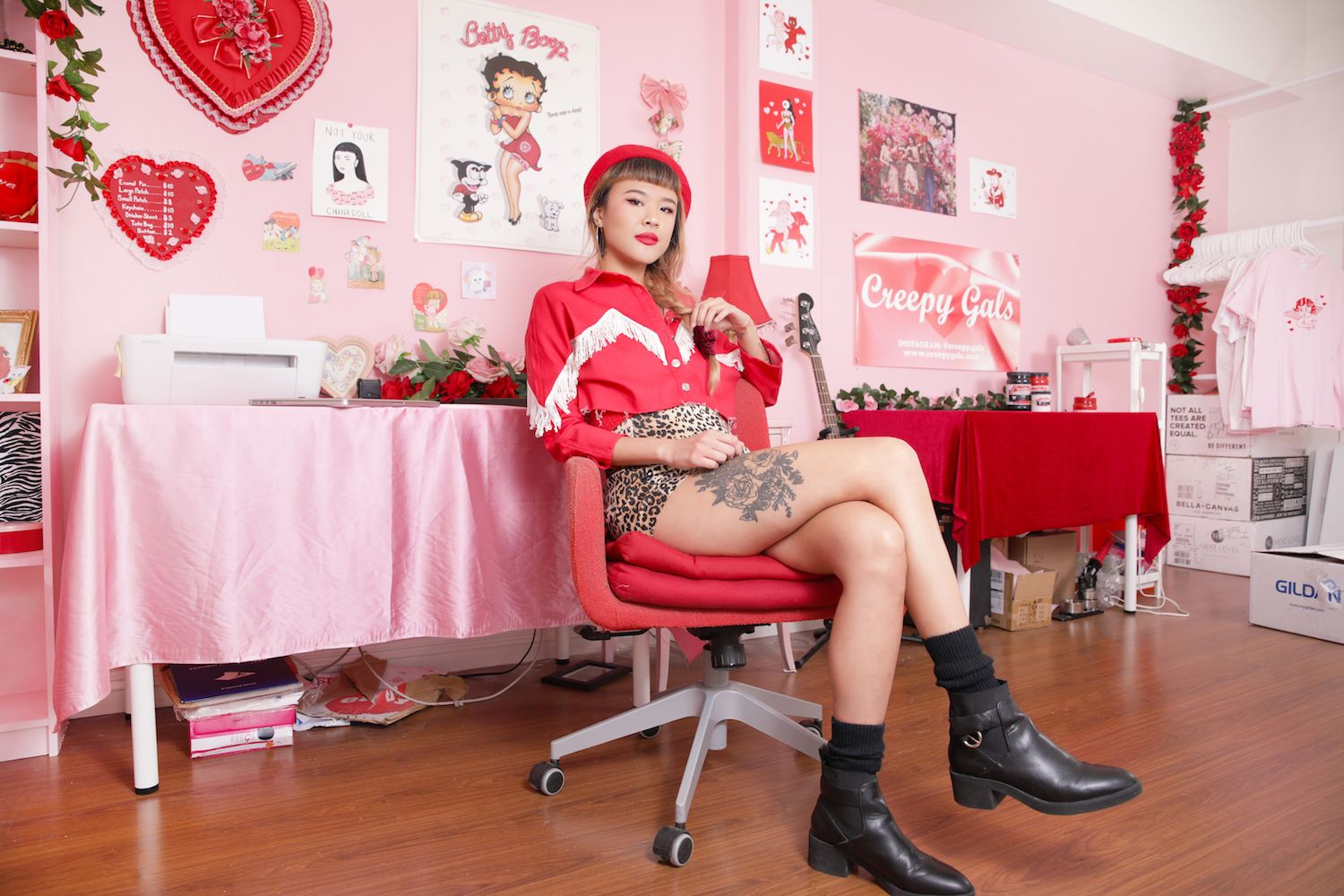 Iris and the Leopard Poster
Fight Like a Grrrl iPhone Case
Lolly Dolly Laptop Sleeve
Poopywise the Clown Tote Bag
Iris and the Leopard iPhone Case