Tallulah Fontaine is an artist unbound by any one medium: she paints, illustrates, makes zines and comics, and designs posters, album artwork and tshirts for bands like Purity Ring and Braids.
Fellow S6 artist and photographer Arden Wray visited her in her new Toronto digs to find out more about her process, what inspires her and how she's learning the art of how-to-not-work-all-the-time. 
Tell us about yourself and your work.
I'm an illustrator originally from Edmonton and currently living in Toronto. I make watercolour paintings and drawings for a variety of different clients such as publishers, bands, and t-shirt brands. I also illustrate personal zines and comics.
When did you first begin drawing? How?
I was always into drawing and art when I was a kid but lost interest during high school. I only really picked it up again a few years ago when a friend's band needed some art for their first singles. I forgot until then how much I loved creating and have been doing it ever since.
What inspires you to create?
Mostly, I am inspired by memories and moments that I want to recreate and hold onto somehow. I keep a lot of notes and photos to help me remember what someone said or how my friend's hands look. I'll usually refer to those when making personal drawings. I also feel really inspired by my surroundings. I've moved around and travelled quite a bit recently and it has been influential in my work.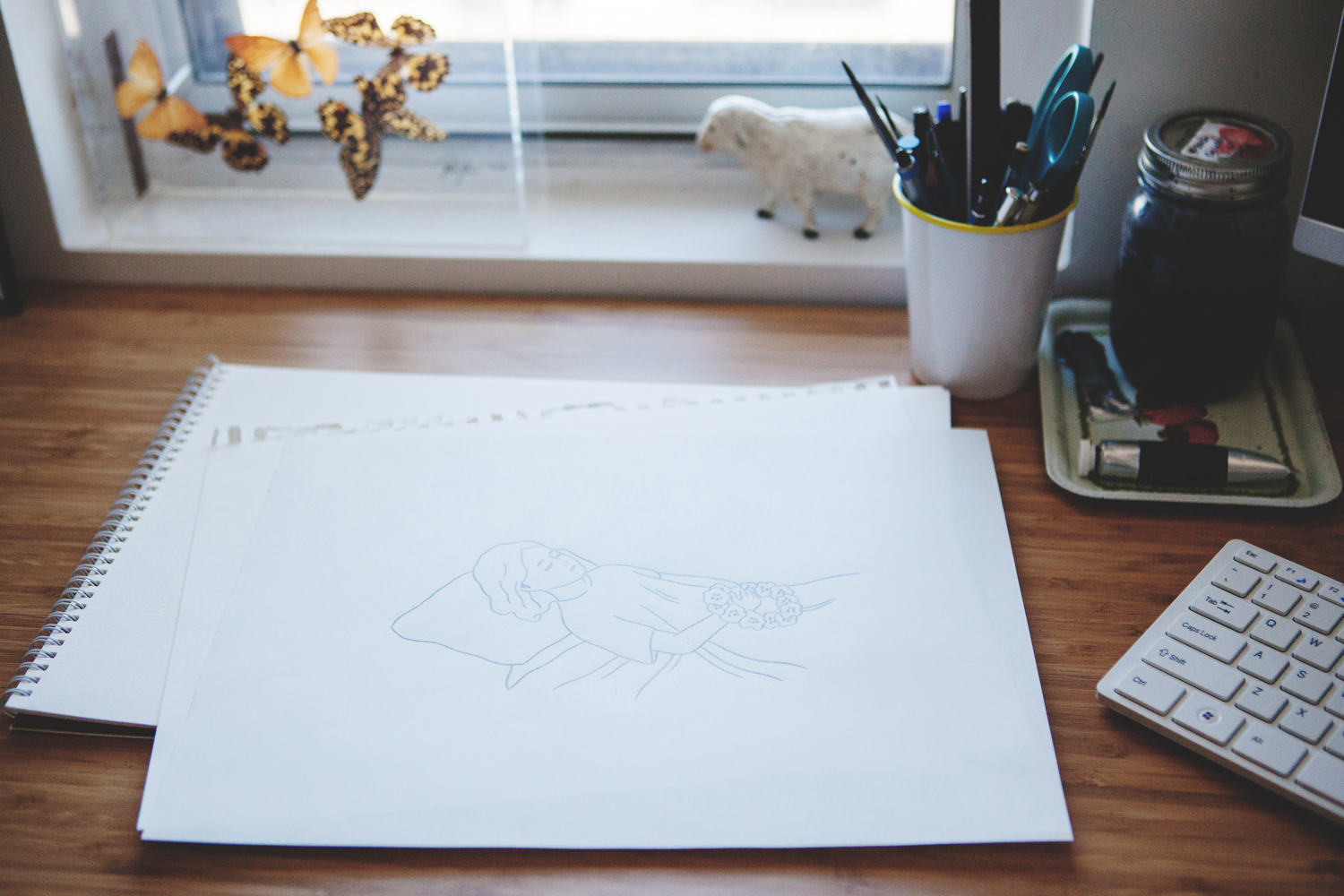 How does drawing + painting make you feel?
I struggle a lot with anxiety and drawing can really focus me and calm me down. I can just tune out all around me and sort of meditate with what I am doing.
What is your creative process? If you're sitting down to work on a piece, do you have any habits or rituals you partake in? Do you listen to music? Paint us a picture.
I have a pretty standard workflow but I do noticed that I am more productive and focused at night. So I'll run errands and meet friends in the morning, make some coffee and get to work around 1 or 2pm. I put on music or some crappy tv that I don't have to pay attention to and work on projects off and on until about midnight.
What do you love about your space? Do your surroundings affect your work? If so, how?
This is the first proper studio space I've ever had and am pretty in love with it! I used to work in my bedroom or the kitchen counter which I found to be a struggle. I feel much more comfortable being able to stretch out and be in a space that's all mine. It has made a huge difference for me.
My office is in the upstairs attic/living room, in a nice little corner by the window. My favourite thing about my space is my collection of art books and zines and also this glass box of taxidermied butterflies that I have in the window.
As an artist, how do you strike a work/life balance?
I love what I do so much and since I work freelance it can definitely start to take up all my time. So it's important for me to try and strike a balance between work and having a life outside of that. I just did a workshop here in Toronto with Marlee Grace of Have Company called How To Not Always Be Working. It was nice to get together with other self employed creative ladies and talk about ways to not always feel guilty about not working. It's important to remember that exploring, meeting new people or even seeing a movie can really inspire your art also.
What artists do you admire?
I feel so fortunate to be surrounded by so many artists that I admire. Friend's music like Braids, Hana, and Purity Ring. Photographers I know, like you, Arden! Also all the lovely work by fellow illustrators like my best girl and moon twin Maddy Young.
What's coming next for you? What are your goals and dreams for the next while?
I'm currently working on a comic which is something rather new for me. Also putting together the last and final issue of Home Zine that I co-curate with the amazing Carla McRae. We have so many incredible illustrators, poets and photographers working on this issue. I can't wait to share it! I love what I am doing right now but would also like to collaborate on some bigger projects with other artists. I love working with people and am hoping to jump into art direction maybe for other bands or in fashion or film.