What is a customer "funnel" and why should every artist and business have one?
Chances are, when you open up a Society6 shop, your biggest goal is to sell your artwork and make some side income. Society6 artist Cat Coquillette dives into some effective ways to send people clicking through to your shop and purchasing your artwork or products.
It would be awesome if every single one of your followers on social media bought your art. In reality, only a small percentage of your overall audience is going to make a purchase. Here's how to convert fans into purchasing customers–and how to incentivize them to do so.
I'll lay out, step by step, the ideal journey for your customer to go through to make a sale and the best hooks you can use to drive conversions. These tips are tailored specifically to artists who want to boost their online art sales, so gear up for a knowledge bomb.
What's a Funnel?
Consider the journey your customers go through, from discovering your artwork and engaging with your brand on social media to finally clicking "add to cart." This process is called a funnel.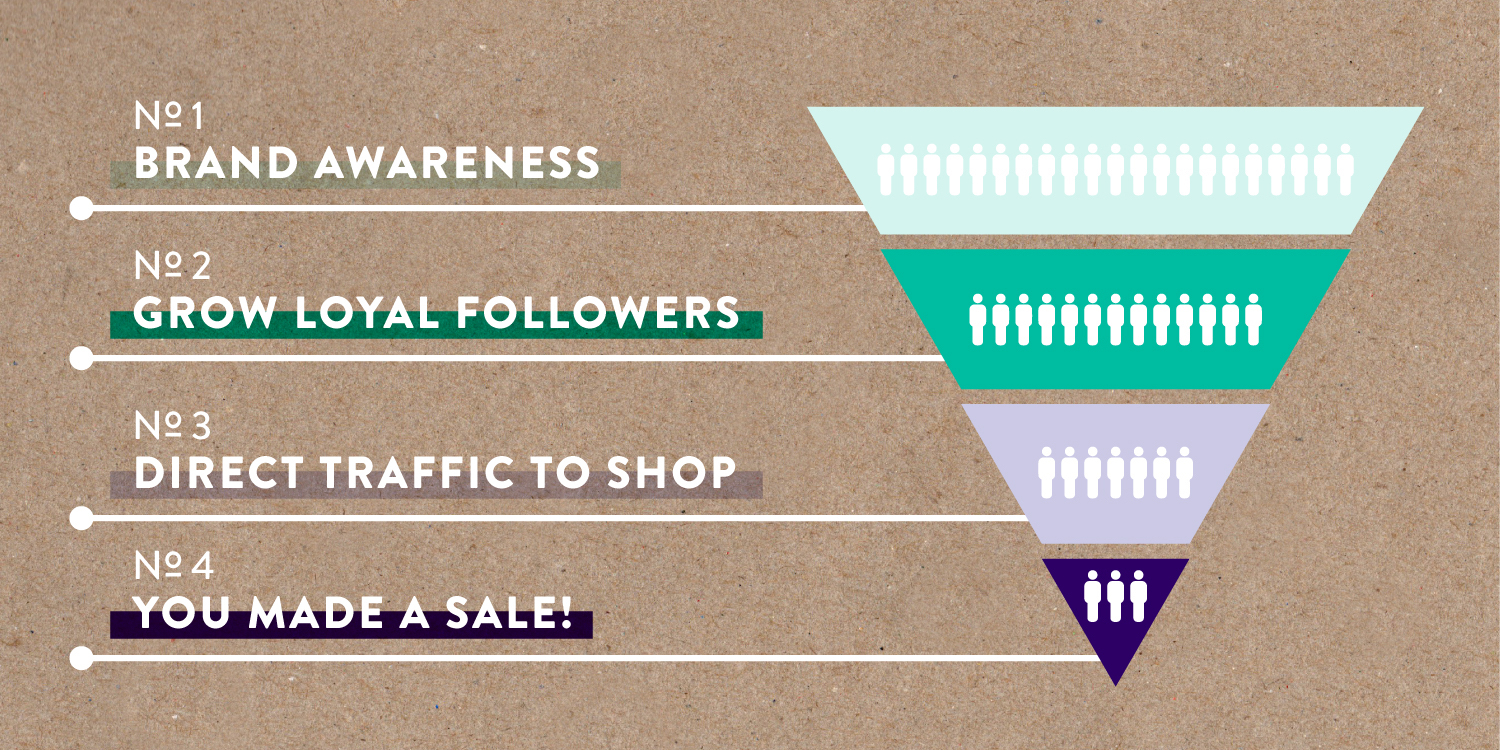 Your primary goal with your sales funnel is to guide people from one stage to another until they are ready to purchase your work. If you plan this process well, your conversions will skyrocket. I've broken it down into three key steps that will lead to the final segment of the funnel: an actual artwork sale.
Step 1: Make Your Brand Discoverable
If your end game is to sell your artwork, the best place to start is by casting a wide net and reaching as many potential customers as possible. You'll be able to curate your reach later and focus on target segments, but for now, numbers are key.
The best way to appeal to a massive audience is by flooding them with high-quality content that highlights your artwork, your products and your personality. Post a variety of engaging content like works-in-progress, time-lapse process videos, final pieces and stories of the inspiration behind your artwork.
There's no shortage of channels out there that will help you acquire potential customers. Utilizing social media platforms can be an incredibly effective method– social media makes it easier than ever to reach substantial audience sizes. Pick a platform to focus on or try a blend of several. Artistic content like ours performs best on visual-centric platforms like Instagram, Pinterest and Facebook.
I often see the most follower growth when I'm engaging with other brands and when other accounts tag my work. I also notice significant increases when I'm posting frequently with a consistent visual approach; 95% of my content is photos of my paintings, works-in-progress and product mockups. This reinforces the message that my brand is all about my creative side, which strengthens my brand awareness.
You can also reach a wider audience by blogging, whether it's on your own site or writing a guest blog post for a website with a massive reach, like I'm doing now with Society6. Consider what your audience wants to read about and keep your material within those categories. The things I write about most often are the same themes that interest my readers: creative entrepreneurship, working while traveling full-time, recent artwork to hit my portfolio and new brand collabs.
Another way to boost your audience is to seek out opportunities for interviews. A lot of blogs and brands out there love to introduce their audience to inspirational artists; after all, we're in a pretty unique career path and we have such an interesting perspective to share with the world. When your interview goes live, not only will you be noticed by that blogger or brand's audience, you'll also gain social proof by this affiliation. Their followers can become your followers.
If you're into the blogging sphere and you want to expand further, consider broadening your reach by teaching online courses. If you teach through a platform that prioritizes creative skills, like Skillshare, you'll have access to their immense community. If you focus on educating others with your art skills, the students on this platform are already interested in what you have to share. Online teaching has three huge benefits: you'll grow your audience, earn passive income and position yourself as an authority in your field.
Having your own website is ideal when it comes to making your brand discoverable. I use my website as an all-in-one for my brand: I include my brand story, contact info, links to social media, product images that redirect to my Society6 shop, my blog and anything else that relates to my brand. By implementing basic SEO best practices, people who are unfamiliar with me or my brand can still discover my website on a related Google search.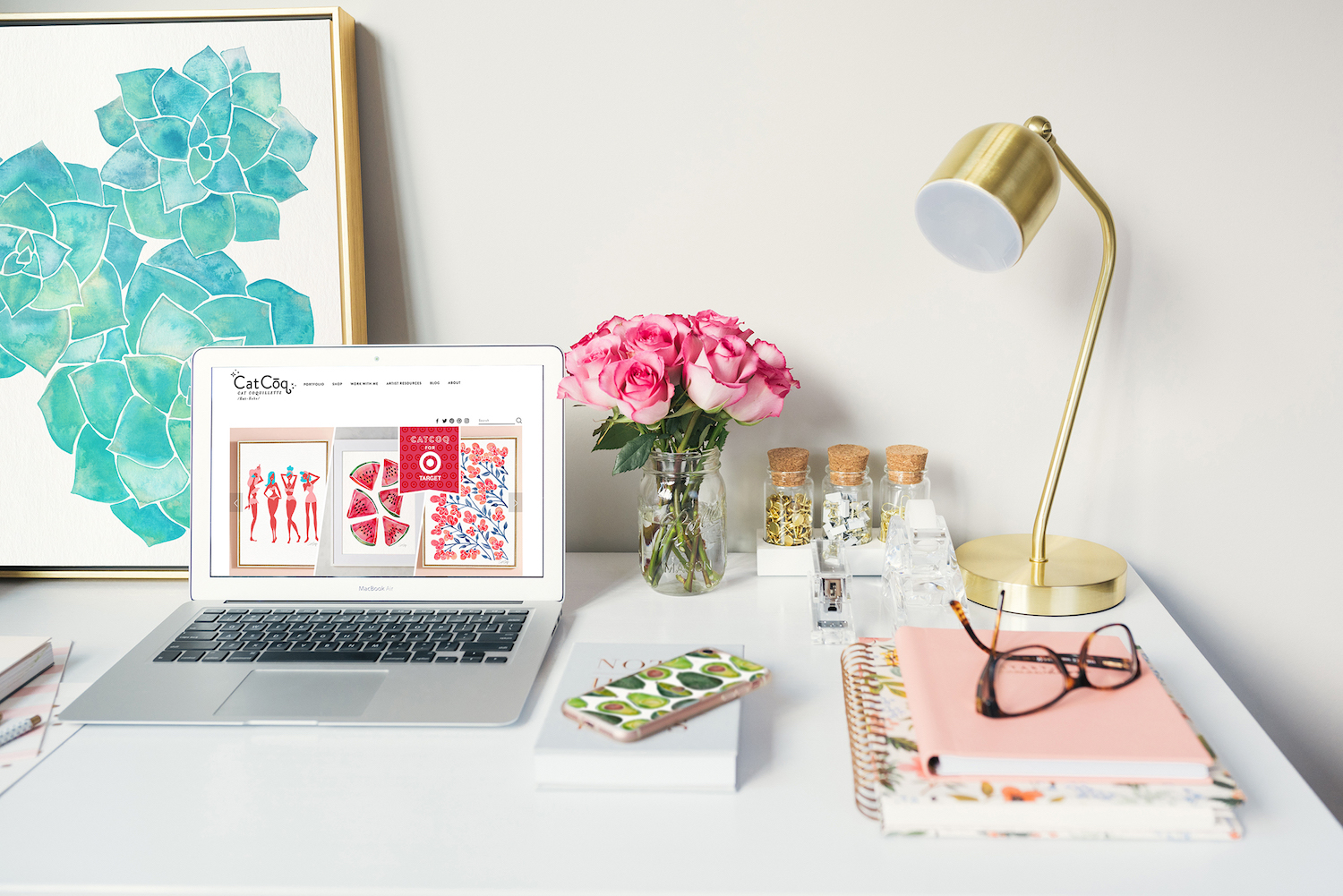 Step 2: Create Loyalty by Engaging With Followers
Now that you've caught the eye of a massive audience, it's time to focus on the potential customers that are most likely to purchase your artwork. Oftentimes, these are the people that are most engaged with your brand on social media.
If someone comments on or shares your latest post, take note. This is the person most likely to buy your artwork. Take a peek at your analytics. If your demographic is primarily women ages 25-34, focus on appealing directly to that crowd.
Social media is all about engaging with your followers, so encourage a dialogue. Posts with high engagement will be prioritized and show up on more people's feeds, so look for opportunities to maximize engagement. I often ask questions like, "Which color palette do you like best?" and "Tag a friend who NEEDS this phone case."
Step 3: Help Customers Find Your Artwork by Directing Them to Your Shop
Now that you've honed in on your loyal and engaged followers– the ones who are most likely to purchase your work– it's time to make your pitch!
Focus on enticing hooks that will incentivize someone to click through to your shop and make a purchase. Society6 makes this easy by frequently offering discount codes, free shipping and special offers. Take advantage of these opportunities and let your audience know when they're going to get a great deal.
You can further prompt someone to purchase by instilling a sense of urgency. "Hurry! This offer ends at midnight tonight!" No one wants to miss out on a great deal, so compel them to click "Add to Cart" by reminding them of the limited time constraint.
Step 4: You Made the Sale!
Congrats! At this point, you've successfully cast a wide net, narrowed down your target audience to those who are most likely to make a purchase, incentivized them to click through to your shop and made a sale.
If your customer had a great experience, chances are, they'll keep coming back for more. Keep them engaged with your brand by posting fresh new content. Occasionally, pepper in an enticing incentive to make another purchase, like sharing brand new products that just hit your shop.
By focusing on your customer's journey, from them first discovering your artwork to finally clicking the link to your shop, you'll boost your sales and amass a loyal following of dedicated customers.
Not only will you grow your income through art sales, but you'll also develop a solid fan base of people who are enamored with your artwork. As always, the best time to start implementing is now!