Austin is one of America's most unique cities, so why settle for stale when looking for a place to stay?
The creators of The Guild have found the perfect way to create a distinctive experience with all of the comforts of a traditional hotel. With a mobile concierge, local food and artfully designed flats scattered throughout the city, you'll experience Austin in the most personalized and comfortable way. Our connection with The Guild goes beyond commitment to high design and personal expression—you can find products designed by our artist community scattered throughout their locations. Here, we talked to Emily Basham-Hoelscher of High Contrast Design House, the interior designer who boldly created the vibe of each space.
Hello! Tell us a bit about yourself. How long have you been designing interiors?
I've been designing professionally for almost 20 years, but my love for interior design started way before that. The only part of playing with Barbies that I liked was setting up different rooms for her. I drew my first floor plan for my dream home at 10 using my mom's House Beautiful magazines as inspiration—it's just in my blood.
Can you let us in on how you approach decorating a space? Do you always start with the same thing, or does it depend on the location?
I always start with a "get to know ya" with the client. I do this in 3 ways. First by seeing the space with the client and discussing their needs and goals. Next, I have the client fill out a questionnaire so that I can learn about their hobbies, interests, and passions. These personal elements provide me with inspiration to create a space that exudes the client. Finally, I create a Pinterest board and PIN AWAY!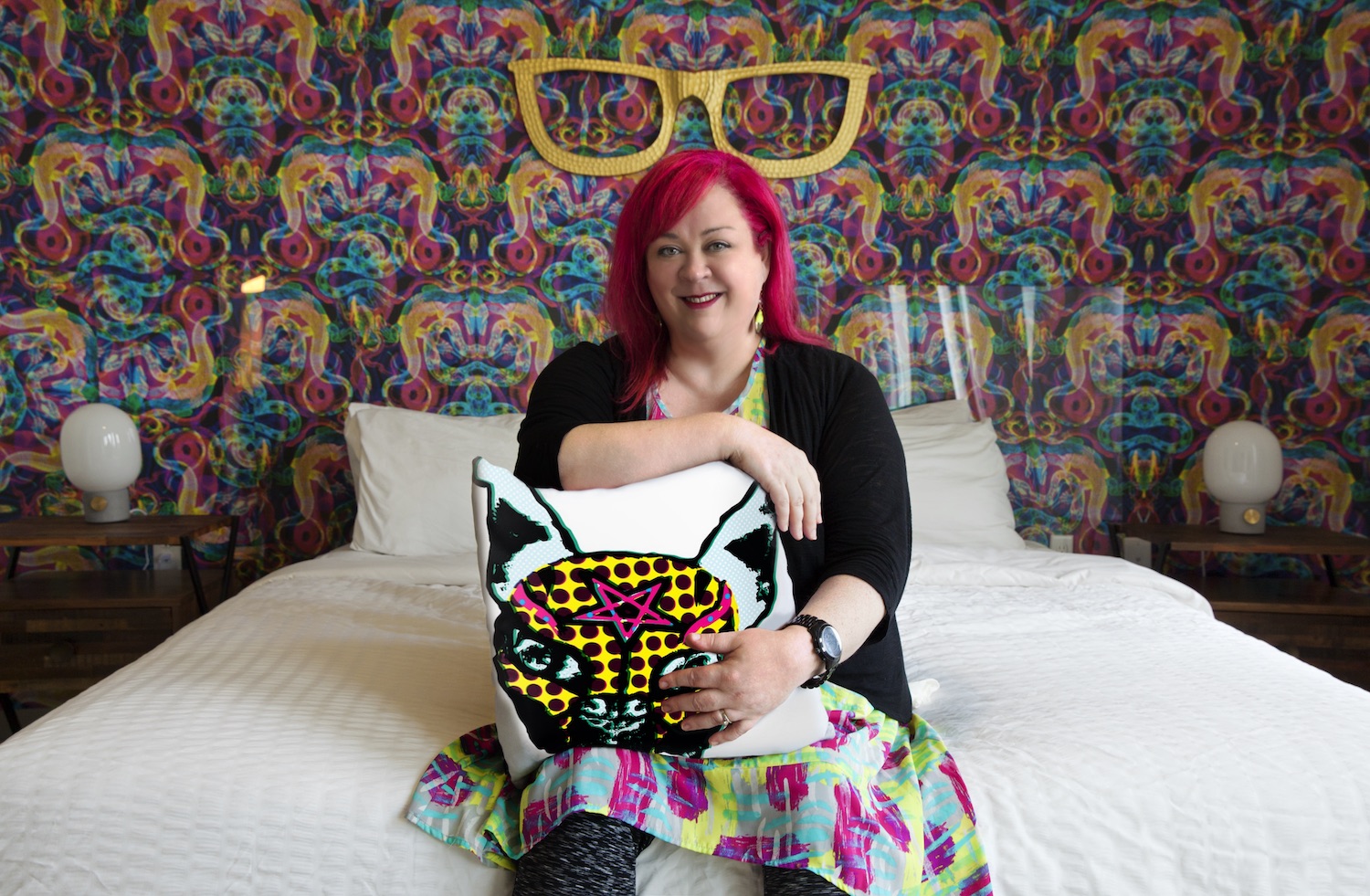 Each Guild space has such a unique and specific vibe. Do you design each one with a specific "person" in mind? 
When The Guild brought me on to design for their rooms, I knew I wanted to design a persona for each building—a unique attitude and aesthetic that fits the location perfectly. I started to see these personas as clients, and taking it one step farther I saw them as siblings from the same parents. The Guild, as a brand, is the parents, and their kids are all very different yet share interesting similarities. For example:
Lamar Union is Marianne, 30: hippie chic, bohemian traveler, art collector, backpacked across Europe before going to Berkley.
East 6th @ The Arnold is Jack, 24: dropped out of college when he sold the dating app for touring musicians he created, funded a live music venue and a few food trucks on the east side just for fun, hung out with Bill Murray at SXSW last year.
City Center is Ben, 23: obsessed with golf since he saw Caddyshack as a kid and went to Vanderbilt on a golf scholarship, works as a marketing consultant in sports technology (more time to be on the course), has his eye on the pro tour one day.
While it seems incredibly fun to design for a large variety of themes, how do you keep your particular voice or style as a common thread throughout each?
My approach was to create a simple, modern, and chic environment with the furnishings, many which are repeated across the properties. Then, the personalities were driven home through the throw pillows, shower curtains, artwork, rugs, and accessories. I also ALWAYS like to include something irreverent—one of my main design principles is that there should always be something that puts a smirk on your face.
If Texas is another world, Austin is another universe—a city with such a specific vibe. Do you find this to be freeing or constraining?
To me, it could not be more freeing. I moved to Austin to go to UT for my Interior Design degree, but I also moved here as a bit of a misfit fleeing a much smaller, conservative Texas town. Austin truly encourages you to be YOU, and that freedom is shown in the creativity of our amazing live music community, graffiti/mural and other visual artists and technology phenoms.
When I think of Texas, I think of excess—bold colors, big hair, Sonic slushes. Do you find that being a Texan influences your approach to aesthetic?
I've been a Texan my whole life, and I do feel that we have a personality larger than most other states. That, combined with the creative freedom that Austin encourages, definitely gives people the courage to GO BIG OR GO HOME. Now take out the word BIG and replace it with BOLD, and that's my design philosophy.
The hospitality industry seems to be experiencing a renaissance with companies like The Guild, Airbnb, etc. What about this is exciting to you as a designer and as a consumer?
This is so exciting to an extroverted introvert, like me. You get all the perks of a hotel, but you get privacy and convenience. The Guild has a "virtual" front desk—all communications come via text message, but you can still get anything you want through their concierge services. Want your fridge stocked with local beers or fresh produce? No problem. As a consumer, it's the best of both worlds.
As a designer, hospitality design is always exciting. Some people are scared to take risks in their homes, but love when they experience them in a hotel. It's a vacation from the regular, same old thing. Hotel owners know this, and that allows more creativity and out-of-the-box thinking for us. And sometimes, those hotel guests go home with a renewed boldness to take more risks in their own homes.
What do you feel like most people are really looking for in temporary accommodations? Style? Comfort? An extension of their own personality?
I think that what they are looking for is a huge part of The Guild's core belief to "Live Like a Local." When you come to Austin you want to experience what it's like to live here. That was my main inspiration in creating the characters, I asked myself, "What would the quintessential resident of this particular neighborhood be like? What music would they listen to? Where would they go out on a Saturday night? What pillow would they have on their sofa and why?". I sometimes tend to overthink, but I think that's what makes a great designer, the details.
Looking Good, Feeling Good Throw Pillow
You Had Me At Tacos Throw Pillow
Argyle Throw Blanket
by HowGroenWasMyValley
$49.00
Time For Pong Throw Pillow
Austin Stick It Throw Pillow
by Squint Photography
$22.00
Gentlemen Prefer Tennis Throw Pillow
Golf Pegs Throw Pillow
by Neil John Smith
$32.00