It's your first week on campus and you're still rocking that summertime uniform of short shorts and flip flops. Get it together, girl! This week is all about first impressions, so make sure you've got your style game down and dress for success. We asked stylist Ana Alic to give us the rundown on what to wear when you've got that 8am class and it is too early to literally do anything. Model and hair-goddess-of-our-dreams Genevieve Hutchinson sports 6 breezy looks for back to school so you can focus on the real reason you're there: studying (boys).
Vintage Tee (Lattes)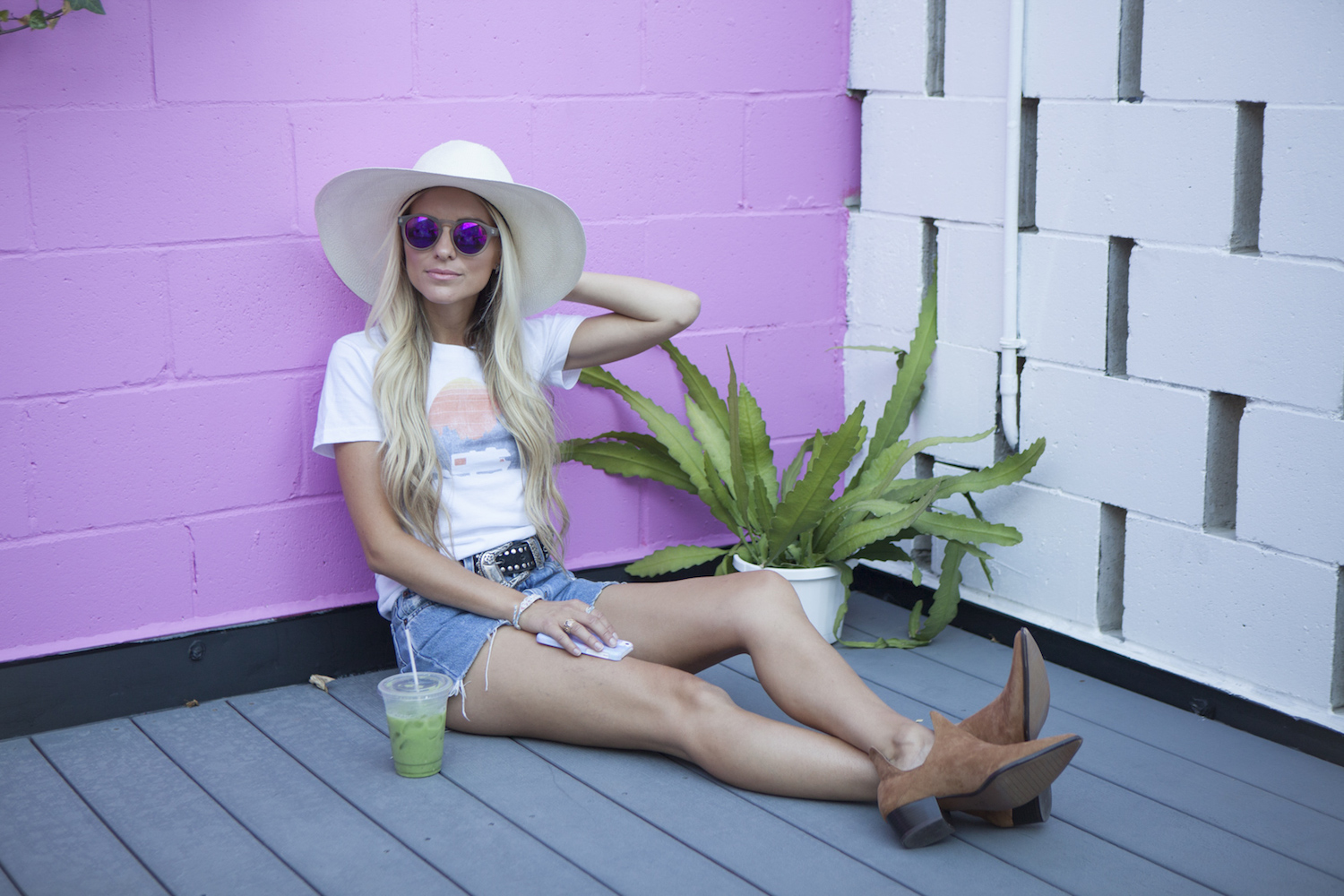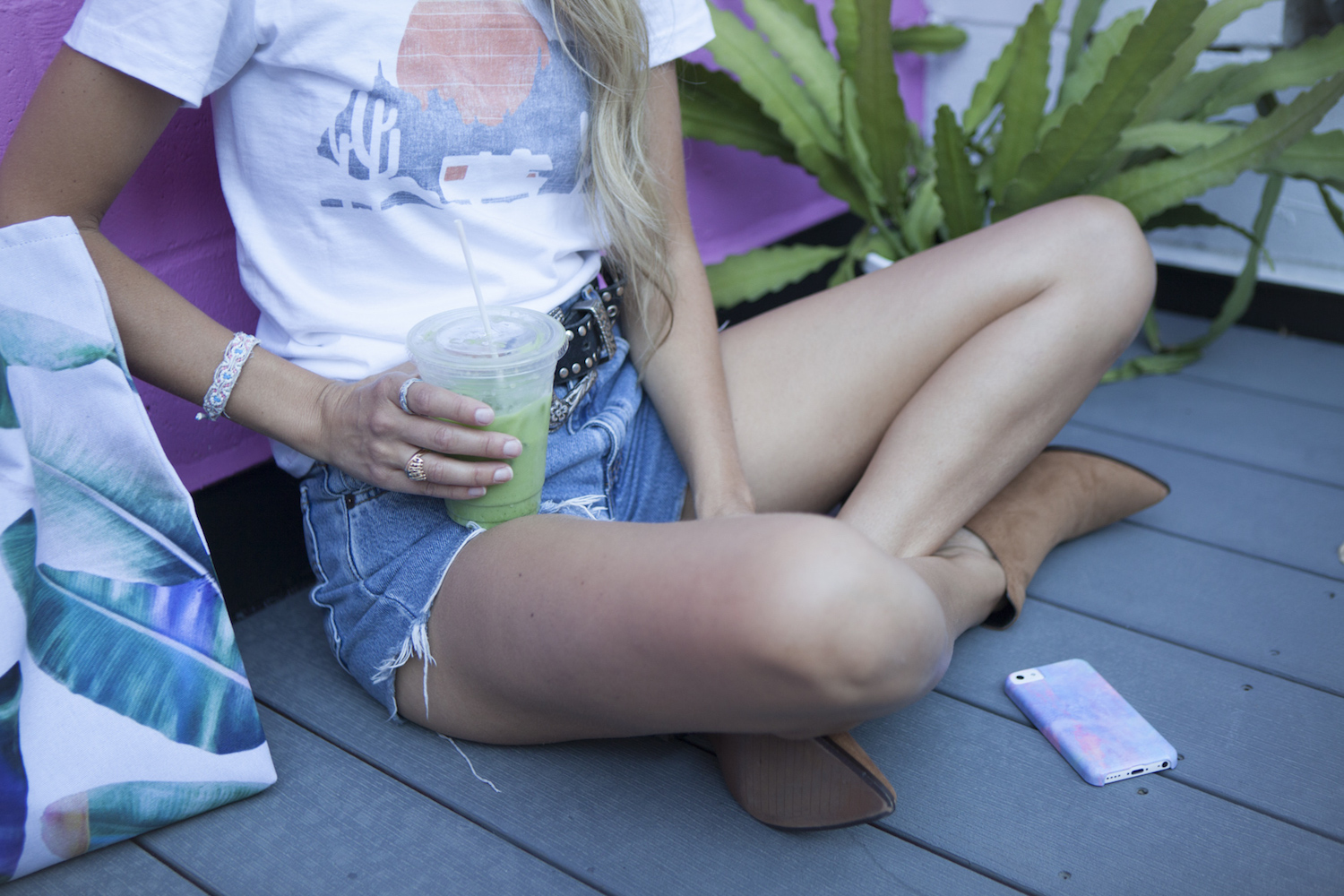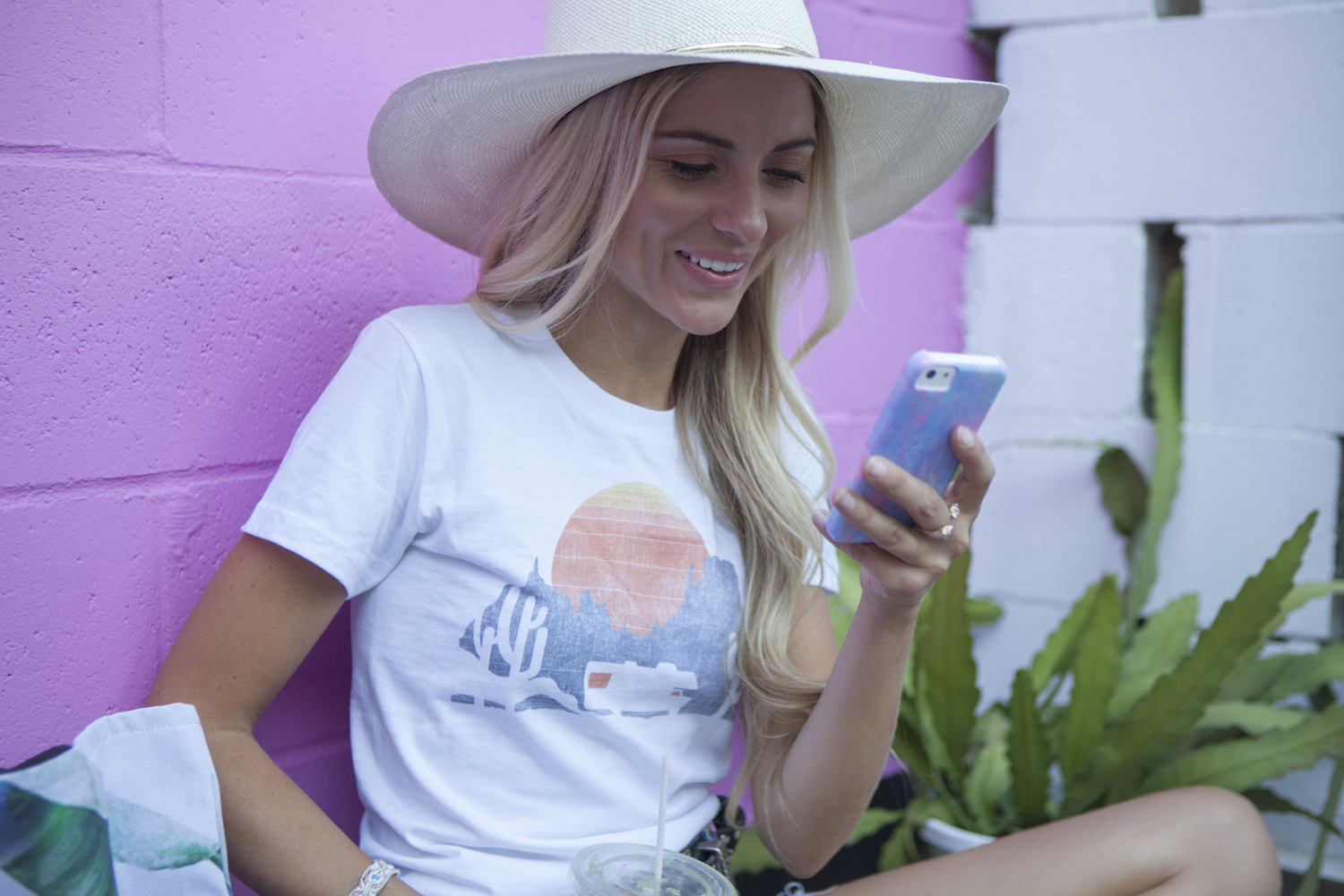 Back to school means early mornings but you can still look fresh and on trend while grabbing that matcha tea latte to get you in the groove. Pair high waisted vintage denim shorts with a cute t-shirt, a wide brim hat and a bright tote for those school essentials. Loving this trail of the dusty road t-shirt, brings a bit of a western feel to your look so you don't have to let go of that summer feeling just yet.
Good Luck Charm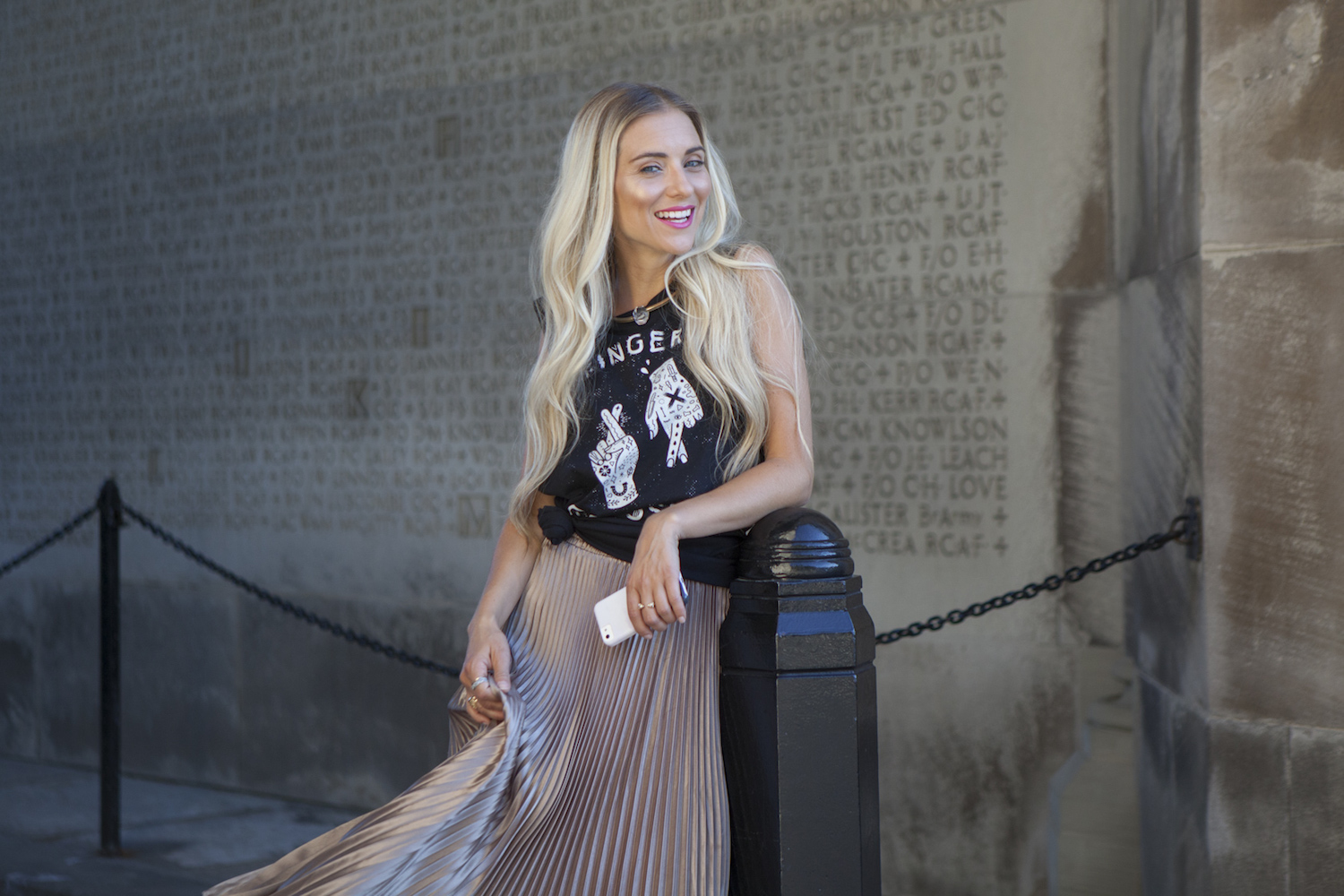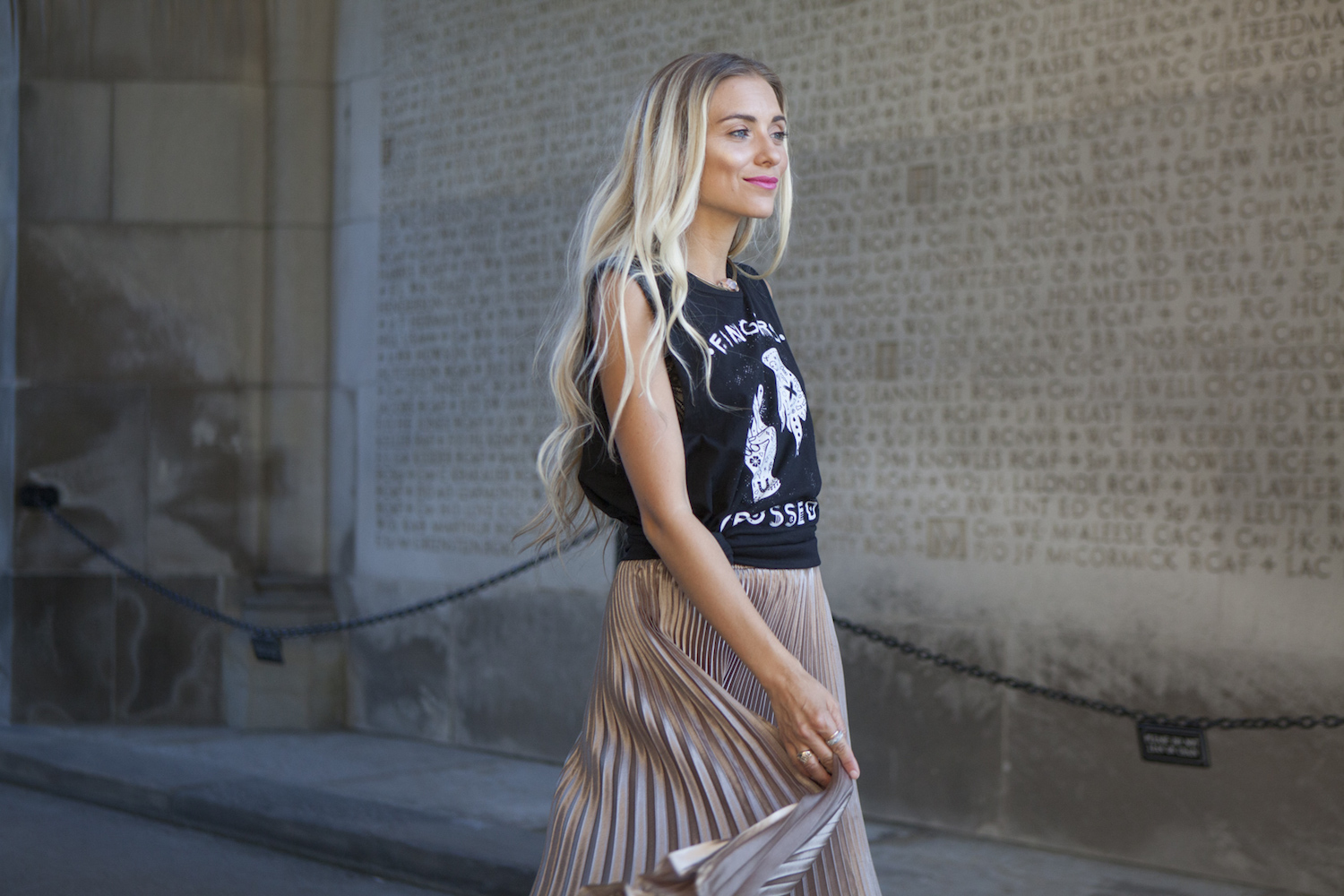 Your first week on campus is sure to have some amazing soirees, sorority party anyone?! Bring your personality to the party and try something totally new like this gold pleated skirt and good luck tank! Bringing you good vibes and fortune for the new school year, you can pair a tank with any skirt and be party ready! Add a bold lip and shimmery cheeks to transition this look from day to night. You'll be dancing the night away in no time.
Flannel For Days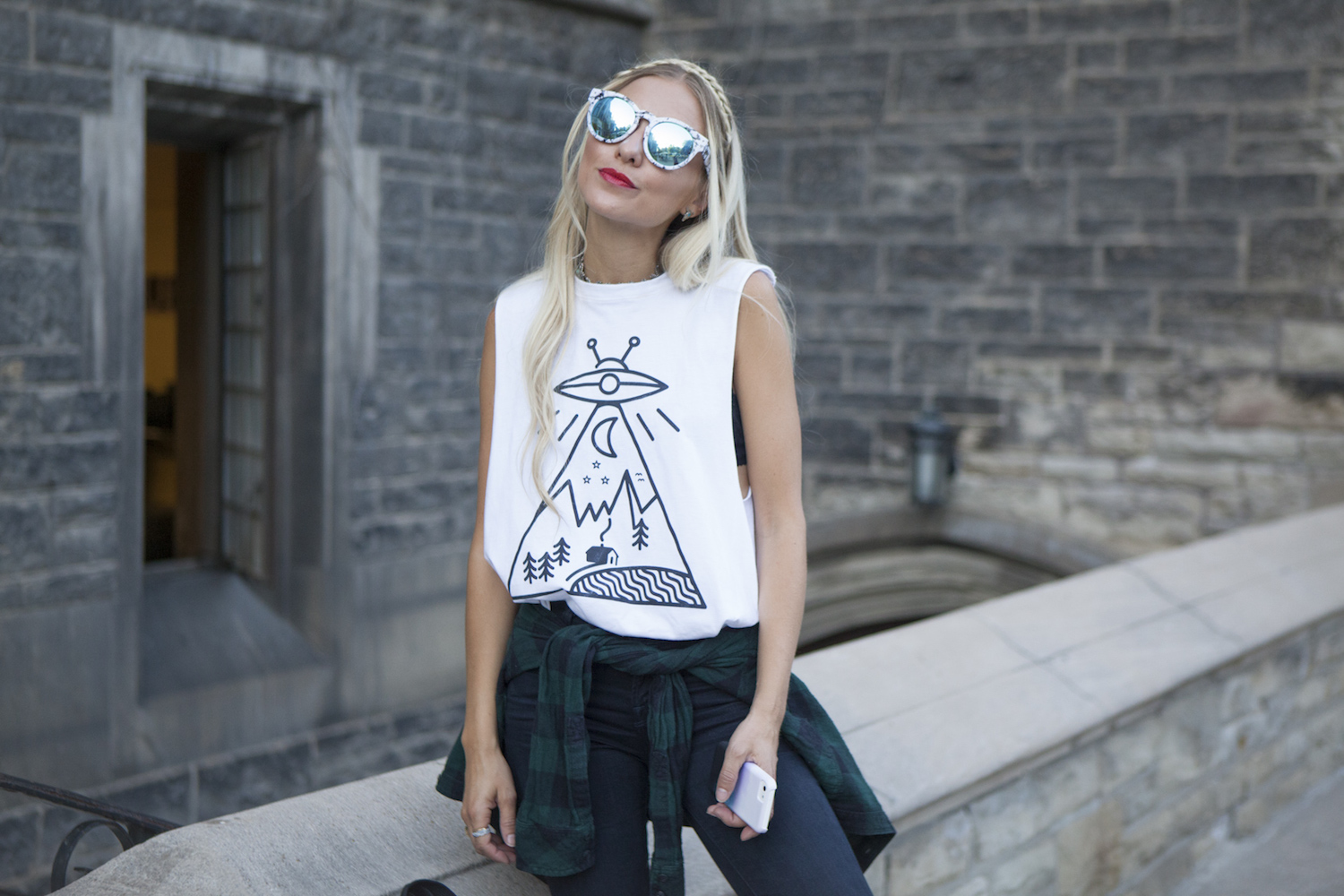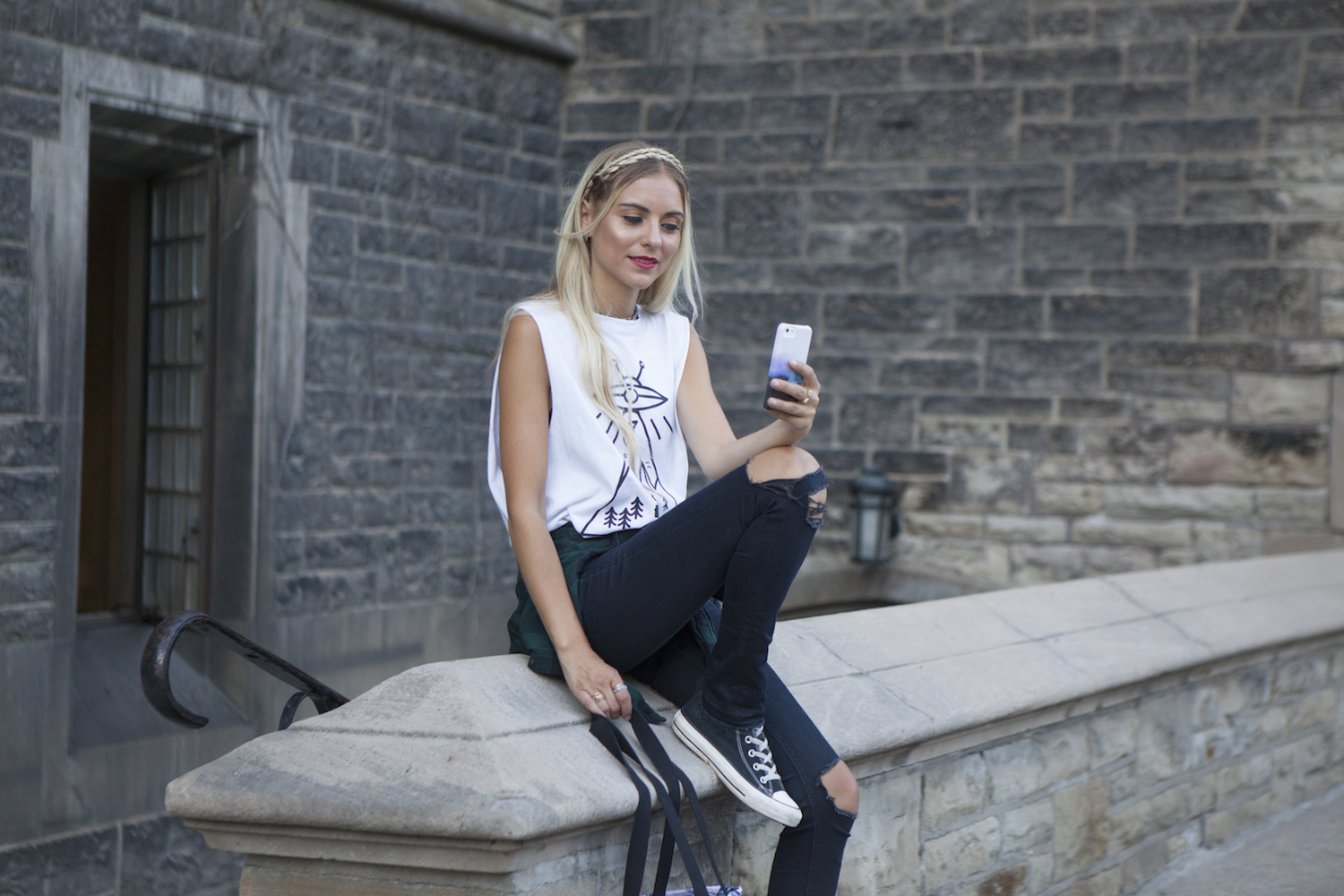 Is a local band playing at your campus pub? Perfect! Wow the crowd with ripped skinnies, your favourite flannel and they made us tank, serious alien vibes. The 90's are back and in a bold way, so this look is a perfect spin on 90's grunge. Add a cute tote, iridescent sunnies and my personal go-to, chuck taylors, they really look good with everything. This look is comfortable and cool, you can add a fun braid for some serious styling points. Super easy look from class to concert, so you can focus on swooning over the drummer.
Not So Clueless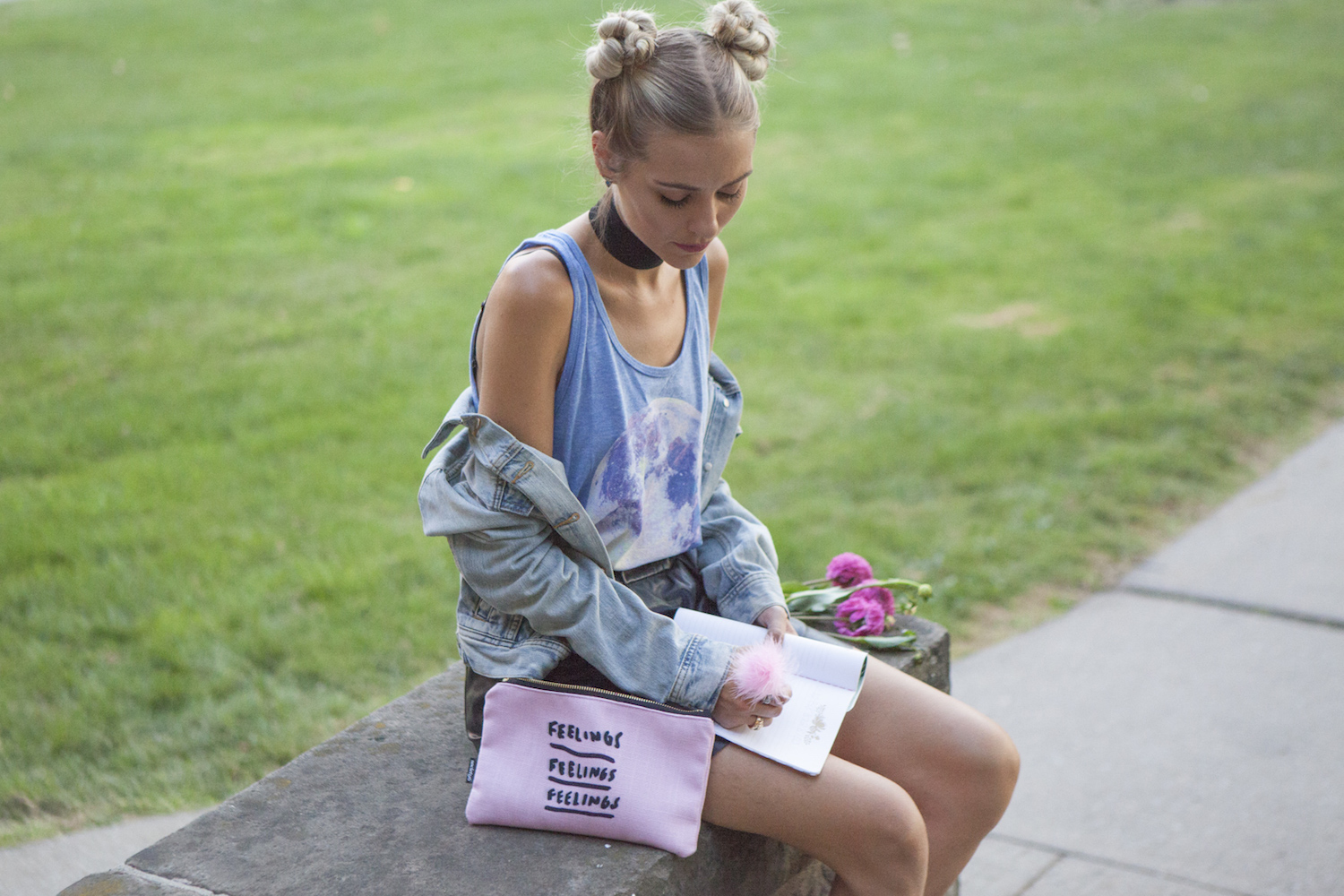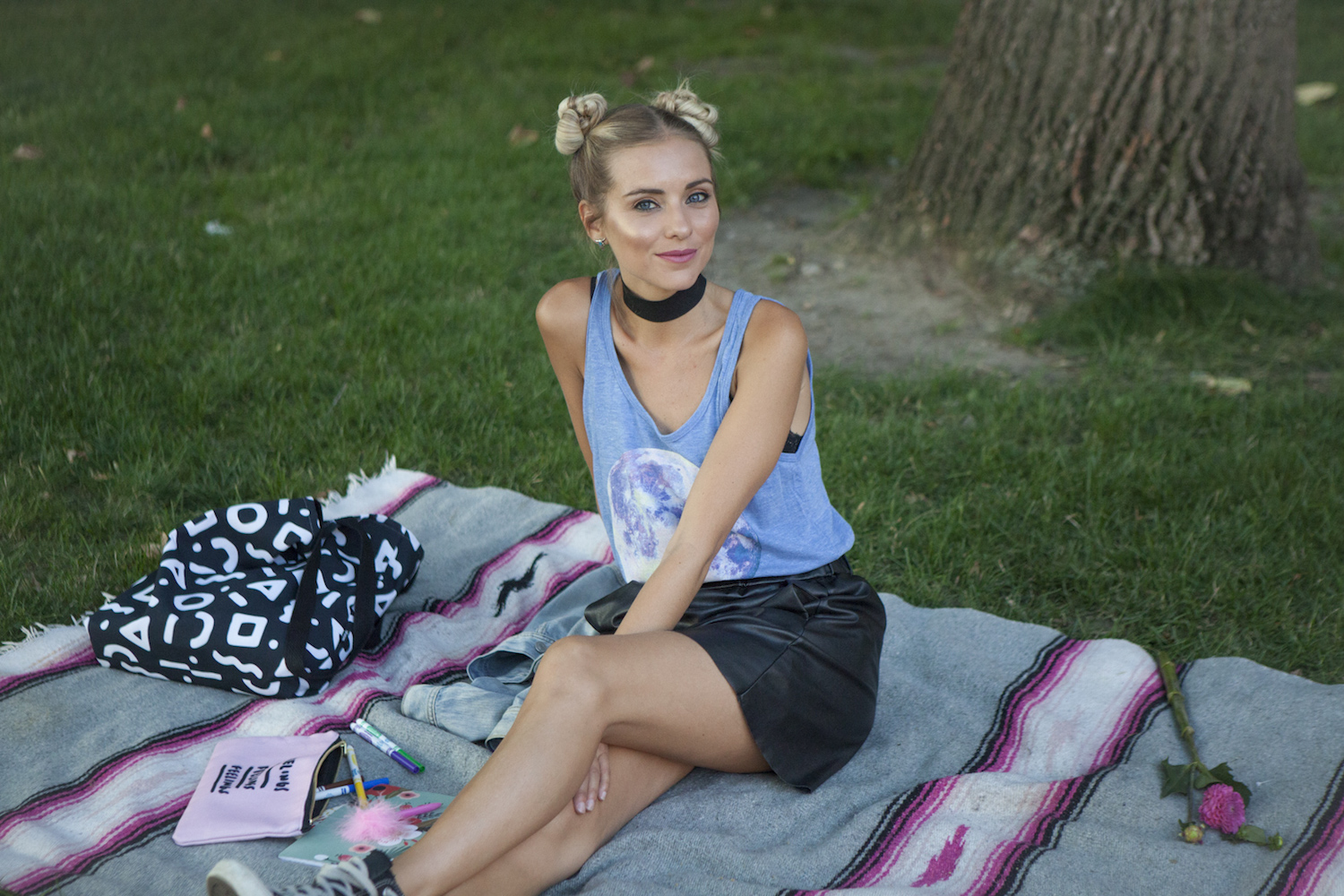 "Do you prefer fashion victim? Or ensemble-y challenged?" Take a cue a-la the book of Cher Horowitz and liven up that class style game. We paired the moon tank with a faux leather skirt and vintage jean jacket. Choker necklaces are all the rage these days and you can add anyone to this look. For an extra bold and fun look try the double bun hairstyle.
Zenned Out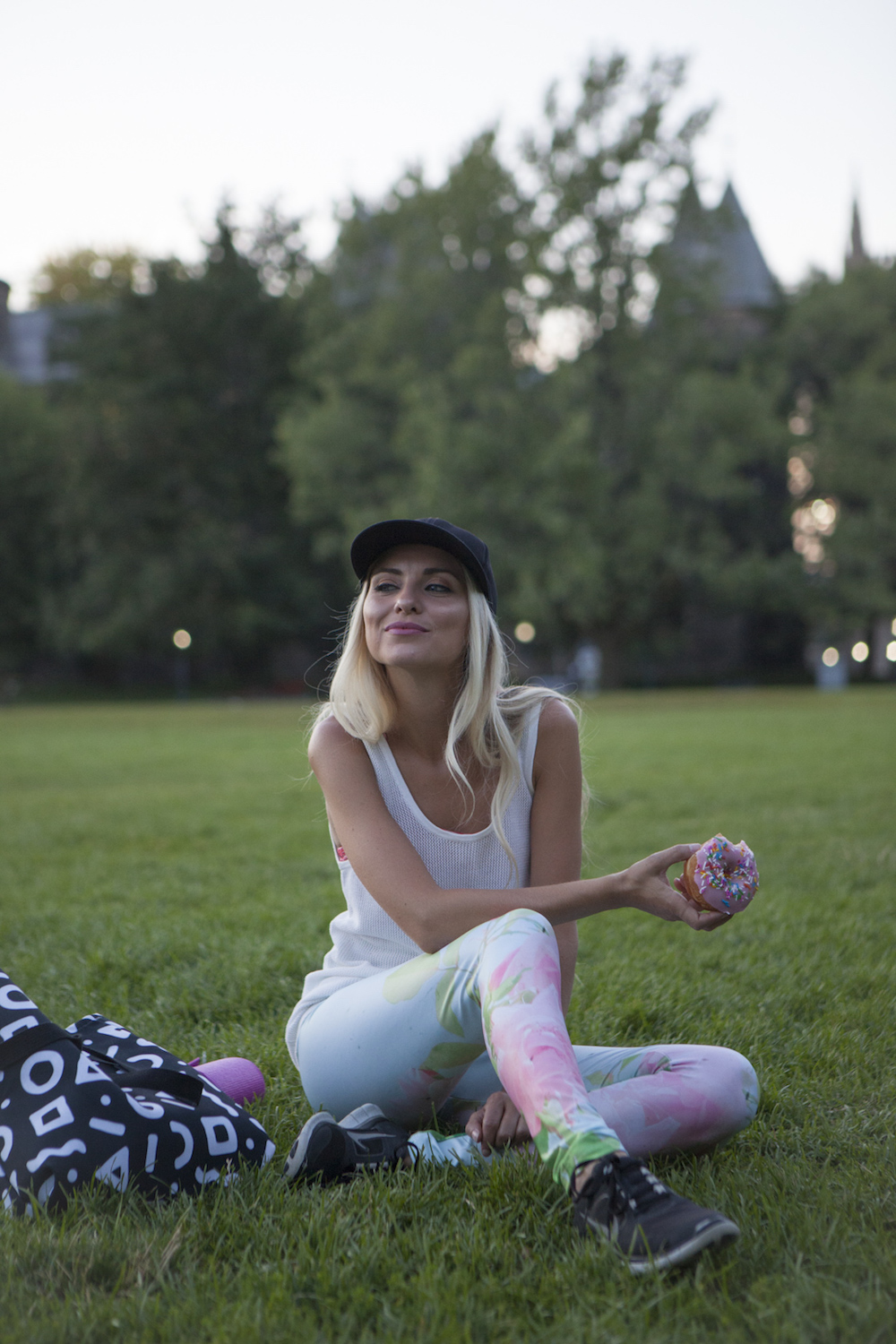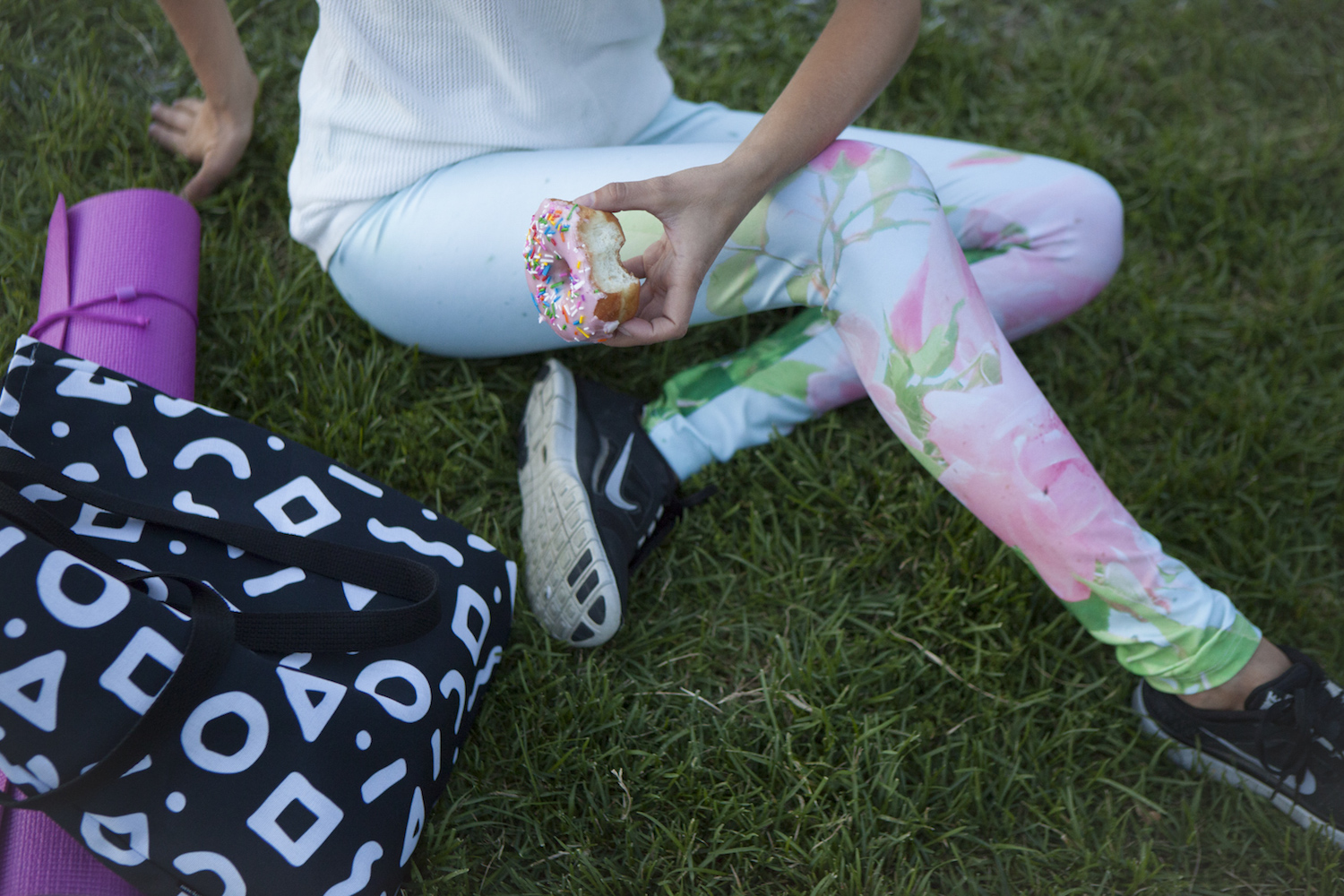 All this school work have you stressing? Sign up to yoga on campus and de-stress during downward dog in the beautiful pink roses leggings. Ultra stylish and super comfy, you'll be totally zenned out and ready to dive into that essay. The design of the leggings are so gorgeous, stick to a plain white t-shirt or tank, add a ball cap and tote for your yoga mat. Don't forget to treat yourself after, you deserve it! Vegan sprinkle donuts yes please!
Spice Girl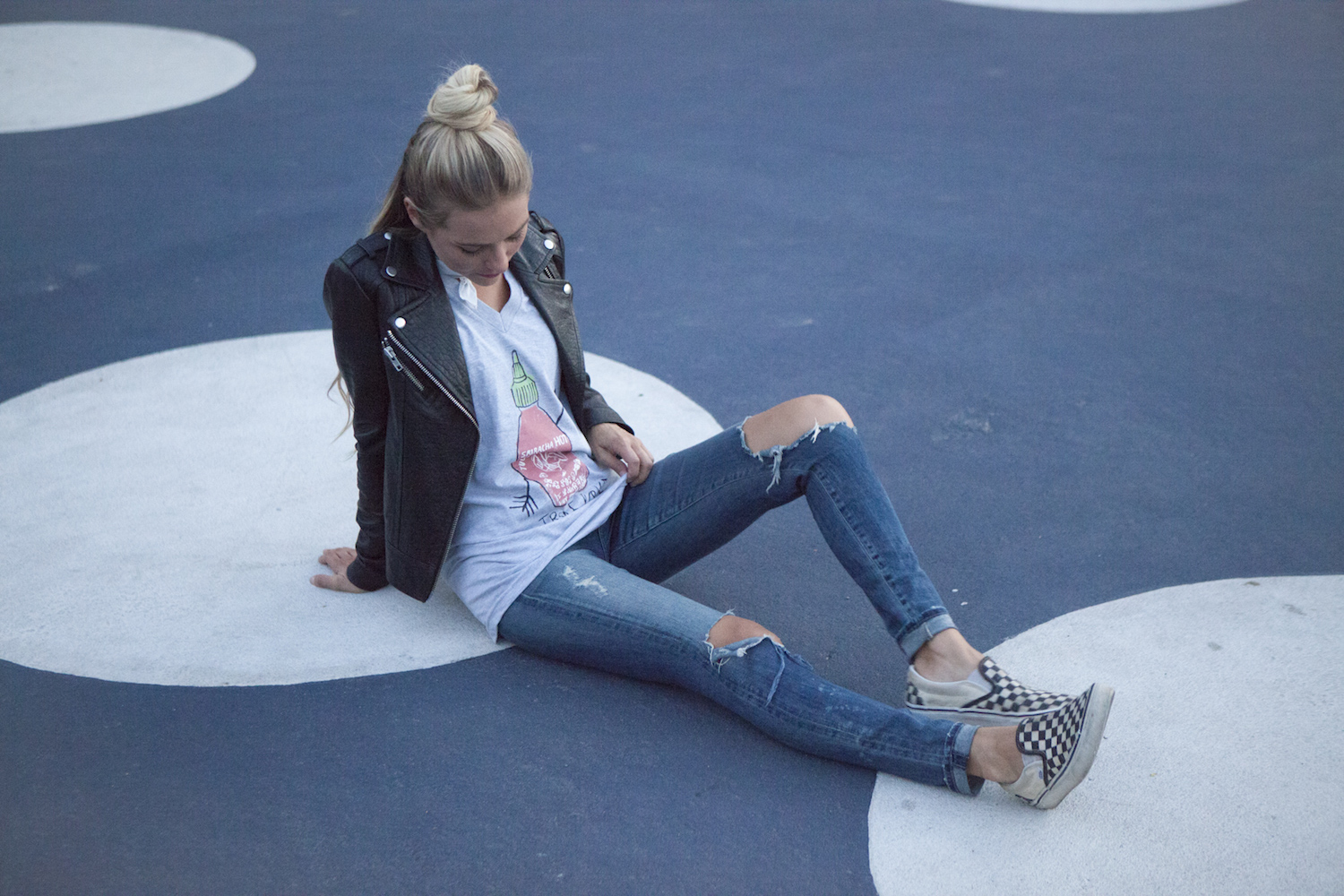 You love your sriracha don't you?! We do too, so obviously we had to show our love for this food staple with this look. Keeping things simple with this t-shirt and jeans look, but adding a leather jacket and bandana to style it up. Wear this look to class, outdoor movie night, campus comedy night, whatever-wherever this look works wonders.
And there you have it so much inspo for your first week on campus! No need to sweat, you'll be getting an A+ in style (which you can totally put on your resume, by the way).
Photos by: Angela Lewis
Styling + words by: Ana Alic
Model: Genevieve Hutchinson
Hair + Makeup: Alison Sharp
FEELINGS Carry-All Pouch
84
Abstract Pattern 002 - Black Tote Bag
30
They Made Us Biker Tank
234
Good Luck / I'm Lying Biker Tank
488
slow me down Phone Case
1226
Trail of the dusty road T-Shirt
324
Summer Sky Phone Case
1132
by Georgiana Paraschiv
$28