No bedroom is complete without the perfect rug. Beyond contributing a stylish look to your bedroom, rugs protect the flooring, add depth to furniture design and décor, and ultimately tie together a bedroom's cozy atmosphere.
That said, the work isn't done once you've discovered the ideal rug for your bedroom. Home decor philosophies dictate that you also need to place it correctly.
3 Tips for Bedroom Rug Placement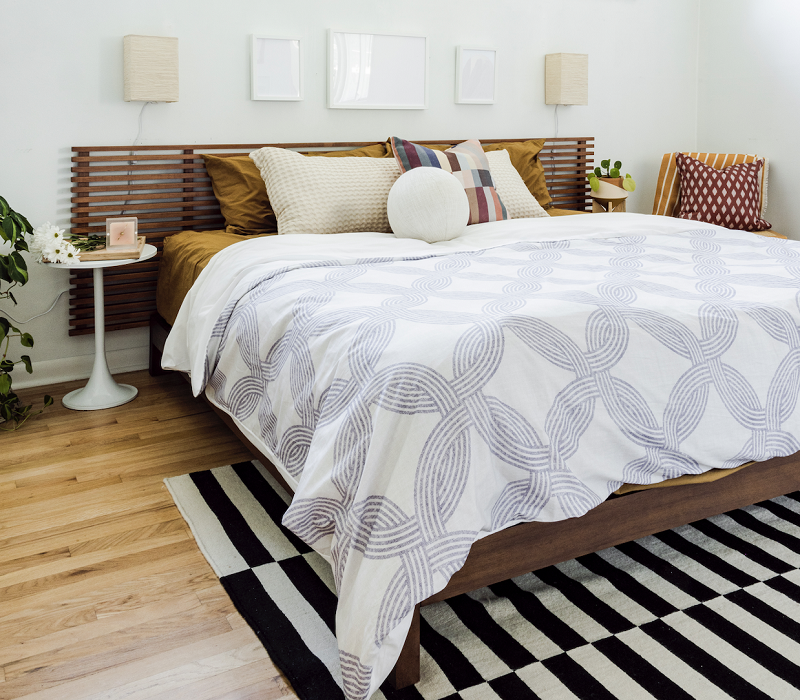 Rugs have major design power, with the potential to enhance the look of furniture, flooring, and the room as a whole—so long as it's placed thoughtfully. With the proper alignment, even a huge rug size set on a diagonal can look interesting, intentional, and marvelous. 
#1 Consider The Purpose of Rug Shapes and Sizes 
Determining a pleasing bedroom rug placement means paying attention to not only the size of your space but also the size of your bed. Make sure your rug is proportional to your bed frame: use a large rug to highlight a king-sized bed and a medium or smaller rug for queen-sized beds.
The shape of your rug isn't one-size-fits-all, either. Rectangular rugs are the most common and provide the most sophisticated, clean look. By contrast, round rugs are a bit more eclectic, though they complement any size or style of room. Whether you choose a round rug or a rectangular rug, the right rug shape will only enhance a large or small bedroom.
#2 A Larger Rug Should Complement
Large or oversized rugs do best when placed under all the bedroom furniture, from the bed to the nightstands to the surrounding dresser. We recommend keeping no more than two feet of exposed floor between the larger rug and the room's edge. This will ensure that the large rug you choose complements all aspects of your room and doesn't clash with the rest of your bedroom wall decor ideas.
#3 Smaller Rugs Should Accent
For a smaller space (or tighter budgets), rugs don't have to catch all your bedroom furniture's feet. There's still a sleek and unifying effect when the rug doesn't encompass the whole bed—just make sure the rug extends visibly beyond the foot of the bed.
In this case, a smaller rug or two should accent the room (as opposed to complementing the entirety of your smaller space).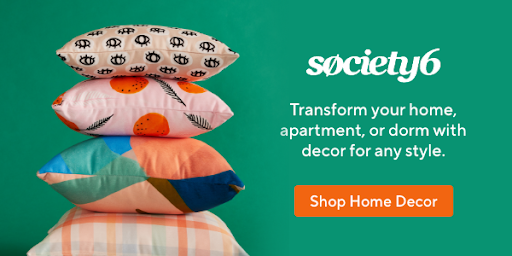 Bedroom Rug Layout Ideas
Want to know how to decorate a bedroom like a pro? The secret lies in proper rug placement. No matter the type of rug you choose, the goal of placing it in your bedroom is always singular: to highlight the main feature of the room.1 In a bedroom's case, the main feature is the bed. Try some of the bedroom rug placement ideas below for inspiration.
#1 Center the Bed with Area Rugs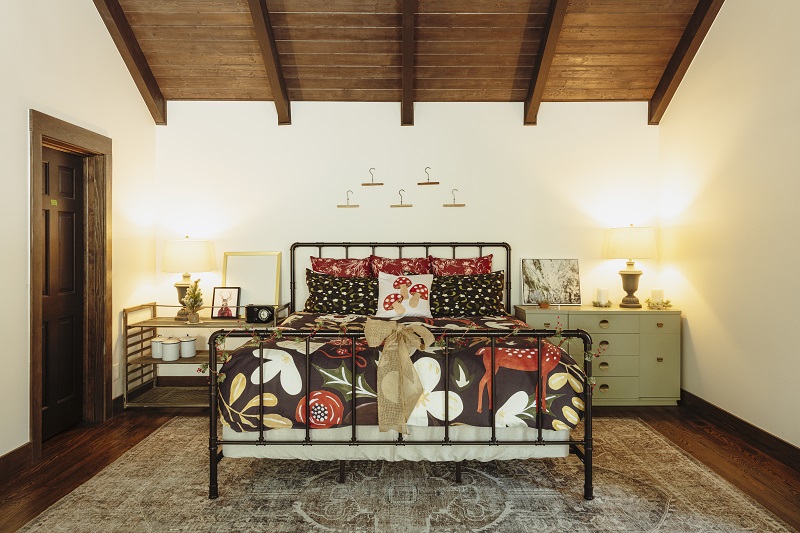 If you have more space available to you, consider placing a large area rug centered beneath the bed and extending underneath adjacent bedside tables or floor lamps. Area rugs have a grounding effect upon the whole room.
#2 Go for Partial Bed Coverage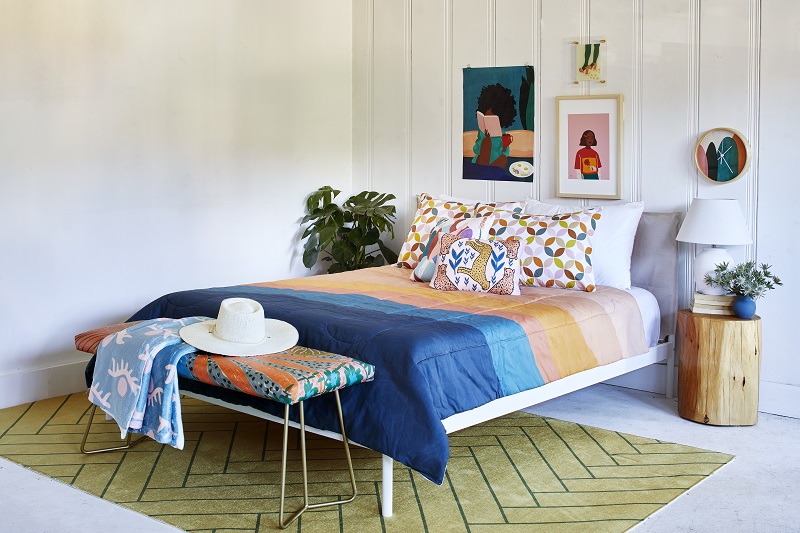 Though an all-encompassing bedroom area rug placement is an elegant go-to option, it's not the only way to add cohesive visual interest to a bedroom. You could also opt for a medium-sized rug that takes up only half of your under-bed space but still extends at least a foot past the bottom of the bed. 
#3 Border the Bed with Small Rugs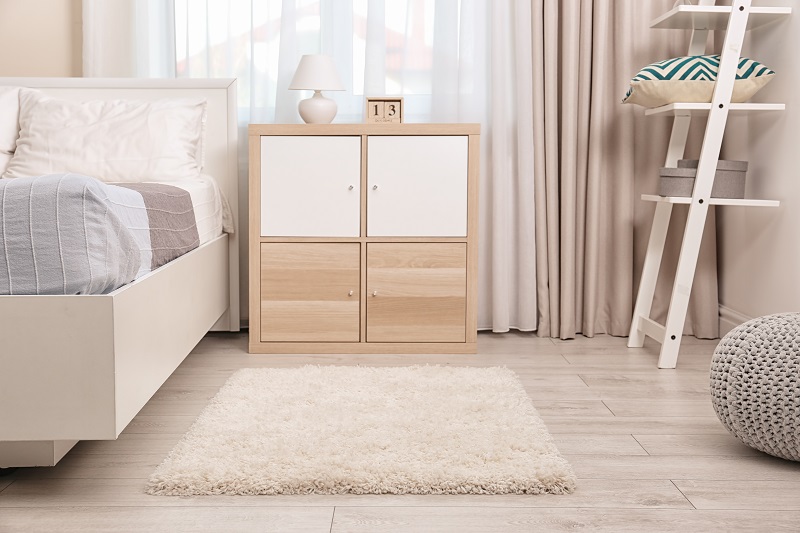 Two identical small rugs are perfect for placing on either side of a bed, especially if it's already centered within your bedroom. They would enhance symmetry and provide a warm landing for getting out of bed—not to mention: a smaller rug saves a bit of your budget.
#4 Enhance an Individual Bedroom Nook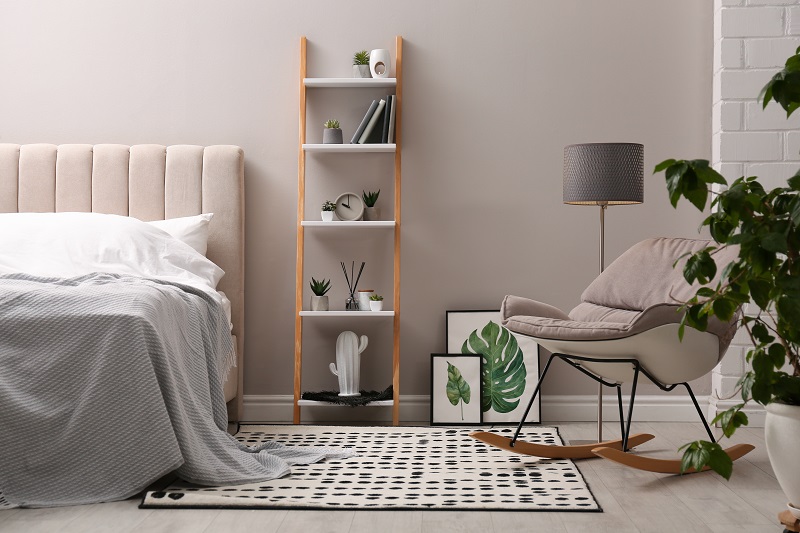 Much of the advice on placing and layering rugs in a bedroom relies on a symmetrical bedroom layout. However, some bedrooms naturally require asymmetrical set-ups, or maybe you have a little reading nook or small space seating arrangement in your bedroom. 
Small or medium-sized rugs in these specialized bedroom spaces add color, comfort, and texture to that area. You can choose a contrasting rug color and let the area have its own style, or tie in a cohering accent color for overall synthesis.
#5 Fill Empty Space with Small Rugs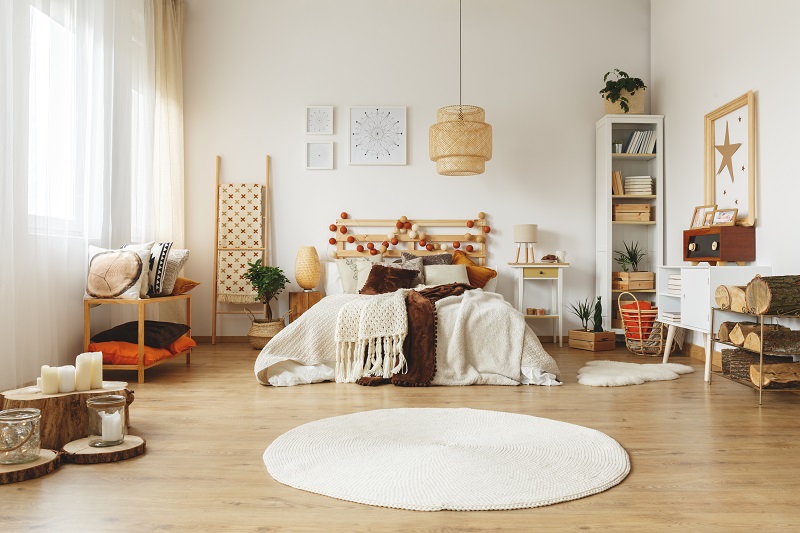 Smaller accent rugs are great opportunities to pad doorways or awkward empty crannies in your bedroom. You could try out more unique rug configurations in these placements, like animal skins or artistic punch needle rugs.
Bedroom Rug Placement: Frequently Asked Questions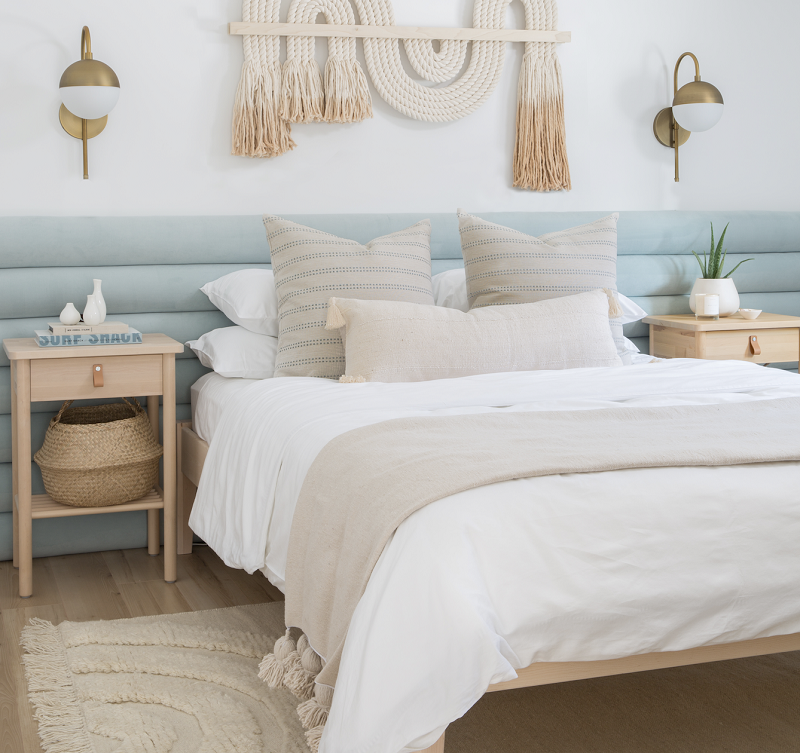 Where Should a Rug Be Placed in a Bedroom?
A rug's priority placement in a bedroom is always under and around the bed, as it grounds and centers the room's key feature. While rug placement in bedroom spaces varies by rug size, style, and preference, it's a good rule of thumb to ensure you have a couple feet of exposed flooring, no matter the rug.
How Far Should a Rug Stick Out From Under a Bed?
How far a rug extends beyond the perimeter of a bed depends on the size of the bed. To maintain aesthetically pleasing proportions, at least 12 inches of rug should show beyond the edges of a twin or full bed, whereas a queen or king bed necessitates at least 18 inches of exposed rug.2
Does an Area Rug Need To Be Centered in the Room?
No, an area rug doesn't need to be perfectly centered within a space. A rug looks most stunning when it becomes a focal point to highlight a major element within the room: a fireplace, dining table, or couch, for example. 
In the case of the bedroom, an area rug should highlight the bed.
Maximize Your Interior Space with Society6
The possibilities for rug placements are endless, which means the creative potential for your bedroom design is equally expansive. Whether you're cultivating your own kingdom of comfort with a high-piled shag or introducing color with a zany-patterned rug assortment, your perfect rug is one step closer to making a bedroom feel like your room.
Society6 helps you achieve the room of your dreams through the power of artistic community. 
Our collective of over 450,000 independent artists gives colorful life to a near-boundless collection of uniquely designed home décor—so you're sure to find something to suit your room, no matter the arrangement.
Sources:
True Design House.

How to Properly Place an Area Rug

.

https://www.true-design-house.com/blog/how-to-properly-place-an-area-rug

.

Wild Creative Project.

Where to Put the Rug When the Bed is Against the Wall?

https://wildcreativeproject.com/small-space/bed-against-wall-rug-placement