Our 4th of July promo is here! 
The next two weeks are an important shopping period in the US with many retailers offering compelling sales on the summer must-haves customers are looking for. No matter where you're located it's a great time to promote yourself and the deals happening in your shop. To help you make the most of the occasion, we're sharing a few tips and tricks to keep in mind as you promote your shop and products.
Featured Art: "USA 4th of July Popsicle Pattern" by Kelly Gilleran
4th of July Promo:
Up To 40% Off Everything
40% off art prints and posters, 30% off wall art, home decor and outdoor & lifestyle, plus 20% off everything else. 
Key Dates to Note:
June 25 – July 5: The Society6 4th of July Sale
July 4: 4th of July
Our Tips for Making the Most of 4th of July Sales
1. Share Our Promos With Your Customers 
Driving traffic to your shop is one of the most important things you can do to improve your sales. The more people that land on your page, the more chances you have to convert them into customers. Promos are a great opportunity to connect with potential customers. Our 4th of July sale is up to 40% off everything, so there's something for everyone! 
Let your fans and followers know about the great summer products you have available in your shop. The more often you share the better! Consider promoting the sale on your Instagram stories everyday through July 5th. 
For every sale on Society6, we create a handy promo overlay that you can use to share about the sale. Consider adding the overlay to a lifestyle preview image from Society6 (you can save these by right clicking the image) or on top of one of your designs. You can do this by opening the image in photoshop and adding the overlay as a new layer.  You can download the 4th of July overlay here. 
If you'd rather create your own promotional posts, you can take the details from the promo overlay and design a new post in your own style. For more info, check out our tips on How to Promote Yourself in your Own Style.
2. Create and Share a Collection 
We've recently revamped our Collections tool which now makes it easier to create and share your products with customers. Use this tool to create a merchandised collection of products related to the 4th of July sale. 
To do so, consider including the following key product categories in your collection and choose designs that reflect popular trending themes like Americana and summertime. To build strong collections make sure to include a brief title, a description that explains what the collection is about and at least 10 items. 
Products to Highlight:
Art Prints and Posters

Wall Art

Home Decor

Outdoor & Lifestyle Products

 
Don't forget to share your collections with your fans on social media, via email and on your website!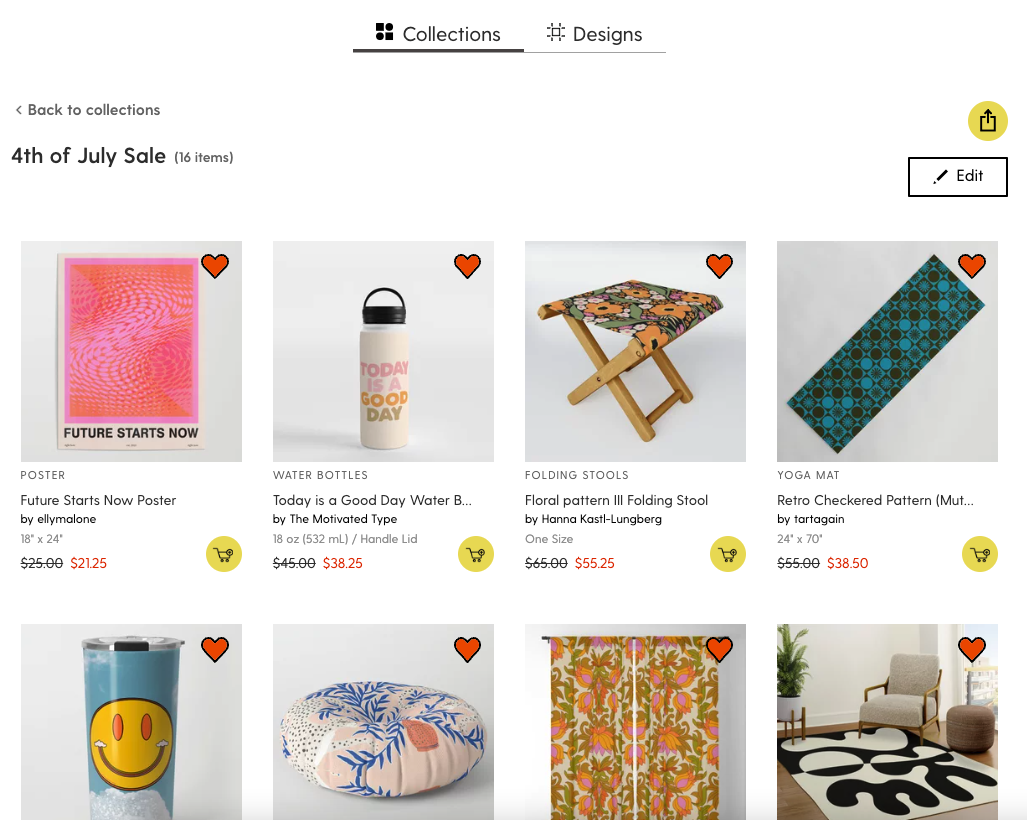 3. Upload New Seasonal Designs 
Now is a great time to upload new artwork designed with summertime in mind. Consider these trending themes: 
Checkerboard

Bright gradient colors

Gingham

Mushrooms

Electric Pastels

Retro Foliage

Fruit & Veggie prints and still life

Nostalgic Typography
New designs are also a great reason to connect with your customers and let them know to check out your shop. Pro Tip: share a link to the Design Detail Page when you upload a new design to allow customers to shop all of the products associated with your design. Learn more about this new feature here! 
You can find more inspiration in our 4th of July Collection here and we've included a few of our favorites below. 
4. Leverage Our Affiliate Program to Earn More  
While putting the previous marketing tips into practice, make sure that any links you share to your Society6 shop are using your unique affiliate link! This allows you to make an additional 10% on the net sale of every item in a customer's order (even if it isn't from your shop).
For artists who are enrolled in the Affiliate Program our recent site improvements have made sharing your affiliate links easier than ever. You can share directly from any Design Detail Page, Collections Page or from Artist Studio just by clicking on the yellow "Share" icon and your affiliate link will be included! 
If you're adding the affiliate link yourself, below we've outlined how to so so:
If your shop link is society6.com/username. The custom affiliate link is ?curator=username.  Here's how that link should be applied: 
Artist Shop Example:
society6.com/username?curator=username
Product Link Example:
https://society6.com/product/bomp-pop-pattern_all-over-graphic-tee?curator=username
Pro tips:
Add your affiliate link to your social media bio

Include your link in Instagram stories while doing self promotion

Update any blog or website links that you have leading to your Society6 shop

Use our quick sharing tools to generate your affiliate links 
If you haven't already joined our Artist Affiliate Program, you can learn more and sign up here (its quick and free!). Adding your affiliate link to your shop URL and to any product links you share is an easy way to earn more on sales your refer!
These tips were designed to help you make this most of this key summer shopping period. We hope they help as you plan out how to promote your shop this 4th of July!