Your bedroom is your sanctuary—a safe place where you can delve into the deepest parts of your imagination, curl up like an overstuffed burrito in plush oh-so-cozy comforters and indulge in your fave reality shows (and not worry about anyone judging). 
While those four walls are a harbor, they're also a canvas for all sorts of wall art and decor—a place where you can flaunt your personal home decor style and design finesse to create a cohesive space you can sink into. 
To arrange the bedroom of your dreams, we've lined up 18 bedroom wall decorating ideas to help you personalize your space with savvy style.
#1 Gallery Wall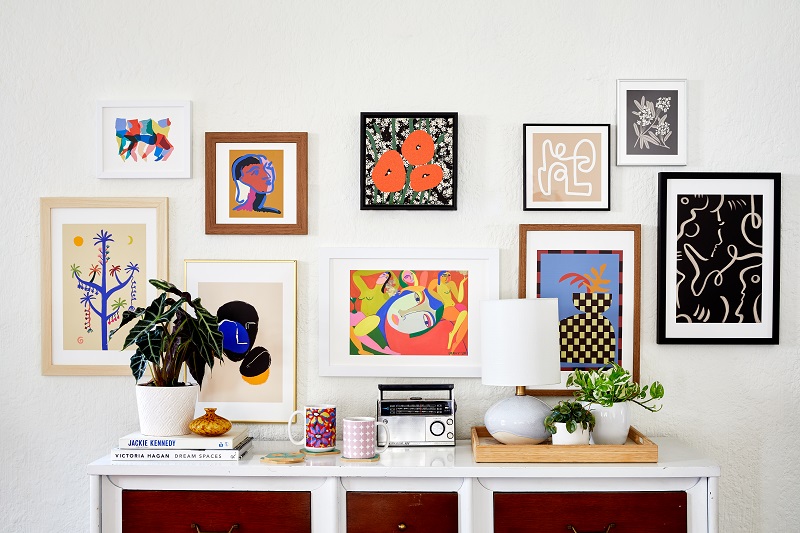 Whether you're crafting a floor-to-ceiling display or a half-wall creation, gallery walls one of the best wall decoration ideas for your bedroom, adding electric dynamism to your space. 
Depending on your personal style, you can opt for a variety of design elements, from same-size, same-color frames for a uniform lineup to an assortment of multi-style, multi-size frames that give your bedroom a more eclectic feel.
The fantastic thing about gallery walls is that you can customize them to your aesthetic—boho, vintage, and minimalist spaces each shine with a gallery display. 
No matter your frames of choice, you'll want to make sure the tones in each piece of art are coordinated. For example, you may want to opt for a collection of cool-toned portraits for a calming effect. Or, maybe you want bold primary and secondary colors to give your room a striking pop of color.
#2 Wallpaper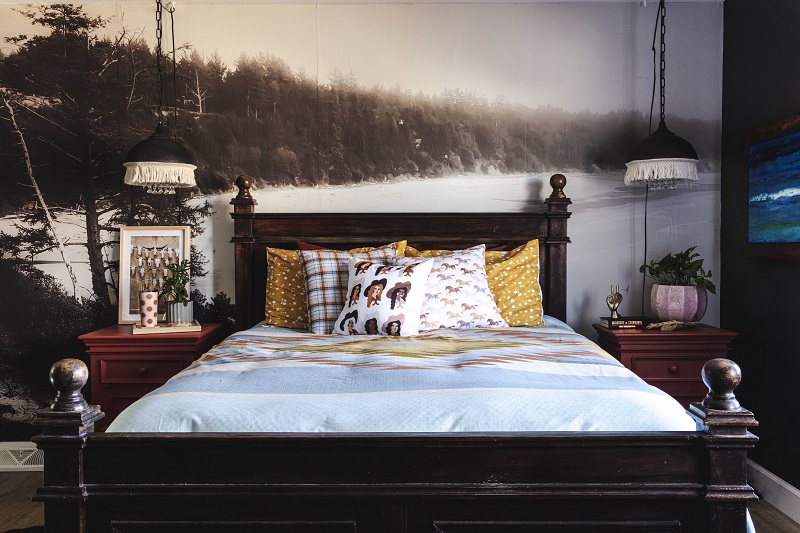 For those looking to wrap their bedrooms in a cohesive and artful aesthetic, opt for a patterned wallpaper. Wallpaper serves as a wonderful accent wall, too. 
While many associate wallpaper with vintage or country designs, it's actually incredibly versatile. You'll find a wide variety of wallpaper styles, including: 
Tropical prints

Mid-century arrangements

Retro impressions
If you're looking for a less-than-permanent bedroom makeover, peel-and-stick wallpaper is renter-friendly and easy to apply and remove to match your current mood. 
#3 Mirror Wall
If you have a small bedroom, a wall of mirrors can seemingly grow and brighten your space, especially when hung opposite a window. 
If you prefer a more natural aesthetic, opt for mirrors with organic, oblong shapes that flow across your entire wall. For a more bohemian vibe, mix and match mirrors with gold, bronze, or brown frames. (If they're crowned in a sun design, that's an added bonus!)
And those who prefer the soft simplicity of contemporary designs can deck their walls in a mirror set, which often includes mirrors of similar sizes and shapes. 
#4 Wall Tapestry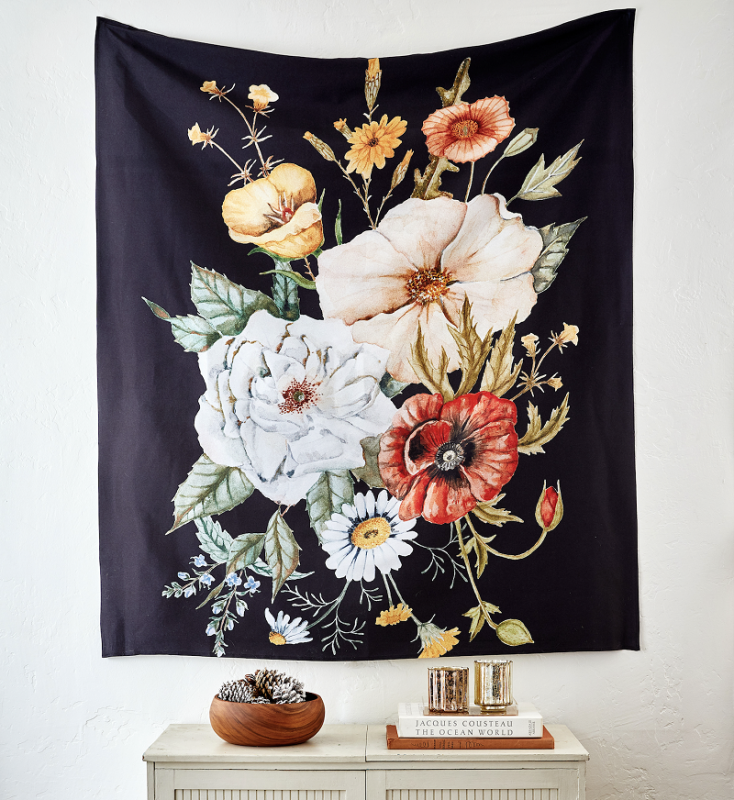 Wall tapestries are a quintessential addition to any dorm room, but savvy designers can elevate the look, too, to create a bedroom that's draped in cozy fabrics and unique patterns. 
For a more casual, free-flowing look, hang a wall tapestry adjacent to your bed. However, if you're looking for a more sophisticated vibe, consider framing the tapestry in a simple wooden frame. Placing the tapestry over your bed frame can give your bedroom a focal point, especially if you choose an eye-catching abstract design.
To create a more textured look, you can also use a colorful throw blanket to add some dimension and embellishment to your walls.
#5 Floating Prints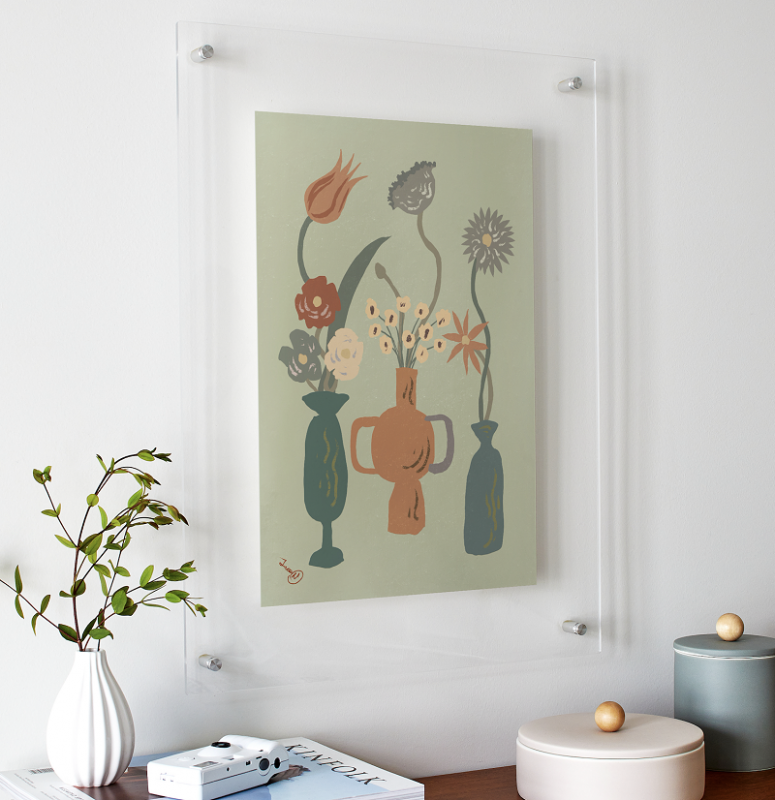 To adorn your walls in modern simplicity, create a gallery wall featuring floating acrylic prints for a lighter-than-air effect. Minimalist wall decor and interior design ideas can help you relax into your space, create a more spacious environment, and avoid nightmare-worthy clutter—especially when decorated with:
Landscape scenes

Inspirational quotes

Botanical designs

Abstract arrangements

Photos of friends and family
#6 Tote Wall
From strolling through the local farmers market to packing for a one-night vacay, tote bags may be your go-to accessory to imbue your look with a bit of French-chic style. 
If you're looking for unique ideas to decorate bedroom walls, why not make tote bags your go-to decor?
Add a few levels of coat racks to your blank wall, then hang your favorite totes for a functional and fashionable design. 
#7 Wall Clocks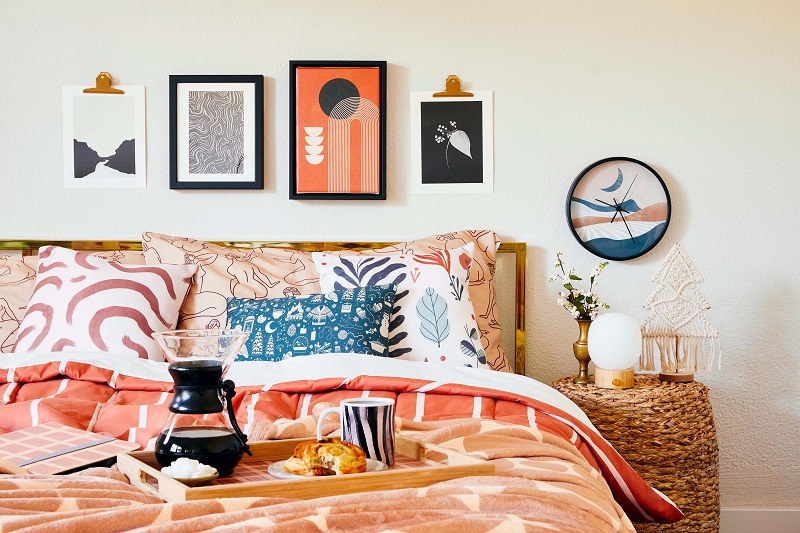 Play on the idea of alarm clocks with a clock-covered wall that fits all tastes. Similar to a gallery wall of prints, you can mix and match clock shapes, colors, and designs to create an energetic addition to your bedroom.
However, you can simplify the look, too. For those looking for mid-century modern wall decor to complement their wooden bed frame and functional furniture, opt for wall clocks with color blocks and geometric patterns.
To achieve the Scandinavian philosophy of hygge—which is all about cozy, all-consuming comfort—opt for clocks with neutral tones and light backdrops. Art Deco and neoclassical bedrooms, on the other hand, may benefit from gold-hued tones.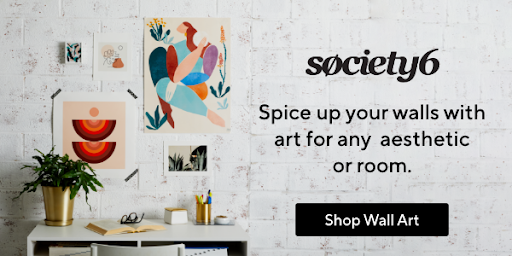 #8 Posters
Posters are a classic bedroom staple for a reason—framed or unframed, DIYers can perfectly curate their poster collection to their desired look. More vibrant posters in highlighter tones and psychedelic prints are the perfect accompaniment to a bedroom that's kicking back in the '70s. 
That said, posters can curate a more muted experience, too. Prints of vast landscapes, artwork, and travel destinations can create a more dreamy vibe that inspires you in the waking and nighttime hours. 
#9 Woven Wall Hangings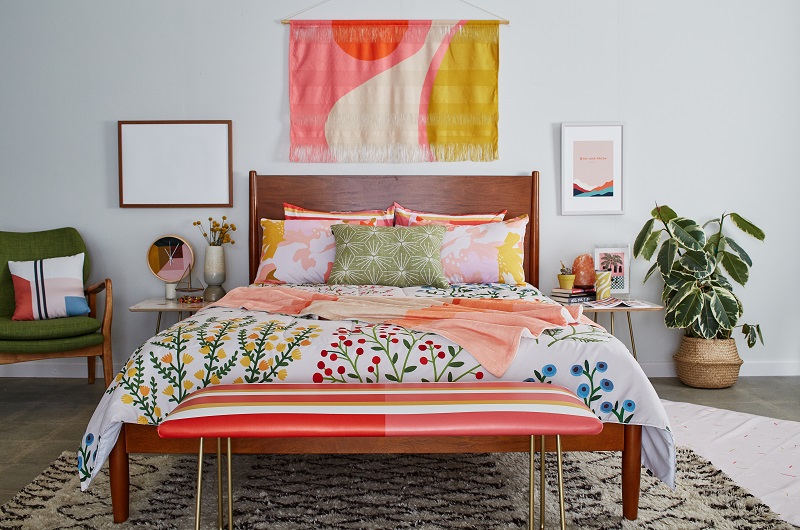 Bedrooms are meant to feel snug and soft, and woven wall hangings can deliver that in spades. Typically crafted in natural textiles like wool and yarn, wall hangings often have loose frill embellishments at the bottom of the fabric for a less refined feel. 
Adorn your walls with organic shapes, pastel palettes, and rustic tones that feel just as free-spirited as you. Or choose text-heavy woven hangings to put some pep in your step come morning. 
#10 Canvas Art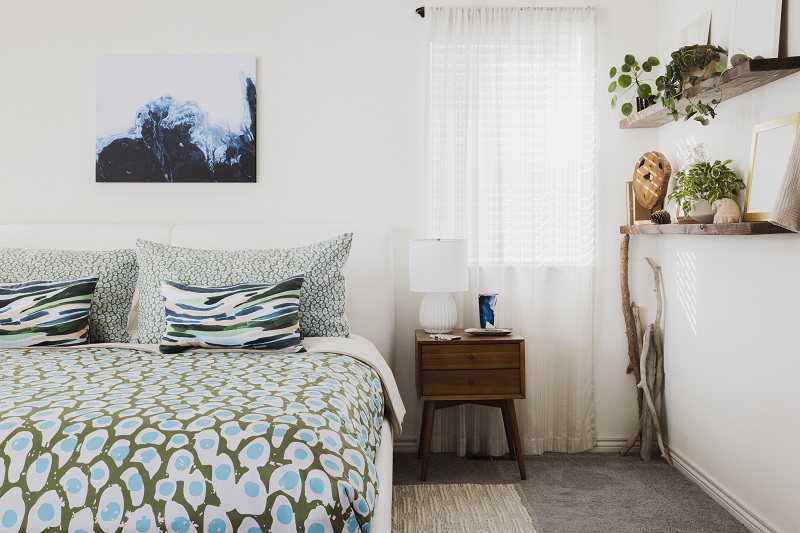 For large walls or bedrooms with high ceilings, add framed canvas artwork. Oftentimes, these pieces are oversized to create a powerful statement, especially when positioned over a dresser or bed frame. 
They're especially popular in minimalistic and industrial interiors, and are touted for their distinctness and simplicity. 
That said, while neutral-toned, abstract canvas prints work wonderfully in a clean space, more vivid canvases can also provide a statement of color to Southwestern, Mediterranean, and Bohemian bedrooms.
#11 Metal Prints
Industrial interior design is all about open spaces, raw materials, and metals…lots of metals. If your bedroom decor idea features exposed brick or concrete or you prefer a more contemporary feel in your bedroom, add a few metal prints to your walls.
A colorful design like a contour map can brighten up your utilitarian space, while an abstract print will blend perfectly with your neutral color scheme. 
#12 Wood Art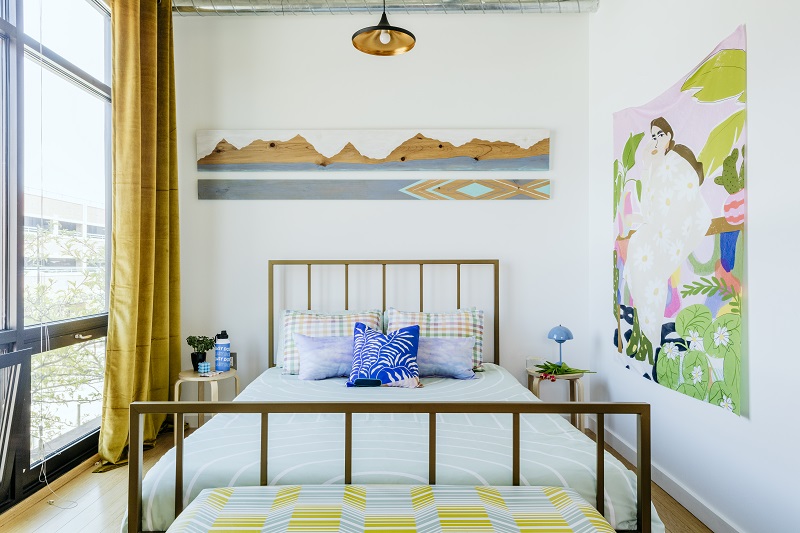 Natural design plays on wood, stone, and raw materials to create a bedroom space that's comfortable and bright. The goal of airy, wood-inspired bedroom decor? To feel like you're soaking in the sun atop a sandy beach somewhere in the South Pacific. 
That said, wood wall art can complement any space but especially those drawing upon an organic feel. And it can match a variety of aesthetics, including:
Tuscan

Coastal

Bohemian

Mid-Century Modern

Tropical

Mediterranean

Zen
#13 Murals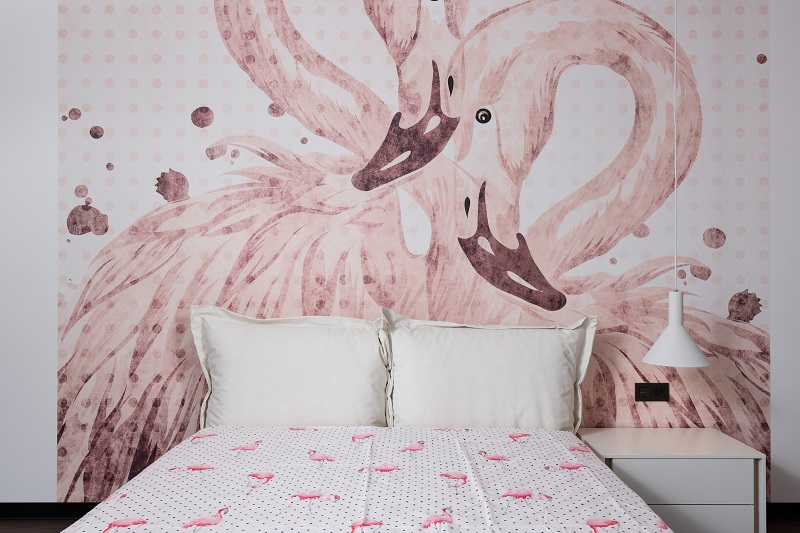 A wall mural above your bed space can transform the entire look and feel of your bedroom. And they're relatively easy to install, too. Like wallpaper, many murals come in peel-and-stick varieties—simply line up the panels, peel the film, and embellish a plainwall with a striking design. 
Unlike wallpaper, however, murals usually don't feature repeated patterns. Instead, they showcase one image or design that serves as built-in artwork.1
#14 Artful Shelves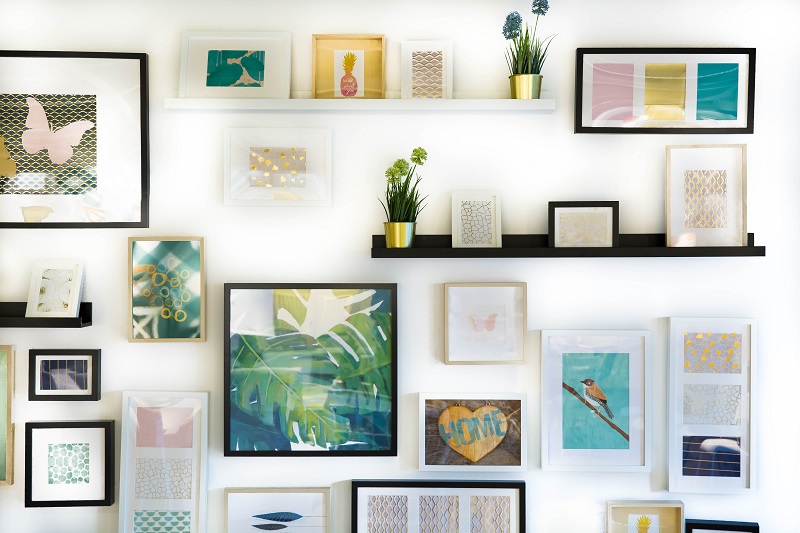 Well-designed wall shelves can reimagine a space and display your favorite collectibles, which may include:
Artwork

Plants

Books

Travel trinkets

Candles
#15 Miniature Art Collection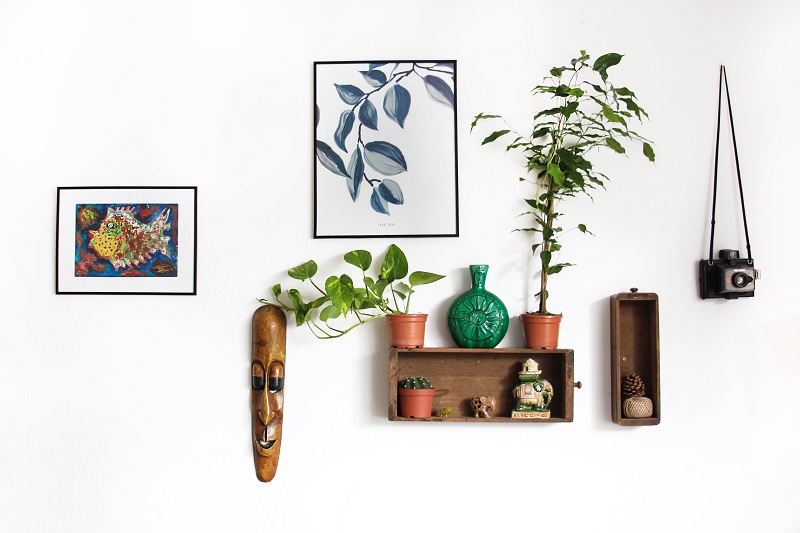 If you're low on wall space, consider adding a collage of miniature art above your nightstand or doorframe. Create a collection of cute animals, tasty graphics, or inspirational quotes. For a more relaxed vibe, keep the prints unframed. 
However, you can also frame them, too—particularly if you're designing a delicate vintage look.
#16 Hanging Curtains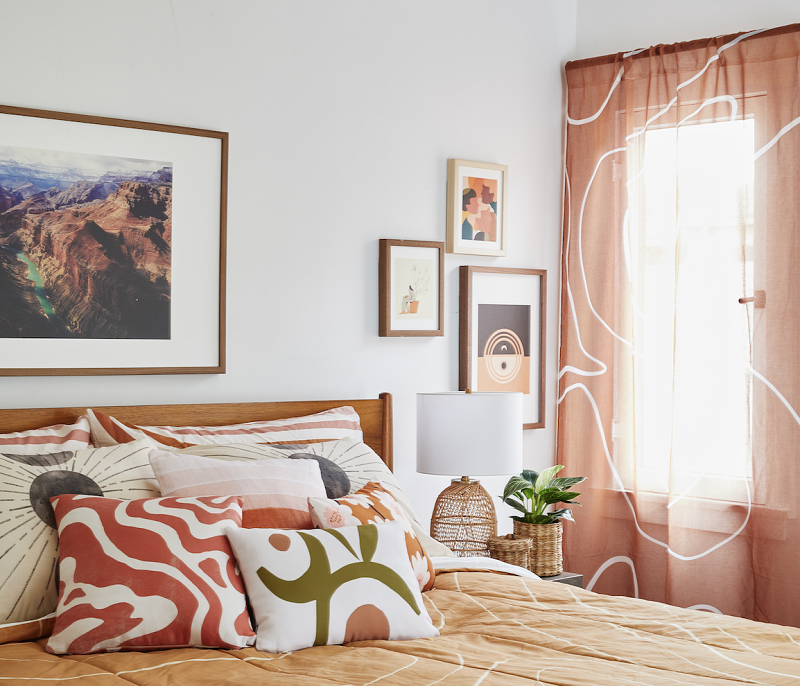 The luxury of curtains is twofold: They dress your windows and provide an elegant wall decoration when held back by wall hooks. They're also incredibly multifaceted when it comes to style because they come in a variety of patterns. You can find opaque and sheer curtains in some of the following patterns:
Floral

Abstract

Animal print

Geometric

Art Deco

Landscape
#17 Propped Portraits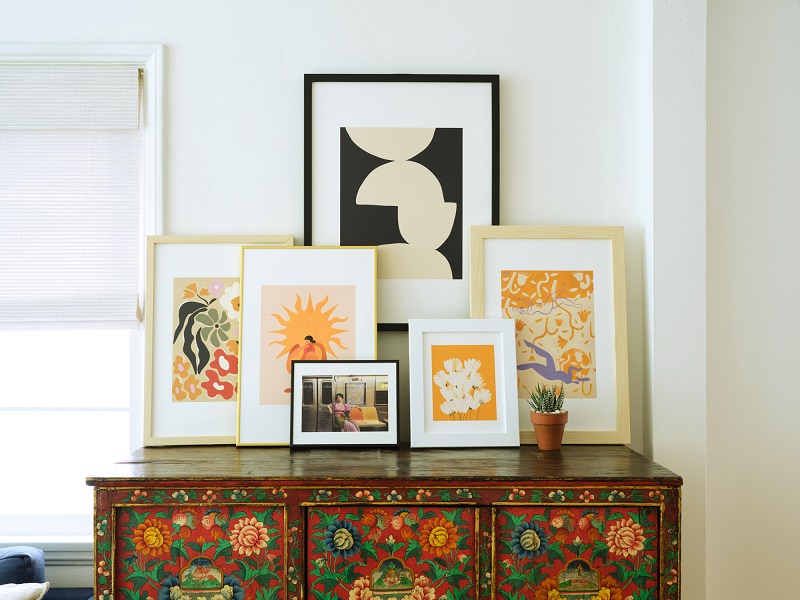 If you're renting (or particularly unskilled at using a hammer), consider a propped portrait design. Gather a few framed prints and mirrors and position them on top of a console table, dresser, or nightstand. You'll want to let the artwork rest on your walls at an angle. 
You can also add books, notebooks, and other trinkets to the collection. 
#18 Jigsaw Puzzles
If you're artful, up for a challenge, and looking for kooky bedroom wall decor ideas, consider adding a jigsaw puzzle to your bare wall. Once you've finished the puzzle, use adhesive putty to secure the assembled masterpiece to your wall for a unique centerpiece that just fits.
Society6: Your One-Stop Shop for One-of-a-Kind Style 
Your bedroom shouldn't be a decorating afterthought—it should be a haven tailored just for you. And with bedroom wall art and other decor from Society6, beautiful, high-quality, and unique artwork for every room in your home is just a click away. 
At Society6, you can support the work of independent artists, learn how to decorate a bedroom, and guarantee that your home decor is every bit as one-of-a-kind as you are.
Sources: 
House Beautiful.

Incredible Wall Mural Ideas From Designers.

https://www.housebeautiful.com/room-decorating/colors/g39797525/wall-mural-ideas/

 

The Spruce.

How to Hang Rugs on the Wall.

https://www.thespruce.com/how-to-hang-rugs-on-the-wall-2908733