Moving into a brand new space feels as good as pulling the "Victorian House" card in the game of LIFE (you've got style, you've got space, you've got gables).
But, once I moved out of my #tinyhousenation phase and into, you know, an APARTMENT, there were a lot of common things I couldn't wrap my brain around. For example, did you know that actually putting your bed on a so-called bed frame makes your body feel less like Quasimodo's? Neither did I! Here with some other tips for how to fill out and deck out a shiny new living space is writer, new home-owner, and current Russian nesting doll (aka soon-to-be mother) Kira Cook.
The age-old, elegant adage is true: moving is a biiiiiitch. Whither art thou, 20 free cardboard boxes, and the vigor to move them all? BUT, silver lining alert, moving is also a marvelous and rare opportunity to begin completely anew. With each new space you move into, you have a massive opportunity for reinvention on the scale of, say, when you left for college. Who is the New You going to be in this New Space? Who even is Ideal You? What kind of space does the Ideal You thrive in? Is it Stockholm minimalist? Palm Beach maximalist? 19th century traveling circus-themed? Medieval Spartan?! Renaissance gilded?! The options are infinitesimal!!!!!! It can be overwhelming, but don't worry, I'm here for you. This ain't called a How-To-Guide for nothin'!
Okay,first thing's first: break it down into rooms. You don't have to commit to every room being the same style, why not have different moods for the different spaces that serve wildly different functions? I just bought my first house (i.e. I let the bank buy me my first house and I will pay them back in tiny increments for, like, ever?) and at first I was agog with the possibilities that all these blank white walls provided. However, once I split the house into different rooms stylistically, it all became a lot more manageable.
Now, starting COMPLETELY over is also kind of a pipe dream, unless you have some kind of trust fund (can I have some?). Deciding on a few KEY new pieces with which to decorate your home is the route to go. You don't want to overload your new home with a bunch of new stuff that doesn't go together, but rather thoughtfully consider what you want each room to emulate aesthetically, and pick and choose accordingly from there. Let's start with: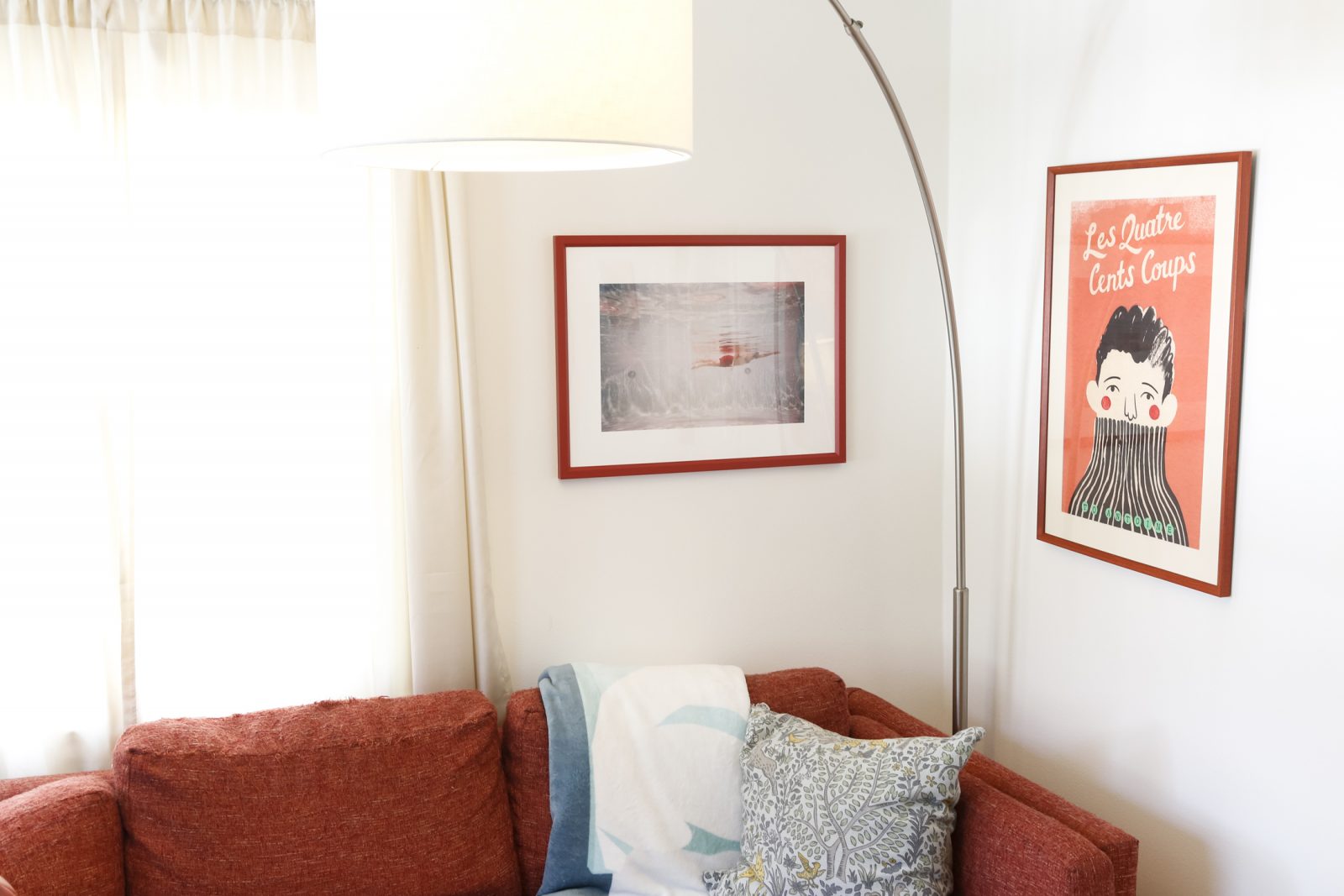 We already had a cheery, modernist red couch (whose boucle tweed fabric is ideal for hiding dog hair,  hot tip!) and a mod overarching floor lamp, so that set the tone for the living room furniture-wise. To make it comfy, we added a crazy soft throw blanket in a subtle Iceberg print from Swen Swenson that matched our accent wall and contrasted nicely with the red. To make the couch pop even more, we chose a red-framed art print by Neil Aline that featured my favorite theme, swimmers. A middle-aged man does laps in a bright cheery red swimsuit in this underwater print, and I just love it. I find it both soothing and unexpected at the same time.
Also, I've never owned a plant until this house (!!), and since I'm pregnant I figured I should practice keeping something helpless alive until (and hopefully after) my wee one arrives in the world. Turns out, the home trend of 2016 has something to it: plants really do enliven a space! The verdant color, the fresh hopefulness of things growing in every corner, I'm hooked! And it's been a month and they're all still alive! Go me! *claps for self, looks around, sees no one, continues clapping*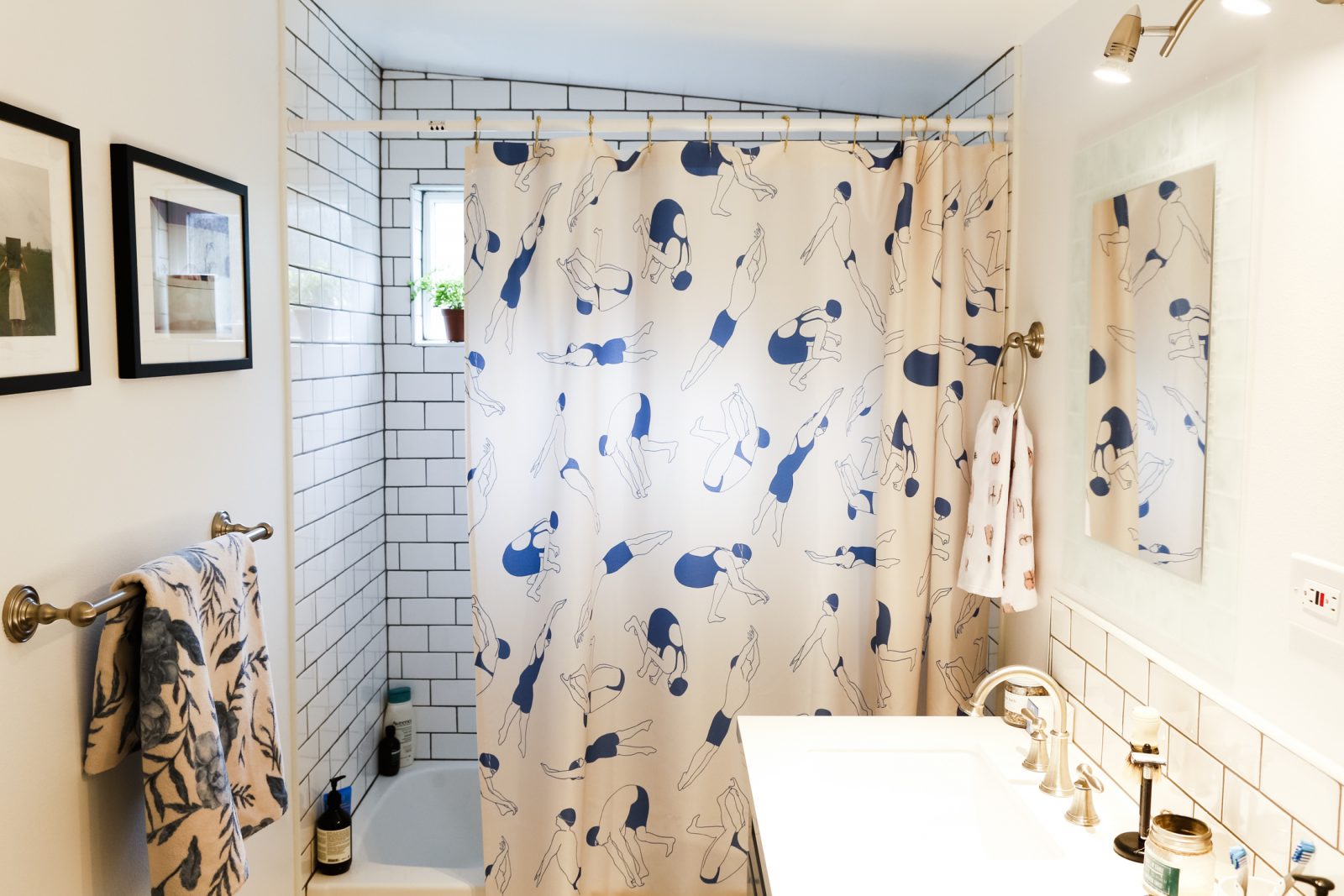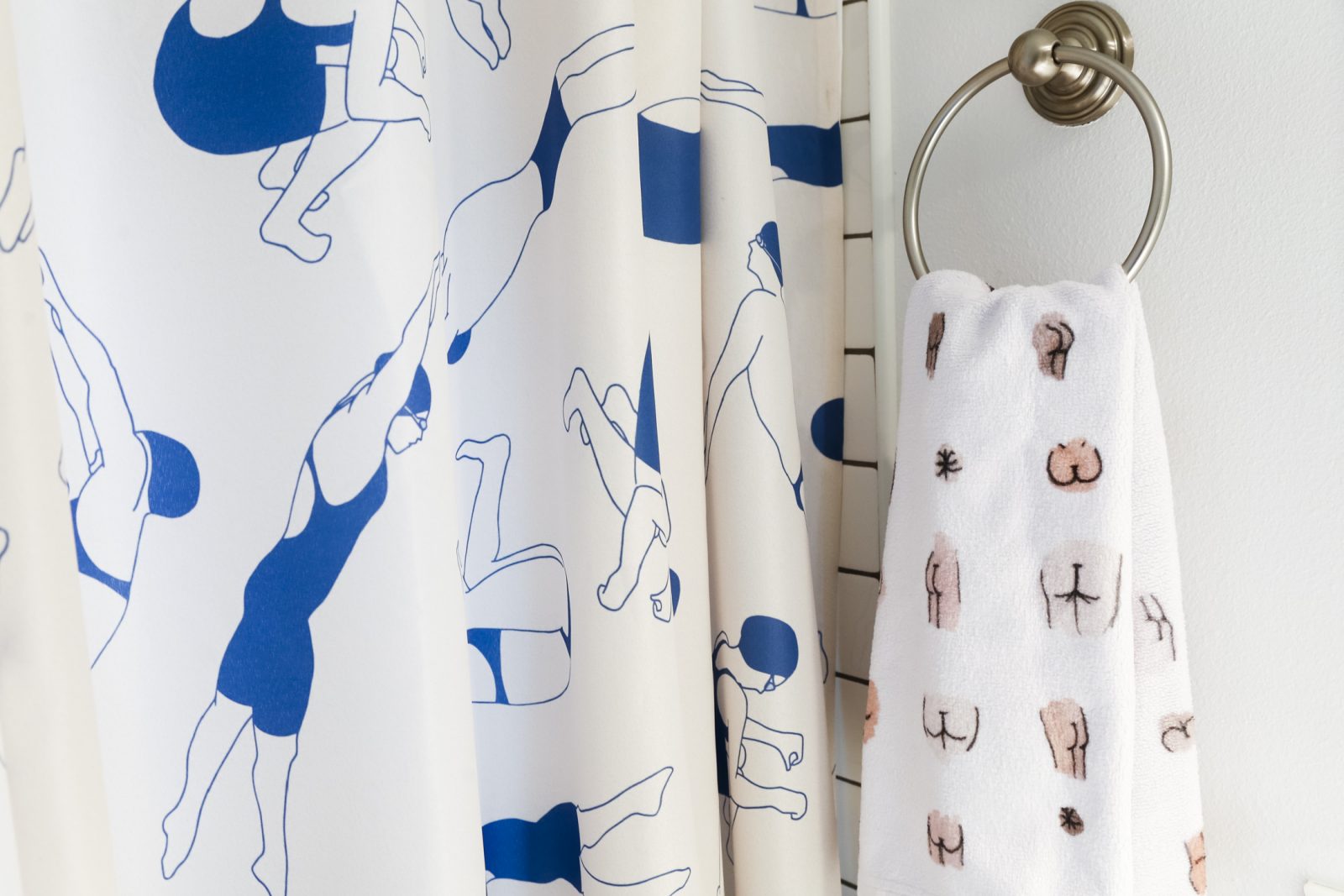 "SHE NEVER GETS OUTTA THE WATER! SHE'S GOING TO TURN INTO A FISH!" my grandparents used to cry to each other as I would spend hours and hours swimming in their condo community pool when I was younger. It stuck, underwater is still my favorite place to be.
I continued the swimmer theme in the bathroom with this absolutely perfect "On Your Marks" print by Fig & Fossil. I loved that the print was captivating without being too busy, and the soft turquoise color gives the bathroom a nice nautical edge without being too "LOOK AT ME." Adding plants to the shower was a nice way of faking the sensation of snorkeling whilst shampooing.
I complimented the curtain with these Blue Floral Pattern towels by Jessica Roux and added a pop of humor with a hand towel made of illustrated butts. It's like I always say: Nothin' better than a sea of butts.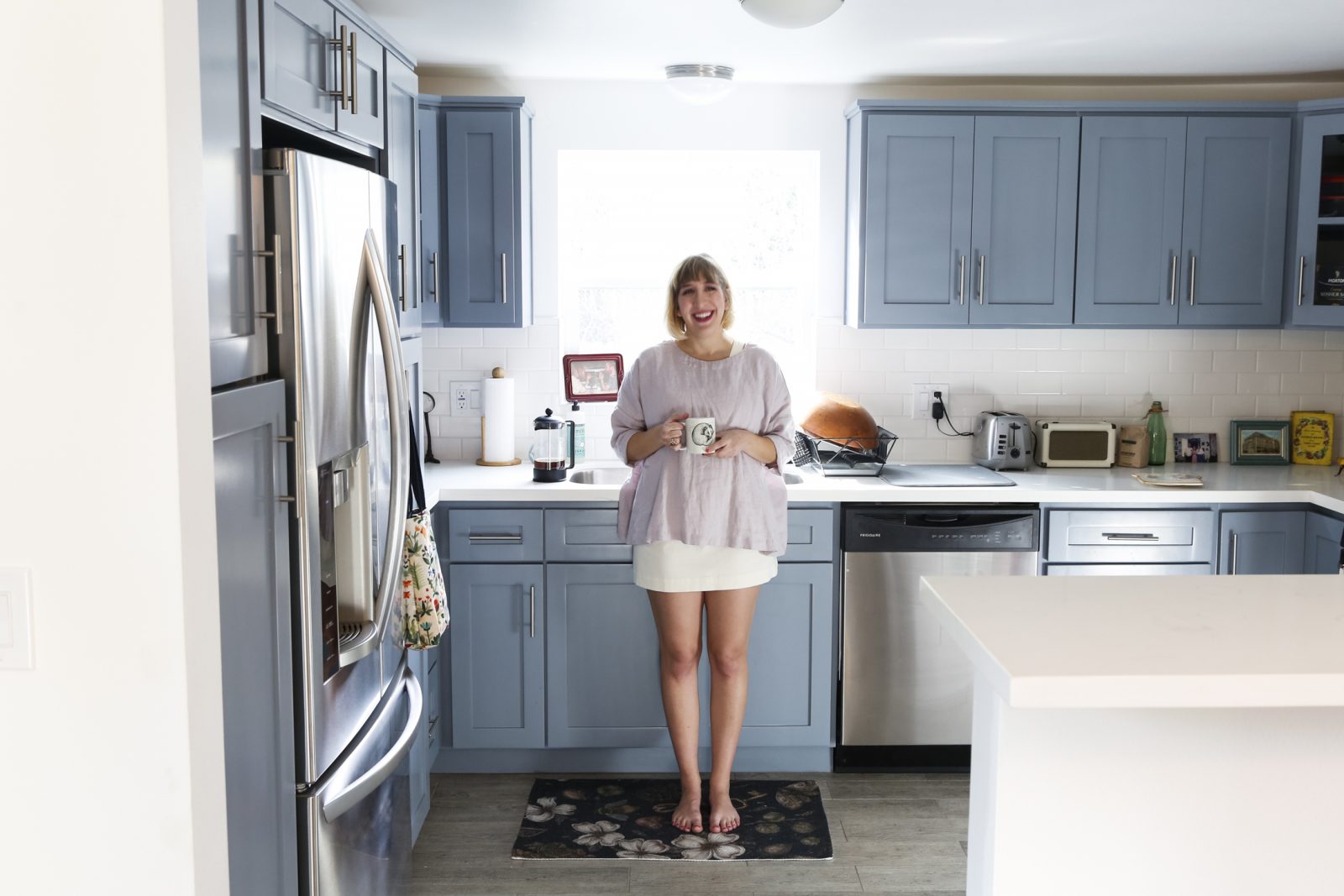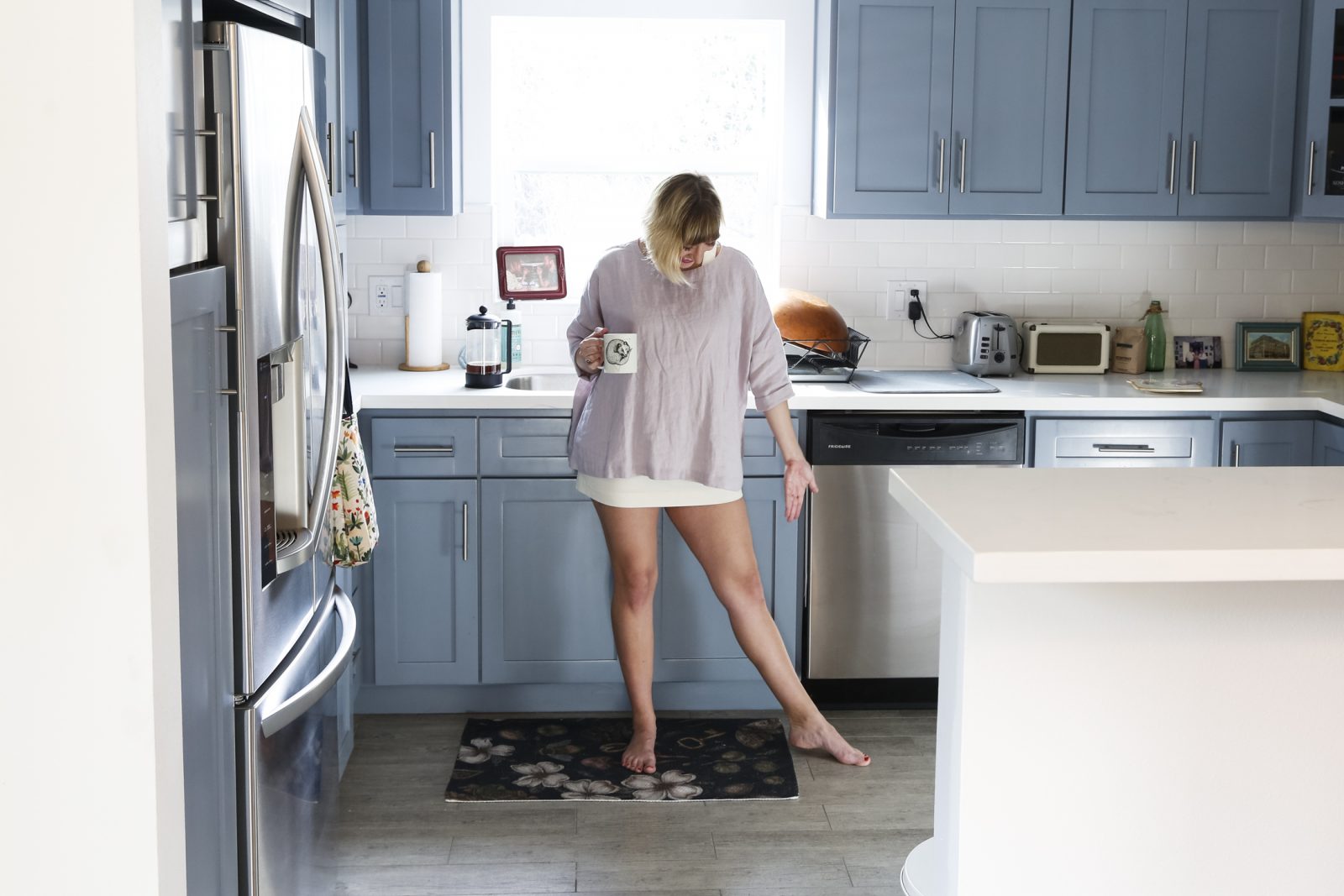 This is the first time I've had a dishwasher in 10 years. TEN YEARS!!!!! I may or may not have cried a little bit when I ran the first load. The novelty hasn't really worn off, so I still sing a little song of gratitude whenever I load it. Having an actual kitchen that I want to be in (and not the closet-sized tourniquet that I've been accustomed to in my past rentals) has made all the difference, the kitchen is now a place that I genuinely want to be. I want to cook (sort of). I want to bake (definitely, higher risk, higher reward!!!!). I want my feet to be warm so I got the Nature Walks area rug by Jessica Roux.
This AITCH tote is perfect for carting home local-grown goodies from the farmer's market up the street. And I couldn't resist this Alex G. Griffiths mug whose fox illustration looks exactly like my dog, Mabel. C'mon.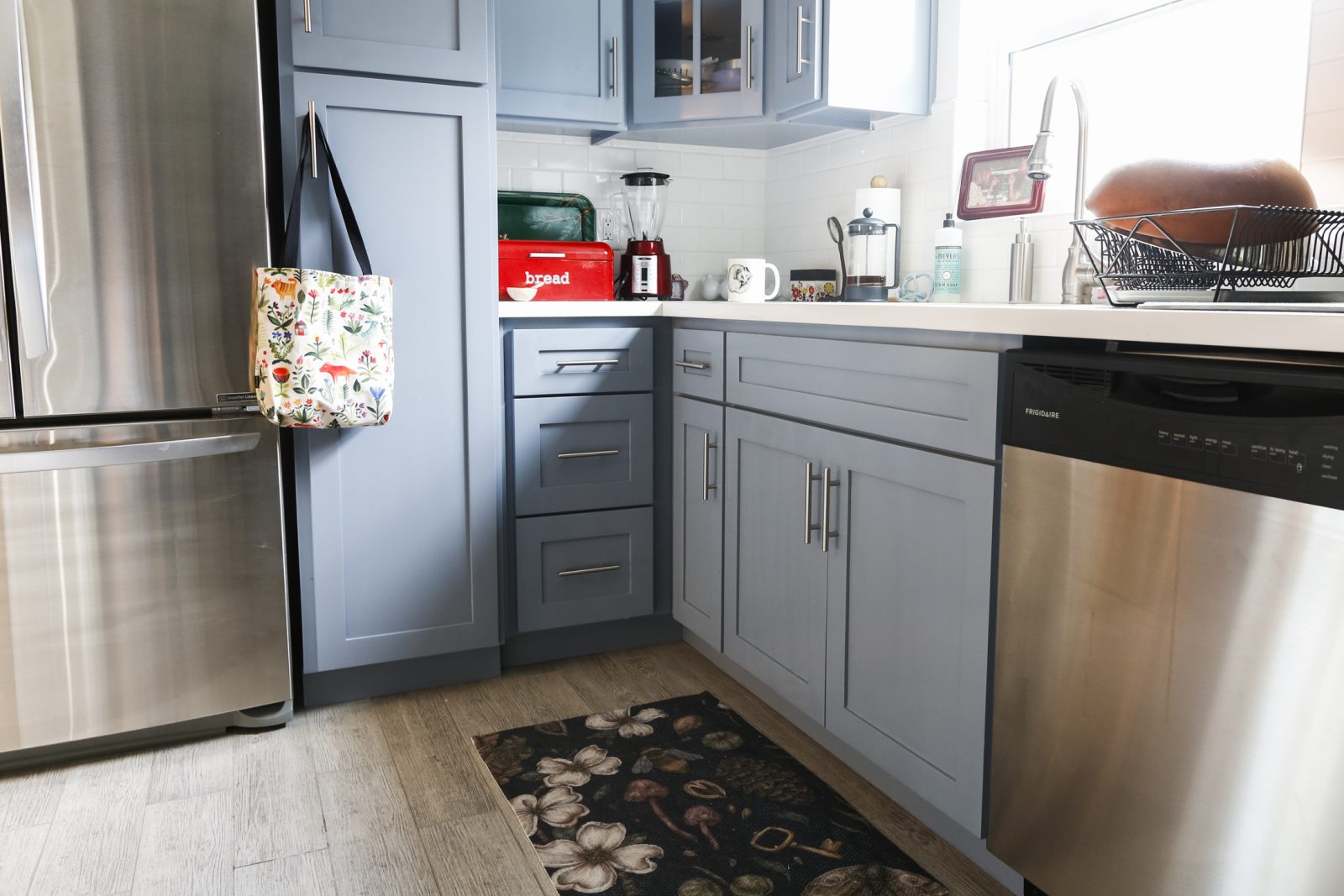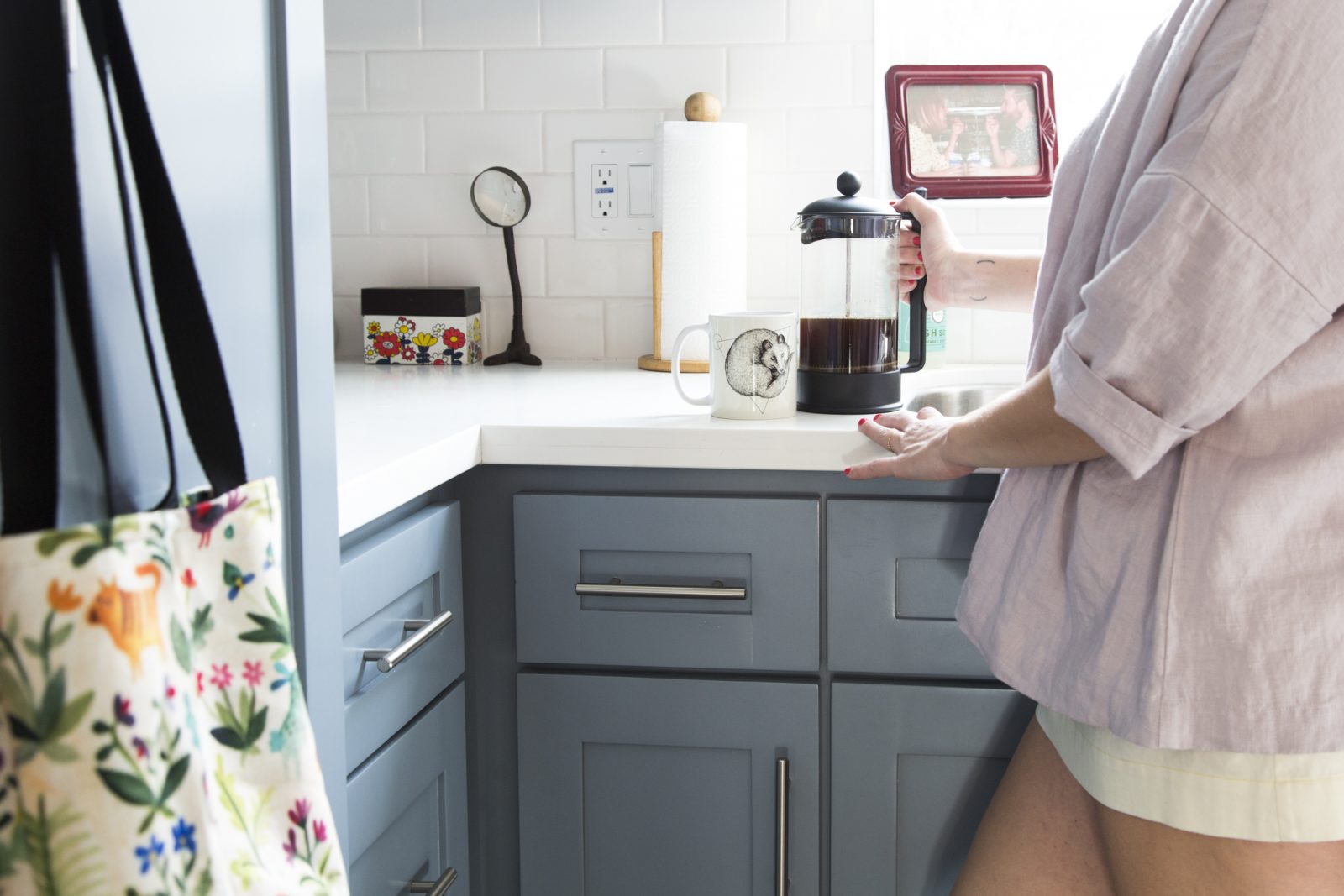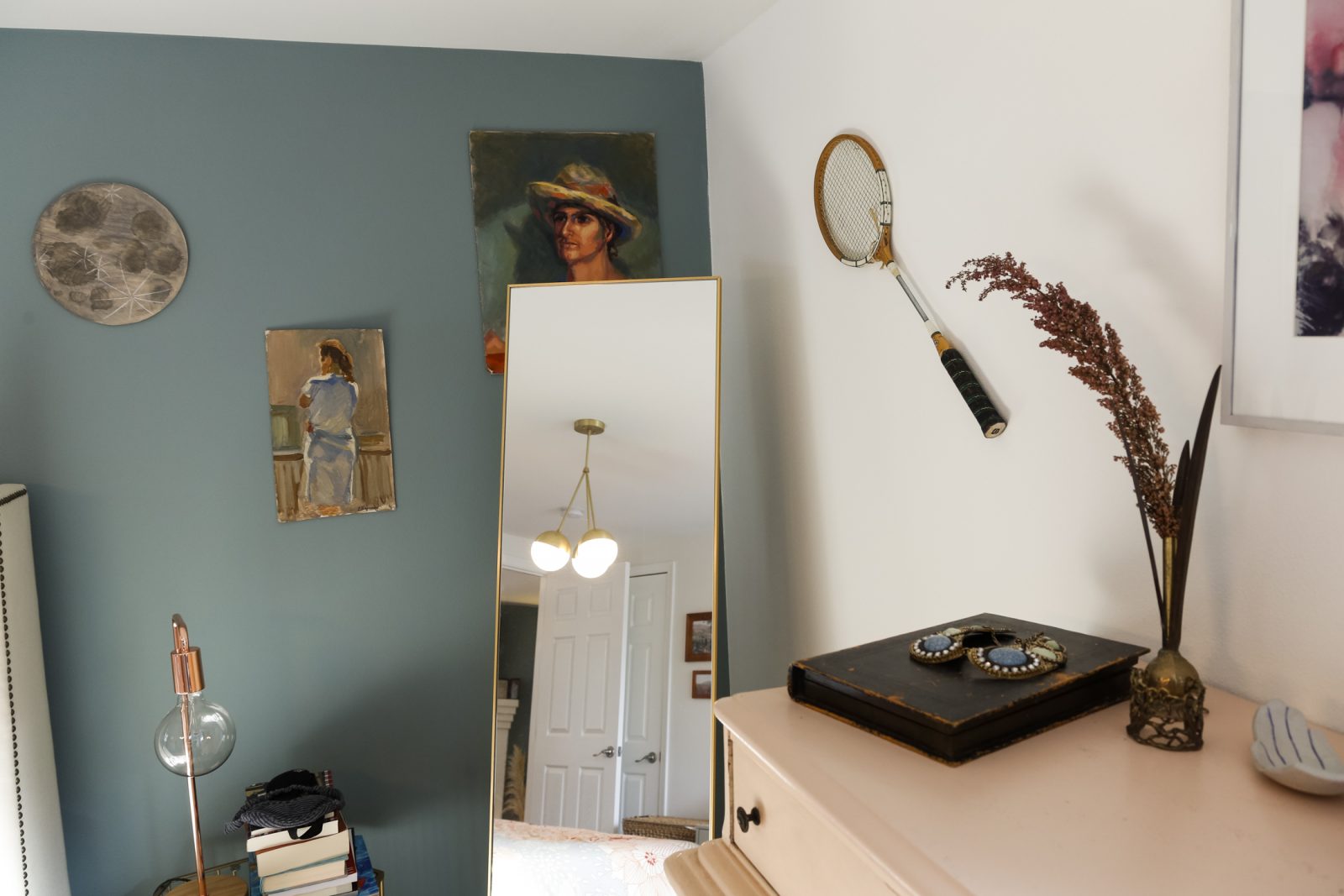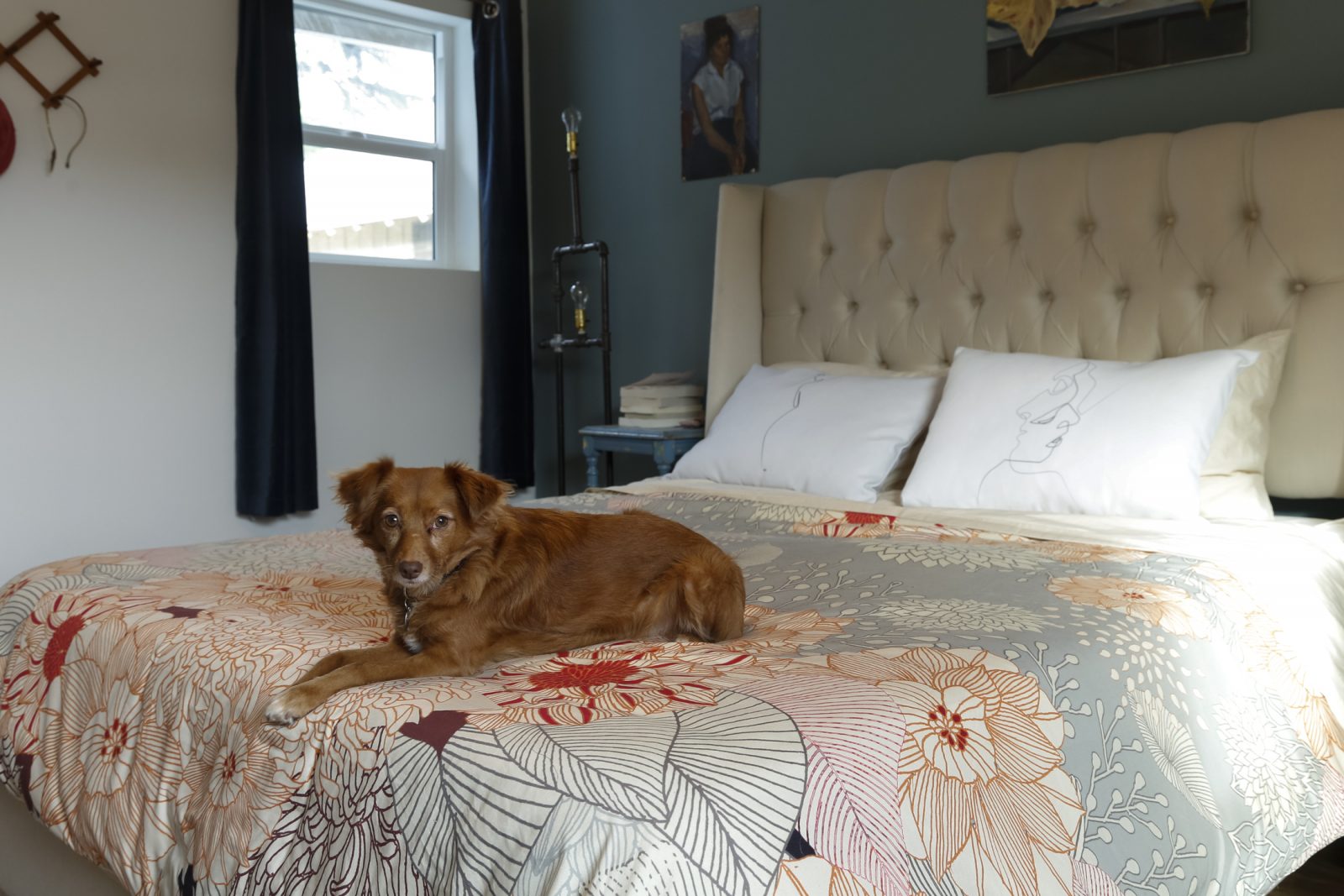 When I was in Sweden last year, I stayed in a hotel whose bed was surrounded by oil painting portraits, and it lended a peculiarly luxurious feeling that I grew weirdly attached to. There was something very Old World European about it but I knew I could make it elegant and modern with a twist of a painted accent wall and soft rose colors in vintage furniture. I scoured flea markets and the internet for affordable vintage oil paintings and hopped over to Farrow & Ball to find the perfect soothing bedroom accent wall color, and voila! Dream boudoir that feels both relaxing and opulent at the same time. These pillows with simple, sexy line drawings by Quibe give the room more of a contemporary feel to balance out the vintage accents in the decor and furniture, and are minimalist enough to balance out my busy duvet cover (also ideal for hiding dog hair).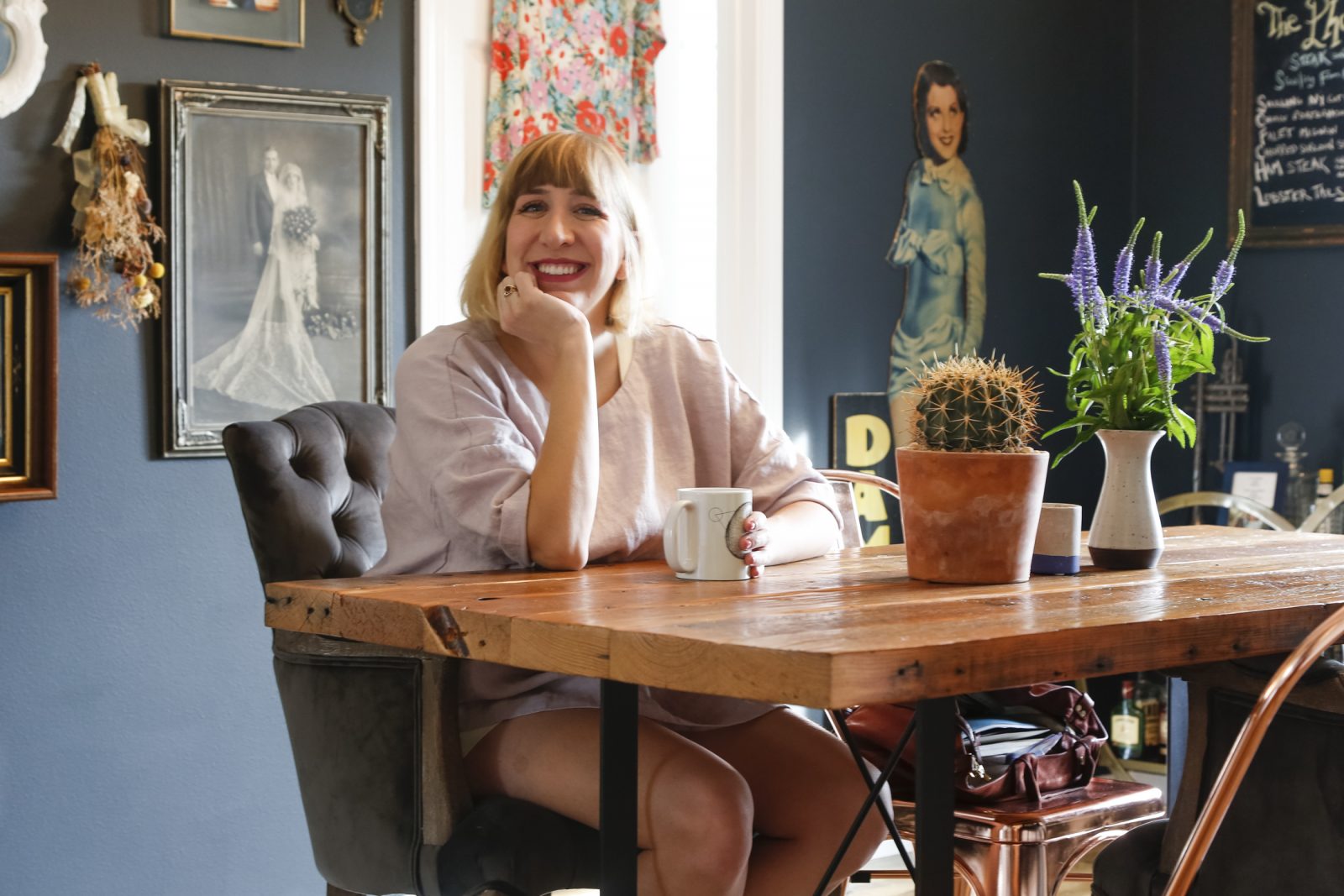 Butts Hand Towel
by Julia Heffernan
$13.99
Wildlife Analysis V Mug
by Alex G Griffiths
$15.00
One Line Nude Rectangular Pillow
On Your Marks Shower Curtain