Looking for ways to decorate a living room corner? Having an empty, awkward corner in your living room can be an eyesore, but it doesn't have to be that way. With the right items, furniture, home decor, and a bit of creativity, you can transform your living room corner into an attractive focal point.
Here are 11 corner decoration ideas for the living room that will help you make an empty, forgotten space pop. Read on to find out how to spruce up that empty corner and create a stylish and inviting atmosphere.
1) Hang Up Wall Art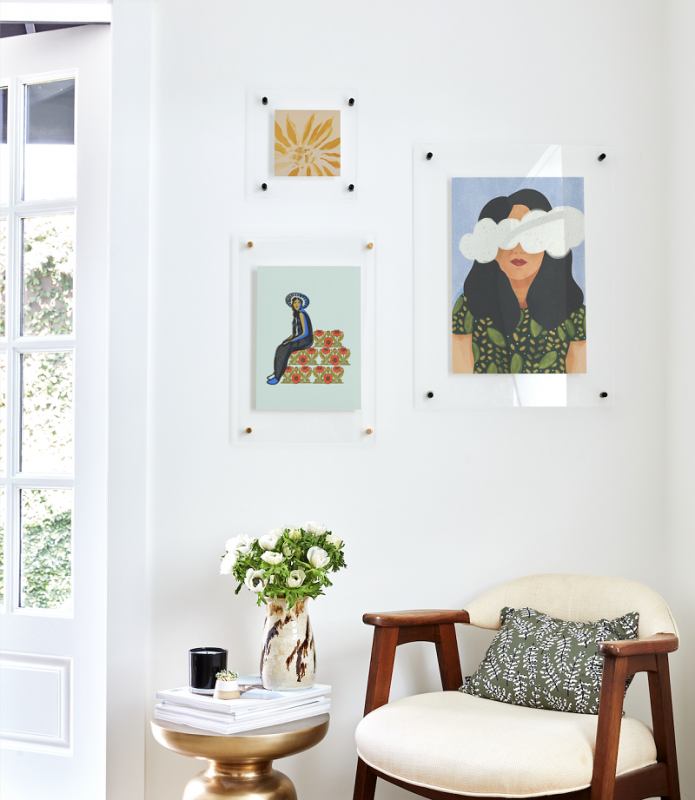 When it comes to ideas for decorating a corner of your living room, wall art is a must. Whether you want to fill the corner with a large statement piece or hang up a gallery wall layout of smaller artworks, you'll be able to add personality to your living room. Paired with floating shelves and a statement rug, wall art can transform any corner of the living room into an inviting and beautiful space. Be creative and explore different options to find the perfect artwork for your living room corner.
2) Add Floating Shelves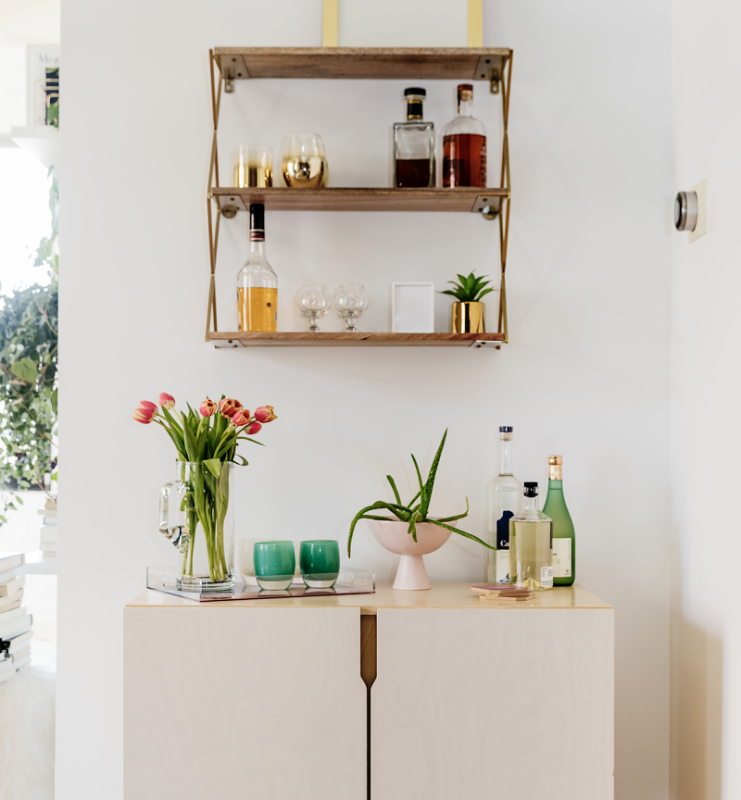 Floating shelves are a great way to add life to the corner of your living room. A corner shelf or two offers extra space to display books, photos, and art while keeping your decor in one place. Pair a corner shelf with some colorful artwork or houseplants to brighten up a dull area. Plus, the suspended effect makes any items placed on them appear as if they're floating, making it a perfect for a living room corner idea. It's a creative and eye-catching way to upgrade your living room corner!
3) Make Use of Nature With Plants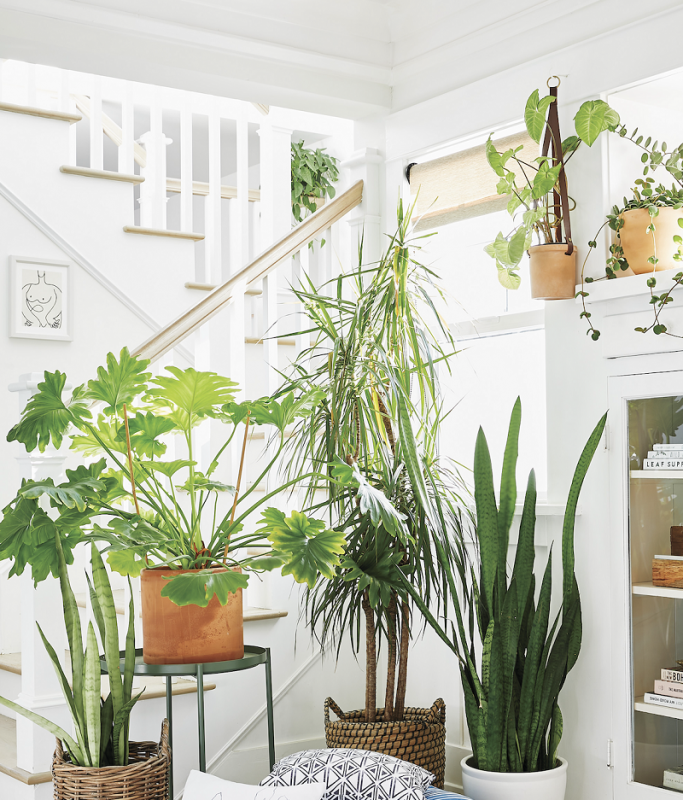 Add a touch of nature to your living room corner with potted plants. From succulents to hanging plants, there are a variety of ideas for decorating corners of the living room with greenery. You have a variety of options when it comes to using plants in your corner decoration ideas for the living room:
Place some potted plants on floating shelves
Hang a few from the ceiling
Opt for a tall plant to make your corner stand out
You can pair them with light-colored furniture and wall art for a more subtle look, or you can go bold and combine them with bold colors and modern geometric shapes. Whatever you decide, potted plants can definitely bring life to your living room corner!
4) Create a Cozy Corner With Rugs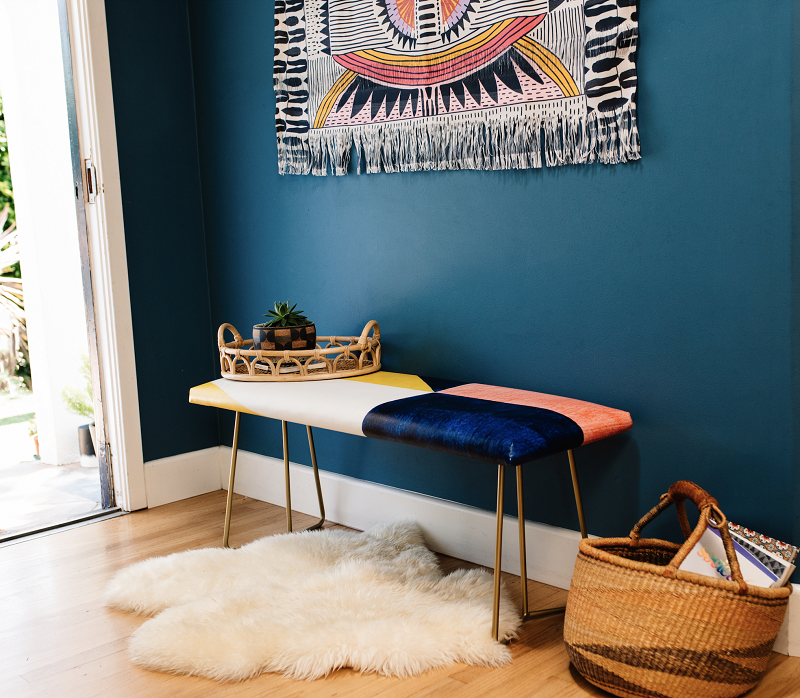 Rugs can be a great way to make your living room corner cozy and inviting instead of cold and forgotten. If you want a more eclectic living room corner idea, go for a brightly colored or patterned rug. Or if you're looking for something more timeless, opt for a classic wool rug. You can even layer two rugs together for a unique look.
Try pairing your rug with some statement chairs, a side table, and a throw blanket. Your corner decoration ideas for the living room will come alive when you use area rugs to create warmth and texture. Remember to also consider what size rug for the living room. The wrong rug size will clash rather than accentuate your living room corner.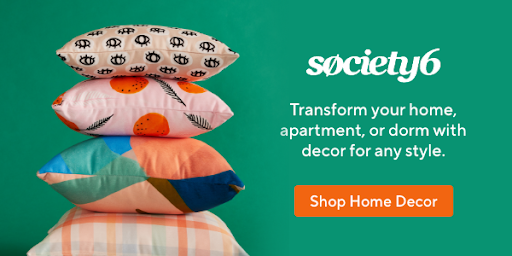 5) Dress Up A Corner Window With Curtains
Want to add a touch of class to your living room corner? Then curtains are the way to go! Not only do they provide privacy, but they can also be used to dress up a plain, awkward corner. But do you know how to choose living room curtains? Pair bright colors with neutral shades, or create contrast with colors that have different tones. Have fun with different textures, lengths, and styles. Adding sheer curtains over your windows can also create an elegant, airy feel. There are plenty of ideas to decorate a corner of the living room with curtains!
6) Dress Up The Walls With Tapestries or Hangings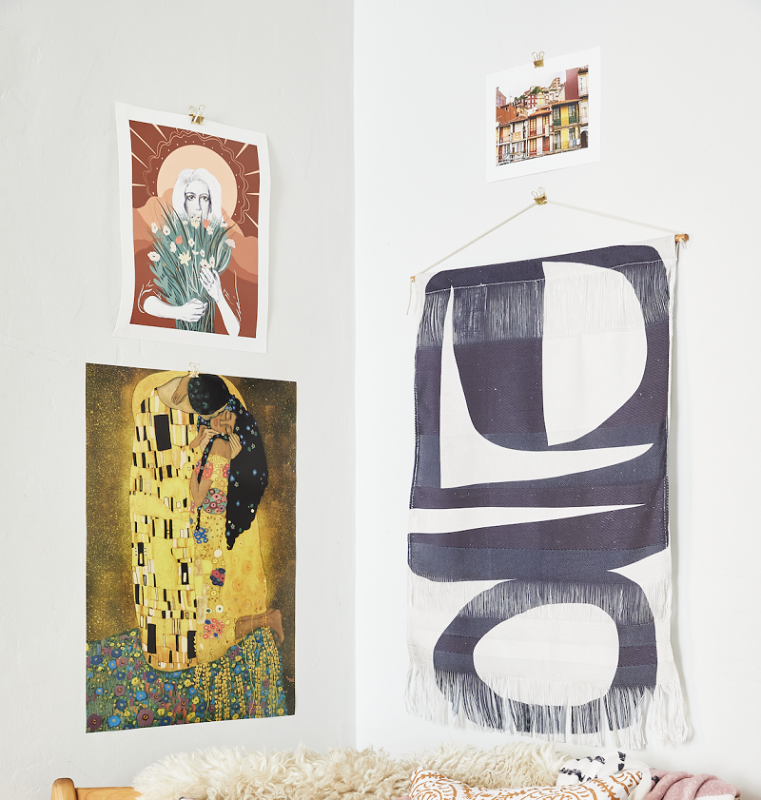 When it comes to ideas for living room corners, don't forget about adding some fun and unique wall art aside from prints. Tapestries and wall hangings are great for bringing color and texture to your space. Choose a design that speaks to you and pair it with a complementary framed piece of art or wall-mounted sconce to complete the look.
7) Add Warmth With Floor Lamp Lighting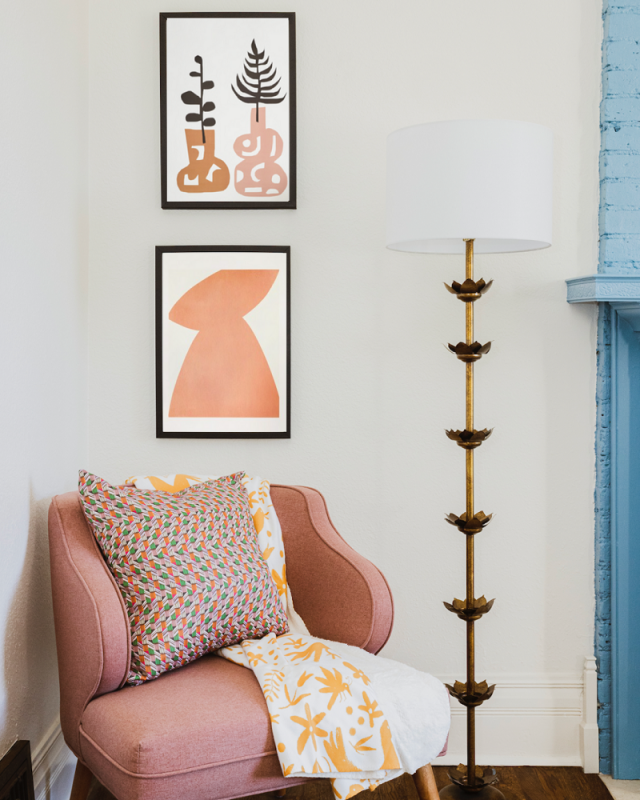 The perfect way to brighten up a corner of your living room is with a floor lamp. Floor lamps come in various designs, shapes, and sizes, so it's easy to find one that fits your style. Ideas for decorating a corner of the living room include pairing a lamp with cozy accent chairs or a reading nook.
To create an inviting atmosphere, layer rugs, throw pillows, and other home decor items to make the area look more attractive and inviting. With the right lighting, you can turn any corner into the most stylish space in your home.
8) Accent The Space With Throw Pillows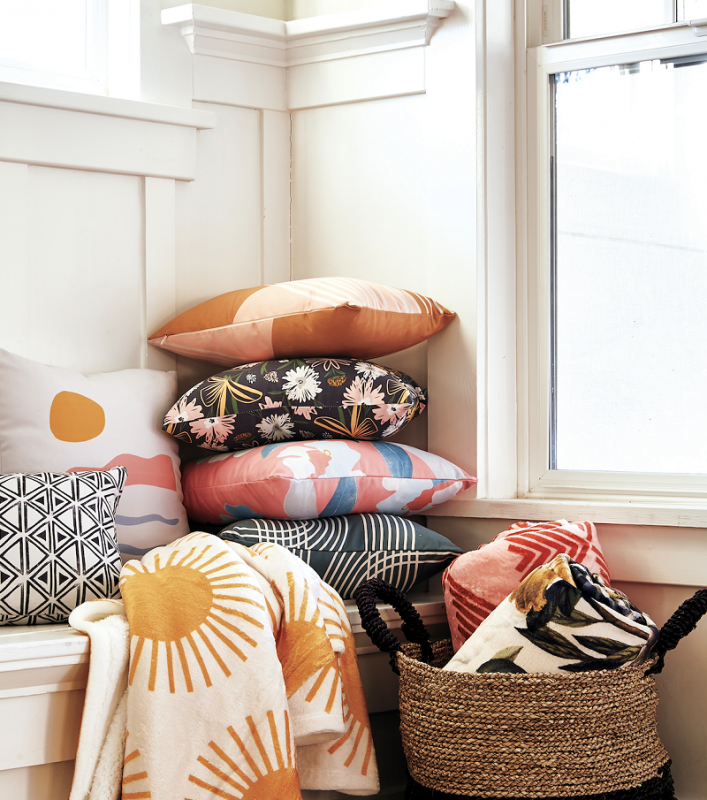 Throw pillows are a great way to cozy up your living room corner. Not only can they add color and texture, but they can also be used to make the space more inviting. Choose bold colors and patterns to create a modern look, or go for muted shades for a more classic style. Added to a cozy reading chair and paired with a comfy blanket, throw pillows can transform your corner from dull to chic.
If you're looking for unique ideas for living room corner decorating, try combining different sizes and shapes of pillows to create an interesting visual effect. Finish off the look by adding some other items such as a floor lamp or a few books, and your living room corner will be ready to impress!
9) Adorn With A Functional & Stylish Accent Table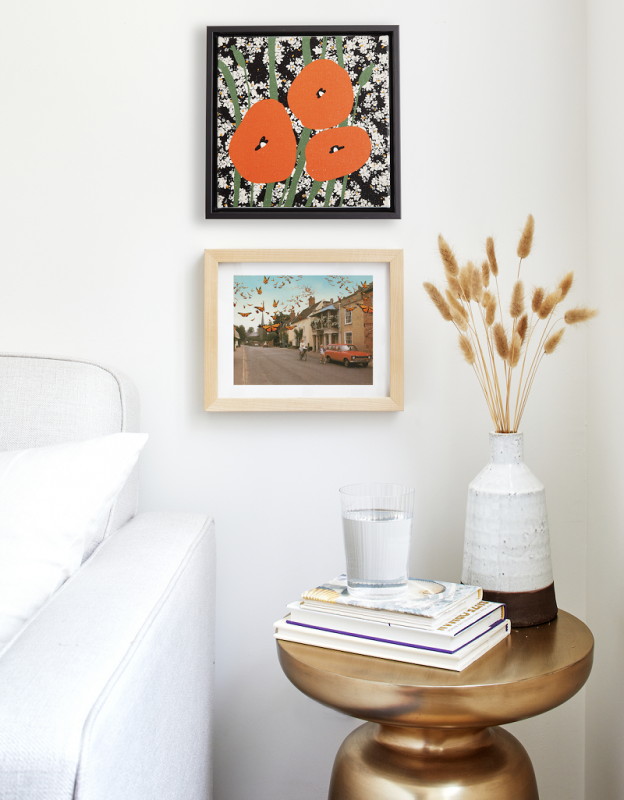 Give your living room corner the perfect touch with a stylish accent table or coffee table. Whether you're looking for a modern piece or something more traditional, there are plenty of table ideas.
For a more contemporary look, opt for one with open shelves or glass accents. If you're going for something more traditional, go for a wood coffee table and pair it with rustic lamps, small plants, and decorative trays. No matter what ideas you decide on for your living room corner, the right accent table can pull together the look.
10) Fill the Space With a Bookcase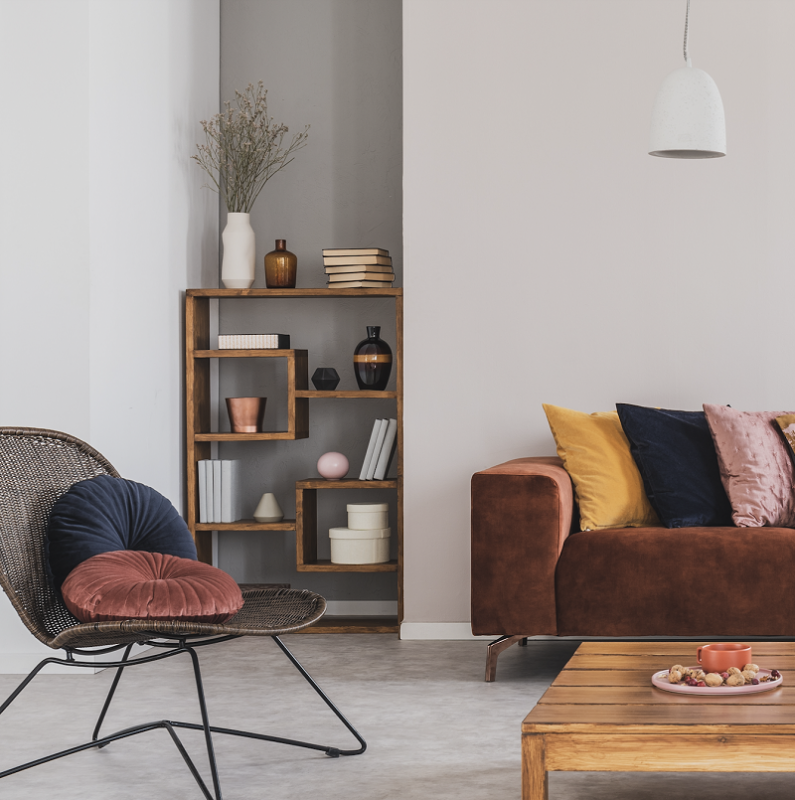 Adding a bookcase to your living room corner can give it a sense of sophistication and style. Place books, vases, sculptures, or plants to create a unique look. Place a pair of chairs in front of the bookcase for a cozy reading nook. For a bold look, add some color with throw pillows or an area rug. You could also hang art or photos above the bookcase to draw attention to the area.
11) Make Use of Mirrors
A mirror is a great way to fill up empty space, while also reflecting light around the room and making the corner look bigger. Choose a frame that matches the wall art or other decor pieces in the room. Try adding a large, round mirror above an accent table, or hang a series of small mirrors for an eye-catching effect. You can accentuate the living room layout and space with decorative pieces for an added touch.
Fill Your Living Room Corner With Style at Society6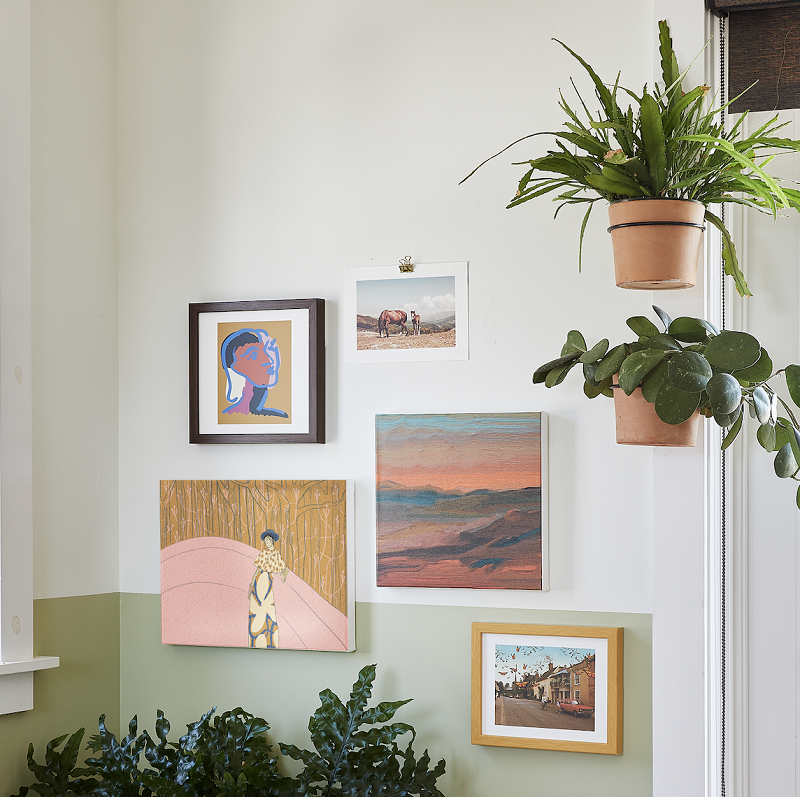 Living room corners are often a neglected part of the home. But with the right pieces and decor, and knowing how to decorate a living room, a living room corner can become a cozy and inviting area of the house. With these 11 ideas for decorating a living room corner, you can transform your space into an inviting, stylish corner.
From wall art to rugs, curtains to throw pillows, there are so many living room essentials to make your living room corner shine. And at Society6, we offer a wide collection of home decor with designs that fit every aesthetic to help you bring your living room corner to life. Find the perfect items today.