Got a small kitchen that's cramping your culinary style? We're here to rescue your kitchen from the doldrums of limited space. Decorating a small kitchen doesn't have to be a dull affair. In fact, it's an opportunity to unleash your creativity and transform that small kitchen space into a stunning culinary haven.
So tighten those apron strings and get ready to discover 10 fantastic ideas to decorate a small kitchen!
#1 Rise Above With Vertical Storage Solutions
When storage space is at a premium, think vertically, my friend! Optimize your storage game by installing floor-to-ceiling kitchen cabinets. Embrace those high shelves for the less frequently used items, while keeping your go-to essentials within easy reach. Trust us, it's like reaching for the stars and finding your favorite spice jar!
#2 Create a Multi-Purpose Kitchen Island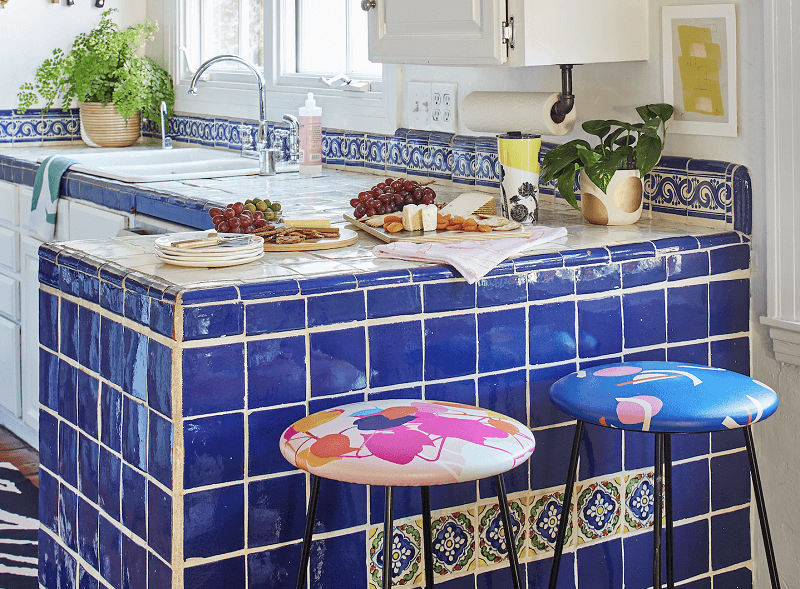 Who said small kitchens can't have an island? Get yourself a compact and versatile kitchen island that doubles as a storage solution or seating area. Look for one with built-in cabinets or drawers to stash away your pots, pans, and secret recipe notes. When you're not whipping up a storm, fold down the kitchen countertops and enjoy some extra floor space.
#3 Spice Up Those Walls
Blank walls are like tasteless soup—bland and uninspiring. Spruce things up by adding functional wall decor to your kitchen walls. There are so many wall decor ideas to try out. Install a pegboard or magnetic board for hanging utensils, aprons, or even quirky kitchen gadgets. You can also hang hooks or racks for your favorite mugs or go wild with a stylish floating shelf for showcasing your culinary prowess.
Or you can add a touch of style and personality with fun food-themed art prints. Get creative and utilize a combination of ideas for kitchen wall decorating!
#4 Embrace Open Shelving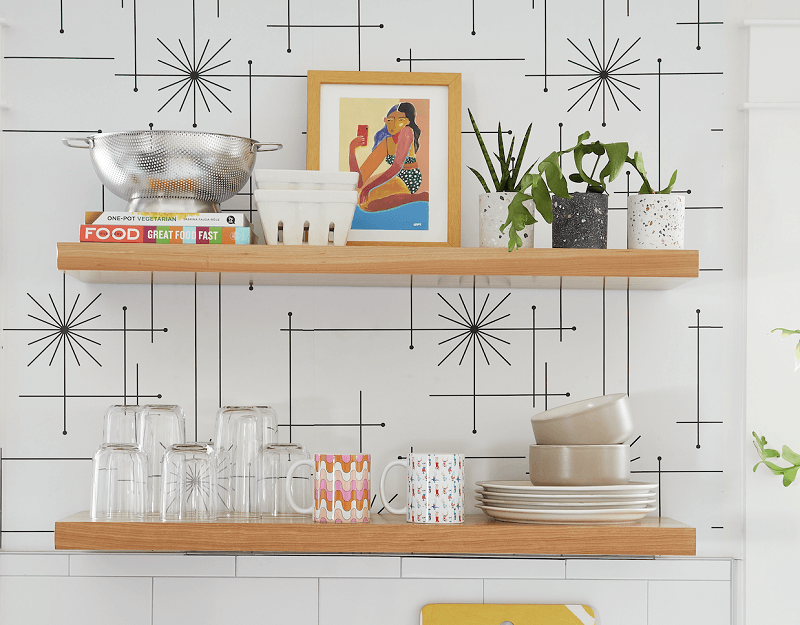 Say goodbye to claustrophobic cabinetry and say hello to open shelves! This is by far one of the best small kitchen decorating ideas that will maximize space. Swap out some upper cabinets with open shelves to give your kitchen wall space a breath of fresh air. Display your colorful dishes, vintage cookware, and adorable knick-knacks. It's like turning your kitchen into a mini-gallery—where food is the masterpiece.
#5 Add Light or Bright Colors to Open the Space
Let's add some pizzazz, shall we? Use light and bright colors to make your tiny kitchen shine. Whites, pastels, or even a sunny yellow can create an illusion of space. And remember, glossy surfaces and glass tiles are like disco balls—they reflect light and make your kitchen dance.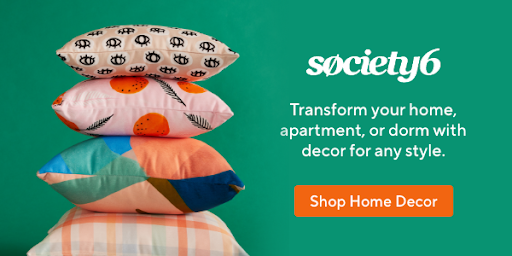 #6 Maximize Your Counter Space
Ah, counter space—the holy grail of every cook. Maximize it with clever solutions and kitchen counter decor ideas. Invest in portable or collapsible kitchen islands to expand your countertops on demand. Slide-out cutting boards and countertop extensions are your new best friends. And don't forget to hang fruit baskets or knife strips—your counters will thank you!
#7 Outsmart Your Cabinets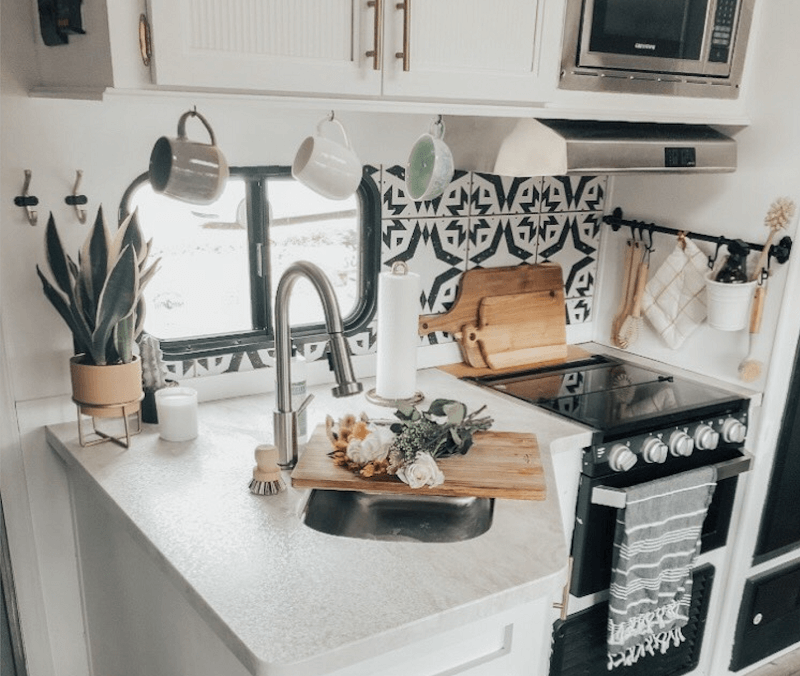 Ditch the traditional fixed shelves and embrace the wonders of pull-out drawers and shelves. They'll bring order to the chaos and make reaching for that elusive spatula a breeze. Oh, and say hello to appliance garages and specialized cabinetry for your beloved gadgets—no more countertop clutter!
#8 Let There Be Light
Brightening your kitchen is one of the easiest ways to decorate a small kitchen. Illuminate those dark corners with under-cabinet lighting. Install pendant lights or recessed fixtures above your island or dining area—they're like the cherry on top of a delicious cupcake. And don't forget the cozy ambiance of wall sconces or cute kitchen-themed lamps.
#9 Go Green and Fresh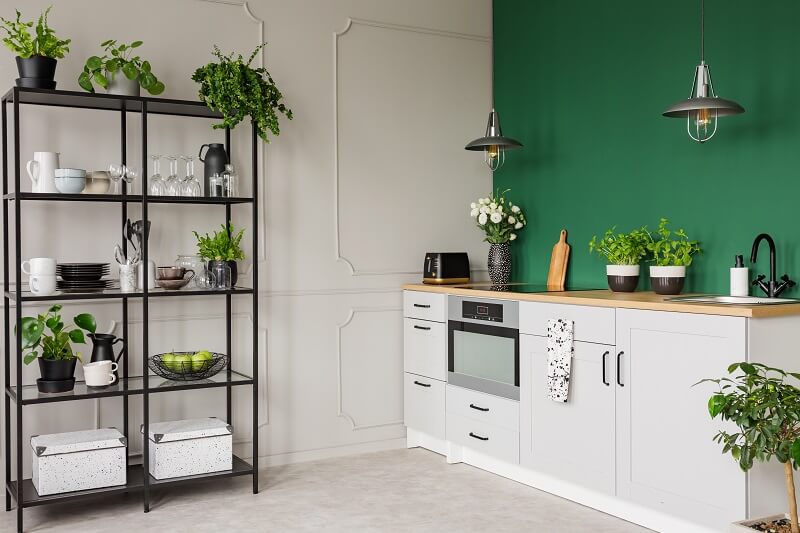 Let's bring in the greenery and freshen things up and add some life to your kitchen. Get yourself a mini herb garden and place those potted herbs on your windowsill. It's like having a little slice of nature right in your kitchen. Hang some trailing plants from the ceiling or hook them up on the walls. They'll add a touch of freshness and create a vibrant atmosphere that'll make your kitchen come alive.
#10 Let Your Personality Shine
Last but certainly not least, don't forget to infuse your small kitchen with your own unique personality. It's your kitchen, after all, and it should reflect who you are! Add a splash of color with vibrant accessories like dishware, towels, or small appliances. Hang up some art prints or chalkboards for a personal touch. Consider a statement rug or backsplash that speaks to your style. This is your opportunity to let your creativity run wild and make your small kitchen a true reflection of you!
Make the Most of Your Space
From maximizing kitchen storage with vertical solutions to embracing open shelves, optimizing counter space, and adding greenery, there are endless possibilities to decorate your kitchen. Don't forget to play with colors and lighting, and infuse your own personality into the mix. Now that you know how to decorate a small kitchen, look to Society6 for the perfect home decor. We have stylish kitchen essentials like cutting boards and serving trays and home decor that will liven up your kitchen.
So, roll up your sleeves, put on your chef's hat, and get ready to create culinary magic in your revamped small kitchen!