You've picked out the perfect wall tapestry, you've cleared a spot on your wall, and then you have literally no idea what to do next.
How do you get that beautiful drape from your hands to the wall so can have your insta-worthy moment beneath it? We're here to answer your SOS! Here's a step by step guide to three easy and creative ways to hang that baby up. Have more ingenious ways to decorate with wall tapestries? Comment below!
Option 1: 3M Command Strips
First, grab your tapestry and decide which way you want to hang it. The great thing about abstract art is you get to interpret how you want it to be!
Step 1: Attach 3M Command Strip to wall and remove backing from velcro.
Step 2: Press tapestry and hold for a few seconds.
Pro Tip: This is a really great way to hang a tapestry if you are a renter and you have a landlord who isn't down with nails.  No wall damage = full security deposit.
Step 3: Stick a second 3M Command Strip on the opposite side of the tapestry. Hold it for about ten seconds.
Pro Tip: Use a level if you want it to be perfect.
Have fun with how you want to hang your tapestry and with which way feels up to you!
Option 2: Hammer and Nail
Step 1: Hammer a nail into the upper corner.
Pro Tip: Adjust for a loose or taut look. Now's a great chance to really think about the look that you're going for. Do you want it to be drapey and loose or do you want it to be really taut? Take that into consideration before you decide where the second nail should go.
Step 2: Hammer second nail into opposite corner.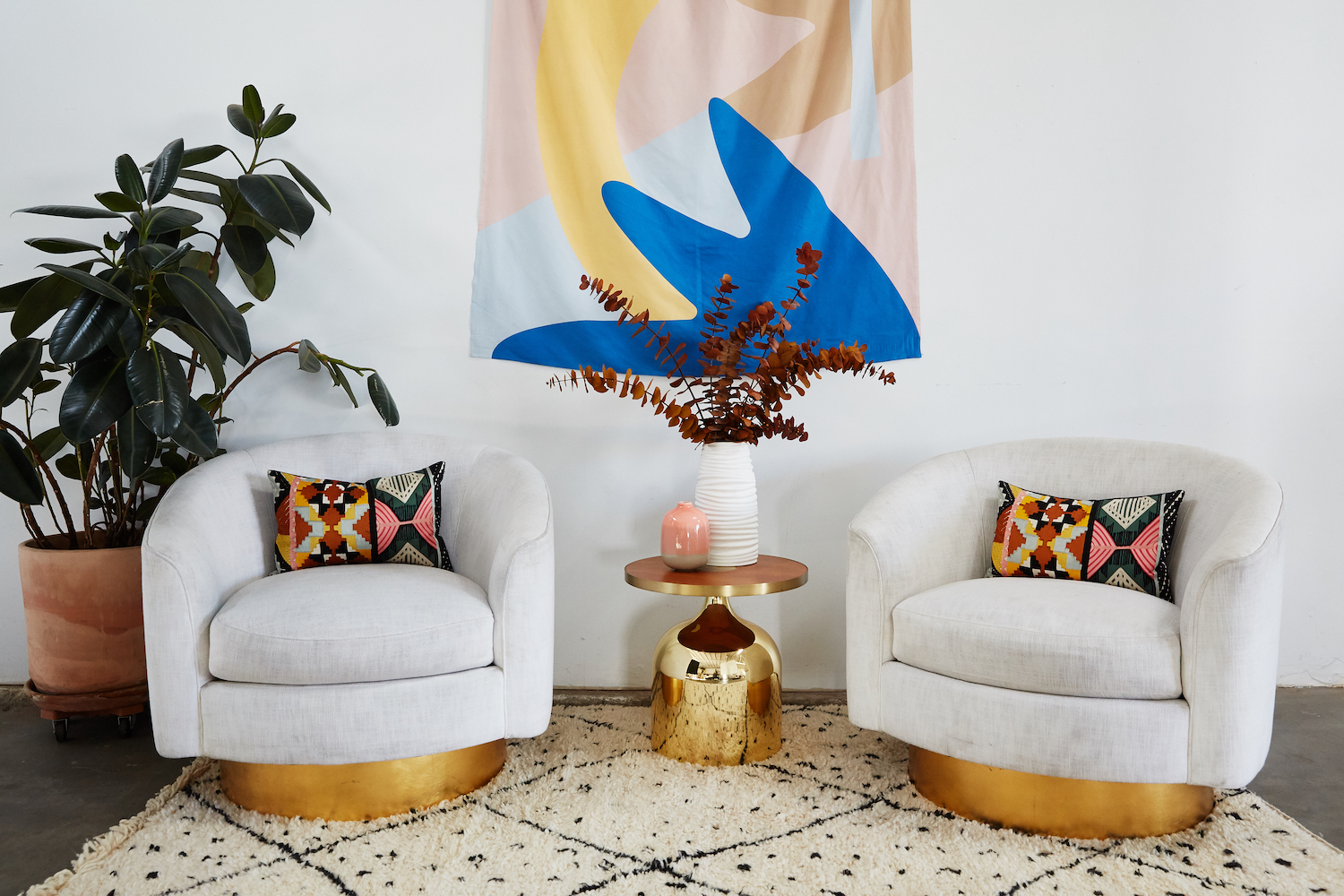 Tools required:
Tape measure
Scissors
Rope or twine
Hammer
Nails x2
Step 1: Pre-measure distance between the slits.
Measure how long the tapestry is at the top. This one is 50″ so we're just going to divide it and do ten slits, one every 5″.
Step 2: Cut small slits evenly along the top edge.
Take your scissors and make a tiny little cut at the top of the tapestry. Then, starting from that same spot, move 5″ along and make a tiny little cut at the top of the tapestry. Repeat every 5″ all the way across.
Pro Tip: Cut about an inch or two below the top seam, just past the edge. You want to make sure you're cutting into the fabric and not at a point where the rope can't pass through the fabric.
Step 3: Thread the rope or twine through the holes.
From here, you'ree going to take it to the wall.
Step 4: Hammer a nail into where you want the tapestry to hang.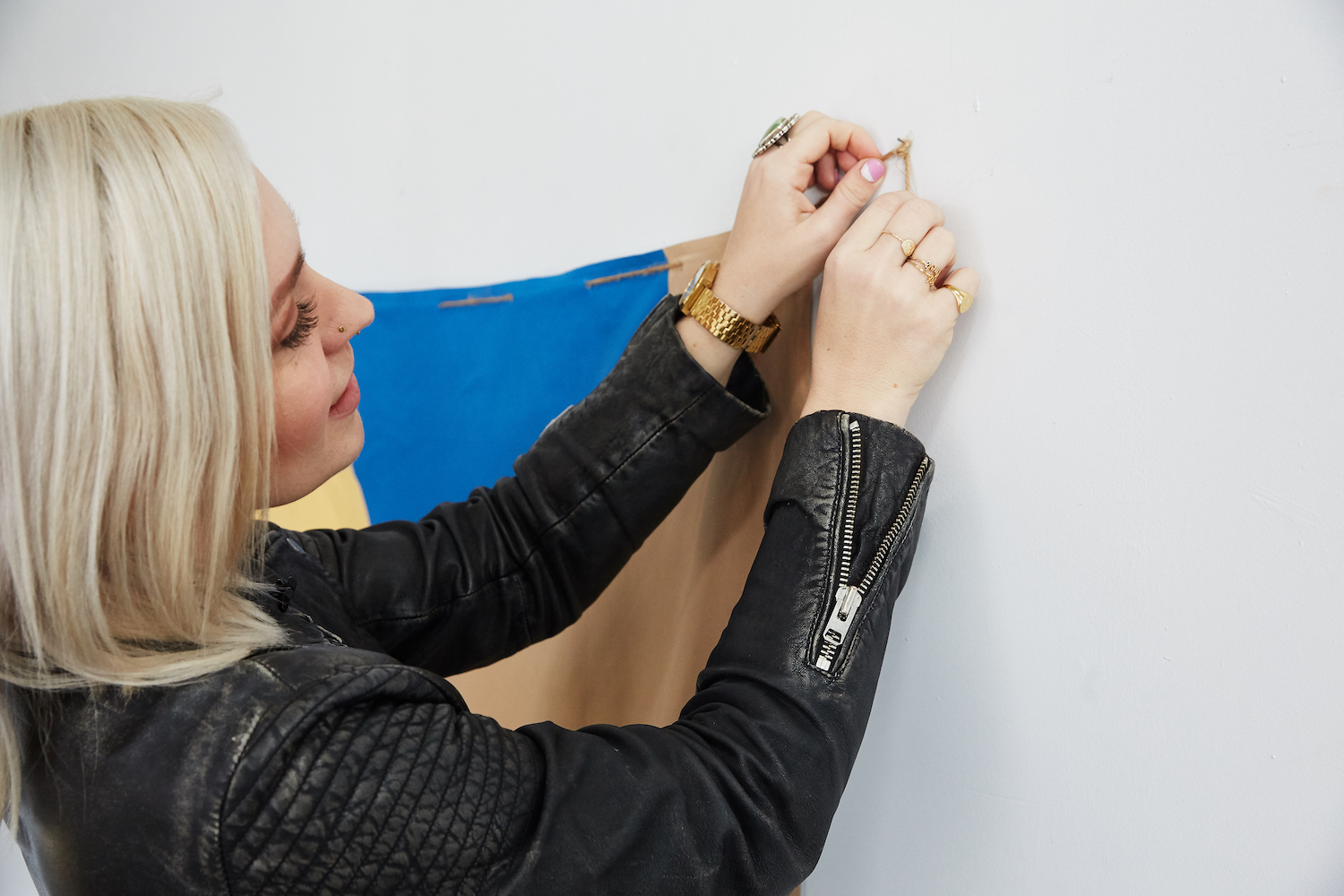 Step 5: Tie a knot at the end of the rope to hang on the nail.
Pro Tip: Remember to leave slack in the rope. Decide where you're going to put the knot on the other side once you see how tight the rope needs to be on the tapestry.
Step 6: Hammer in the second nail.
Step 7: Center the tapestry.
Pro Tip: If you're anything like us, you get bored easily. Swap your tapestries out with the seasons or holidays to change up your space.
Shop wall tapestries here!
Shapes and Layers no.30 Wall Tapestry
Mid Century Modern Wall Tapestry
sunshine state of mind Wall Tapestry
by sunshinecanteen
$44.99
Daughter Wall Tapestry
by Cassidy Rae Marietta
$44.99
Let The Sunshine In Wall Tapestry
Simpatico V2 Wall Tapestry
Abstract Geometric 29 Wall Tapestry
by The Old Art Studio
$44.99