Ah, winter—your skin is dry, your expectations high and your days are much more grey and dull than they are merry and bright. If there was ever a time for self-care, it's now, so we asked photographer and champion for self-love Samantha West to give us her 5 favorite ways to stay sane this season.
The world is a hectic and heady place, particularly during the holidays, where travel and attempted diplomacy around family and friends is required to the max! Nothing is more welcoming than returning to a peaceful home where we can find some solace and relaxation, whether it be after a cross country journey or just a long day at work. I hope you enjoy these tips below and are able to make them work for your own particular lifestyle and personal taste. May they help ease you into the next day with a smile and into the coming year with a sense of of well being and calm.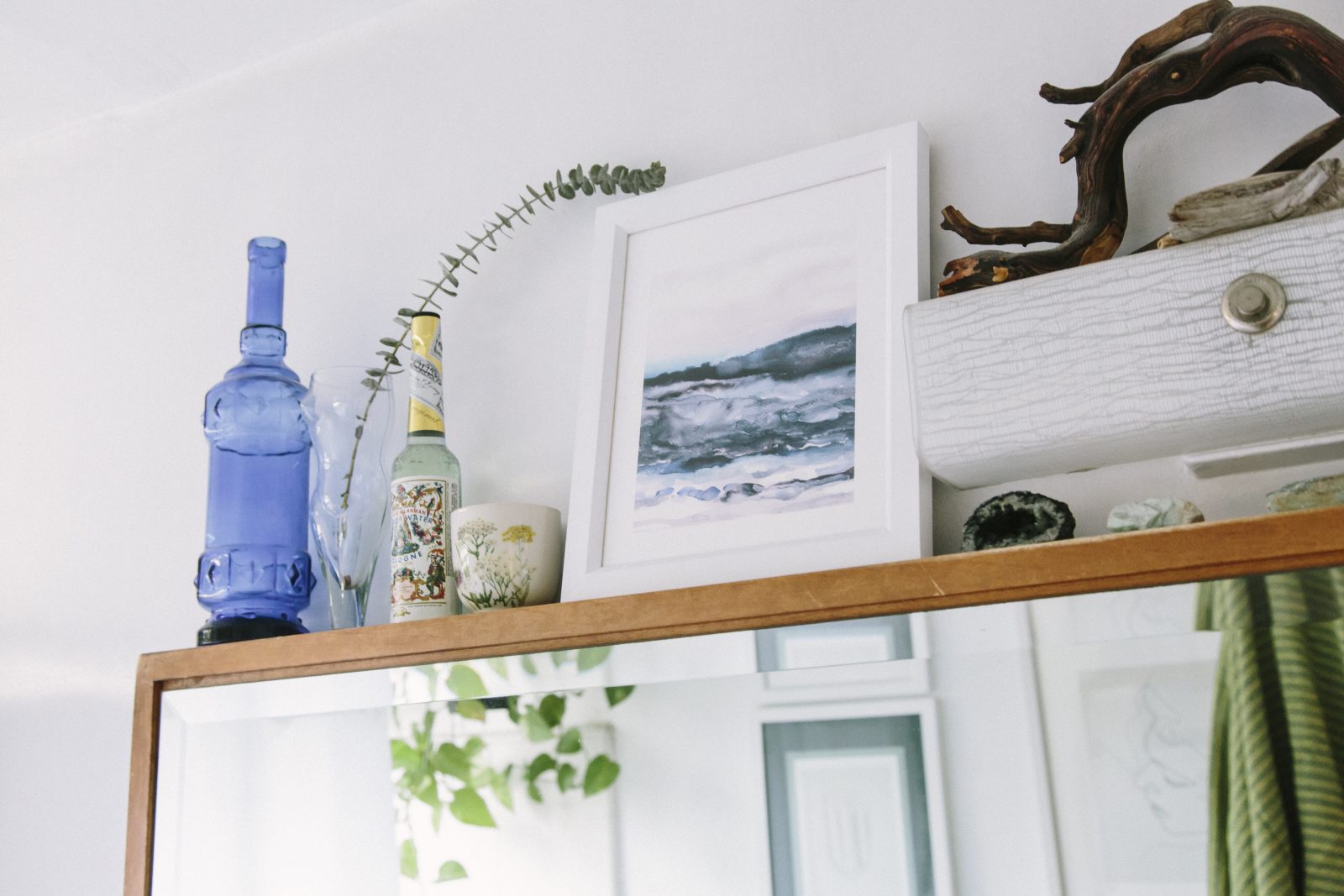 1. Create a peaceful zone in your bathroom
Our bathrooms are the most personal and intimate space in the home and an often forgotten one when it comes to decorating. This little place deserves as much attention as the rest of your abode. It is, more often than not, where we begin and end our day, so why not enter and exit with a sense of calm in beautiful surroundings?  I do my best to bring the jungle into my bathroom with a hanging plant that has made itself quite at home in my shower and is happily climbing my walls. Dried eucalyptus for sensory and visual stimulation is a little detail I enjoy,  as well as surrounding myself with objects and art that remind me of what I love most – nature and the great outdoors – the sea and the forest. Something as simple as adding a dimmer to your light switch can help create a peaceful and calm atmosphere on demand. Bring in color palettes that soothe you, keep essential oils, such as lavender and sage, to add to your bath or shower for some impromptu aromatic exploration. How we find peace and choose to de-stress is such a personal thing, but don't ignore this little room which can be a gorgeous zone of zen for you.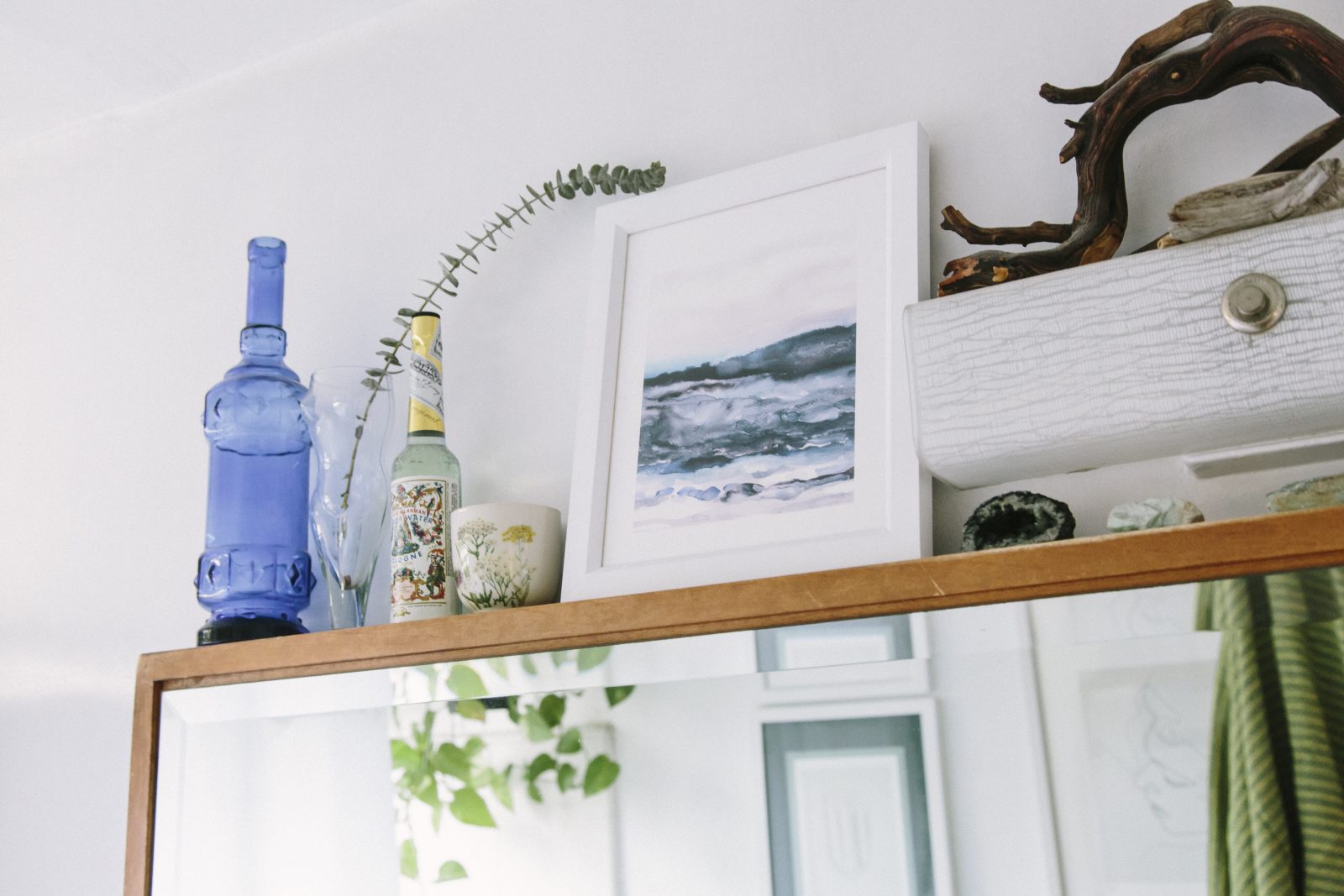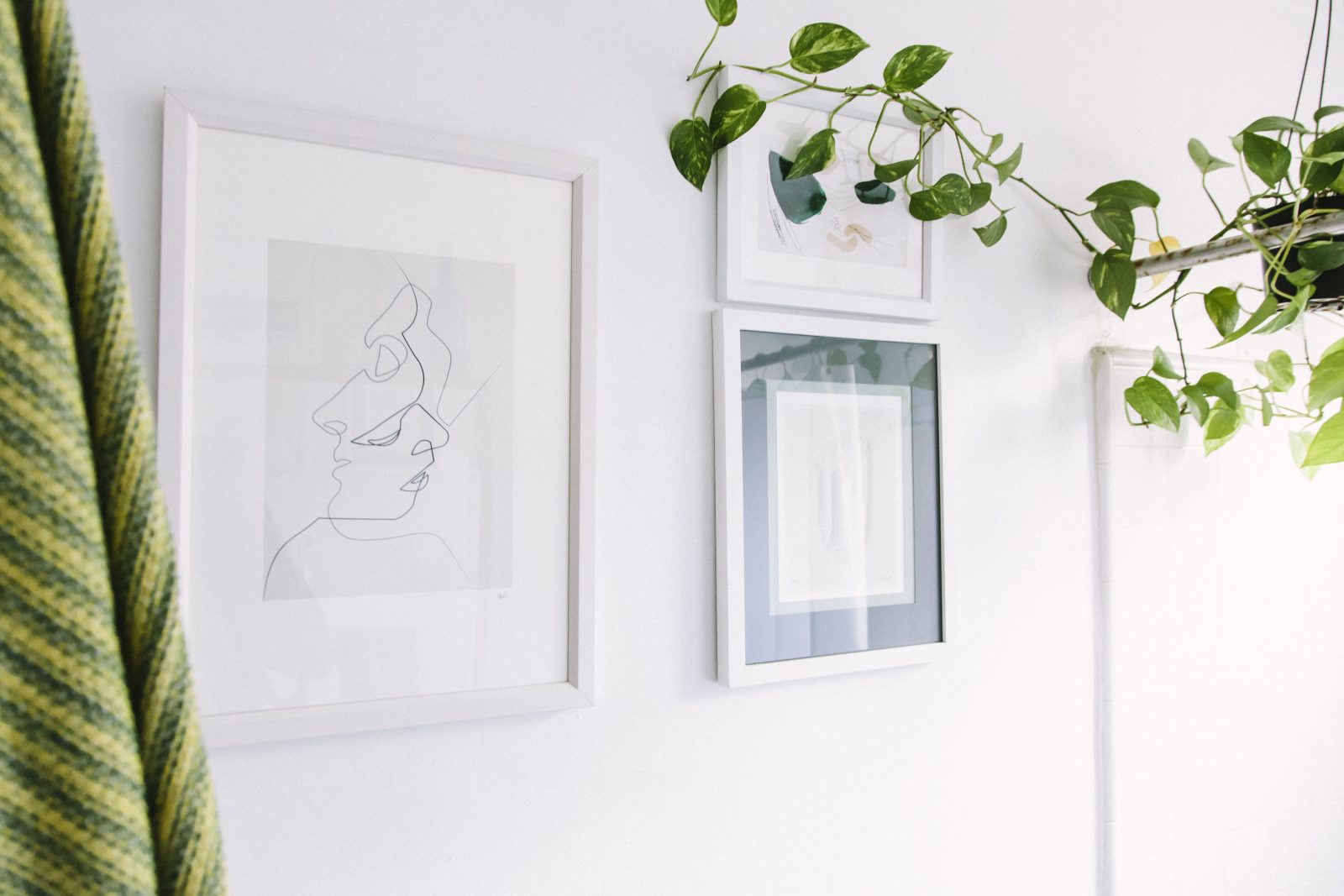 2. Morning Rituals
The older I get, the more I appreciate how much starting off the day in a positive way truly matters. I used to prefer to get as much sleep as possible (I still do, not gonna lie), ignoring breakfast and dashing out of the house, however, having a beautiful morning ritual makes me feel empowered, thoughtful, nourished and helps to ease me into whatever the day may hold. I start off every day with immediately drinking at least 24 oz of water, raw apple cider vinegar and lactose free kefir for probiotic goodness. Next, I love to make a fresh cup of coffee— grinding fresh beans and making a cup of pour-over coffee makes me happy and stimulates all the senses. Cooking also gives me pleasure, it' a treat for the eyes and taste buds as well as true medicine. There is no better way to start off your day by injecting your body with healthy gifts—food and positive energies (and lots of NPR!).
3. Find your flow
Stretching, meditation, yoga, pilates—whatever floats your boat, whatever encourages you to take a time out and focus on resetting and rejuvenation. Do more of it. Giving yourself the gift of keeping limber and getting your blood flowing as well as being forced to focus on the present is an infinite one. Personally, I love to end my days and enter bedtime zone by stretching. I burn some incense or candles, turn down the lights and start to encourage my brain to slow down. Find something that works for you and gives you peace and take it with you whenever you travel, hike, camp, adventure…Wherever is your pleasure, the benefits will keep revealing themselves in both body and brain.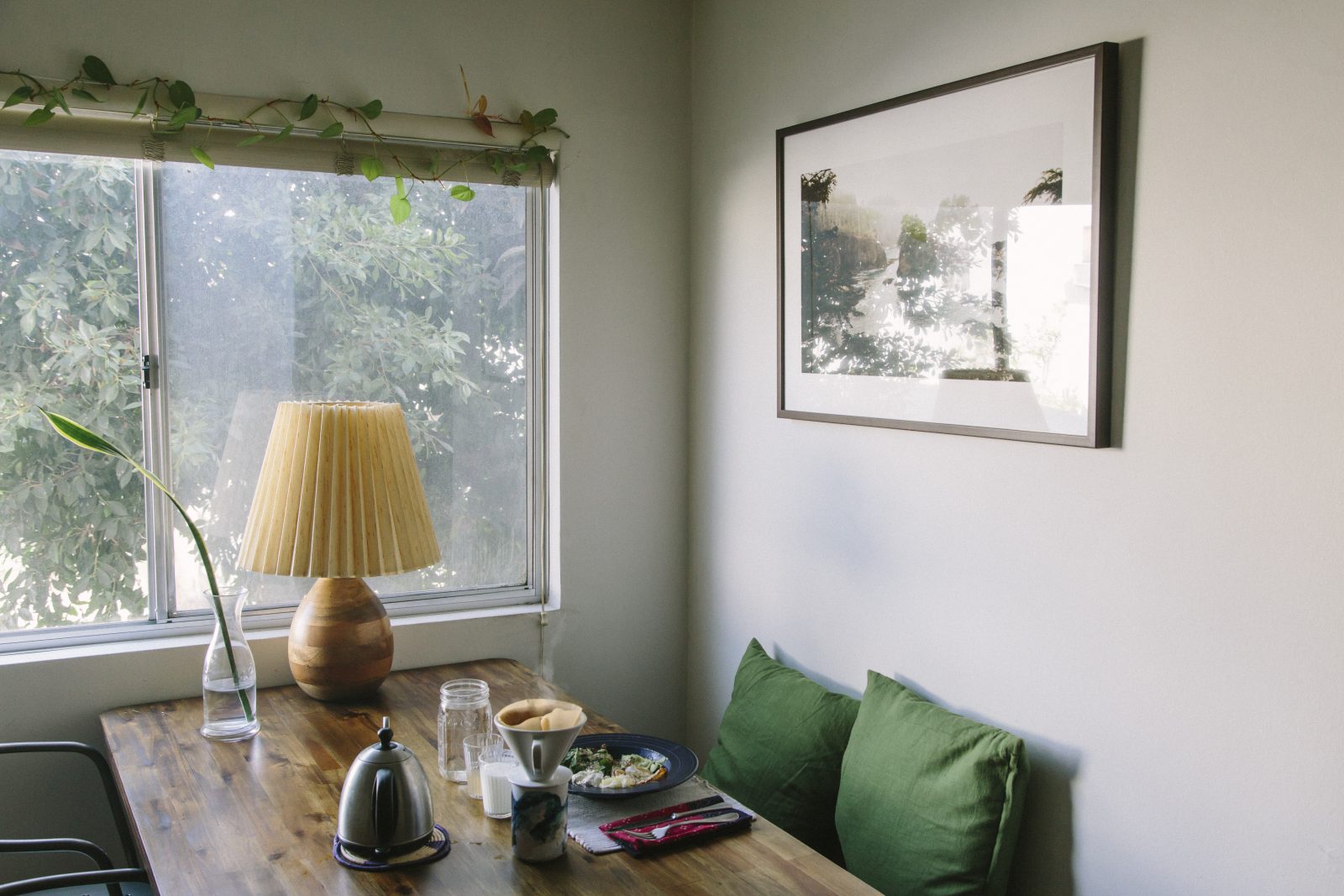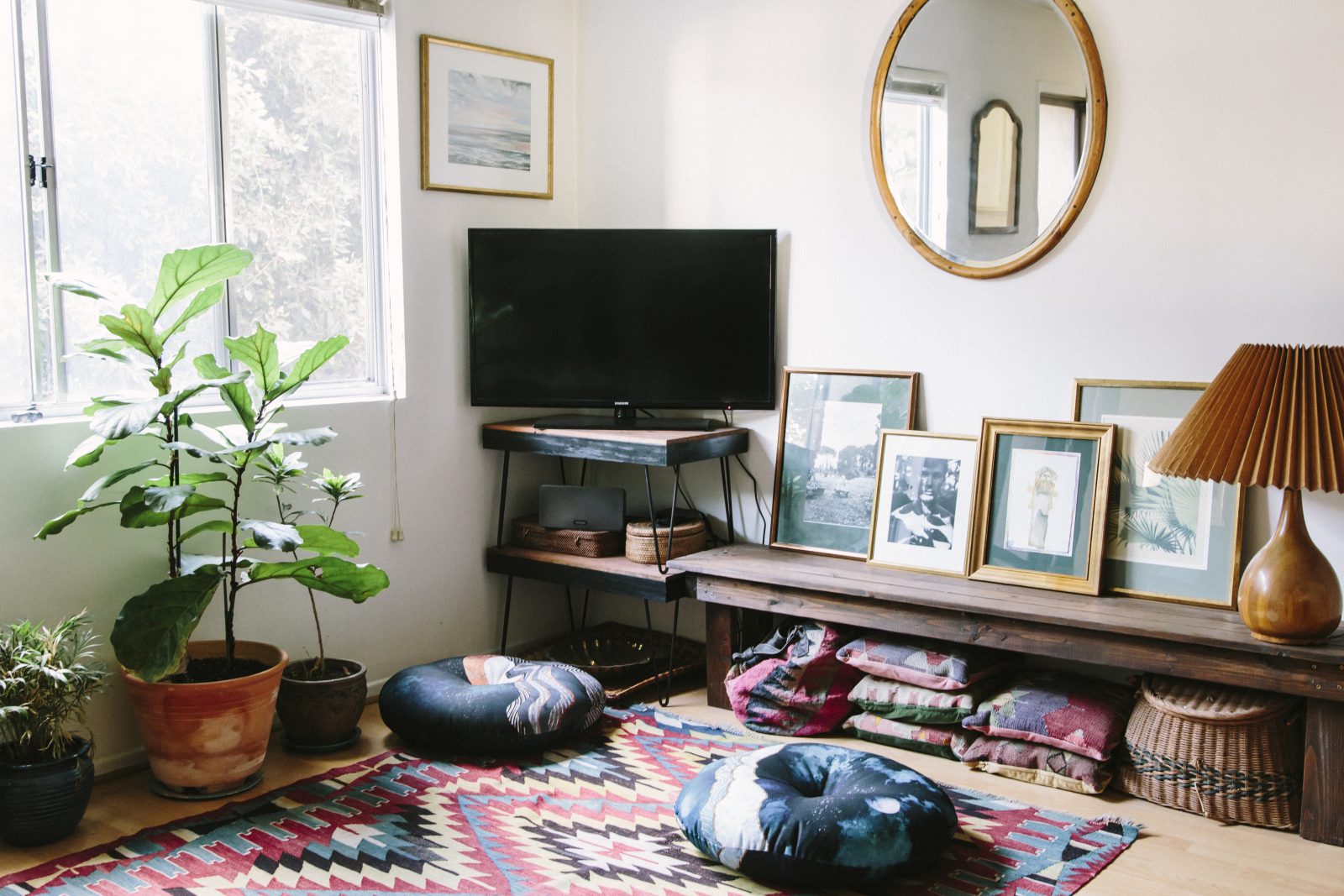 4. Create little corners in your home that remind you of where you feel most at peace.
A few months back, I had one of my best friends over and we were laughing at the fact that we are both people who build little shrines and vignettes all around our home. Creating these corners come to me in moments of inspiration, and with some perspective, I realize that each little spot gives a sense of peace and wellbeing as well as emanating sacred and soothing vibes. I was that gal who moved from New York City to Los Angeles with little more than her books, boxes of rocks and gemstones collected since I was a child, a fair amount of art and some clothes. The first thing I did, unconsciously, when setting up my home was to find places of residence for all these little bits and bobs that remind me of happy and peaceful times—it is what keeps me grounded. Try to build a home that is inundated with greenery, filled with art that reminds you of memorable moments, aspirational adventures, and earthy warmth.
5. Take what you love with you and stay organized.
When traveling, whether just out and about for the day or on a long haul trip, stay organized and bring items that give you peace. Honestly, nothing gives me a greater sense of a calm then knowing where the hell everything is when I am packing. When packing a carry on, I will always bring my favorite scarf to use as a blanket or pillow on the plane. Ear plugs? I got em…a couple of rocks and crystals? Yup! I appreciate having my favorite tea with me wherever I settle down, moisturizers, a face mask, barrettes, notebooks and pens—all the little things that I know and love that are reminders of home and feeling centered. So often we settle for the mediocre that is on hand. Take a little extra time to collect reminders of home that will help calm the mind and bring that experience wherever you may be going.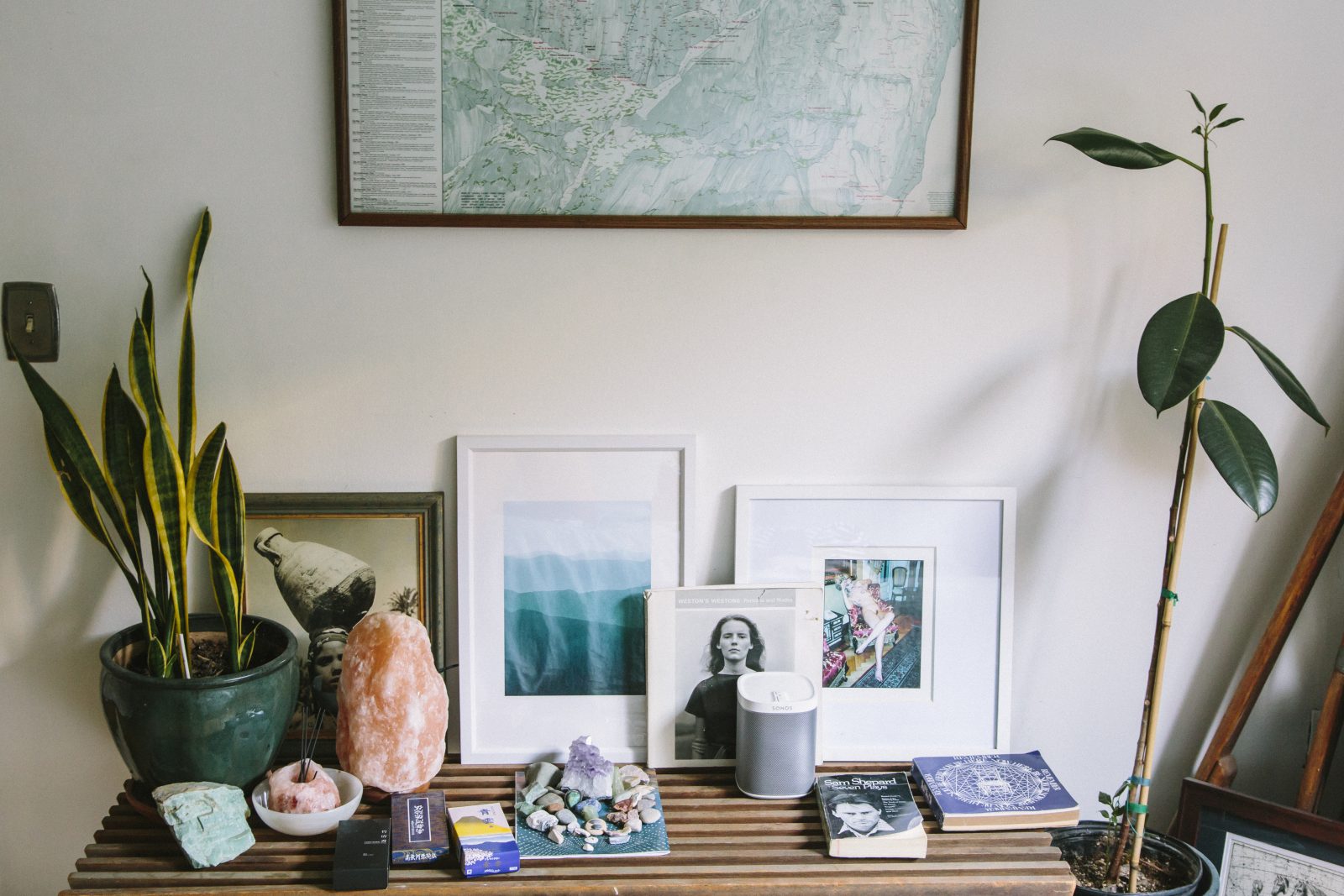 Gradient Landscape Framed Print
Cape Flattery Framed Print
Maidenhair Ferns Carry-All Pouch
by Blue Specs Studio
$42.99
Minimal Green Shower Curtain
Layers Of Color 2 Framed Print
Indigo Floor Pillow
by SpaceFrogDesigns
$79.99