This feature was originally published in our Artist Quarterly – Winter 2019 edition.
Kim Leutwyler is a Sydney, Australia-based fine artist who creates paintings of LGBTQ+ identified and allied people. Kim's work explores the concepts of glorification, objectification and modification in modern culture. Leutwyler's work is a discussion about the push and pull between the boundaries of realism and abstraction—highlighted by Kim's use of layers and complexity in identity, gender and beauty. Kim chose painting as her medium to address the necessity of challenging the primarily masculine history in the western art canon.
What is your earliest memory of creating or interacting with art?
My immediate family is very artistic in their spare time, so I blame them for my interest in art! Mom often paints, Dad dabbles in ceramic sculpture and little sis does sculpture, painting, animation, printmaking, movie props and monster makeup. My love affair with making art began in the high school ceramics club. I became instantly enamoured with the creative process and ended up pursuing a degree in ceramics as well as two additional degrees in art history and painting. 
Did you have any other careers or day jobs before becoming a full-time artist? When did you know that you needed to pursue art full-time?
I actually still have a full-time day job! I absolutely love my job which makes it very hard to walk away from to pursue art full-time. When I first graduated from university I lived full-time as an artist for one year. That equated to a couple of painting days a week, and the rest of my time was spent partying and traveling. I painted what I thought would sell, and didn't love the art that I was creating. I decided to get a job for two years so that I could paint whatever I wanted without worrying about whether it would sell. It was only then that my art career really took off because I was painting from the heart, and I'm still at the same company 9 years later. Balancing time can be difficult…between work and art I rarely ever have a day off. Last November, I began to feel severe pain and numbness in my hands, later diagnosed as carpal tunnel syndrome. I think it was my body telling me it's time to find better work/art/life balance. I've since had two successful hand surgeries and am so happy to be back to painting again!  Still trying to figure out that balance moving forward…
How would you describe your artwork?
I create oil paintings exploring notions of beauty, gender and Queer-identity using a mix of realism and abstraction. I aim to diversify and amplify the representation of LGBTQI+ and gender-nonconforming people in the arts. Queer artists (along with women and artists of color) are massively underrepresented at the institutional level in museums, major collections, art historical texts and auctions sales. I hope that my work can start a positive dialogue around equality, gender and identity in both the feminist and mainstream art world. I want to champion people who are often marginalized by capturing their portraits and sharing one small part of what makes them unique with the world.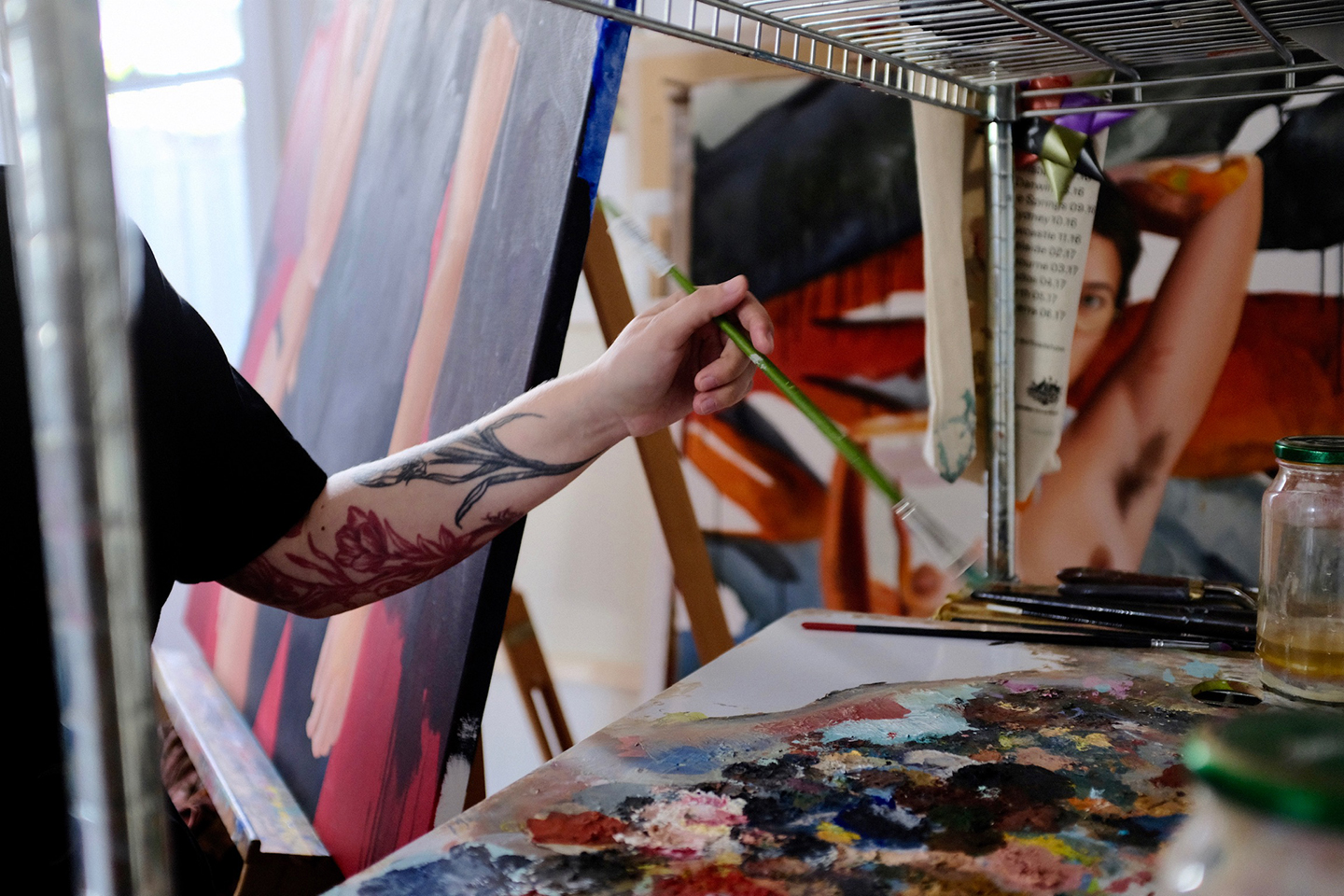 Who were some of your earliest influences, and how did they affect your thoughts while working out ideas and then creating visual scenes?
I am constantly exploring the boundary between realism and abstraction to highlight the layers and complexity of identity and place. My love of incorporating strong color and patterns started with studying the Pre-Raphaelites and grew with studying Kehinde Wiley. I was fascinated with textiles and patterns employed by the Pre-Raphaelites to contemplate moral issues of justice, beauty, piety and the struggle against corruption.  When I began painting women in front of their favorite patterns I was quickly introduced to the work of Kehinde Wiley, who is best known for his realistically rendered portraits of heroic figures depicted in front of decorative patterns of various cultures. Upon realizing there was another artist exploring similar juxtapositions I looked to history for further inspiration. I was drawn to the paintings of Tenebrists like Caravaggio who worked on black gesso, painting only where the light hits a person or object. I began to incorporate bright patterned backgrounds with tenebrism, blending abstraction and pattern where the subject's shadows should be. 
The colors and patterns in my portraits reflect the taste and personality of my Sitter. Personally, I hope to remove all realism from my work and move to full abstraction over the next 20 years. Someday I want to be able to convey the essence of a person or place in pure color and mark making. For the time being, I am slowly building up the skills to be able to do so. 🙂 Abstraction has been peeking through my portraits for the last few years, but I think it will be a slow progression. 
What is your favorite or best time to be creative?
First thing in the morning right when I wake up! I require natural light to paint, so if I'm not painting by 10am at the very latest I probably won't paint that day.  That being said, I find it is very important to take some time doing other things if it doesn't 'feel' like a painting day. Pushing through that feeling often means I'll end up ruining a work in progress and wiping away the day's efforts. 
I'm also a big fan of drawing super late at night between 12a-3a. 
What do you feel inspires you the most?
Nature provides a ton of inspiration for me, particularly when it comes to contemplating themes of gender, identity and the mutability of life. You can often find me climbing mountains, wandering through national parks and diving at the bottom of the ocean. 
I am also very inspired by historical art texts, as well as my frequent visits to museums and galleries. I get some of my best ideas while looking at other people's work. Having been an Art History major, research is integral to my practice.
The most inspirational thing for me is people. I gravitate toward LGBTQI+ and allied people, particularly those who engage with the politics of identity, community and activism in their own unique way. 
As a Storyteller using art as your vehicle, what narratives are you crafting and sharing with viewers?
I create portraits of individuals who are making positive impacts on the community individually, locally and nationally. I hope that my work will stimulate a dialogue about equality and human rights in Australia and beyond. 
Let's look at my portrait 'Sally' as an example. Sally Rugg is a Sydney-based activist and Executive Director of Change.org. She was named among Harper's Bazaar's 5 Women of The Year, and is listed in Amnesty International's Top 15 Women Championing Human Rights In Australia. She appears regularly in the media and is devoted to equality and fair treatment for all people, from the LGBTQI+ community, to refugees, to those living below the poverty line. Our initial sitting occurred just before Sally began traveling around Australia to campaign for marriage equality, and at the time we were both hopeful that marriage equality would become a reality in the near future. I completed the portrait shortly after marriage equality became law in Australia. Throughout the work, I push and pull the boundary between realism and abstraction, highlighting the layers and complexity of Sally's identity, strength and beauty.
Do you keep sketchbooks?
I have a few sketchbooks housed in the Brooklyn Art Library, if you're in New York feel free to check them out and let me know your thoughts! Once the Apple Pencil came out I moved to strictly sketching on my iPad. I was very skeptical about whether sketching on an iPad would provide the same satisfaction as putting a pencil to paper, but the moment I tried it I was forever hooked. It has revolutionized the way that I work. 
Could you take us on the journey from "sitting" to finished piece?
I have an initial 'sitting' with my subject for about an hour, sketching in Procreate while studying their features. Next, I create abstract color sketches and a drawing of my subject. I send 20 or so to the subject so they can collaborate with me on the colors and composition for their portrait. At this point, I begin painting with oil on canvas, always capturing a time-lapse as I go. When the painting is nearly finished (25-40 hours later) I take photos with my iPad and begin to experiment with applying different colors and brush strokes. This allows me to be really creative and experimental without worrying about messing up my original oil painting. Once I've landed on those final adjustments digitally I apply them to my canvas. Then I generally get an overwhelming sense that the painting is finished. It's hard to explain, I just know! 
What is your favorite place and why?
The bottom of the ocean. It's so quiet, and I love looking up at all of the sea life! 
What is one thing that you would love to immerse yourself in creatively?
I've been thinking a lot about the physical, cultural, philosophical and psychological consequences of climate change. This generally conjures up feelings of helplessness about the state of our world, so naturally I want to spring into action. I want to create landscapes that change the way we think about climate change, and the way we relate to our planet and other species on it. I want to encourage people to feel, think about and act on what is happening to the environment. 
I would love to travel to some of the most vulnerable places on earth that are at risk of destruction due to climate change. After doing some sketches and paintings on-site I would travel back to my studio in Sydney to begin a series of landscapes featuring nude humans, as a reminder that we are all just animals. After all, cultures have been living sustainable lives for generations. The need to scale up sustainability efforts at this point in history is a result of modern individualism and consumption that has lead to exacerbated climate change. My idea is still in its infancy but I'd really love to explore it further in the near future. 
What is the best advice you've ever gotten?
Worrying is like a rocking chair, it gives you something to do but doesn't get you anywhere. 
If you could pick two women to show your work alongside, who would you choose and why?
I'd love to show my work alongside portraits by Romaine Brookes. She was a lesbian artist born in 1874 who painted her friends and lovers in all of their androgynous glory. Her subdued color palette would contrast starkly with my own, especially since we both have a pseudo-realistic style. It would be interesting to then incorporate the work of Donna Evans, who presented 'sexual deviants' in such a way that 90's popular culture viewed them as unfeminine, aggressive, and unattractive as a result of their body hair, age, muscles, etc. Unlike Evans, I depict a more sumptuous side of that world in which women modify their bodies, take on various permutations of androgyny, and are celebrated for it. 
Do you believe that the 'traditional' art form of painting has a place in the contemporary art world?
Painting has been declared 'dead' so many times since the invention of photography in the 1830s that I've lost count. In the early 1900s, Conceptual art also subverted the medium by elevating everyday ready-made objects to the status of art. I do believe that painting, especially figurative work, belongs in the contemporary art world as a visual manifestation of each artist's perspective.  Painting is more alive than ever because it is not a necessary tool for visually representing people, places, stories or events after the invention of photography. In most cases, contemporary artists choose to paint because of their passion and intention rather than serving the utilitarian purpose it once did or for imperial, private, civic, or religious patrons. 
Have you ever faced any form of censorship or vocal opposition surrounding your work?
I've had galleries approach me to discuss representation on the proviso that I don't advertise as an artist who paints specifically queer identified and allied people. They were concerned that the 'Queer' subject matter would deter collectors from purchasing my work. I advised in every instance that I'm not interested in censoring my thematic choices for the purpose of a sale. 
I have been extremely frustrated by social media as of late, particularly because of the constant censorship I face on Instagram, Facebook and Twitter. My work has been removed several times despite the fact that nudity in artwork adheres to their community guidelines. Censorship sucks!
What advice do you have for young artists out there trying to find their voice and make a mark in the world?
Put your work out there and take some big risks. Try something new and don't let yourself be restricted by your medium. Stay focused on your dreams and keep an ear to the ground for exciting opportunities, they will come in time. Surround yourself with people that you trust to provide open and honest feedback. I've had the privilege of being harshly critiqued by peers, teachers and great artists whom I admire. Without them, my work would look exactly the way it did in 2009. Can't find someone to be brutally honest with you? Reach out to me!
Dedicated to my studio practice, I intend to continue making art throughout the course of my life, no matter what path my career may take. You can view my paintings at several museums and galleries throughout the United States and Australia, or via society6.com/kimleutwyler.