If you're anything like us, our throw blankets get more wear, tear, and love than our regular covers.
After all, it's necessary to clutch onto something when watching a horror film, or to have something to cry into during your umpteenth viewing of The English Patient. And after shedding those tears, or accidentally spilling something on your most beloved piece from one of your favorite artists, it's necessary to clean it.
We have a few suggestions ahead on how to keep your favorite throw blanket looking and feeling new with every wash!  
1. Gentle Is Best
When washing or spot-treating your throw blanket, the nicest thing you can do is treat it as you would your favorite shirt or pair of jeans—with lots of care and attention. If you're conducting a spot treatment, consider using a soft-bristled toothbrush, and brush it in the natural direction of the fibers. Let the treatment do its thing for 15 to 20 minutes, then gently section it off and rinse with cold water. Let it air dry overnight, and your throw blanket should be as good as new within 24 hours.
If you need to wash your throw blanket, use a mild detergent. Be sure to avoid any detergents with bleach, as those can be quite corrosive. Make sure to set the machine on a gentle cycle with cold water. And if the throw needs extra care, let it soak for 10 to 15 minutes in the cold water before running it through the entire wash cycle. It's best to put your throw blanket in a machine without a wringer as that can cause more wear and tear.
2. Dry With Care
After washing or applying a spot treatment, it's best if you can allow your favorite throw blanket to air dry. If it's not possible to do so, or you simply don't have the patience for it, we totally understand; to maintain its fluffiness and warmth, dry it on a low-heat setting in a clothing dryer instead. This will take longer, but it will preserve the blanket so it looks as good as new for a long time.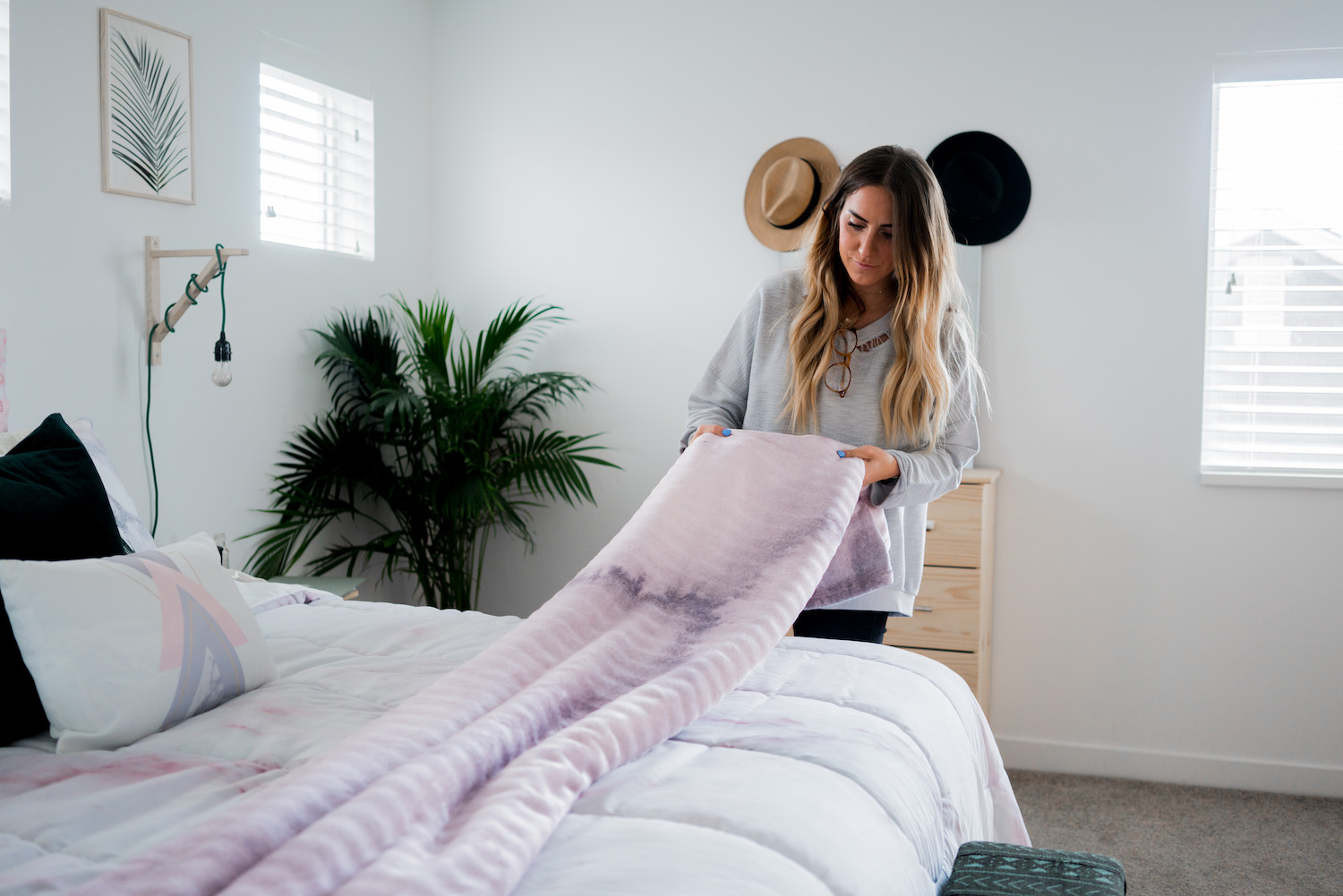 3. Dry Cleaning
If you have a situation in which you're unsure of how to best clean your favorite throw, it never hurts to bring it to your local dry cleaner and have them take care of it for you. We recommend bringing it to a green dry cleaner, as these tend to use gentle products in their care process.
With gentle care, your favorite Society6 throw blanket can last for several years. The key takeaway to remember is to be gentle—use a mild wash to clean it and a low-heat cycle to dry it. We love seeing how you place your throw blanket in your space, so be sure to tag us in photos you post on Instagram and Facebook!
Mauve Greys Throw Blanket
by Iris Lehnhardt
$129.99
THINGS WILL WORK OUT Throw Blanket
by Matthew Taylor Wilson
$59.99
The Moon or La Lune Tarot Throw Blanket
Something Above me Throw Blanket
Geometric 1708 Throw Blanket
by The Old Art Studio
$59.99
Loose Watercolor Bouquet Throw Blanket
by Shealeen Louise
$59.99
Oranges Black Throw Blanket
Uh Huh Honey Throw Blanket
by Kellie Almaguer
$59.99