We've made it through another year and now it's time to put on a party to celebrate!
This year we're forgetting the massive spread and creating an intimate beautifully decorated night that will have your hosting duties taken care of ahead of time so you can enjoy spending the evening with those you love.
New Years Eve get togethers don't have to be intimidating, preparation is key along with just a few key details to make the night feel extra special. With just five easy steps to keep in mind, there's no question you'll win host of the year and pull off a classy evening that everyone will be talking about well into the new year! Cheers, friends!
Celebrate with a Theme
Picking out a theme and weaving it throughout the party in both decor, mood and even food is the perfect way to make an evening feel extra festive! Themes can be anything from a playful color palette, a worldly destination or even your favorite movie of the year. For our party we're feeling "Midnight Botanical" which is a mix and match of floral prints set to a dark moody background – glam, modern and definitely chic! This look (and countless others) are a snap to pull off with the selection of thousands of artists to choose from at Society(six). Pulling together your curated look with prints, fabrics and serving pieces is as easy as the plugging in your magic theme words into the search bar!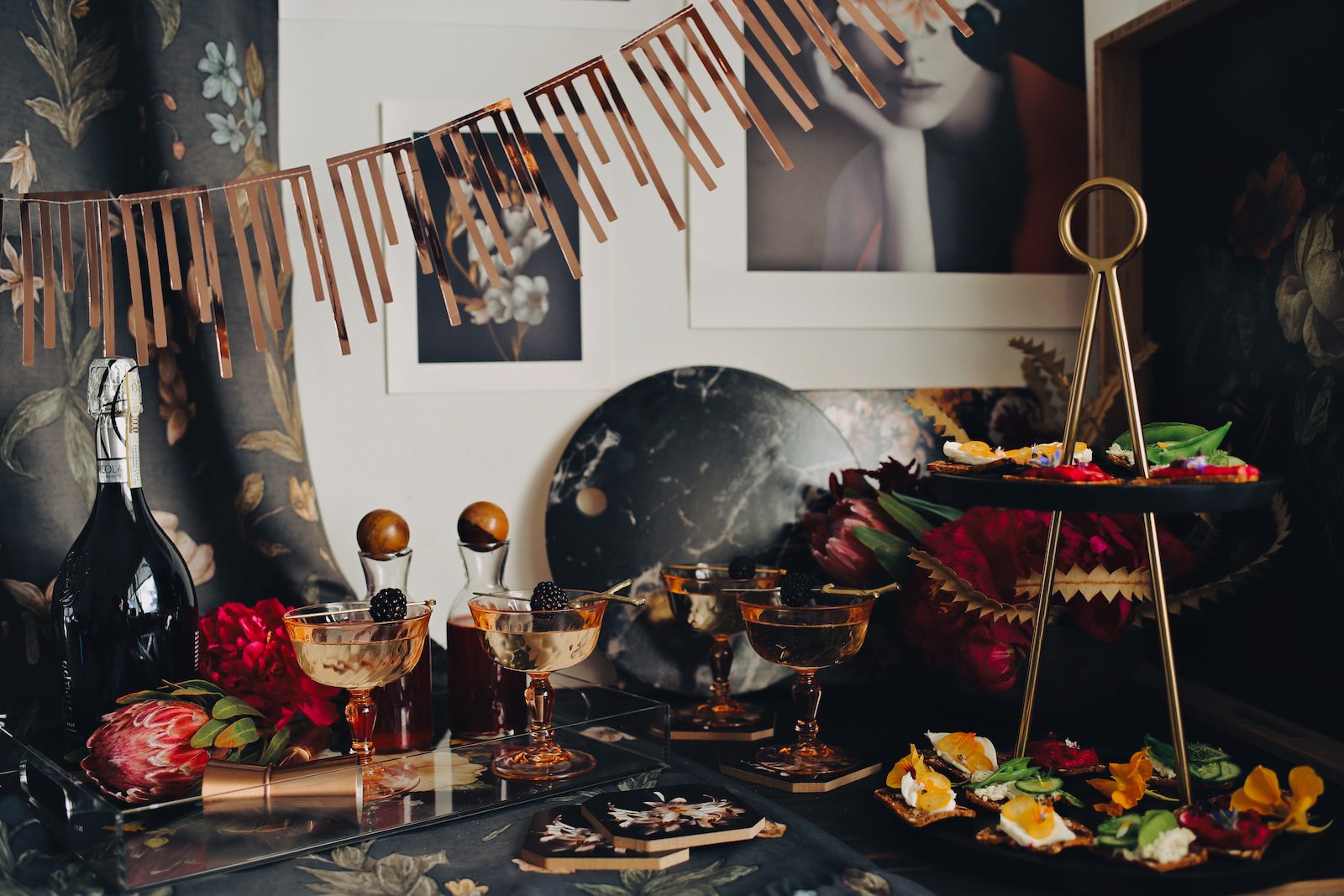 Set up a Self-Serve Drink Station
Putting together a fuss free beverage station will give your guests the option to keep their own glass full and you the freedom to enjoy more time with…well, them! Whether you want a champagne bar fitted with some fruity mixes, a big batch cocktail on ice that will last all night long, or a pretty punch bowl filled with flavorful excitement – just make sure there are enough options for everyone to customize their own cocktail (or mocktail) of choice. Homemade shrubs and simple syrups are one of the easiest ways to upgrade any bevy station for a number of drinks – and if you need a little inspiration, I've got you covered with a handful of celebratory sips here!
Get Guests in on the Action
Keep conversations and cheer a'plenty with a few interactive options for guests to participate in. Leave out a few notebooks (bonus points if they carry out the design theme!) for people to write down anonymous resolutions or positive advice for 2019—share them out loud later in the evening for a fun toast to the new year. You can also make your music playlist available for guests to add on to—this way everyone can listen for their favorite jam of the year and the soundtrack will set an enjoyable vibe for all.
Flavorful Finger Foods
New Years Eve is not the night to host an elaborate dinner party. Forget the multiple courses and make small cocktail bites that are packed with huge flavor. Think tiny sweet and savory toasts and easy to wrangle bites that guests can still enjoy while standing and having a conversation. And don't forget to take your party theme to the next level! Botanical inspired? Add edible flowers and fresh herbs to the spread! Classically chic with gilded accents? Roll that bling into the spread with edible gold foil. Color and texture go a long way when making little bites feel fancy and your guests will no doubt appreciate the noshy nibbles no matter what you come up with! Just don't forget the cocktail napkins!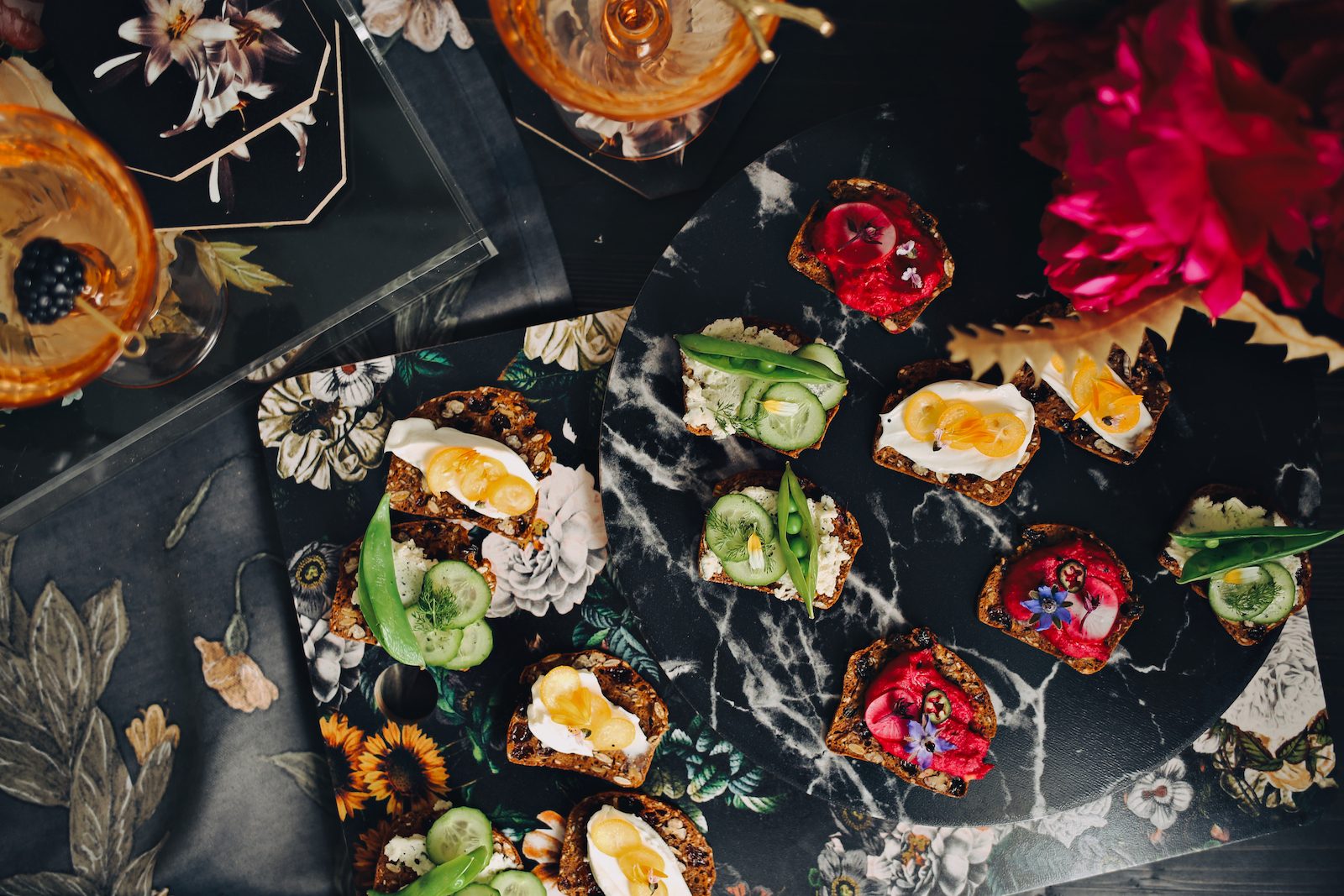 DIY: NYE Survival Kits
Who doesn't love a party favor—especially one that will come in handy during the event!? Package up your own evening survival kit in a cute little tote to keep everyone in the spirit. Think party horns, hats and confetti bombs! Maybe even a little tin of mints for that twelve o'clock smooch. Whatever you add to the mix, make it fun and everyone will be prepared to celebrate in a big way come midnight.
WOMAN WITH FLOWERS 7 Art Print
Black Marble Cutting Board
Botanical Rose And Snail Serving Tray
by Blue Specs Studio
$52.00
Every hour of the light and dark is a miracle Notebook
Floral Night Garden Cutting Board
by Burcu Korkmazyurek
$27.00
Cat and Floral Pattern II Carry-All Pouch
by Burcu Korkmazyurek
$19.99
Colorful Wildflower Bouquet on Charcoal Black Acrylic Tray
by Shealeen Louise
$42.00