Utilizing the Artist Affiliate Program is one of the most important things you can do to boost your income this holiday season.
The Artist Affiliate Program is the way that we reward our artist community for referring meaningful traffic and sales on Society6. Inside this prep guide, we'll walk you through how it works and how you can maximize your earnings this holiday season by taking advantage of this free program!
For more holiday tips, check out our 2021 Holiday Creative Brief and our Holiday Success Guide webinar hosted by the artist community team.
Step 1: Understand how it works.
Here's a quick overview of how the Artist Affiliate Program works:
1 – You add your affiliate link to a URL you share on your website, blog or on
social media
2 – A customer clicks your link and makes a purchase (either from you or anything on Society6)
3 – We track that sale and attribute it to you
4 – You earn a commission, 10% of the net-sale, on that order!
Getting started is easy and free! Just make sure your Society6 account is verified with a valid PayPal email, then apply by filling out a quick application form. Once approved, you'll find your affiliate link on your favorite product pages.
Your unique affiliate link works by adding a  "cookie" to the shoppers web browser once your link is clicked. A cookie is a tracker that tells us which artist referred the customer. The cookie will remain on the customers web browser for 30 days,  so they do not need to make a purchase immediately in order for you to earn commission when they do finally place an order. As long as they are using the same browser and same device that they used to click your link, any purchase during that period counts as your referral. 
Note: Because artists set their own markup on art prints, framed art prints and canvas prints,  an affiliate's commission is calculated on the base price of those products. See the affiliate program page for more details.
Find your affiliate link on a product page:
Navigate to any product page in your shop and scroll to the very bottom of the page.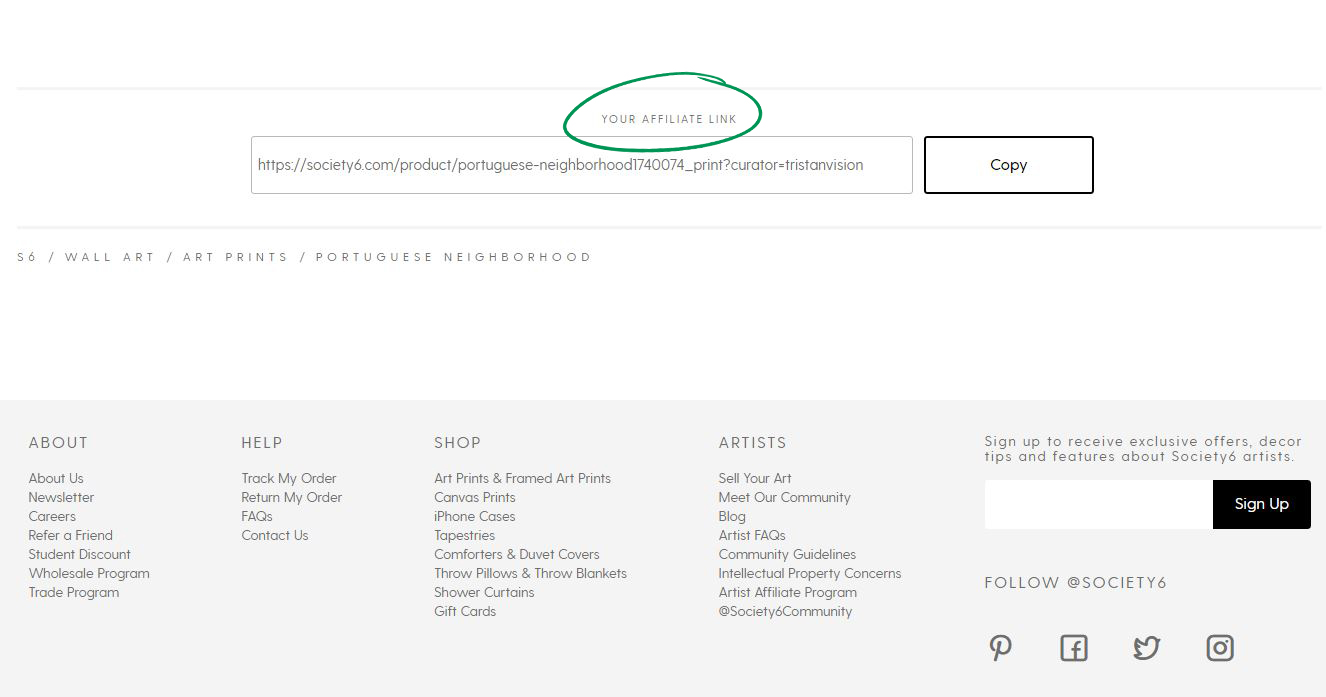 2. Promote your favorite products
Holiday shoppers are getting started earlier than ever and looking to social media for inspiration. Now is the time to  share your best content with your followers to make sure you stay top of mind as they start their holiday decor and gift shopping. As a rule of thumb, always use your affiliate link when referring traffic to the products in your shop with self promotions. You can send your link directly to friends, family and followers or create a newsletter that lets your subscribers know about products currently on sale while including your affiliate link.
It's always a good idea to promote your own items but if you prefer to take on the role of a tastemaker, share products from other artists that you think your customers will love! Don't forget, as long as they click through your affiliate link to view the product on our site, you will receive an earning once they make a purchase.
If you haven't already, check out our 2021 Holiday Creative brief where we outline important dates, trends and products that we plan to highlight in the coming weeks. Use the brief as inspiration while planning your promo schedule.
Step 3: Add or update your website and social media bio to include your affiliate link.

Avoid missing out on sales by making it easier for customers to find your shop by adding it to your social media bios. If your personal website doesn't have a "shop" button already, we highly recommend creating one and linking it to your Society6 shop via your affiliate link. Your unique affiliate link is so versatile in that it can be added to any link from a society6 page. We'll explain how it works below:
Using artist AliRae Aguirre's shop as an example, AliRae's shop link is society6.com/aliraeaguirre. Her custom affiliate link is ?curator=aliraeaguirre. So to use Sabrena's affiliate link, Sabrena could share their shop with: society6.com/aliraeaguirre?curator=aliraeaguirre. As mentioned, this method can be used for any page on Society6. This is a great way to share any holiday collections you've made with your customers.
Before putting links to your shop out there, take a moment to read through our 2021 Holiday Artist Success Checklist to make sure you're full prepared for the traffic you'll be driving to your shop.
Website shop link example: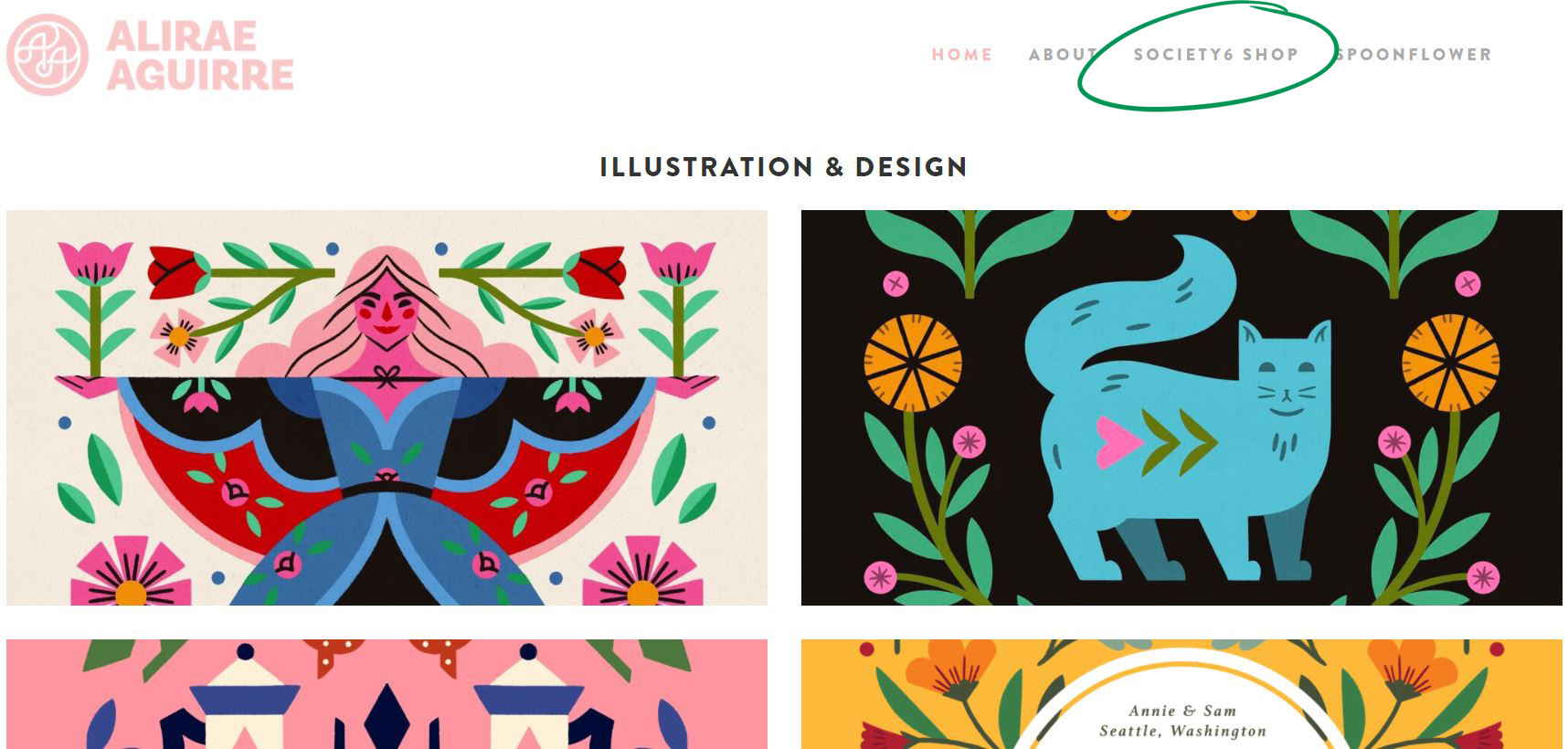 Social media bio link example: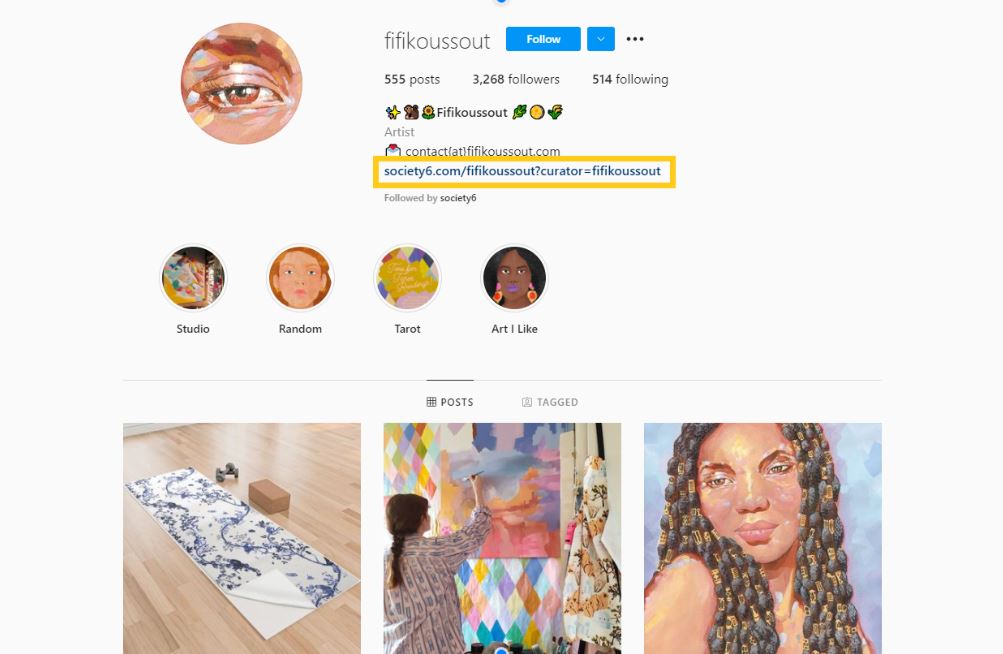 Step 4: Create blog content and link to Society6.
There are so many creative ways you can get out there and promote yourself. One very effective way that we recommend our artists consider this holiday season is by writing holiday themed blog posts. This creates the perfect opportunity to make descriptive lists of products that will entice shoppers. We recently held an artist community webinar where our Director of Brand Marketing shared some insight on what we expect customers are looking for this year. These kinds of dedicated blog posts create the perfect opportunity for you to use your affiliate link.
An added bonus of creating blog content is that it is particularly great for your SEO which will help you to rank higher in searches! Check out our SEO webinar for an in depth breakdown of the importance of SEO.
Step 5: Track the sales you refer with the earnings dashboard.
Keep an eye on the fruits of your promotional labor with the artist earnings dashboard! To view affiliate earnings, utilize the "Payment Type" drop down at the top right corner. This is the easiest way to track the sales from traffic coming to your site through your shared links because they will all get sorted into the "affiliate" view.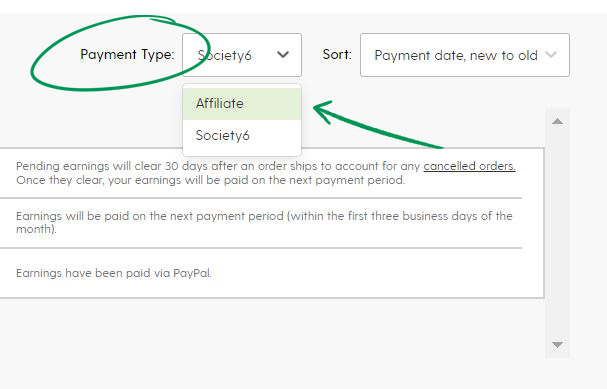 Don't let another holiday season pass you buy without increasing the amount you can earn with the affiliate program. Click here to get started!