Looking for chic ways to spruce up your living room couch? Decorating sofas with throw pillows is an easy and cost-effective way to add personality and style to your space. Whether you're aiming for a maximalist, boho, or polished look, learning how to style couch pillows can make all the difference.
From selecting the right colors and fabrics to choosing the best shapes and sizes, we share 8 tips to help you get creative with your throw pillow display. Read on for home decor inspiration!
1) Pick a Color Scheme
Choosing a color scheme for your couch throw pillows is essential to styling. With so many colors, textures, and patterns to choose from, it can be overwhelming to decide on a look that works with the style of your room. Consider what colors already exist in the space to make the decision easier.
Are there warm or cool tones in the furniture, walls, or flooring?
Do you want to emphasize any existing colors or create a new color palette altogether?
Once you've decided on a color scheme, stick to a few main colors for your couch throw pillow ideas. A limited amount of numbers will allow for a more cohesive look and help draw attention to the pillows as the focal point. Try to pick colors that work well together, such as complementary, monochromatic, or contrasting colors.
If you need help deciding the right throw pillows for you, check out couch throw pillow ideas on Pinterest or at your favorite home decor store!
2) Go for a Variety of Sizes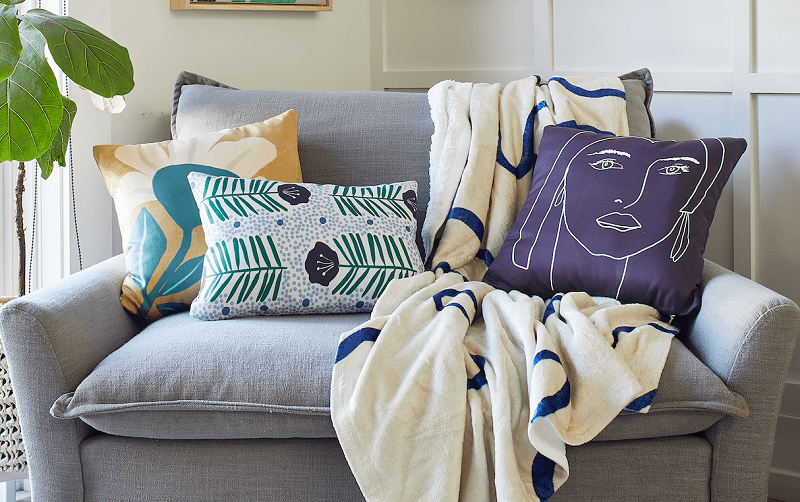 When decorating with throw pillows on the couch, size matters. Mixing large and small throw pillow sizes can instantly elevate your space. This will also create a more balanced look for your sofa.
When styling throw pillows, pair one large rectangular accent pillow with two smaller square pillows or lumbar-sized ones for a unique and eye-catching look. Or go for an eclectic vibe with three pillows of different sizes. Don't be afraid to experiment and use different combinations of couch throw pillow ideas to find the perfect setup for your living space.
3) Create a Focal Point
A focal point is a great way to tie your couch throw pillow ideas together. A large, bold patterned pillow in the center of the couch can be a great conversation piece that will instantly draw attention. You can also use two matching pillows to create a symmetrical arrangement in your seating area.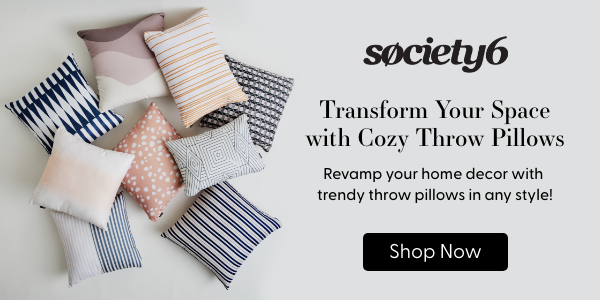 4) Stick to Two or Three Pillow Shapes
Sticking to two or three shapes will create a cohesive and balanced look with your couch throw pillows. Try to vary the size and shape of your pillows, as this will create visual interest in your space. Some popular pillow shapes you can try are:
Square
Rectangle
Round
Bolster and lumbar
When choosing between different pillow shapes, consider the overall shape and size of your couch. For example, square pillows can help fill empty spaces if you have a large sectional sofa. On the other hand, if you have a small loveseat, round pillows are a great way to add a splash of color and personality. With a variety of shapes and sizes, you'll be able to create a visually interesting arrangement that is equally functional.
5) Use Patterned Pillows to Add Interest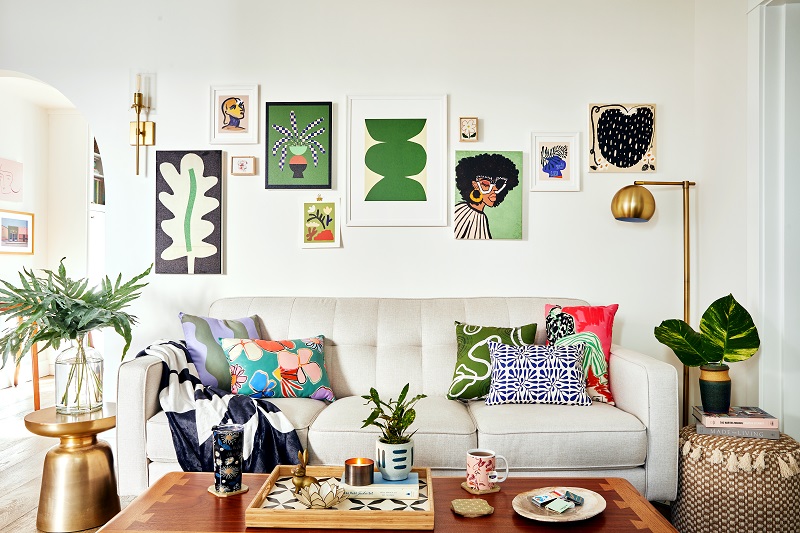 Adding patterned pillows to your couch is an easy way to add personality and excitement to the room. You can find throw pillows in various styles and designs, ranging from floral prints to modern abstract shapes.
Consider your room's existing color palette and the furniture's size and scale when choosing patterned pillows. For example, if you have an oversized couch, a larger pillow with bolder patterns will be more eye-catching than smaller ones. Patterned pillows can tie all the elements of your living room together and make it feel more pulled together.
6) Mix and Match Solid Colors and Patterns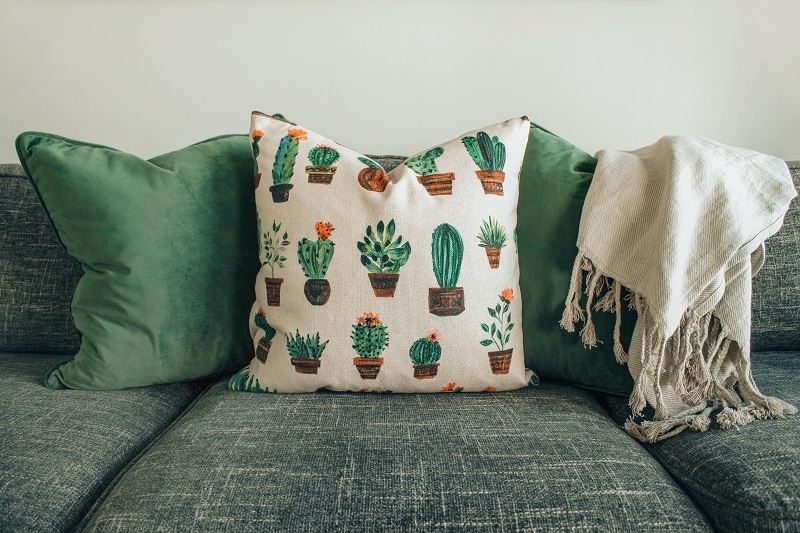 It's important to create balance with your throw pillows by choosing solid colors and patterns. Through this pillow combination, you can create a visually appealing setup.
Start with a few complementary colors and then layer in various pillow patterns of your choice to add visual interest to the room. Remember to keep the color palette within the same range of tones for a cohesive look.
If you're feeling adventurous, you can experiment by incorporating different textures like fur and velvet!
7) Layer in Different Textures With Fringe or Tassels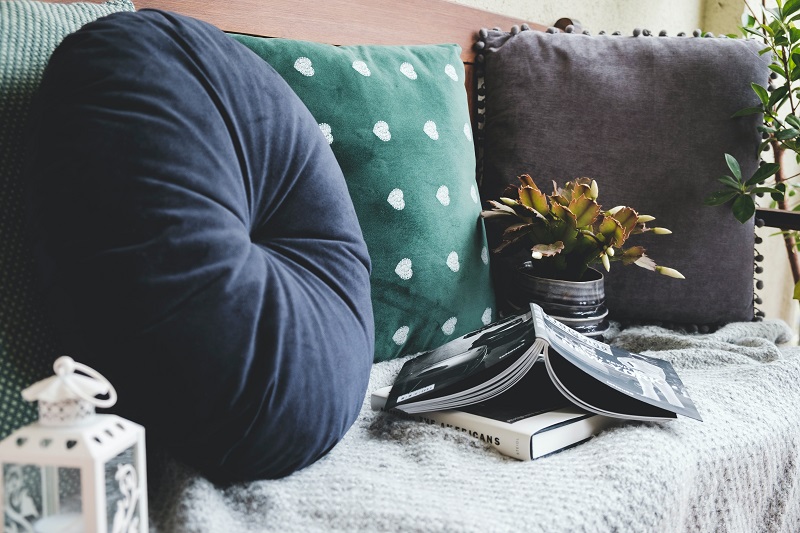 Don't stick to just one type of fabric when choosing couch throw pillow ideas! Mix it up by incorporating different materials or embellishments. When arranging pillows for your sofa, consider adding throw pillows with fringe or tassels. Fringe can give your couch an extra luxurious feel, while tassels can be used to add a whimsical touch.
Just make sure that the fringe or tassel doesn't overpower the rest of the pillows, or else it will look too busy.
8) Stick to an Odd Number of Pillows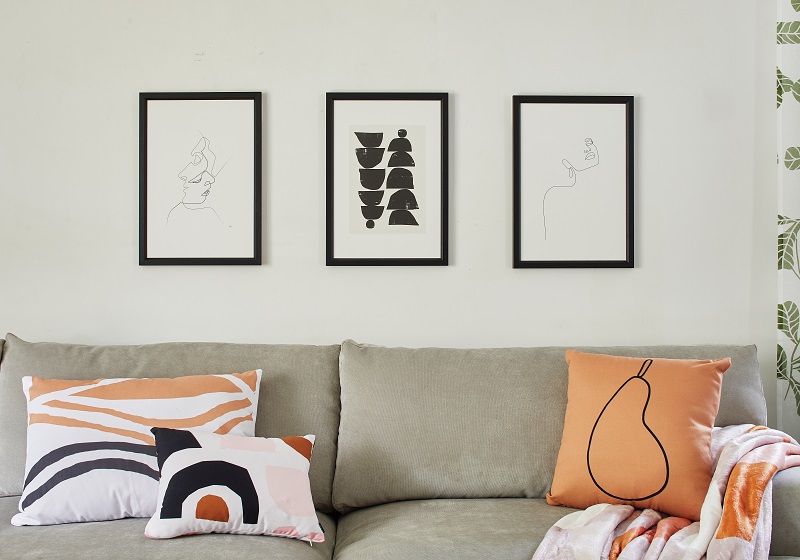 One of the easiest rules of thumb for styling couch throw pillows is to use an odd number of pillows. Having an odd number of pillows feels more organic and adds depth to the couch. Plus, you can mix and match different shapes and sizes for a balanced, cohesive look.
For example, if you have a three-seat couch, you can arrange five pillows with two on one end and three on the other. Or, if you have a large corner sofa, you can disperse seven pillows in various areas. Overall, the arrangement should be pleasing to the eye and create a unified look.
Feel free to experiment with your pillow arrangement until you find something great!
Grab Inspiration From Society6 Throw Pillows
You don't have to start from scratch when decorating with throw pillows. You can take inspiration from the collection of throw pillows at Society6. Discover decorative pillows in unique designs from independent artists in several shapes and sizes. With so many options, you'll easily find something that suits your style. Whether you prefer classic neutrals or bright, bold prints, Society6 has it all. And with removable covers, washing throw pillows has never been easier.
Need to decorate a living room, bedroom, or office? Check out our decorative throw pillow collection today for inspiration!
Sources:
True Value (2021) Color psychology: Choosing home color schemes. True Value. https://www.truevalue.com/diy-projects/post/paint-and-stain/choosing-home-color-schemes (Accessed: May 1, 2023).