Mary Lauren is a blogger, designer and entrepreneur who recently gave her son Ezra's room the big-kid treatment.
Take a look inside this adventure-themed bedroom and get some inspiration for the explorer in you.
You not only met your husband in Salt Lake City, Utah, but also named your lifestyle shop—Sugarhouse Supply—after your favorite neighborhood within the city. Now living oceanside in Southern California, how has each place influenced both your fashion and home decor styles?
We love spending time in the outdoors, especially with our kids. Utah has some of the most beautiful landscapes on earth! I love the mountains that surround Salt Lake Valley where we lived when we met (if you look closely at the top of our Sugarhouse Supply logo, there are little mountains and pine trees to represent that place we love so much). Now, living in Southern California we are near the beach and the weather draws us outdoors all year round! Leaves lots of time for exploring and foraging. I love earthy, neutral tones. Clay, pine and creamy whites are scattered around our home, and we have natural wood and stone flooring along with a crazy amount of plants. I don't feel like anything is overly done… we have lots of little knick knacks and treasures from our travels and such, but it's all pretty simple. Ideally, I'd just live year round in a greenhouse, but that just doesn't seem practical.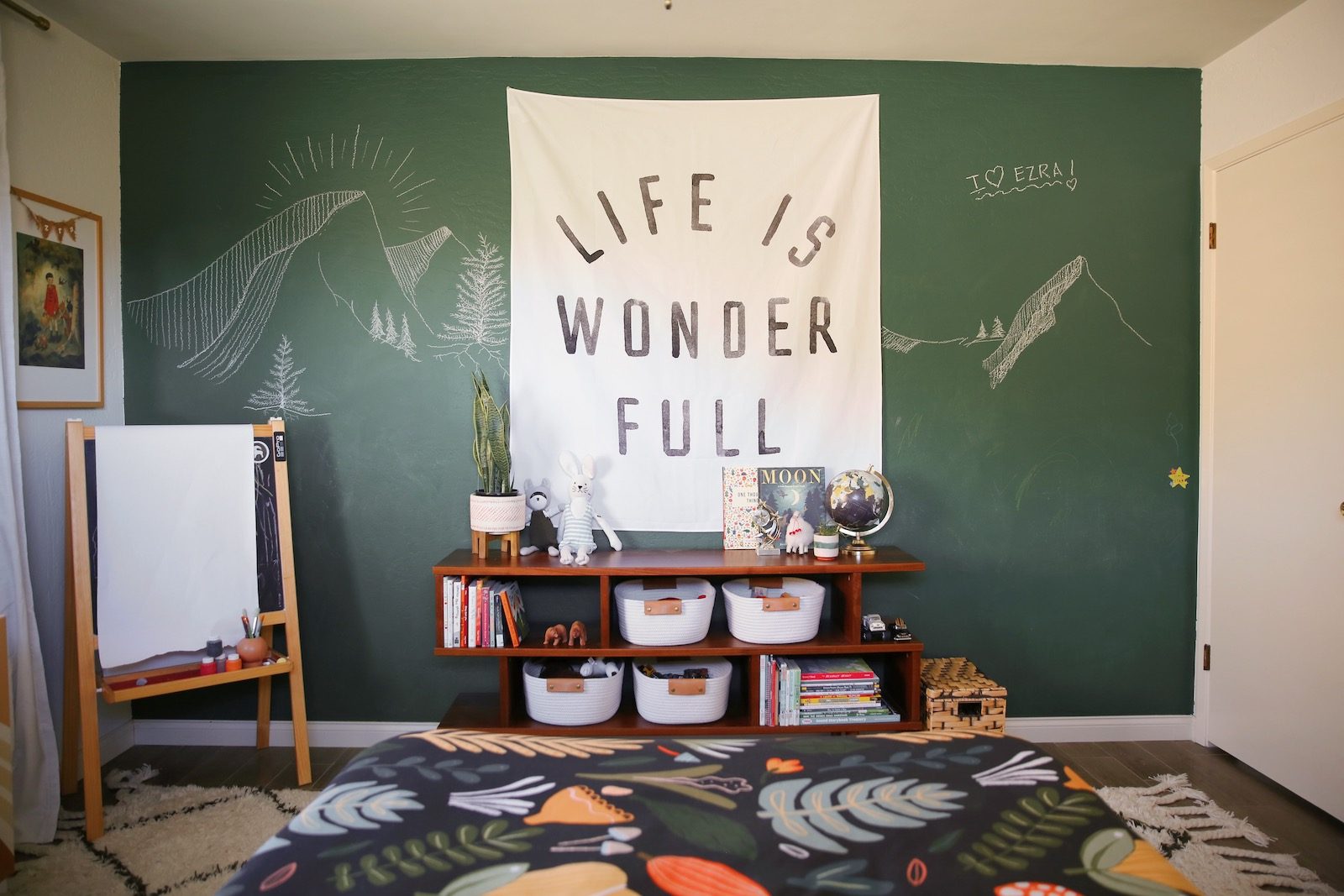 You're also the founder and author of lifestyle blog Headed Somewhere, where you write about everything from travel, fashion and interior design to cooking, home life and motherhood. Plus, you design jewelry and surfboards for Sugarhouse (among curating other items), and have a background in business and economics. Whew! What advice do you have for those who are also interested in pursuing multiple interests professionally, or in switching career paths?
Well when you say it like that, that DOES sound like a lot! I guess everything just happened very slowly. I went from being an accountant to taking photos of my family and posting them on Instagram. I did a lot of writing from my accounting desk (shhh) and eventually it turned into something bigger! But it was all a very slow process.
If you are considering going in a more creative direction, just start. Lots of people ask, "How do I start a blog?" or "How do I start a shop?" And the problem is there isn't really a guidebook or instruction manual. Everyone's path is so different, you just have to take that first step. Step out of your comfort zone… publish your first post, paint your first painting, write that first email that may open THAT door. It's just a matter of doing. It can be so intimidating, I know that for sure! But just start and don't stop. Be consistent. One of my favorite quotes is "Decide the kind of life you actually want, then say no to everything that isn't that."
Also, start with good intentions. Yes, you may start thinking you are going to build a giant empire and take over the industry. I totally applaud you and will back you up! But also do it because you love it! If you do it for the right reasons, you'll be so much more likely to succeed and love what you do in the end!
One thing that I think really helps once you've gone in that creative direction or maybe you already have multiple things going on at once doing a weekly "planning meeting." Schedule out what needs to happen and what you WANT to happen. A lot of times, even with a creative job, the "bread and butter" jobs that actually get you paid take priority and it's hard to find time to do what you love just because you love it…DOES THIS MAKE SENSE?! So I try to schedule out time just to shoot photos for fun, or write for fun, or create prints or design JUST FOR FUN. It is so hard to do, especially when life gets so busy. But to keep REAL creativity and enjoyment rollin', you have to be able to have personal outlets to create just because you love what you do. Keep that spark alive!
You just re-decorated Ezra's room! How you did you make sure it reflected his personality?
When it came to putting a "big boy" room together for Ezra, I knew I wanted to incorporate his love for the outdoors and all his little treasures that he loves most. His seashells, sand dollar, a little moth that we found (who has already passed) in the bushes, the little Buddha that his Nana brought back from China, the dream catcher from Grandma, an arrowhead from his Grandpa.  These are things he kept in his drawer, but I got him a little glass shadow box to keep them in and display. I also hung his painting on the wall before entering his room–he is very proud of that as well. I wanted it to be fun, whimsical and childlike… although we were creating a "big boy" space, he IS only 5. Oh, and of course we have a new bin for all of his Hot Wheels cars, because that may truly be his first love.         
What drew you to the Society6 pieces you chose?
The piece that caught my eye first was the painting called Out of the Woods by Emily Winfield Martin. It reminded me so much of Ezra as he is now, a 5 year old explorer who personifies almost every plant and animal. I knew he would love it, so when the package came, I let him open it. When he saw it he yelled, "WOW!! IT'S ME!" I love her art!
I also really love Kelli Murray, and she happens to be a real life friend! I wanted to incorporate a few of her pieces. Wolf Pack seemed fitting… Ezra has a crazy fascination for wolves (we read the same wolf book almost every night.) I've also had my eye on the Life is Wonderful tapestry for a long time. From there, everything else just kind of made sense: the nature-inspired bedding with the leaves and mushrooms, the mountain landscape print. I love how whimsical it feels. The Lil6ers collection has SO MANY great pieces for kids! They are fresh, on trend and modern, pieces that would really fit in any space in our home. I love that they aren't so "little kid"ish but still have that sense of childhood wonder and whimsy.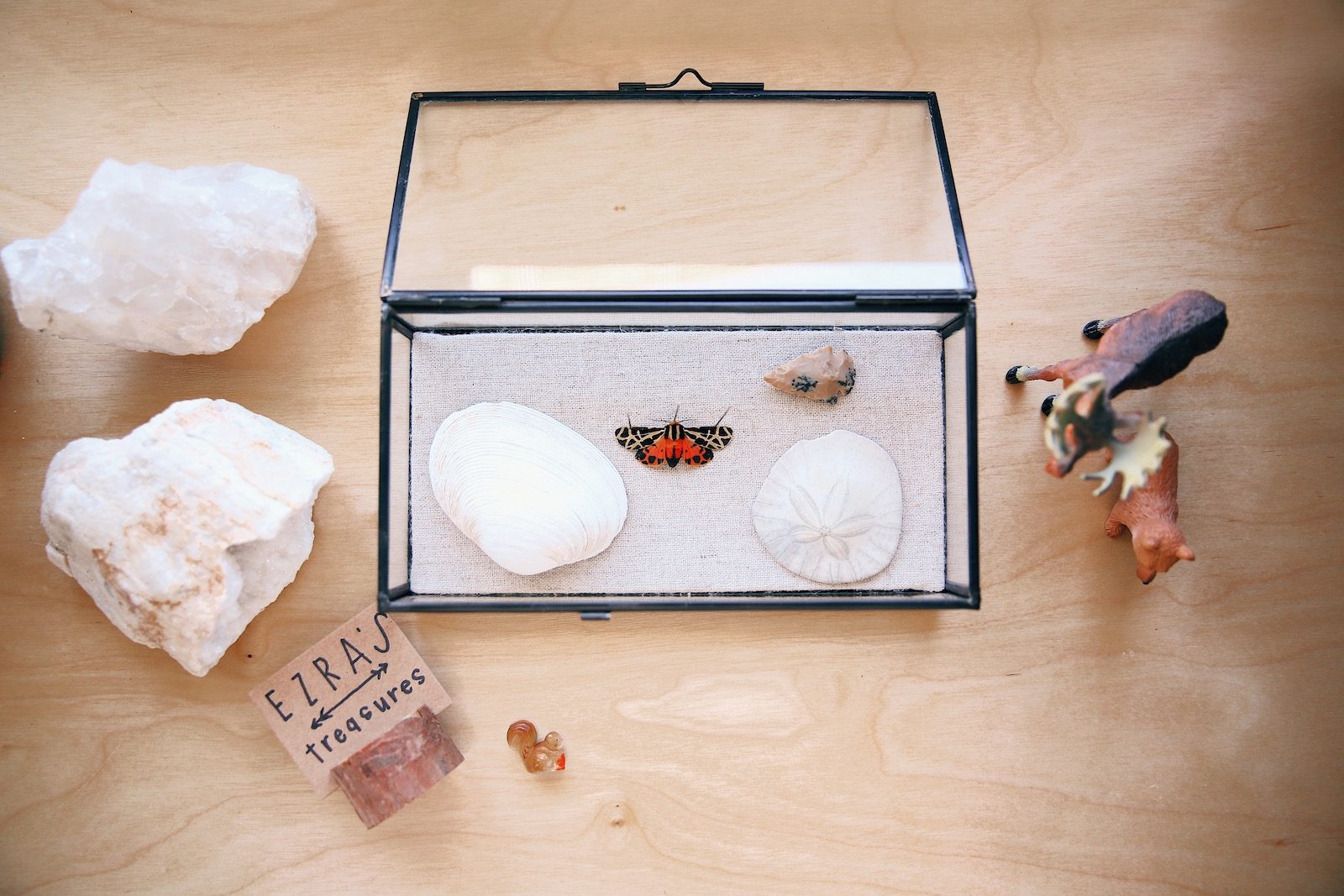 You and Clayton have been together for 7 years. What are your tips on living in a shared space?
We don't only live in a shared space, but we also WORK in a shared space. HA! The other day he asked me, "Do you think there is a couple in the history of couples that has spent as much time together as we have?" It's debatable. We are together ALL THE TIME. It is a good thing and a complicated thing. We love spending time together, love working side by side, but it's important to take breaks! We need our own space every once in a while. Distance makes the heart grow fonder. It is healthy in any relationship to have alone time, so he has his office that he escapes to and I have our bath tub. 🙂
I guess my tip is to find your own sanctuary within your home. It can be sitting in bed reading a book at night, taking a bath or shower, an office space or secluded backyard corner… whatever! Don't feel bad if you need some space from your significant other or kids! We all need room to breathe, time to clear our heads or meditate. It is healthy!
What is your favorite space in your own home, and why?
I love our bedroom. We recently spruced things up a bit and it just feels cozy. It also has a giant sliding glass door with an awesome view that looks all the way out to the ocean. The sunsets from our bedroom are quaaaality and they bring in the most magical golden light in the evenings.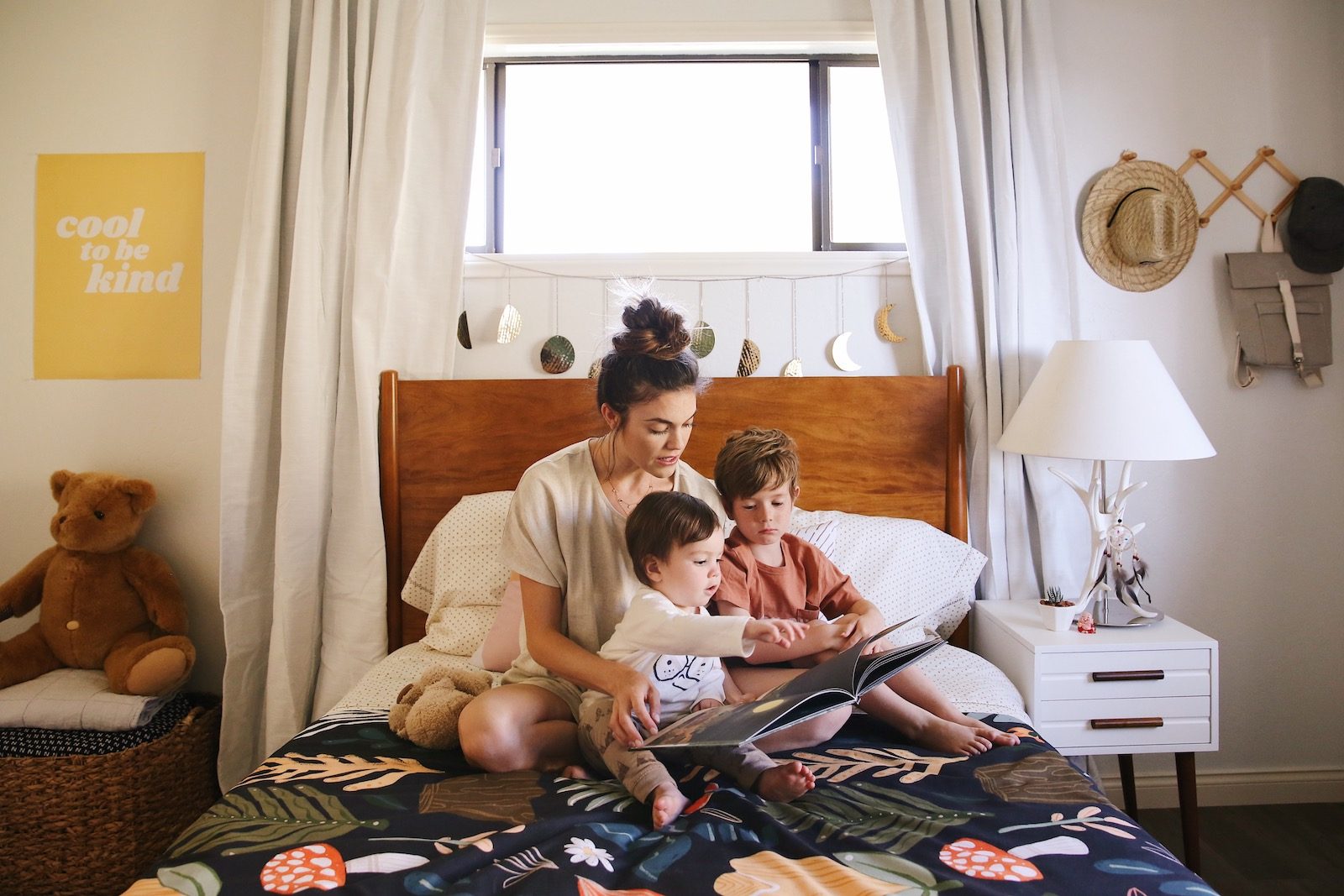 Golden Sunset Framed Print
by moderntropical
$105.99
Forest Pattern Duvet Cover
Out of the Woods Framed Print
by Emily Winfield Martin
$125.99
Let the Sunshine In Throw Pillow
Life is Wonderful Wall Tapestry
One Day Credenza
by Urban Wild Studio Supply
$649.00