Is your kitchen space feeling a bit lackluster? Well, it's time to turn that boring wall into a fabulous canvas that reflects your style and adds a dash of personality to your kitchen. Need ideas for kitchen wall decorating?
From charming farmhouse accents to sleek and modern home decor, we have a handful of fantastic kitchen wall decor ideas to spruce up your culinary haven. Roll up your sleeves and let's dive into these creative inspirations!
#1 Accent the Walls With Tile Magic
Say goodbye to boring walls and hello to captivating tile patterns. This is one of our favorite wall decor ideas for the kitchen! Create a stunning backsplash or accent wall using mosaic tiles in vibrant colors and unique designs. This artistic touch will instantly add pizzazz to your kitchen while protecting your walls from splashes and stains.
#2 Finesse the Walls With Floating Shelves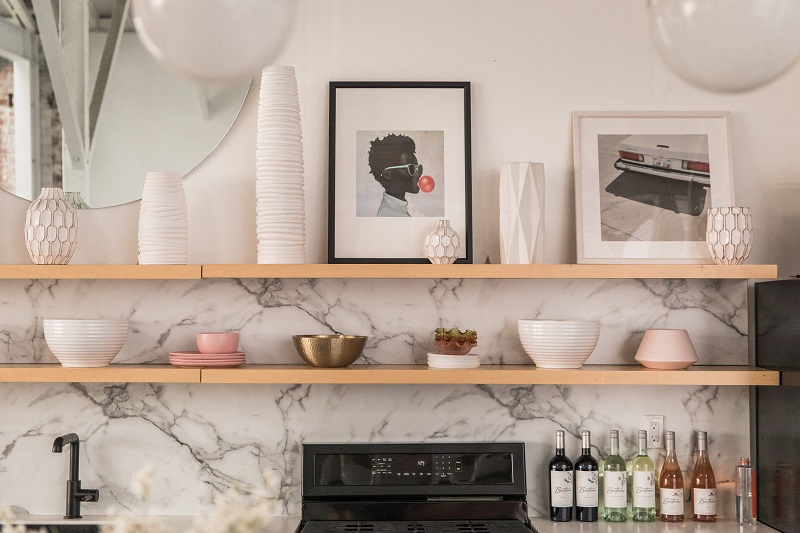 Maximize your wall space by installing floating shelves. Display your favorite cookbooks, elegant glassware, or charming potted herbs. These versatile shelves offer a perfect balance between functionality and aesthetics, bringing both style and convenience to your kitchen. This decor idea is perfect if you are decorating a small kitchen because it's both stylish and functional.
#3 Mirror, Mirror, on the Wall
Make your kitchen appear more spacious and brighter by adding a decorative mirror. Hang a stylish wall mirror to reflect light and create an illusion of depth. It's a simple yet effective trick to open up even the tiniest kitchens.
#4 Get Creative With a Gallery Wall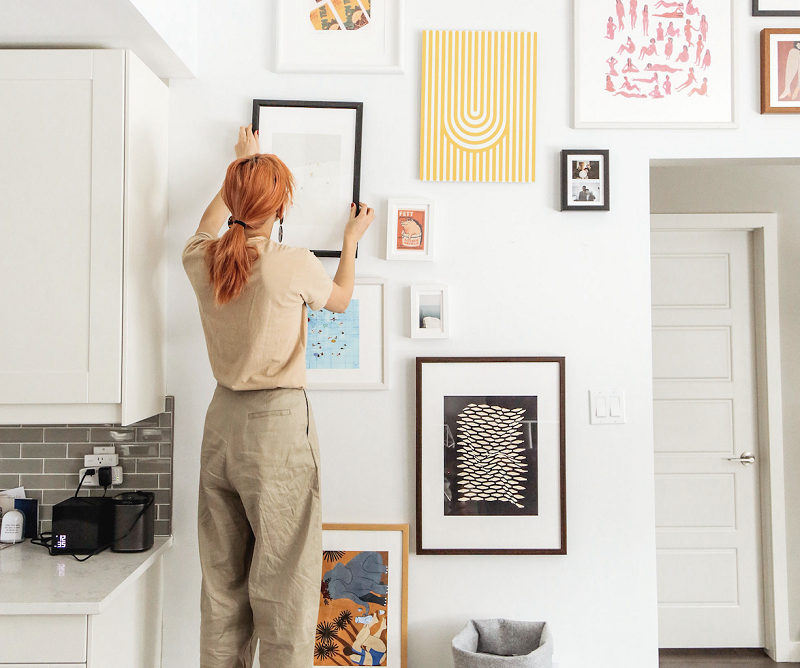 Curate a captivating gallery wall by mixing and matching different art pieces, from vibrant paintings to quirky wall decor. Let your imagination run wild and create a unique gallery wall layout that showcases your personality. This gallery wall will become a conversation starter during your next dinner party!
#5 Accentuate with Color
Bring life to your kitchen walls by adding an accent color. Pick a bold shade that complements your kitchen's palette and paint a single wall with it. This eye-catching pop of color will make your cooking space instantly captivating and energizing.
#6 Embrace Open Shelving Instead of Cabinets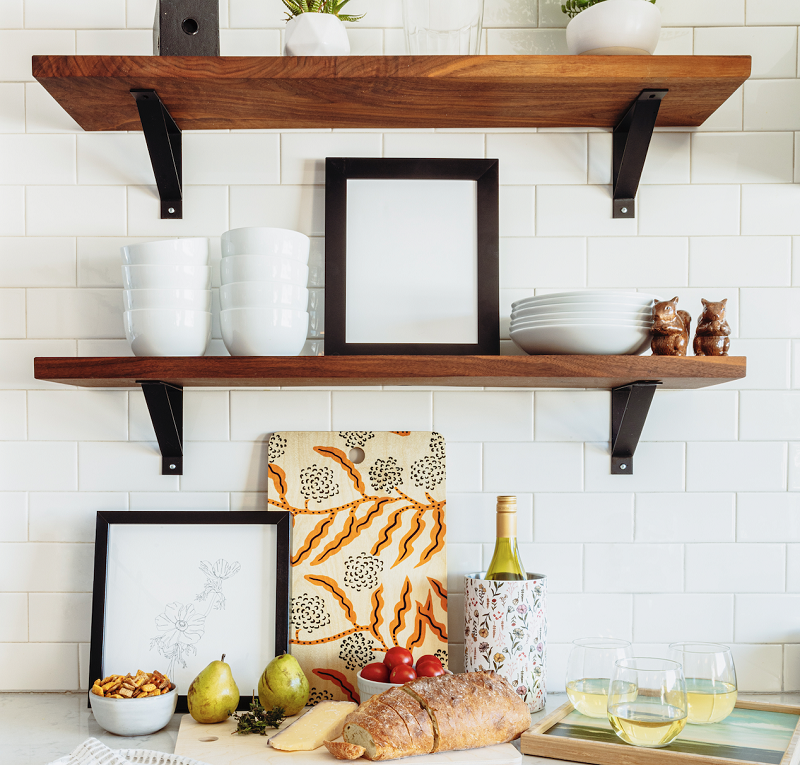 Ditch your traditional cabinets and opt for open shelving to display your culinary treasures. Show off your stylish plates, colorful mugs, and vintage kitchenware. It's a practical and trendy way to make your kitchen more open and inviting.
#7 Arrange Artistic Utensils
Turn your kitchen utensils into wall art by arranging them creatively on a blank wall. Hang wooden spoons, whisks, and ladles in an artistic pattern, or create a mesmerizing display with colorful cooking tools. This unconventional decor idea will add a whimsical feel to your kitchen.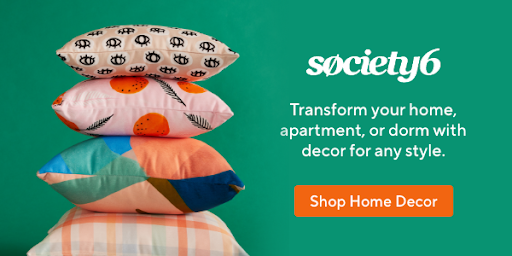 #8 Hang Rustic Wood Decor
Transform your kitchen into a rustic paradise with farmhouse-inspired wood wall decor. Hang wooden shelves to showcase vintage kitchen utensils or repurpose an old wooden frame to create a charming display for art prints. This cozy touch will make your kitchen feel like the heart of a country home.
#9 Utilize the Power of Plants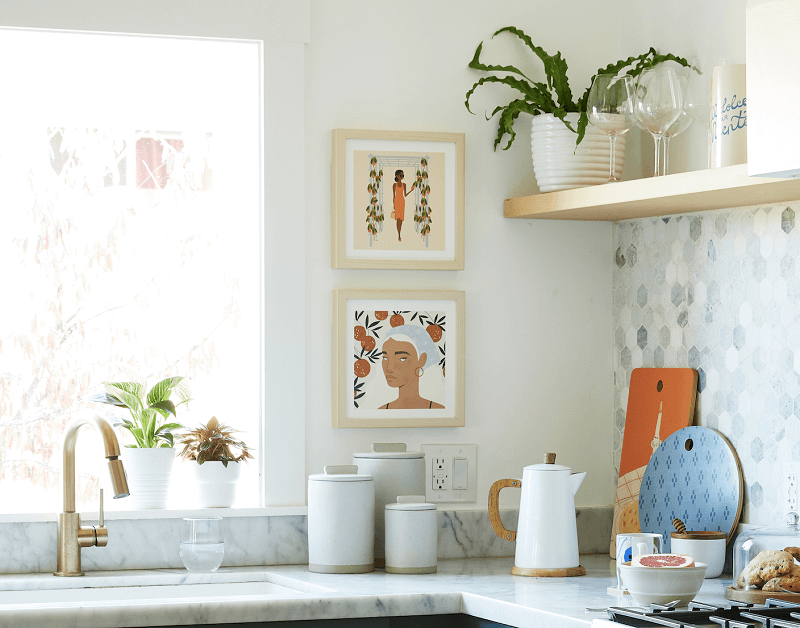 Bring the outdoors in by introducing lush green plants to your kitchen walls. Hang planters or install a vertical garden for a refreshing touch. Not only will they purify the air, but they'll also create a soothing atmosphere that enhances your culinary experience.
#10 Chalk It Up
Unleash your creativity by painting a wall or a section of it with chalkboard paint. Scribble down shopping lists, your favorite recipes, or simply leave playful messages for your loved ones. This interactive and functional decor idea will keep your kitchen buzzing with life.
#11 Hang Canvas Marvels
Adorn your kitchen walls with captivating canvas artwork that complements your style. Choose pieces that evoke the joy of cooking, like colorful fruits or abstract culinary creations. These masterpieces will inspire your culinary adventures and add a dash of elegance to your kitchen.
#12 Display Decorative Plates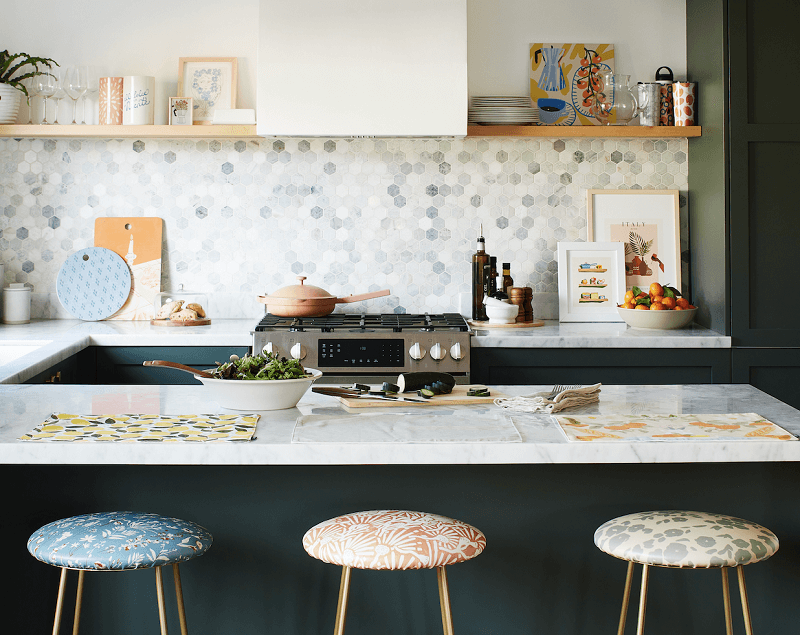 Turn your collection of decorative plates into an eye-catching wall display. Choose plates with intricate designs, vibrant patterns, or even vintage finds. Arrange them in a visually pleasing composition, and voilà! Your kitchen wall becomes a stunning art gallery.
#13 Decorate With Vintage Treasures
Scour flea markets and antique shops for vintage kitchen decor treasures. Hang old-fashioned tin signs, vintage recipe cards, or retro advertisements to infuse your kitchen with nostalgic flair. These unique finds will transport you back in time while adding character to your culinary haven.
#14 Hang Stylish Clocks
Keep track of time in style with a decorative wall clock. Opt for a clock with a sleek design or one that complements your kitchen theme. Whether it's a rustic wooden timepiece or a modern metallic clock, this functional decor item adds a touch of elegance while serving a practical purpose.
Spice Up Your Kitchen Walls With Society6
Revamping your kitchen walls is a fantastic way to inject life, creativity, and personal style into your cooking space. With these inspiring kitchen wall decor ideas, you can transform your kitchen into a captivating haven that reflects your unique taste. From farmhouse accents to colorful tiles, open shelving to playful wall decor and unique art prints, there's a decor idea to suit every kitchen aesthetic.
At Society6, we have all you need to liven up your kitchen walls! From framed art to tapestries, you're sure to find something for your space. So, don't let those blank walls go to waste—let your imagination soar and create a kitchen that's as delightful to the eyes as it is to the taste buds. Need more kitchen decor tips? Learn how to decorate kitchen counters too!