We're 100% obsessed with the DTLA loft of tech-entrepreneurs Puno and Daniel Chin Yee. Here, writer Ashley Tibbits chats with the couple about their tropical urban oasis and their best tips from how to (actually) work from home. 
When LA-based digital entrepreneurs Puno and Daniel Chin Yee see an opportunity to advance their burgeoning businesses—they don't hesitate. Such was the case when they first laid their eyes on their current loft in downtown's Fashion District. At the time it was the home of their friends, but the couple kept their eyes on the prize and moved into another unit in the building, essentially waiting it out to get the light filled, coveted corner spot. Because the two work remotely, and primarily from home, it's crucial that they are in love with their living space. And since they typically work in the design space of the digital community—Puno is a branding and marketing whiz and her husband is a software engineer—creating the right aesthetic is of utmost importance. And, oh yeah, they had to have plenty of room to entertain because co-mingling with the creative community is pretty much their jam.
The couple, who have collaborated on Instagram marketing tool PeopleMap, first met in college at the University of Texas in Austin. They both had backgrounds in essentially being computer nerds, so it was only a matter of time before they started working on projects together. Their latest collab was tailoring their "Danish Tropical" loft to their needs, which meant a customized sofa and office set (you know, for video interviews for Puno's hilarious vlogs), a massive dinner table for hosting guests, and enough plant life to shake a stick at. Worth mentioning: one of the apartment's latest additions, 5-year-old Persian cat, Muad'dib, who has become a regular source of entertainment and inspiring distraction.
Since we're living in a time when so many creatives crave the freelance life, we thought that these two were the perfect people to ask about how they created a space conducive to "getting shit done," their favorite forms of digital technology, and how they stay motivated as their own bosses. Puno answered that and then some for us.
What are some of the biggest challenges of working remotely?
Forgetting to work [laughs]! For me—and this isn't an awful problem—I still have to get ready. Like, if someone is coming over for a meeting I'll have to get dressed and put on my face but usually I don't want to.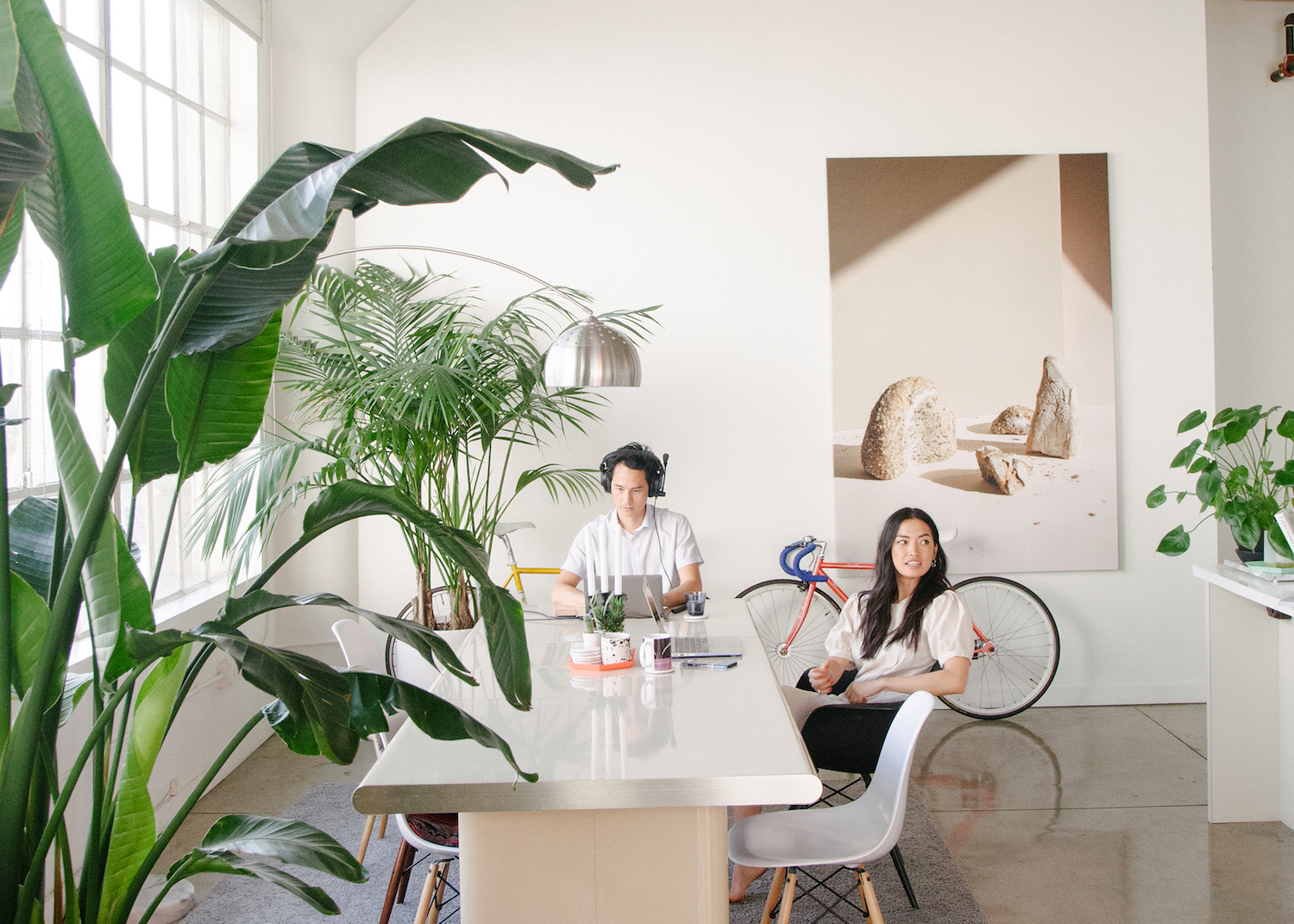 So how do you normally start your day when it's just you two here, and no one to encourage you to get out of your pajamas?
Now I have to make sure I workout first thing. With freelance you kind of say, "I have all day!" but it doesn't always work like that. Now, I have to prioritize the things I don't always want to do first thing in the morning. Working out helps me kind of kick start my day. I look at my to-do list every morning and I do an Instagram post—that's just like my shit. Once that's done I get to YouTube any crap I want to as long as I'm on the treadmill—that's the tradeoff! So then I get to binge and get it out of my system.
How did you two first get into the digital world?
From the beginning, from AOL! I've always been into playing on the computer and I loved building stuff. I'm totally self-taught and always looking to learn more. Because of that confidence early on, my first job out of college was as an Interactive Art Director. I worked at an advertising agency but that wasn't really what I was doing there. It was making banner ads and micro sites and nobody knew what the hell we were doing. It's like how everyone is hiring these young kids to run their social media now; I was the young kid they hired to make websites! It was just because I was more confident that I could figure it out. I was like, "I mean, I make MySpace pages, I know how to make a blog!"
How did you guys meet?
In college. I was studying marketing, Daniel was studying engineering. But I didn't like my marketing classes because they seemed so ancient and traditional. They weren't even thinking about the internet so I was just really bored. Facebook and YouTube weren't even a thing yet, I still had a Hotmail account.
How did you start working together?
I started working as a User Experience Designer because that's what Daniel was doing at the time. It's like the architect of a website, the person who thinks about, "Where does this button go and why would you click on it?" And then the designer is the person who makes it pretty. After we got married, he quit his job and started learning how to program again. The first project we did together was working with other application program interfaces: we wanted to make a new feed for Facebook and take the posts that are coming in and see what it would look like if we did something different. And so that was our project together and it went really well because it wasn't so structured. Daniel is a User Experience designer and a programmer so we didn't have to think through so many things and we could get to a prototype really quickly, which is what I was craving. I didn't want to go through this process of "Let's have a meeting and let me create 1,000 documents just so we could get to testing out this thing."
How did PeopleMap come to be?
We had Madewithmap before and while we worked on that Instagram account I needed ways to be faster so Daniel built the first inklings of PeopleMap and then maybe a year later I was talking to a friend who runs a brand-marketing agency about Instagram strategy and the tool we built to use. She was like "I'd totally want to use that!"
And then how did you come up with online classifieds I Love Creatives?
I had quit my job and was meeting so many new creative people. So many! I kind of felt like an operator, connecting different people about events or introducing them to prospective clients and I was like, where can I put all this information? I'm kind of lazy actually, which is why I've learned to be so efficient.
When you guys moved in here, how important was it to have an inspiring environment?
That actually happened because I was traveling a lot and I got to use the BeHomm app—which is like Airbnb but you're home swapping with creatives—and we swapped homes for about three months with people who had beautiful homes and it made me so comfortable. I wanted to nest a little so when I wake up I feel like I'm on vacation. I need to want to be home so I can get some shit done.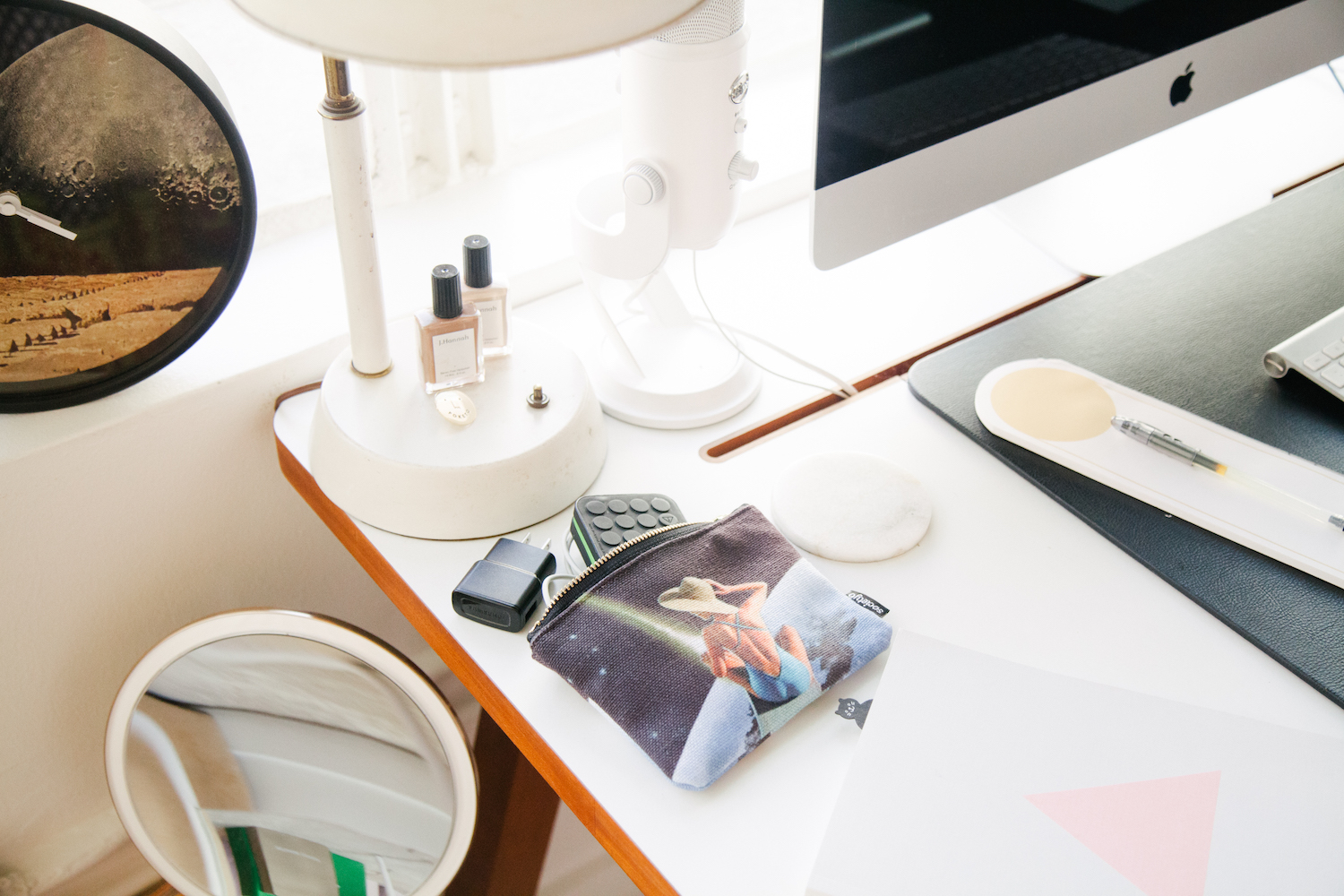 What are your must haves for living in an inspiring space that's also conducive to work?
Light! As long as you have that, you're good. And then probably an animal. It helps to living in a walkable area, too, so you can get out and eat and get your Vitamin D. I have friends that live in other neighborhoods and they never leave their house. We can walk to get coffee, go to the gym or Whole Foods. Yesterday I did 13,000 steps just walking around the neighborhood.
What are some of your favorite pieces that you guys found for the space?
We knew we were going to entertain more. We used to have dinner parties all the time at our place in Venice. That's why we bought this big vintage Milo Baughman table—it was such a find on Etsy! Also Daniel re-did all the cabinets and put in Google Chromecast so you hear music everywhere. Another game-changer was the lighting, these Soraa lights. They have a purple hue to mimic daylight. The color is so different compared to a regular LED.
What are your most-used gadgets?
My iPhone. I'm on the go a lot and I can just bring a bag with all my cords and adaptors and work from anywhere.
What's your #1 most helpful app currently?
Calendly, my calendar robot assistant. It helps me say no! Otherwise I'd just spend all my time meeting up with people and not getting work done. The way you use Calendly is you say "Alright, I only want to have two of these types of meetings a day," so once it's past that, the app will say you're booked up. People think I'm super busy—but really I'm trying to not have three coffee meetings per day.
Contemplation Wall Clock
by Mariano Peccinetti
$30.99
Ashish Dress Framed Print
by Isabelle Feliu
$163.99
Eclipsia Mug
by Mariano Peccinetti
$15.99
Blue Girl iPhone Case
by Mariano Peccinetti
$35.99
Before Dipping Laptop Sleeve
by Mariano Peccinetti
$36.99
Various Stages Floor Pillow
Le Dome Framed Print
by Isabelle Feliu
$163.99