Statement walls can be risky business, whether you're afraid to commit to a print or have an all-too-strict (read: annoying) rental agreement.
But. They. Look. Soo. Good. We know this dilemma all too well, so we asked DIY experts and decor-savvy duo Jenna and Cortney of A Whimsy Wonderland to show us how they styled each of their apartment bedrooms around a (rental-friendly) statement wall: 
If you've ever been a renter (and I mean, come on, it's 2018, so most of us have), you KNOW that customizing a rental space to your taste can be intimidating! Your worst fear is realized when your landlord stops by and says, "Uh, why is this wall pink?" And there are plenty of rental-friendly DIY's out there, it's just finding out which ones are worth the effort.
Both of us moved into new spaces with our significant others at the beginning of 2018, and have been working on rental friendly ways to upgrade each apartment since moving in. We're going kind of room by room, and when we started discussing our bedrooms, both of us immediately knew we wanted to do a statement wall.
In a smaller bedroom, a statement wall (done correctly) can build dimension and area, and honestly, after having done them, we feel like both of our rooms look bigger! We also knew we wanted to do some sort of pattern versus just painting the wall a solid color, and we both LOVE the look of wallpaper! But we also knew how much damage permanent wallpaper can do to a wall, and neither of us wanted to have that conversation with our landlords, SO, cue the research on temporary wallpaper!
Both of us are very picky and had a vision in our heads when it came to color and pattern, and we were so happy when we came across both these patterns on Society6!
I (Cortney) chose this coral Tropical Hibiscus/Palm Leaf print to bring in the tropical, colorful, but bohemian feel I wanted the room to have. I was really nervous about hanging wallpaper, even temporary, just because I was afraid I would mess it up, or it wouldn't stick, and about a thousand other things. But it was so incredibly easy, and Society6 even has a helpful video on their site that we watched beforehand, just to make sure we knew the process! After installing the wallpaper, I was really able to envision the other details I wanted to bring into the room.
Obviously a colorful comforter was necessary, and I fell in love with this pastel-color-blocked set with the matching pillow shams! It adds other tones besides pink to the room, cause I mean, my husband does live here too. 😉 However, with it just being three solid colors, it doesn't compete with the pattern of the wallpaper! We also added some throw pillows in complimentary colors to really complete the bed!
After we had the bed situation figured out, we focused on what else we needed to bring in! We settled on lots of white and wood tone furniture pieces (anyone else really feeling this rattan trend?!), and now the room definitely has that tropical/boho vibe I was going for!
Tropical Hibiscus Wallpaper
Tiffany Blue Rectangular Pillow
Yellow Modernist Throw Pillow
by Madeline Louise
$29.99
Pink Candyfloss Throw Pillow
by ToneTrove Designs
$29.99
Lemony Goodness Coffee Mug
Tropical Summer Pillow Shams
Tropical Summer Comforter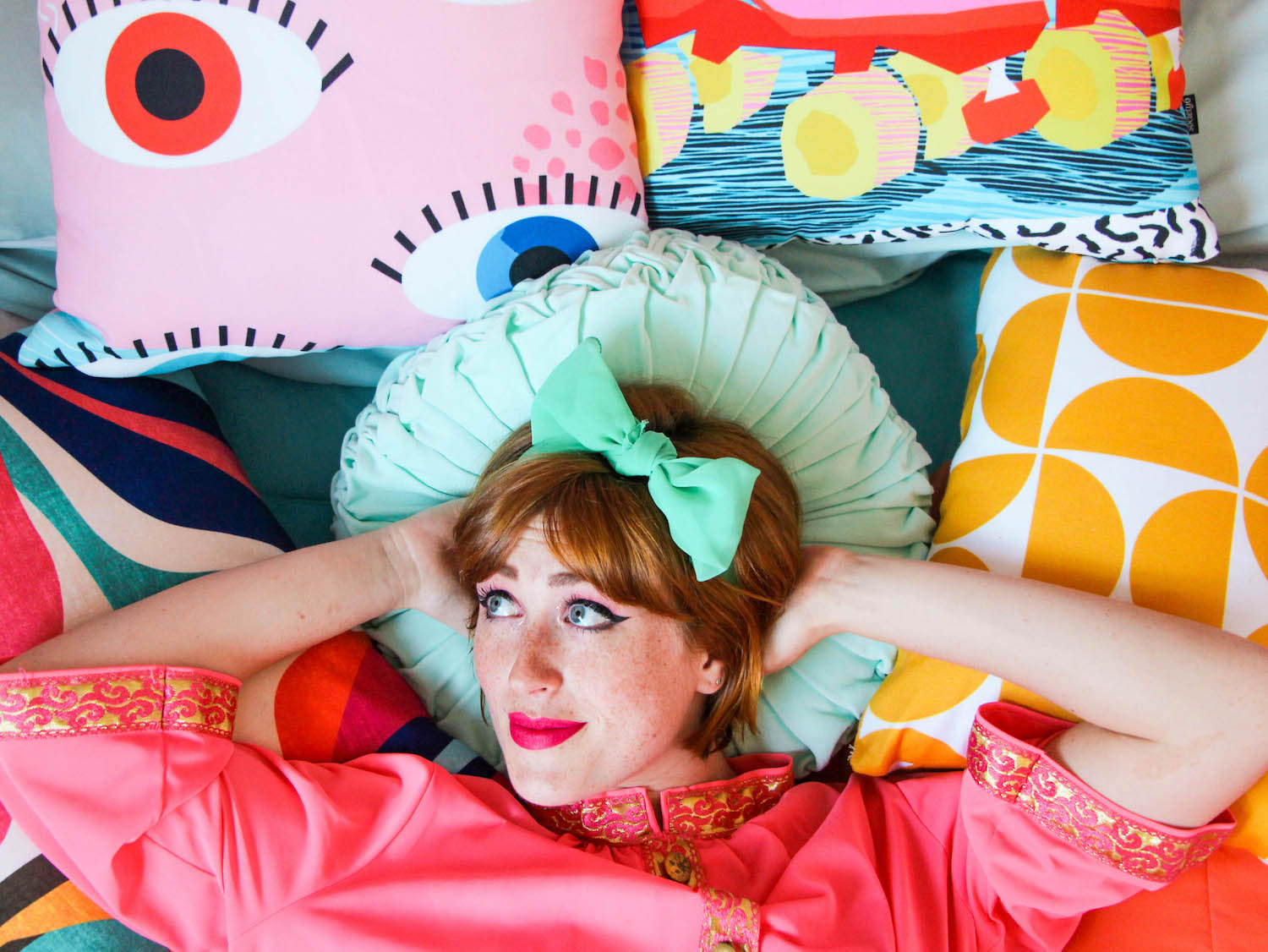 Jenna's turn! I've been slowing introducing more and more pink into my boyfriend's life, to the point that now he likes it! I don't have a particularly *girly* style, but I do love pink. We chose the Color of Morocco wallpaper from Society6 and are both OBSESSED! It's the perfect color and pattern size. It honestly made me love my bedroom, when I wasn't thrilled with it before! Bonus: we replaced our horrible blinds that every apartment comes with for some blue/green gradient curtains. *praise hands!*
When I moved in with my bf, he had the bed – so that became our bed…and his black comforter and his black sheets became our black comforter and our black sheets… I've been DYING to redo our bed, but was just waiting to find the right pieces. I'm so thrilled with our upgrade, I could cry! It's so colorful and happy and fits us perfectly. Add some quirky throw pillows, and you've got one real happy gal over here!
Our bedroom is still a work-in-progress, but with these upgrades, I can't wait to finish the rest!
Colors of Morocco Wallpaper
by Beli Photography
$99.00
Horizons 04 Comforter
by The Old Art Studio
$110.99
Turquoise Gradient Window Curtains
Mid Century Modern Rectangular Pillow
by The Old Art Studio
$29.99
Impossible Contour Map Rectangular Pillow
Turquoise Gradient Pillow Sham
The Right Stuff Throw Pillow