When entering any home for the first time, it's the job of the living room to leave a lasting impression. Living rooms aim to provide a welcoming atmosphere and provide a sneak peek into how homeowners seek to comfort themselves in their living space.
Wondering how to decorate a living room to create a practical example of your individual comfort zone? Curious what type of home decor you should choose?
There's no catch-all guide for how to design a living room. Relaxation and comfort look different for every person, and a living room interior design should reflect those differences. However, if you employ a few of our tips and tricks, you may find ways to make cohesion meet comfort in your living room design in a way that's uniquely your own.
#1 Picture Your Ideal Living Room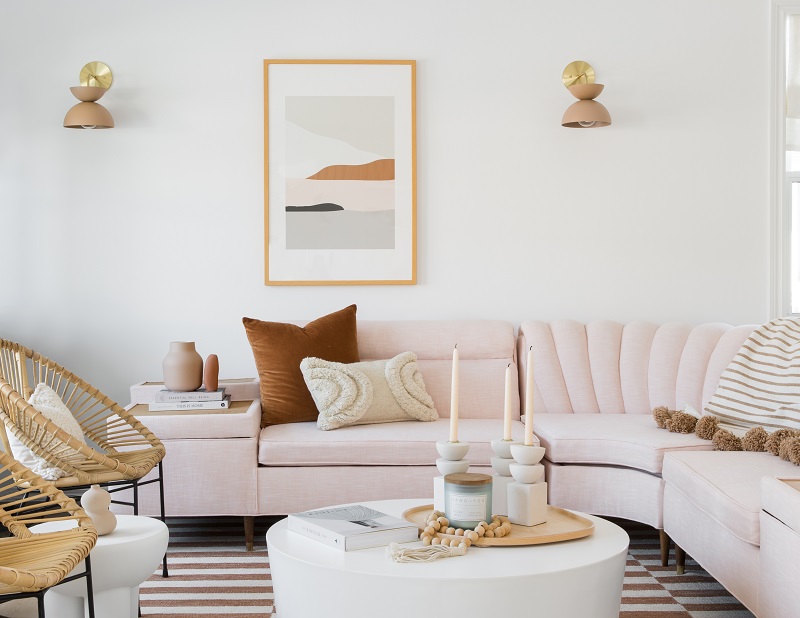 The living room is a gathering place for both household members and guests. Even with people coming and going, this proverbial landing pad should speak to how your life operates day-to-day.
Before you set off on a living room decor shopping spree or start collecting color swatches, take a quick pause. Home in on what kind of living you're looking forward to in your new living room. Picture a typical week of your life, and envision what activities might unfold and incorporate them in the interior design. Some living room idea examples may include:
Reading quietly
Hosting game nights
Starting conversations
Doing morning yoga
Entertaining children
Once you've identified a few key components, you can orient your entire living room to fit that vision. Let's start building your dream life.
#2 Find Your Statement Piece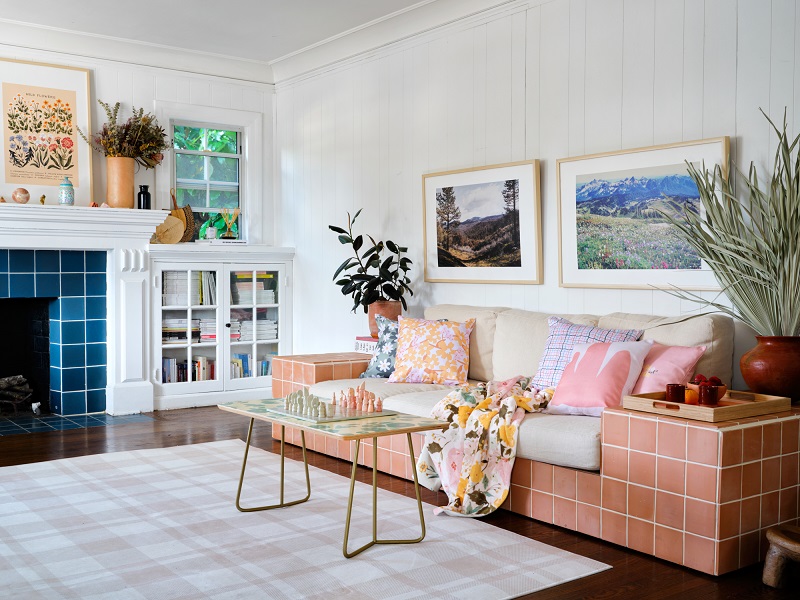 The best way to begin your design process is to start with a statement piece. You may have stumbled across the perfect brightly-colored sofa or intricate coffee table for your living room, but worry about how it might fit in with the rest of your living room furniture. Instead of opting for something less daring, you can use that initial piece of furniture to inform the rest of your living room.
A large-scale piece of living room furniture can kick off your living room design by pinpointing:
Scale – Starting with a larger piece of furniture can help you take stock of your space. Determine where your most dominant piece of furniture looks best, then fill in the gaps with smaller elements to frame it.
Personality – If you have just one piece that speaks to you, you can begin curating complementary pieces to highlight it. By the end, you'll have achieved a harmonious aesthetic, all based on your lovely taste.
Start with a personal piece, and before you know it, you'll have a cohesive living room idea that looks like it stepped straight out of a catalog.
#3 Invest in Multipurpose Furniture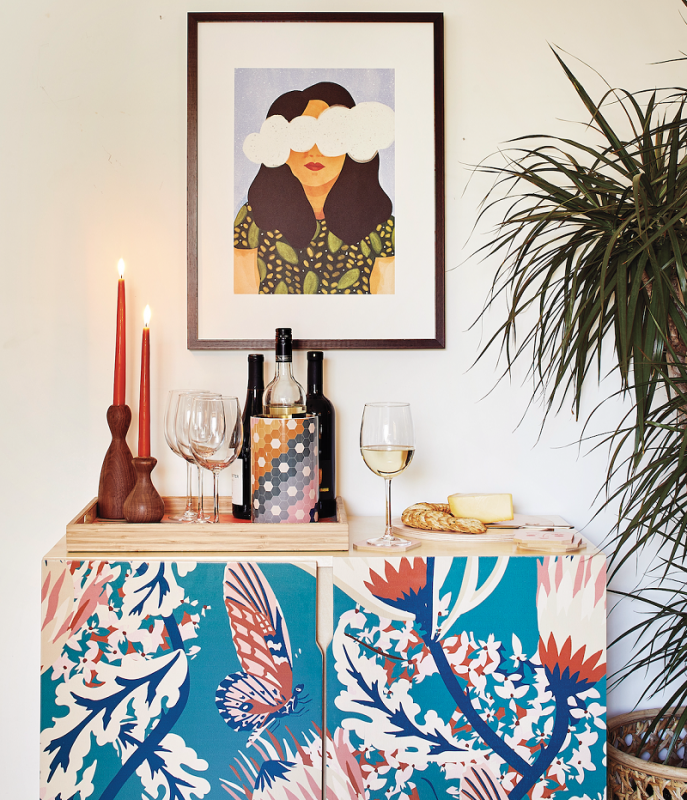 Whether you're wondering how to decorate a small living room or you're a sucker for functional space, multipurpose furniture could save your life.
Depending on your living situation or living room layout, you may need to capitalize on all the space you can. Luckily, with furniture like daybeds, adjustable tables, and desks, you can transform your living room into a guest room or office in a pinch.
#4 Mix Up Your Materials
When pulling pieces for the living room, opting for matching sets and calling it a day can feel tempting. However, interior designer Kelly Wearstler insists that mixing and matching materials can create a more complex and elevated living space.1
Between large furniture and hardware detailing, adding different materials can add terrific depth of color and texture to any room. Identify materials that suit your vision and pair them with highly contrasting ones to invoke a visually striking dynamic. Some living room favorites include:
Glass
Wood
Stone
Metal
Textiles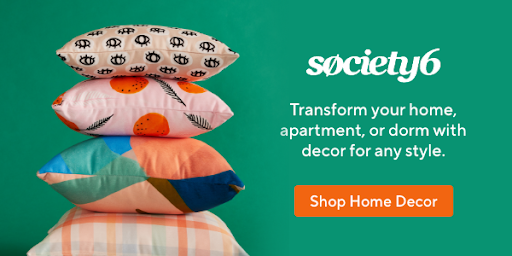 This mix-matching can apply to upholstery and decoration as well. Layering fabrics in a space can make a living room particularly inviting due to the range of lush textures. Create a welcoming environment by pairing any of the following:
Cotton
Wool
Leather
Velvet
Silk
Avoiding perfectly matching furniture opens your space up to countless possibilities. Plus, if you decide to redecorate down the line, you'll have a diverse array of pieces to play with.
#5 Utilize Your Wall Space
While the floor plan may seem like the most vital undertaking in the design process, never underestimate the power of wall space. A wall installation could accomplish several objectives, such as adding depth, diversity, or a personal touch to any room.
Make your mark by opting for any of these masterful uses of wall space:
Gallery wall – If you're trying to figure out how to decorate a long living room, a gallery wall layout could change the game. An extensive collection of wall art or prints on one wall makes for an eclectic style that works for various aesthetics, from country style to boho chic.
Large painting or print – A significant work of art can have a powerful presence in a living room. Plus, it can tie the whole room together when framed with complementary colors or organic furniture.
Shelves – Enjoy the effective use of space and unique structure with a gorgeous shelf in your living room. Keep your delicate treasures from taking up space on the coffee table and maintain visuals above the eye line.
Mirrors – If you're wondering how to decorate small living rooms, mirrors are your best friends. Large mirrors don't only give the illusion of expanded space.2 They also beautifully brighten the room when placed across from a natural light source. Make sure to incorporate mirrors into your small living room ideas.
If you don't feel like hammering and leveling frames on the wall, you could always opt for an accent wall instead. Whether you gravitate towards wallpaper, murals, paneling, or a simple pop of color, you can achieve a dynamic and memorable section to make your home more personal.
#6 Add Detailed Accents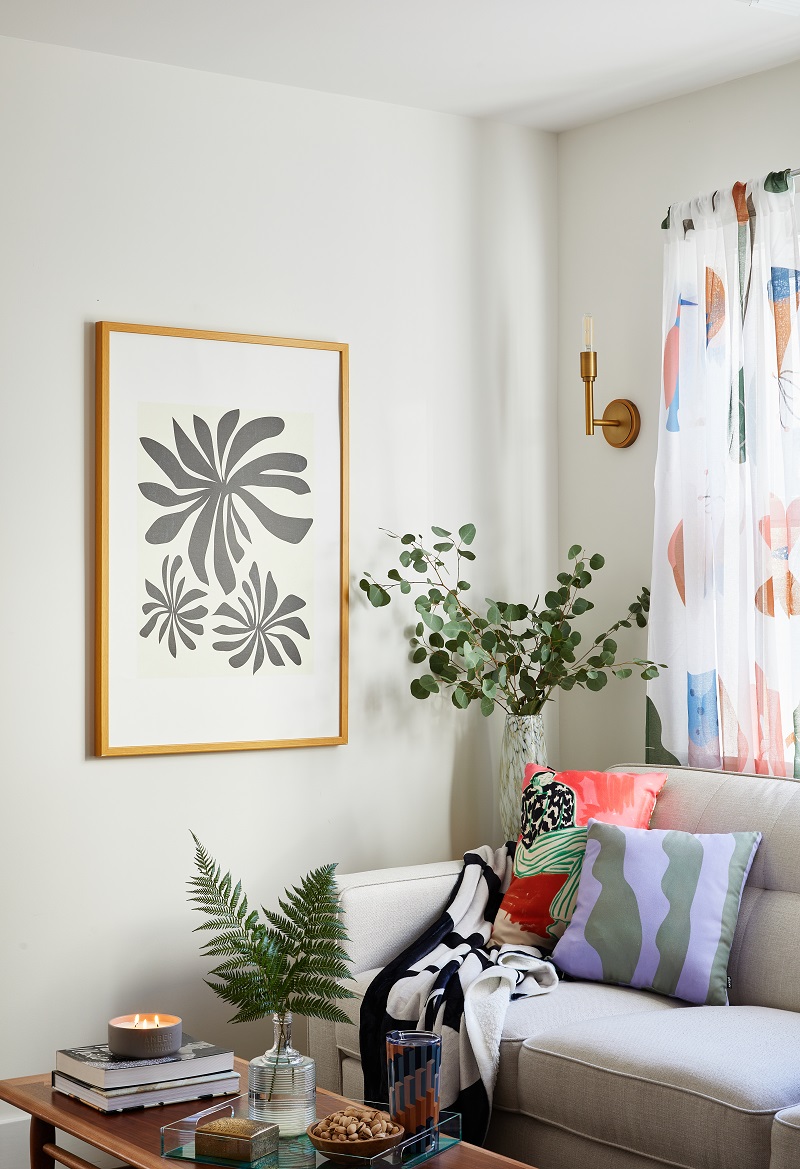 Once your primary pieces are in place, you can add more accent pieces to bring the whole room together. Pillows, curtains, and rugs provide a perfect opportunity to introduce more personality through bold prints, contrasting colors, or differing textures. Even knowing how to choose curtains for the living room or the perfect rug size for your living room to choose plays a role.
Mixing prints and colors may seem daunting, but it can add incredibly rich intricacy when done with an expert eye. If you're up to the challenge, remember these print-perfect pointers:
The boldest pattern should be on the floor
If using colored designs, seek complementary shades
Stick to a specific print theme, such as geometric design or Turkish style
Break up prints with large neutral backdrops or pieces
Use different patterns in different shades of the same color
If prints aren't for you, you can always use your accent pieces to double down on the chosen color scheme. A complementary shade or bold pop of color can present a visually pleasing and more subdued living room feel.
#7 Balance Dark and Light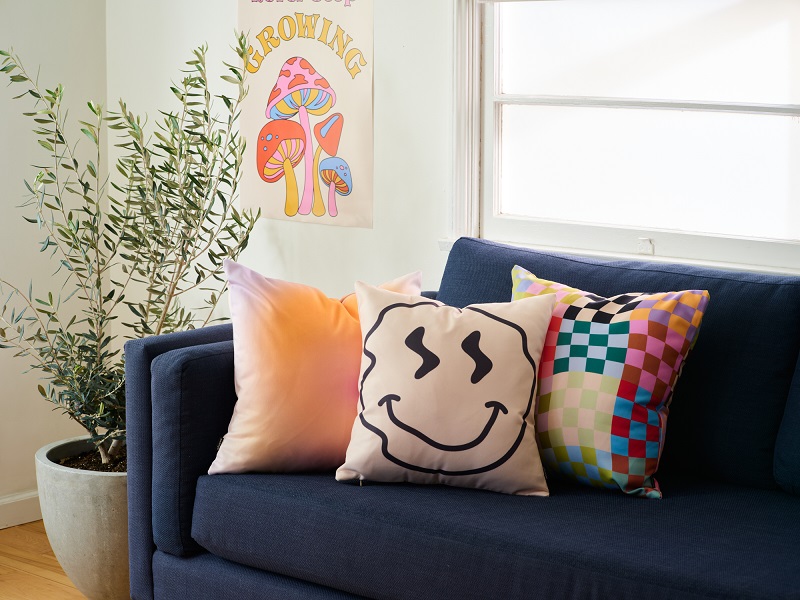 To make your living room feel rich and harmonious, you need to consider the light values in the room. A room consisting of only bright white may come across as sterile. In that same vein, too many dark hues could make a space feel a bit suffocating.
Implement both light and dark values throughout the room for a playful and cohesive finishing look. For example, a bright white wall may look better when decorated with dark frames. If you have a light-colored sofa, choose one with dark legs or place a dark table next to it.
In that same vein, dark furniture can balance out nicely with a light pop of color. A small seat cushion, throw pillows, or a throw blanket should do the trick.
#8 Consider How Colors Affect The Space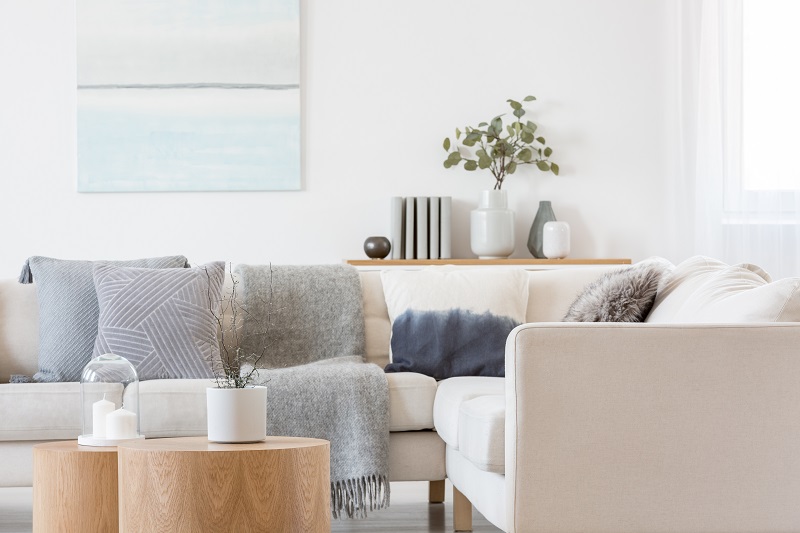 Deciding on a color scheme can be a divisive part of the design process. Some people love throwing themselves into color theory and picking out swatches, while others can overthink palettes all day.
Studies show that colors can have a definite effect on mood.3 If you're having difficulty deciding where to start your color journey, consider the natural feelings and connotations that colors can induce:
Blue – Soothing and reflective
Red – Stimulating and lively
Green – Fresh and harmonious
Yellow – Bright and cheerful
Brown – Warm and welcoming
Once you've got one color you feel confident in, you can begin rounding out your color scheme. Pick complementary colors, accent colors, and neutrals that align with your personality and living room concept. Just make sure to compare samples before buying paint and throw pillows.
#9 Add a Touch of Greenery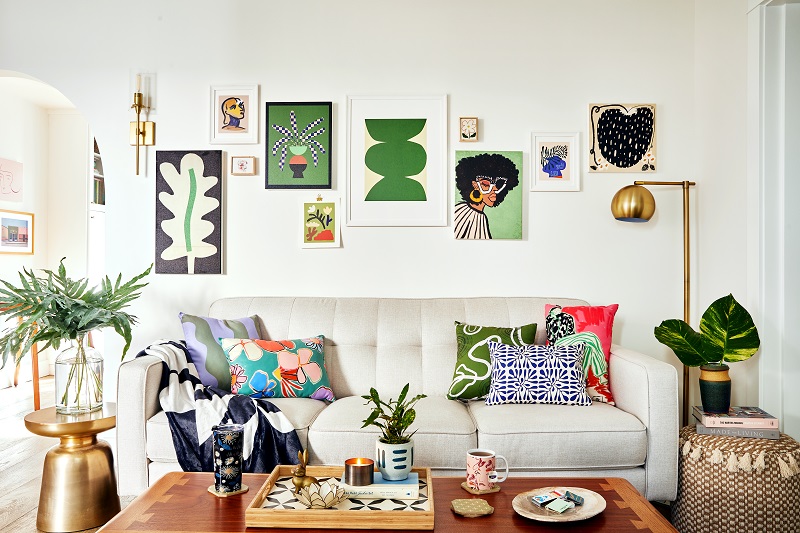 Add the ultimate finishing touch to your living room with a stunning plant (or several). This organic feature bestows freshness into the space, thus creating a gorgeous, inviting environment.
Add a small tree or palm to the corner, or place a simple vase of flowers on the coffee table. Either way, you've added a touch of life to your living room. And that's what it's all really about, isn't it?
Step Into Your New Living Room with Society6
You don't have to be a certified interior designer to decorate your living room the way you want to. Behind the furniture and color swatches, knowing how to decorate living rooms is all about curating the life you want to live. Whether you have large or small living room ideas, honing in on this goal will ensure that your design choices will have cohesion. Whatever life or living room lies ahead of you, trust in Society6 to equip you with all the decor you need.
Unleash your inner artist with help from our unique wall decor collection or eclectic home decor. With so many remarkable selections at your fingertips, you can handpick all of your living room essentials, from classic pieces to conversation starters.
Sources:
MasterClass. Interior Designer Kelly Wearstler's Tips for Furnishing Any Space. https://www.masterclass.com/articles/interior-designer-kelly-wearstlers-tips-for-furnishing-any-space
Sonoma Magazine. 7 Ways Mirrors Can Make Any Room Look Bigger. https://www.sonomamag.com/mirrors-make-rooms-look-bigger/
Sage Journals. The Effects of Color on the Moods of College Students." https://doi.org/10.1177/2158244014525423