We're introducing new Artist Plans designed to improve the Society6 marketplace. Learn more about why we're making this change, each Plan's features and what happens next now that Artist Plans are live.
On October 19, 2023 Society6 launched our all-new Artist Plans. All artists on Society6 will be required to opt into a Plan before November 30, 2023. Artists who do not opt into a plan will be automatically enrolled in our Free Plan. 
As an open platform Society6 has seen a significant increase in the number of designs uploaded to our platform in recent years. Many of these designs are non-selling or low quality and impact the visibility of high quality content from our artist community. We believe that a curated marketplace that highlights and drives sales of high-quality designs created by independent artists will ultimately deliver the best results for our artists, customers, and partners. 
We are excited to be able to offer three Plans designed with our artists in mind. Our Free Plan maintains the majority of the features artists have come to know and love and allows new artists to get started without a financial commitment. Our Basic Plan allows for more designs and pricing control and our Pro Plan introduces an all-new Analytics Dashboard. 
This is an initial step in our mission to create more value for artists in all Plans. We will continue to share updates in the future regarding exciting upgrades to the customer and artist experiences.
An Overview of Artist Plans 
Artist Plans offer advanced features for artists who opt into the Pro and Basic plans. Choose a Plan based on the amount of designs you wish to offer in your Artist Shop and for access to tools like pricing control and sales analytics.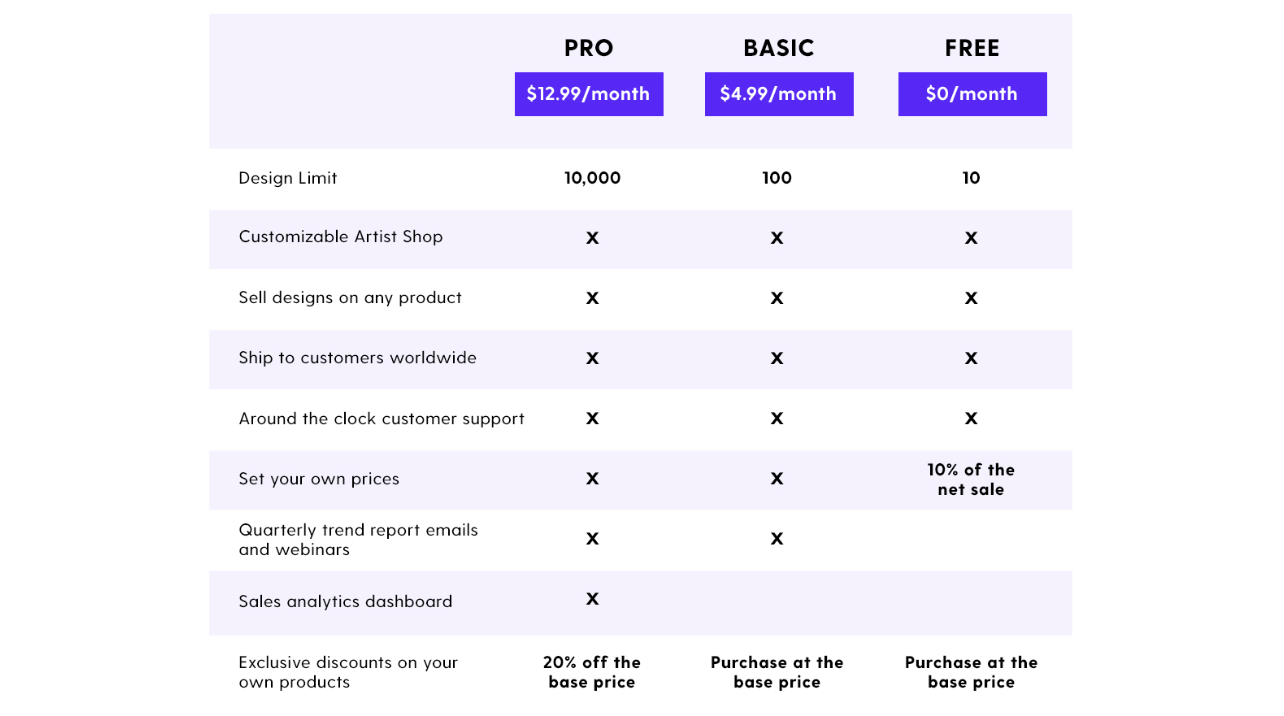 Not sure which Plan to choose? We've put together this blog post to help you determine which Plan works best for you. 
What Happens Next Now That Artist Plans Have Launched?
When Artist Plans launch Artists will be able to select a Plan in their Artist Studio anytime before November 30, 2023. When you select the Basic or Pro plan you will automatically have access to the features associated with the selected Plan. If your Artist Studio exceeds the design limits, you will be prompted to remove designs before you can select a Plan. 
Artists who do not opt into a Plan before November 30, 2023 will be automatically moved into the Free Plan. If the artist's design catalog (including unpublished designs) exceeds the 10 design limit we will remove the extra designs on their behalf. Design removals are permanent and designs cannot be retrieved after the end of the grace period. The 10 best selling designs will remain in Artist Studio and the rest will be removed. If no sales data is available, the most recently uploaded designs will remain. If pricing has been set, the Markup % will be set to 10%.
Prior to November 30, 2023, artists who have not yet selected a plan will continue to have access to Artist Studio and no changes will be made to their Markup %. Artists will not be able to upload new designs or make changes in Artist Studio until they have selected a Plan. 
New artists that create an account on or after October 19, 2023 will be required to select a Plan upon sign up.
We're excited about these new Plans and the impact they will have on the Society6 experience. At the same time, we acknowledge that this is a significant change to your artist experience and we welcome your feedback. Please reach out to our support team with your thoughts or questions here. 
Featured Artwork: Gradient #3 by Emily (@Doodlydays)