Los Angeles based artist Alex Cutler paints things you throw away—be it the literal crinkle of cans and wrappers or the memories that never really stuck around in your mind.
Once memorialized by Alex's rich, beautiful painting style, the subjects fill you with a wistful nostalgia—like realizing too late that you should have loved someone. We talked with the painter about how he finds ways to challenge himself, his love for the California light, oh, and what it was like to be in a Lana Del Rey's "Love" music video.
Hey! Tell us a bit about yourself—where did you grow up? How long have you lived in LA?
I grew up all over the place (my dad moved a lot), but I have spent the most time in Colorado and I have lived in LA for 3 years
Do you find there's anything specific about Los Angeles that inspires your work or affects your creative process?
Yeah, this place is just oozing with inspiration. Lately I've been really into the trash that piles up around here. I find my self fixating on the colors and shapes of discarded items such as cans, bags and other rubbish. This is only intensified by the quality of light this city of angels casts upon us all. Amen.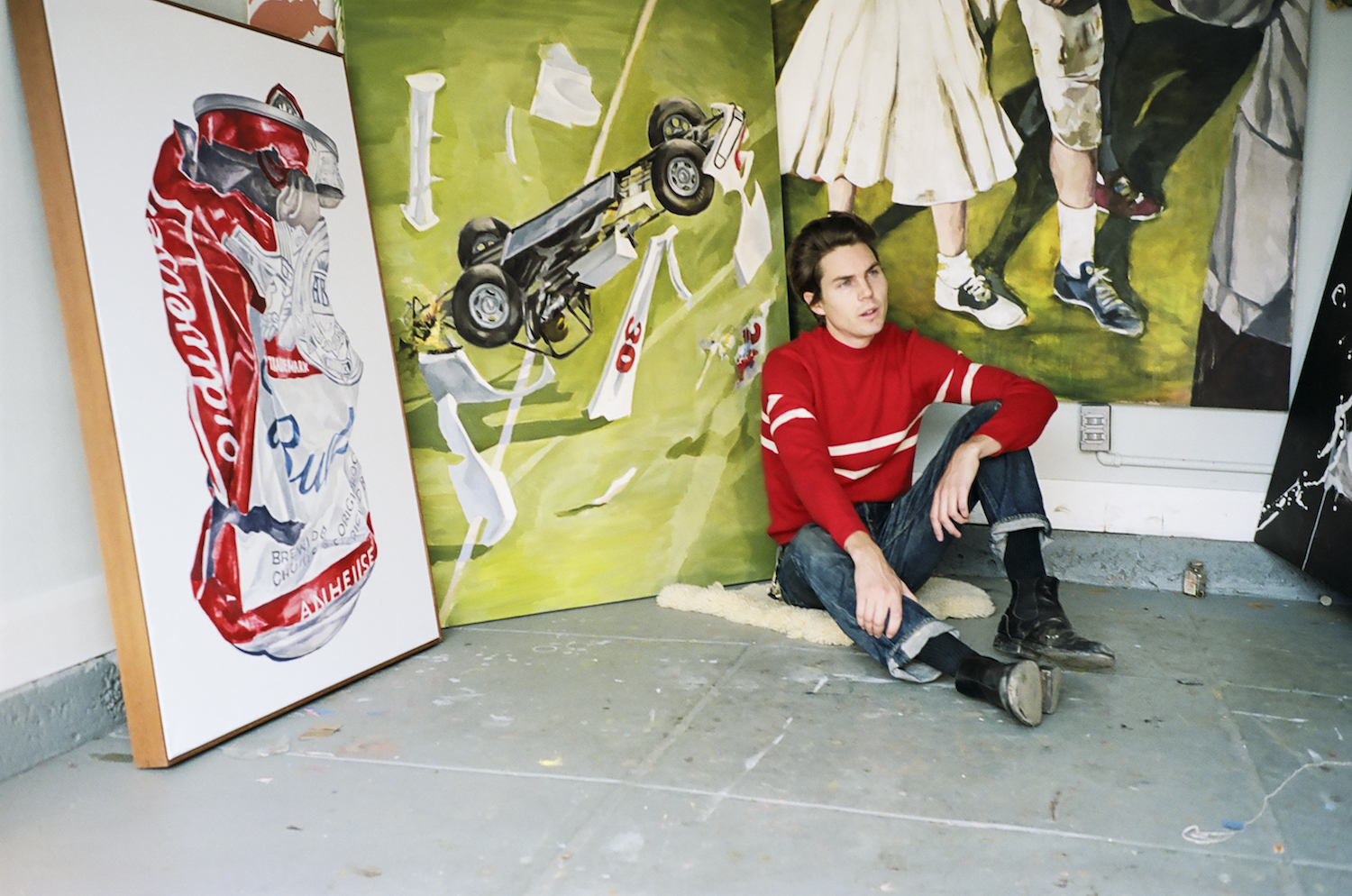 Speaking of, I'm curious about how you choose your subject matter, as it varies quite a lot. Do you try to work within certain themes or do you prefer not to limit yourself in that way?
I would like to think it chooses me. I feel like it's more about keeping my receptors turned on and knowing when and what to follow. The trash portraits, for example, started with painting a Coke can just for fun and at the end I was like "this looks good, and that was pretty fun, I'd like to do that again"—do it enough times and the series starts to develop and the paintings start to teach you something. From this point the context starts to become more clear and its easier to keep working in the box and exploring the concepts deeper.
Have you always liked art? What did you like to draw when you were a kid?
Yes, I have always LOVED art. I remember as a child finding myself moved emotionally by art and also intrigued technically. I wanted to understand how a picture was made and I vividly remember my breakthroughs like putting arms on superman. I realized mid-drawing ("Superman 33" 1991) that I had arms—people have arms!—yet my drawing lacked this. I took a risk and it paid off (if you haven't gathered, I drew a lot of supermen).
Your still lives are like grungy-Thiebaud—what prompted you to paint such ordinary (albeit undesirable) objects in such a beautiful way?
That's very flattering, I'm a huge fan of Wayne Thiebaud. I wish I had a more intelligent answer to this question, but I paint the way I paint. I guess the objects I choose have an inherent grunge being that they are trash from the gutter which is contradicted with how affectionately I paint them.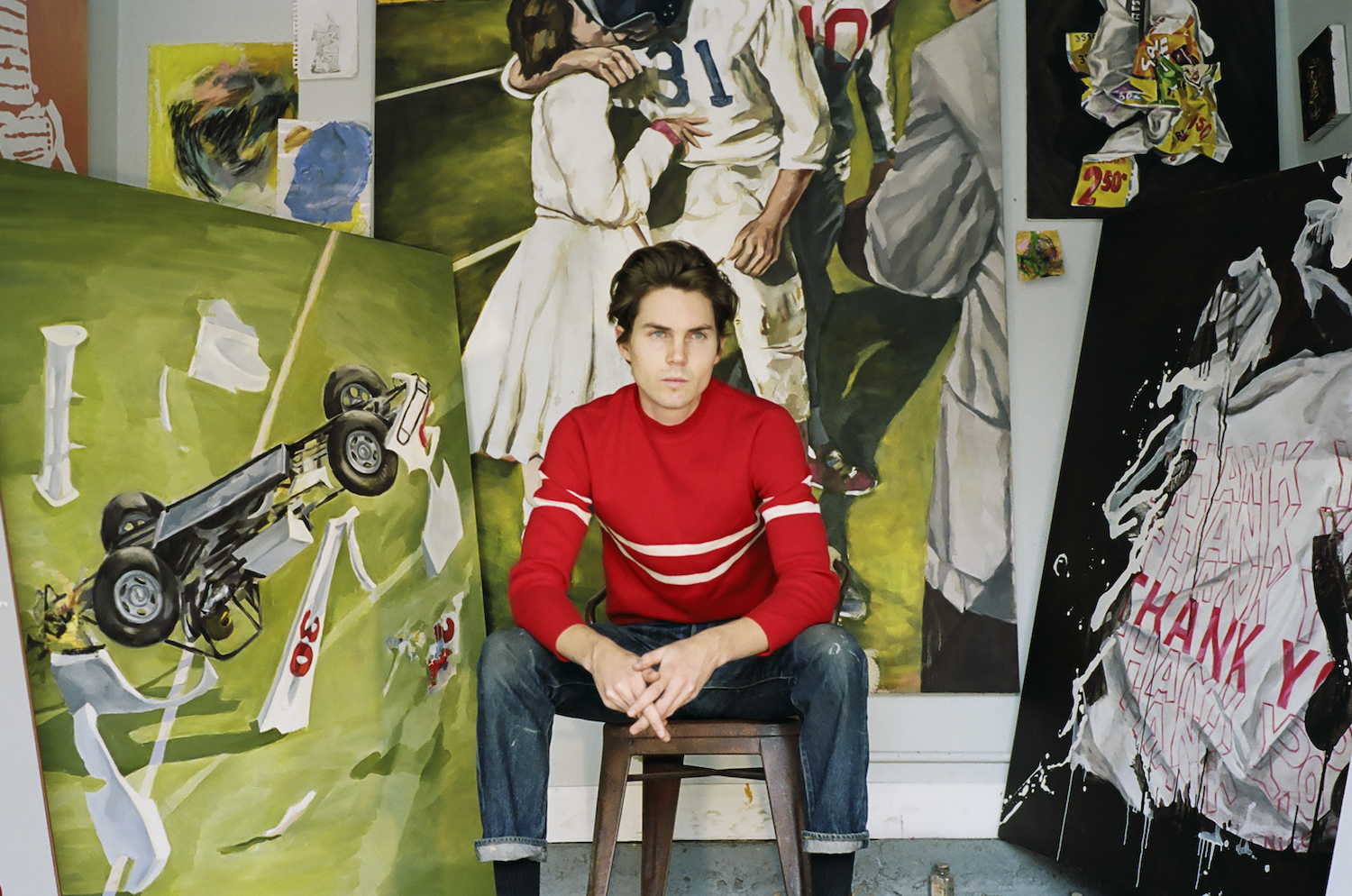 Do you feel any pressure as an artist to "make a statement" with your work?
I used to for sure, but lately I have disregarded that notion. If there is a statement to be made in my work, my best shot at it is to follow my intuition about how and what I paint. If I happen upon an idea it's my job to chase it down and represent it in my work. But, really every painting is a statement in some way, if at the very least a statement of human existence.
What do you find your painting process is like? Are you patient and dedicated or easily distracted and experimental?
I can do both, but really I think it's important to be versatile in approach. Sometimes I'll play games with myself that involve throwing a wrench in my process just to see how I get out of it.
OK but let's also low-key talk about how you were featured in Lana Del Rey's "Love" music video. How did that come about and what was it like working on a big video like that?
Haha oh you saw that? Umm it was totally random! I used to model in my early 20's so I had all these photos on my Facebook and I just got a message from a casting director who heard from a friend of mine that I'd be right for the part; I guess Lana liked my look and they messaged me. I went there thinking I'd be just an extra or whatever but it ended up being more. I got along really well with the director and the rest of the crew and just saw the vision they had and was down to do whatever they said as best I could. It was honestly really fun! We traveled to a bunch of rad locations and I met some really cool people. I only met Lana once and she was an absolute sweetheart and I'm grateful she included me in her art.