Moon Honey
is a band that's difficult to describe on paper, and I think that's the point.
Their intense uniqueness forces the writer to a higher creative plane—the observer has grown from what is observed. Their music feels like the sonic third-way, blending elements of the familiar and the bizarre to create something truly new. Meanwhile, their shows are a symphony of artistic mediums that exceed your expectations by subverting them. Everything they do feels new.
Originally from Louisiana, they recently moved to Los Angeles to double down on all of their creative endeavors. We sat down with front-woman Jess to chat about her endless inspirations and commitment to wearing the mask of authenticity.
First off, tell us a little about yourself and how you came to find music:
I love all art, whether it's music, painting, photography, underwater basket weaving, etc. I'm naturally introverted, so I find it pretty amusing this is now my life. Years ago, I was hired by Andrew (given two bottles of wine) to paint his guitar cabinet and I found out he was looking for a singer for his band. I had zero performance or writing experience, but joining a rock band was not a life experience I was willing to pass up.
What is your songwriting process like?
It's all over the place, but for the most part, we both start in solitude: Andrew composes a piece, records a demo and sends it to me. I write lyrics and melody for the piece, sometimes fresh, sometimes drawing from my bank of poems I keep handy. We get together and light candles to practice performing it to work out kinks.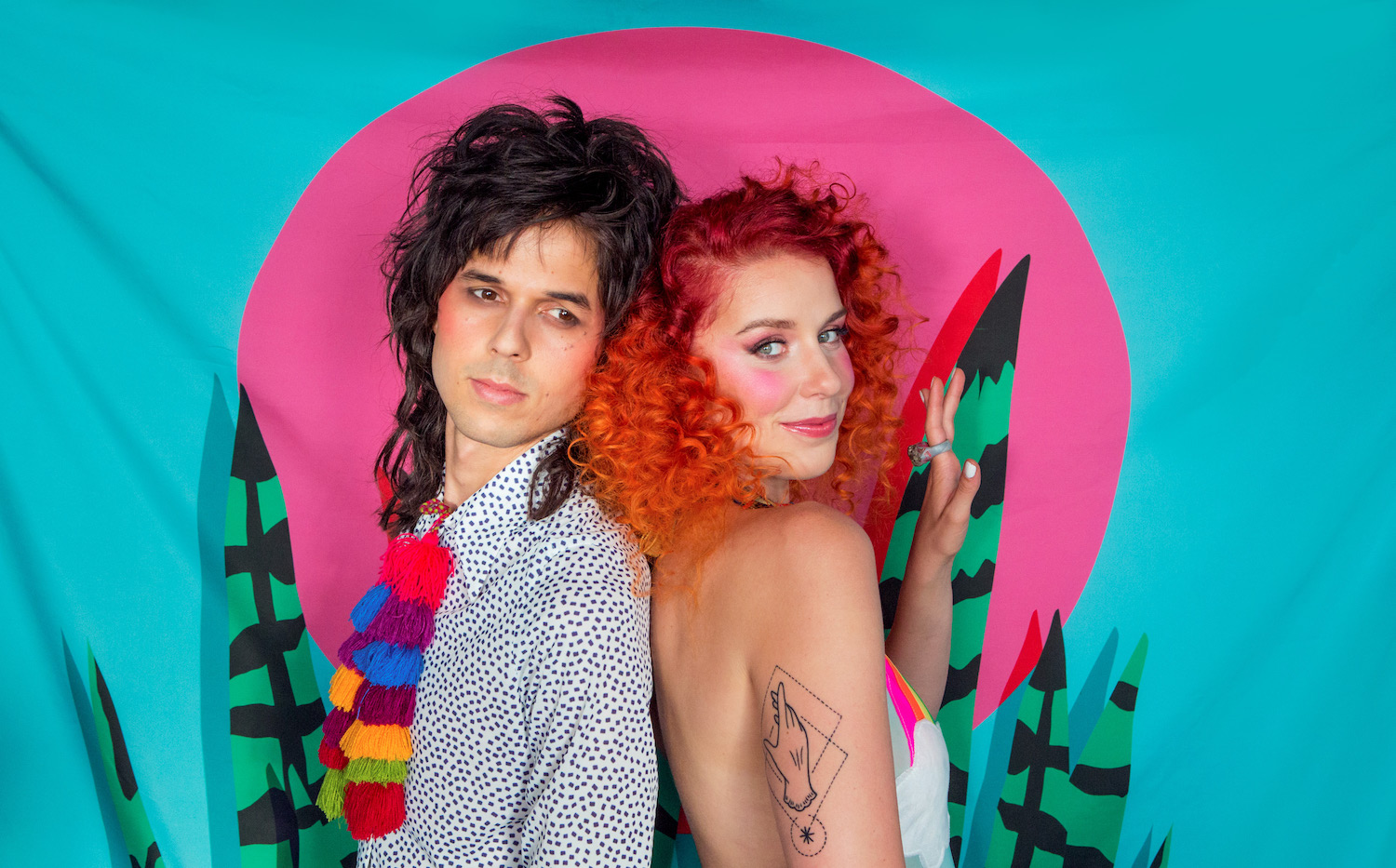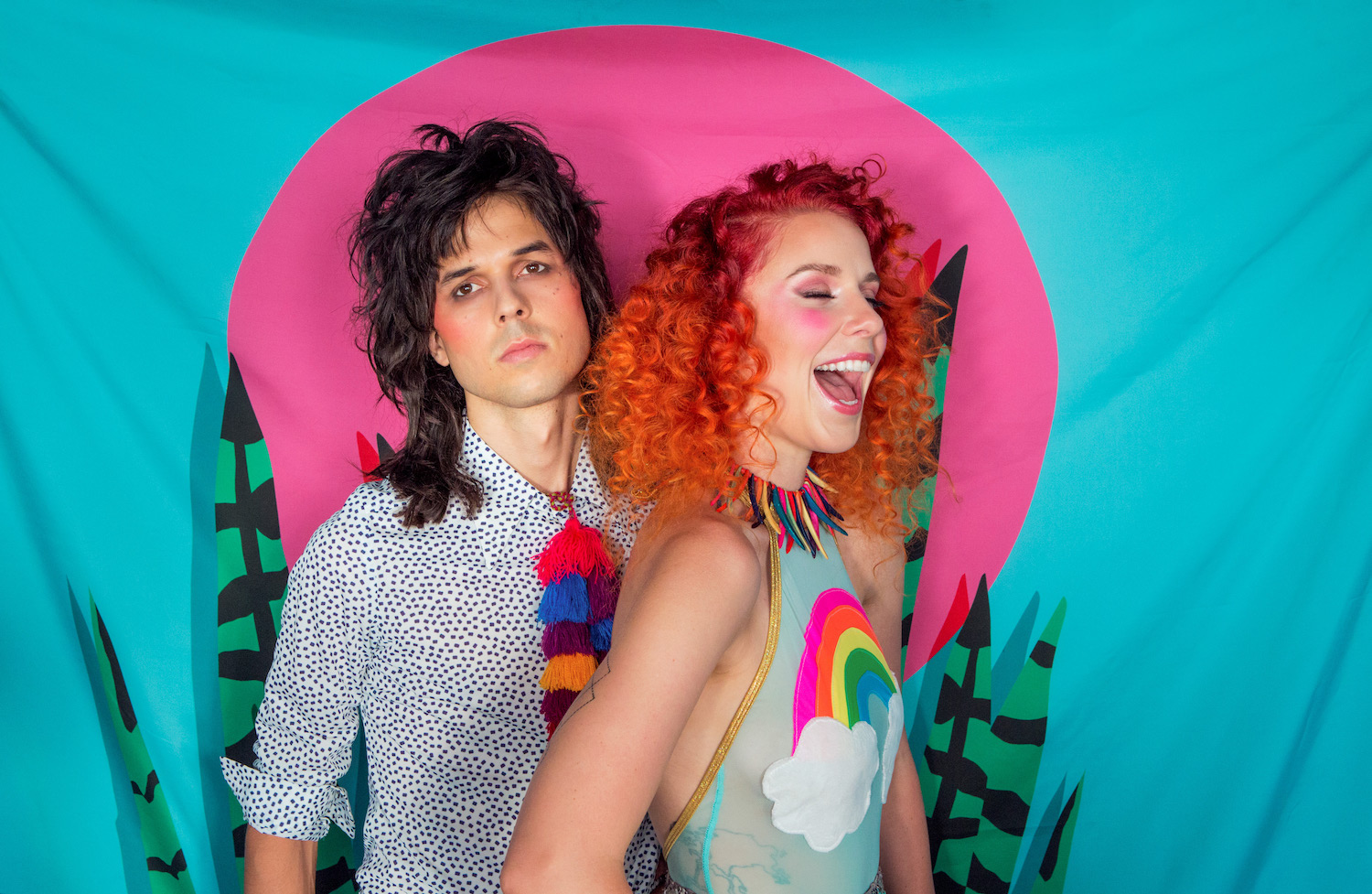 One of the things that first captured me about your sound is how truly unique it is. In a world of pre-packaged pop and rock, how do you fight the urge to be "accessible" and instead push for your own creative ideals?
Hey thank you! Personally, I'm coming to the realization my urges are just naturally inaccessible! I have tried to write a pop song, and I failed miserably. It sounded icky to my heart to hear it back. There is certainly an art to attempting to identify what is mainstream and accomplishing that perfectly. Perhaps crafting a pop song is like making a Piet Mondrian piece. You look at it and think, "I can do that!" But…can you really? His lines are dangerously straight; his geometry is outstanding. Can you muster that 27th perfectly tuned vocal layer and write that painfully addictive hook, or will you find when you're done that it isn't actually your style? My style, I'm finding, is pretty crooked. But then again…what is mainstream anyways? At one point, Korn was accessible. When I feel sad that our music could never make it on radio, I remember Korn. I can't live my life trying to be someone else, I can only hope that in my humanism I tap into universal human emotions which translate. Like that mainstream band Korn did.
Another stand-out element of Moon Honey is the visually rich world you create. Has this always been apart of your performances? What would you say is its primary purpose?
This is pretty new! I have been working on artwork for every song of our upcoming album's artwork package—some of these pieces are very large, and so I feel excited to bring them on stage with me. We've been working with great lighting artists too. The purpose is to create an atmosphere to further describe the landscape of the music—to bring people into the songs, into deeper expression. Once I tried putting lavender essential oil into a smoke machine at a show—it didn't really work or smell, but you can see our dedication to using all senses in the name of atmosphere.
Tell us about the headdresses/costume pieces you create for your performances. Does the donning of them help you transform yourself into "someone else" i.e. David Bowie's "The Thin White Duke" or "Ziggy Stardust"?
Yes! First I'll say that my biggest influence is Corinne Loperfido. When we first moved to L.A. I met Corinne and loved her costumes—they really spoke to me, as they are inspired by the beautiful culture of New Orleans where she lived and near where I grew up in Louisiana. The pieces are so creative and vibrant. I felt transformed when I began wearing them for sure. I suffered so much from stage fright and mild body dysmorphia (again, why am I a front woman?). I hated the idea that people were looking at my body and my movements on stage—I was afraid that people could see straight through my art and were only focusing on my nervousness and flaws. I thought no one enjoyed my presence. I craved a transformation of confidence, and the costumes were a big step in me finding relief—exiting my humanism and entering into the world of theater and fantasy, where I could be whoever I wanted. A new role.
This past year I've been wearing costumes that I've painted and sewed myself, and I'm thinking more about integration with the upcoming album. A core theme is the monarch butterfly, a symbol of transformation that is very personally dear to me. Another is white satin gloves—another theme of delicate transformation, a sublimation of wrongs if you will. Of course, it's not so much role playing anymore—it is me taking myself to the maximum. It's my inner freak of the moment coming out to play.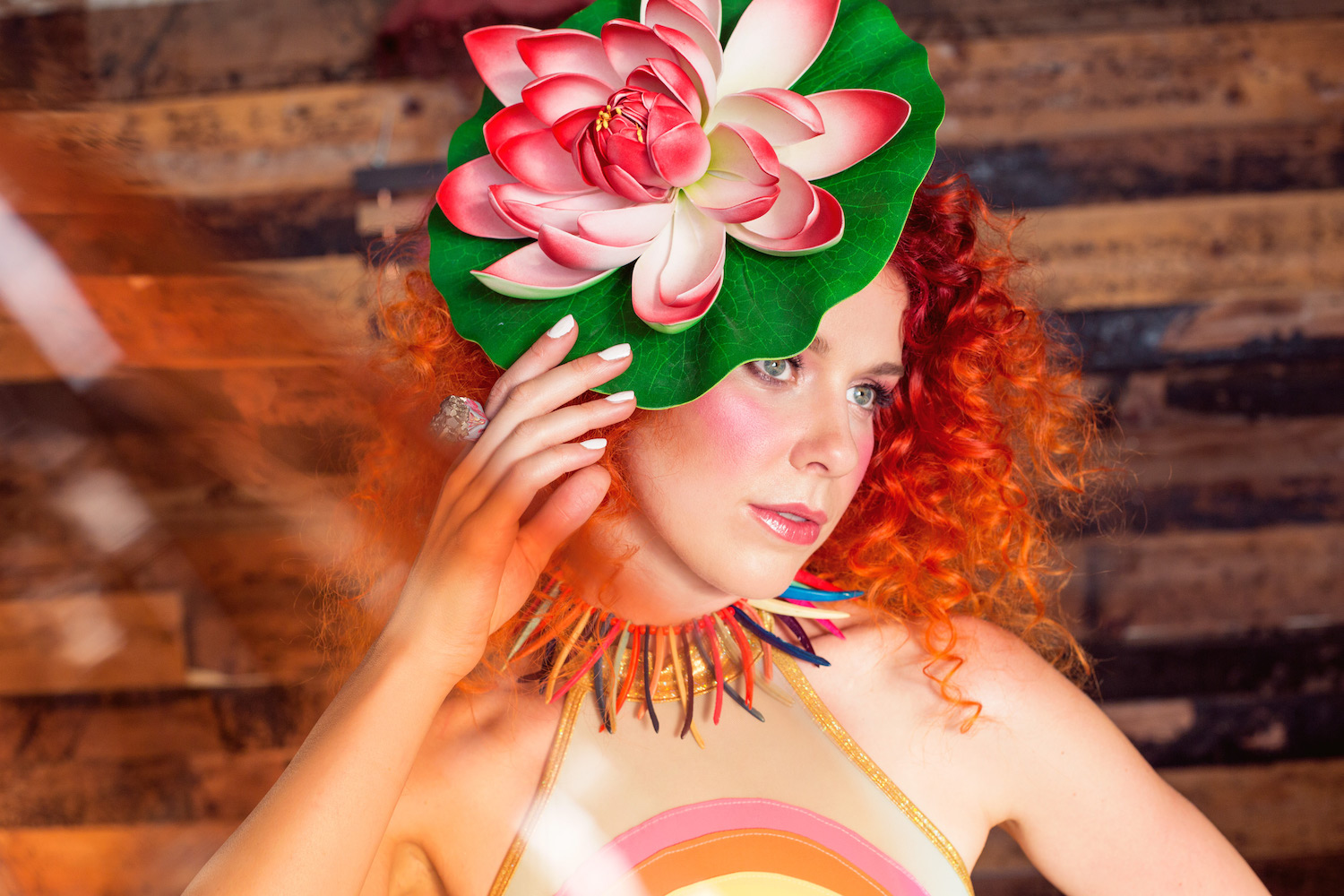 Also, you just went to mime school in Paris (!!). What did you learn? Do you hope to apply any of your learnings to your performances?
It was incredible! It was a weeklong corporeal mime workshop with Thomas Leabhart. I practiced movement scales, intuitive stretching, mime improv, learning choreographed pieces, and writing my own small pieces using corporeal technique. I am in love with the art form (still in the honeymoon period) and absolutely will be working it into our performances. This is the first movement form I've really understood and have been capable of making into a continued study. It is therapeutic, sculptural and poetic. After the workshop and my first solo-trip to Europe, I got a tattoo by a vegan tattoo artist in Berlin named Andy Ma — it is a glove devoted to willpower and innovation inspired by a quote in the book Words on Mime by Étienne Decroux: "It is my desire that the actor accept the artifice and sculpt the air, making us feel where the line of poetry begins and where it ends. I was born to love mime. The body is a glove whose finger is thought." Currently, I study weekly with Lorin Salesman in L.A. who also teaches pantomime!
Being such virtuosic musicians, in what ways do you find to always push yourself to the next level (both technically and creatively)?
I claim zero virtuosity, 50% curiosity, 25% excitability, and 25% masochism. I am so curious and fascinated by the world. I am a deadly combination of escapist and workaholic. I work all day digging rabbit holes and I love it.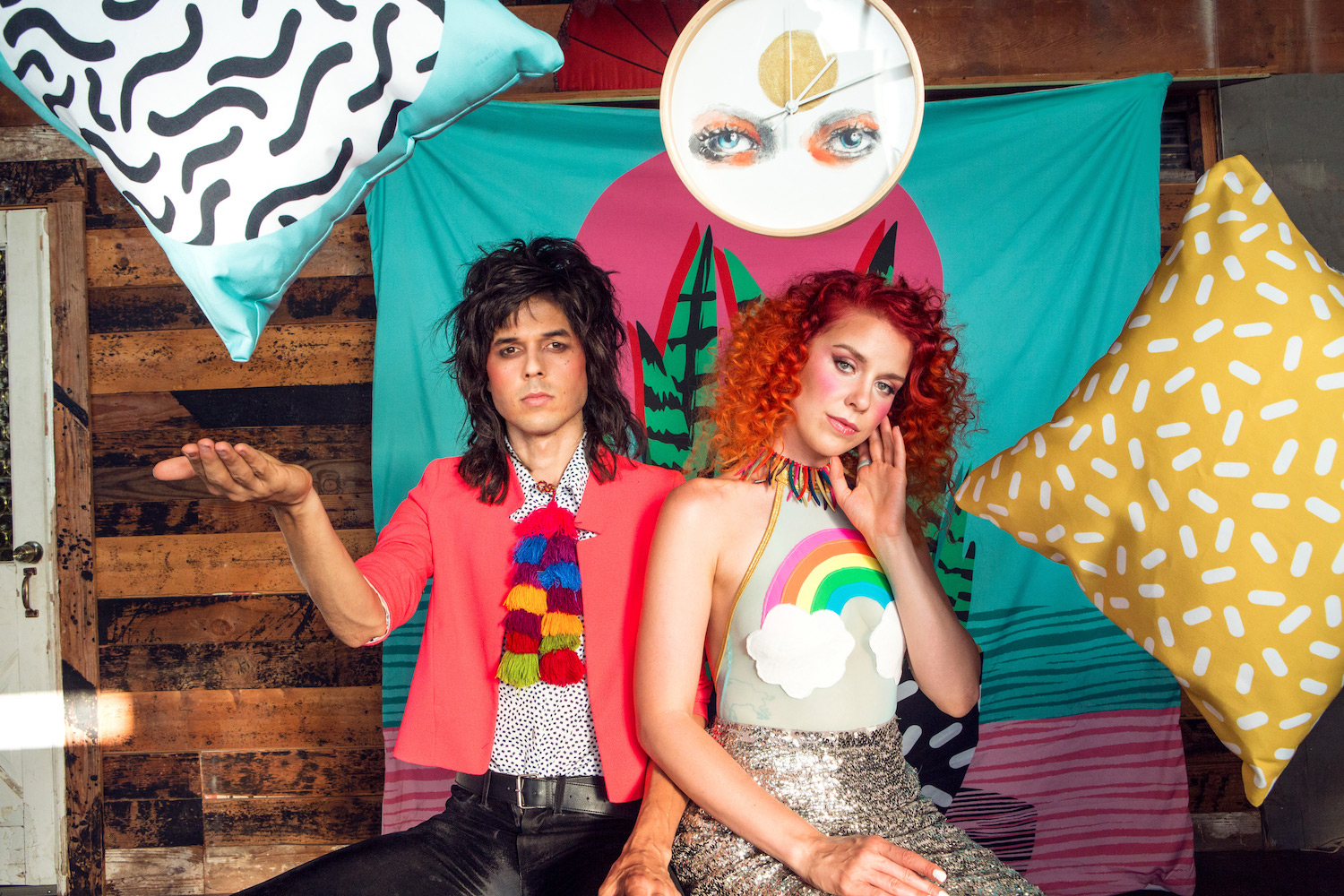 There seems to be a lot of doom and gloom, with people claiming "indie music is dead"— how do you guys feel about the state of music today? Particularly, "indie" music?
In the case of indie music, never has it been so indie-pendent! I find it exciting and encouraging that no matter how off the cuff your music is, you don't have to depend on the man to get it out into the world. Getting it out into the world does not guarantee financial stability, though. To me that is the biggest depression of the music industry or of being an artist in general. American touring is quite an abusive system in which many venues (not all) are willing to exploit you, knowing that you'll entertain their club for free. And if you don't, they know someone else will. American artists usually struggle with low income and poor healthcare, despite the fact we're a part of the web of culture creation that the upper class enjoys.
If indie music is dying, it's because it isn't being nourished. We have to take care of ourselves and nourish the community. Make allies, not competition. There are ways to survive, we just need lots of encouragement and support to not crack under the weight.
Finally, I always think of the work that you do as having exuding so much positivity. How are you able to maintain an honest optimism in the crazy world we live in?
That is great if it feels positive! Much of the new work is focused on the silver linings: We're broke, but look how much fun we have inside our freedom! I'm struggling with depression, but it's not so bad if I paint it as a cute black dog! I'm broken-hearted, but wasn't it a wonderful wild ride? It's been messy, but I'm learning how to clean!
The honest optimism is perhaps pure survival and my personal opinion that great art is therapeutic. I want to be real about the tunnel, the abyss, the fear, but also bring the audience out of the tunnel in the end. That's what it is to grow, right?
Photos by Taylor Lewis