We've all been there—you've curated the perfect furniture, perhaps even finally collected the exact wall art and home decor to suit your style, but you look around your living room and something's still missing. A rug, you decide—that's the key to pull it all together. But now you have a new problem: What size rug for living rooms is ideal?
Wonder no more with the help of this living room rug size guide. We've rolled out the different factors and tips to consider when choosing the perfect rug size for living rooms, taking into consideration various sizes and layouts. You'll soon be able to find the perfect fit area rug for any room size.
Factors to Consider For Living Room Rug Size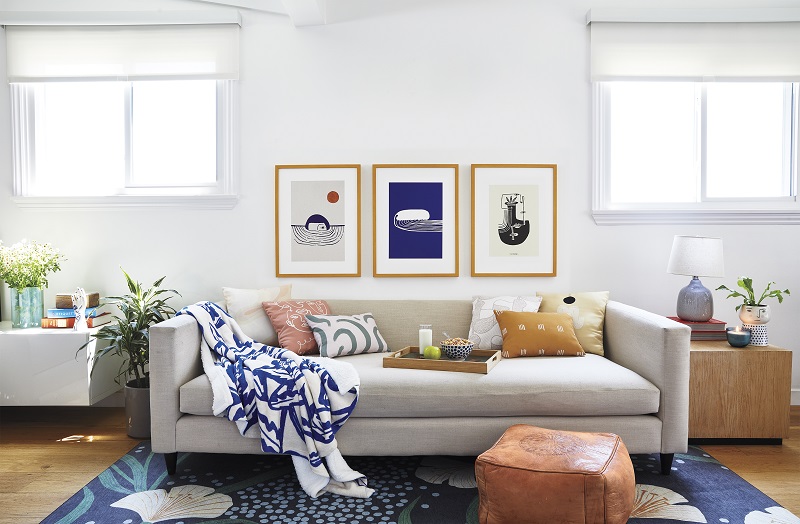 We don't know about you, but nothing sounds more hair-pulling to us than ordering a breathtaking round rug to your house—just to roll it out and find that it isn't the right size.
Save yourself (and your hair) the trouble by taking into account the size of the room and optimizing your furniture arrangement beforehand. This will ensure your rug won't sink or swim in your living room layout.
The Living Room Size
"What size rug is right for my living room?" is a common question among those looking to update their space with a new rug. Before even looking at rug sizes, measure the size of the living room you're working with.
Medium to Large Rooms – When it comes to large rooms, you will want a larger rug or area rug that can anchor the space and create a focal point. According to design experts, the right size living room rug should generally cover around 70% of the floor space. For smaller rooms or a small living room, you can get away with a lower percentage and still achieve that cozy cove.
Petite to Medium Rooms – Smaller rooms aren't going to follow this 70% rule, as a larger rug that reaches towards the wall can further shrink a small living room. A rug or a few small rugs under the coffee table will do the trick.
The Furniture Arrangement
Before you determine your rug size for living room, make sure that you're content with the furniture arrangement. Here are some general pointers to guide you:
Start by considering the focal point of the living room, such as a fireplace, television, or large window, and arrange your furniture around it.
Keep in mind the traffic flow of the room and leave enough space for people to move around comfortably without leaving too much empty space.
Avoid pushing all of your furniture up against the walls, as this can make the room feel cold and uninviting.
Instead, create cozy conversation areas by grouping furniture together in a way that encourages socializing and relaxation. If you're tight on space, make sure to leave a few inches between any couch and the wall.
The Most Common Rug Sizes for Living Rooms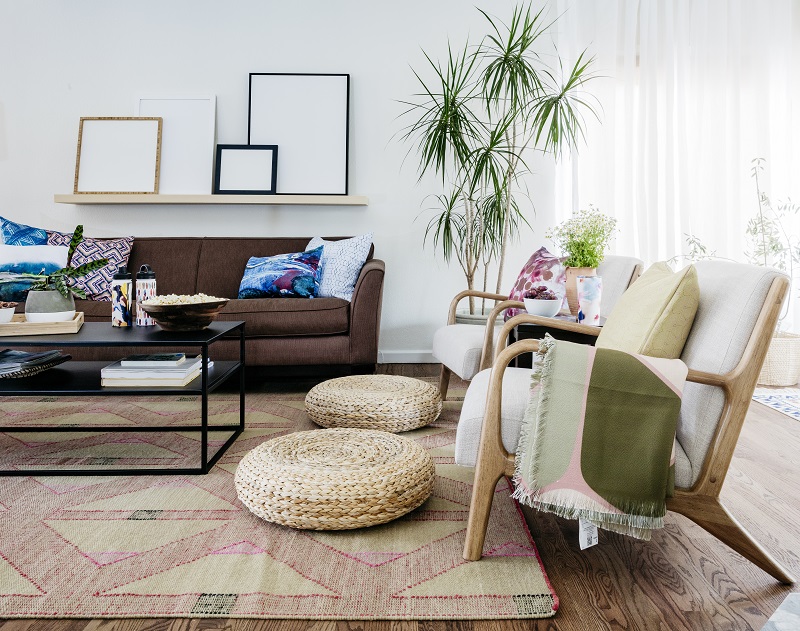 Now that your living room is in tip-top shape, let's crunch some numbers for the perfect rug size. Although there will always be the occasional outlier, here are some of the most common rug dimensions along with their typical use to give you a taste of standard rug sizes you'll encounter:
2′ x 3′ – Small accent rug you can use to layer with other rugs
4′ x 6′ – Small rugs suitable for a smaller living room
5′ x 8′ – A versatile size for medium-sized living rooms
8′ x 10′ – Ideal for a medium to large living room
9′ x 12′ – Suitable for large, spacious living rooms
12′ x 15′ – Large enough to cover most of the floor space in a grand living room
If you're decorating a medium to large living room, start with 8′ x 10′ rugs, if not larger. If your living room is leaning towards petite, you likely don't need to go any larger than 8′ x 10′.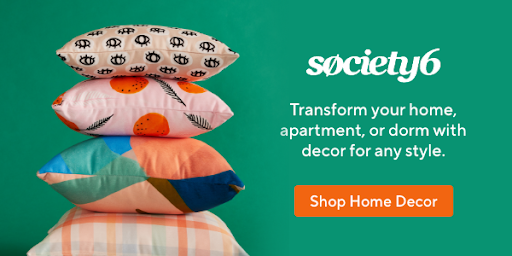 How to Visualize the Right Rug Size
For all you visual thinkers out there, we know it's nerve-wracking to purchase a hefty rug without actually seeing how it lies in your space. Does the idea of learning how to decorate a living room intimidate you? Luckily, there are a few ingenious methods to see how different rug dimensions will interact with your furniture—no rug needed:
Tape it out – This method is a valuable tool for those who are wondering, "What size rug should I get for my living room?" If you are between several standard rug sizes and want to see how they would look underneath your furniture, run to your closest roll of painter's tape and tape those dimensions out directly onto the floor.
Try a tapestry – Another way to visualize how a rug will fit in your space is to grab a tapestry or bed sheet. Simply fold the tapestry or sheet to the dimensions you're considering, adding an extra one if needed, and lay it on the floor underneath your furniture to get a sense of how a rug in that dimension will function in the space.
Rearrange the furniture – A

rug's dimension isn't always the culprit. If you're already stuck with a rug that you've ordered but something feels off, take to flirting with the furniture

placement

before you attempt a rug return. Move the furniture

legs

fully on, partially off, or completely off the rug, tweak the angles, or even add some smaller pieces like a side table.
5 Key Ways to Find the Perfect Rug for Your Living Room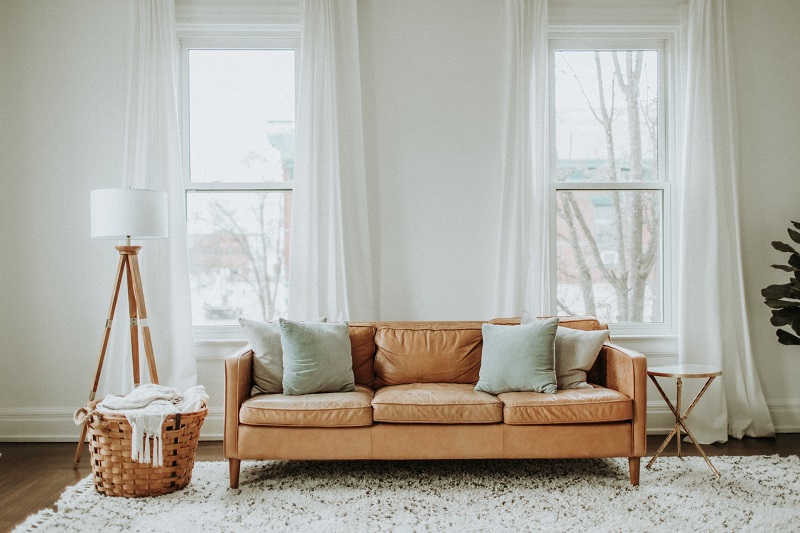 Although we're all for the occasional breaking of the status quo, there are a few must-dos when it comes to selecting and rolling out your rug. Rugs are living room essentials, so it's important to get it right. If you want to make your rug search as seamless as possible, we encourage you to follow them.
Always select a rug wider than your sofa – If you place a rug that is thinner than your sofa, especially in a medium or large room, you'll quickly notice the feeling of imbalance and separateness. In the case of living rooms that are low on space, try to select a round rug that is at least a foot wider than the coffee table above it.
Leave at least 18" of space between the rug and the walls – Leaving some room for your floors to breathe will help create a balanced and proportionate look. Measure your room's floor space before any rug purchase if you're looking for a large rug that will fill most of the floor.
Steer away from overdoing overlapping – Overlapping 

various

rug types

can be a great design tool to add depth to a space, but too many can cause a space to clutter. If you want to take a stab at

layering

rugs

,  try choosing rugs with different textures and tones, and ensure that the smaller rug can leave at least one foot of space on each side.

Keep in mind how often you'd like to clean your rug – If 

your boots were made for walking, your

living room

rugs were made to be walked on. In other words, if you're looking for a low-maintenance rug that won't show signs of dirt or aging for years to come, opt for patterned or darker-toned rugs with lower piles.

Place the furniture legs on the rug – Unless

you are dealing with a small room, place at least the front legs of the furniture pieces on the rug. In some cases, especially with extra large living rooms (and extra large rugs), you can place the entire sofa or loveseat onto the rug. Play around with

rug

placement

in your seating area

until you reach a sense of visual harmony.
Popular Rug Styles for Living Rooms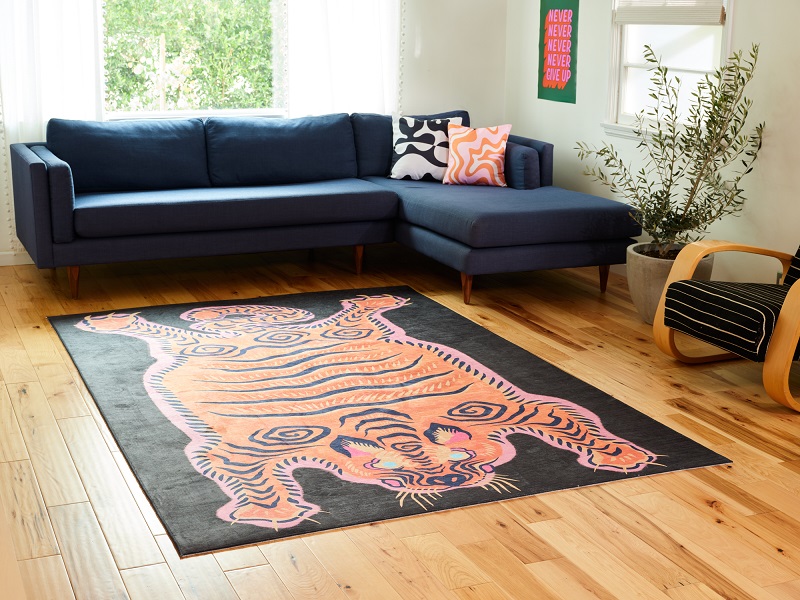 Now that we know what size area rug for living room it's time for the fun part—how to choose a rug for living room. With your dimensions down pat, take a gander at this breakdown of a few rug styles we think are all the rage:
The printed area rug – The advantageous area rug can create a cozy and inviting atmosphere in any living room. From minimalist art prints to a solid, bright color, area rugs are the chameleons of the rug world.
The Persian rug – Persian rugs are timeless and elegant, and they can add a touch of eclectic sophistication to a large room. Look for rugs with intricate designs and bold colors, and you have yourself a stunning centerpiece in your living room.

The shag rug – Shag rugs are perfect for gathering spaces, as they add a plush and comfortable feel to the room. Opt for a shag rug with a thick pile to create a luxurious and inviting atmosphere.
Revitalize Your Space with Society6
The right rug can truly be the foundation for a beautiful, inviting space that you'll love for years to come. Knowing what size rug to use for the living room is the difference between a living room that's haphazardly thrown together and one designed with careful style. With all of this rug formation in your back pocket, you're sure to effortlessly select one or several rugs that speak to your style, making your living room hum with harmony.
At Society6, our rug collection offers a wide array of rugs that defy the norm. And with each purchase supporting the work of international independent artists, there's no better way to find a rug that not only fits in your space but is one-of-a-kind. Find the perfect rug size and style today.