We know that decorating a small dining room can be a real head-scratcher. But fear not; welcome to a world where small dining rooms defy their size and embrace big style. Get ready to unleash your inner design guru as we serve up 11 small dining room decorating ideas to maximize your space and transform your dining area into a stylish haven.
Discover how to decorate a small dining room below!
#1 Utilize Round Dining Tables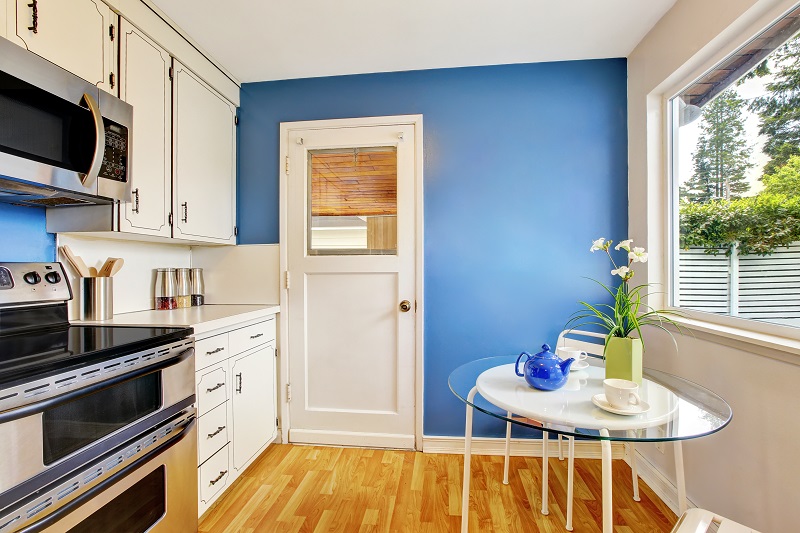 When it comes to decorating small dining rooms, round tables are your best friends. A round table not only saves space but also creates a cozy and intimate atmosphere. Choose a modern dining room table with a sleek design, complemented by a set of stylish dining chairs. This setup adds a touch of elegance and encourages comfortable conversations during mealtime.
#2 Illuminate with Pendant Lights
Lighting plays a significant role in enhancing your dining space and making it feel more spacious. Swap out traditional chandeliers for trendy pendant lights that hang gracefully above your dining table. Opt for a chic crystal chandelier or a modern geometric design to make a statement. These pendant lights not only provide ample illumination but also serve as eye-catching focal points.
#3 Maximize Seating with Banquettes
If you have limited floor space, consider incorporating banquettes into your dining room design. These built-in arrangements maximize seating capacity while utilizing the available space efficiently. Add plush cushions and decorative throw pillows to make the banquettes comfortable and inviting. It's the perfect solution for smaller spaces that still want ample seating for guests.
#4 Cozy Corner Nooks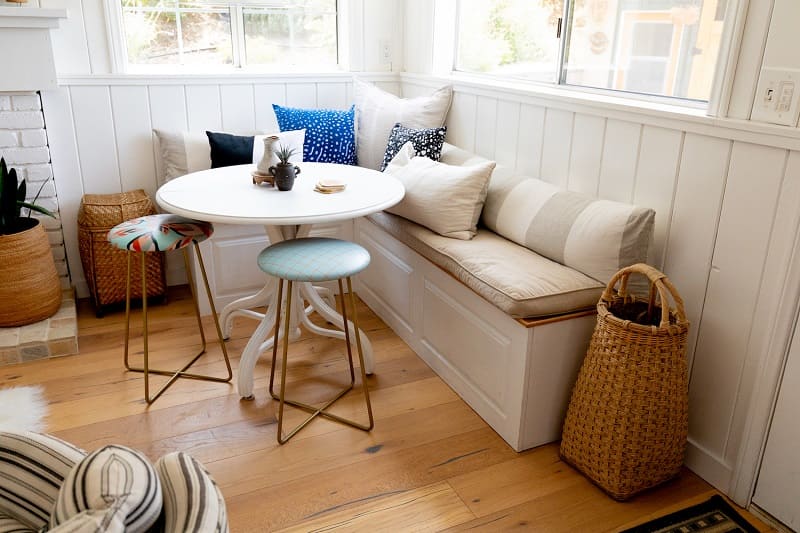 Similar to a banquette, corner nooks are also great for maximizing space. If your small dining room has a cozy corner, turn it into a delightful nook for intimate dining experiences. Install a built-in bench with plush cushions and throw pillows. Pair it with a small round table or a charming bistro set. It's like having a secret hideaway within your dining room, perfect for romantic dinners or quiet moments of solitude.
#5 Use Multifunctional Furniture
In a small space, every piece of dining furniture should serve more than one purpose. Invest in dining tables with built-in storage compartments or extension leaves that can accommodate extra guests. Choose dining chairs with hidden storage space underneath the seat. This way, you can also optimize functionality without compromising style.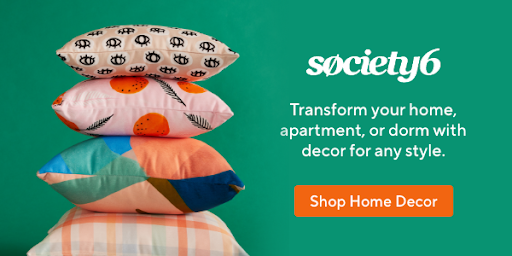 #6 Reflect with Mirrors
Mirrors are the secret weapon of interior designers when it comes to creating an illusion of space. Hang a large mirror on one of the dining room walls to visually expand the small dining area. Mirrors help reflect light and make the room appear more spacious as well as add a touch of glamor and elegance to the space.
#7 Utilize Vertical Space with Shelves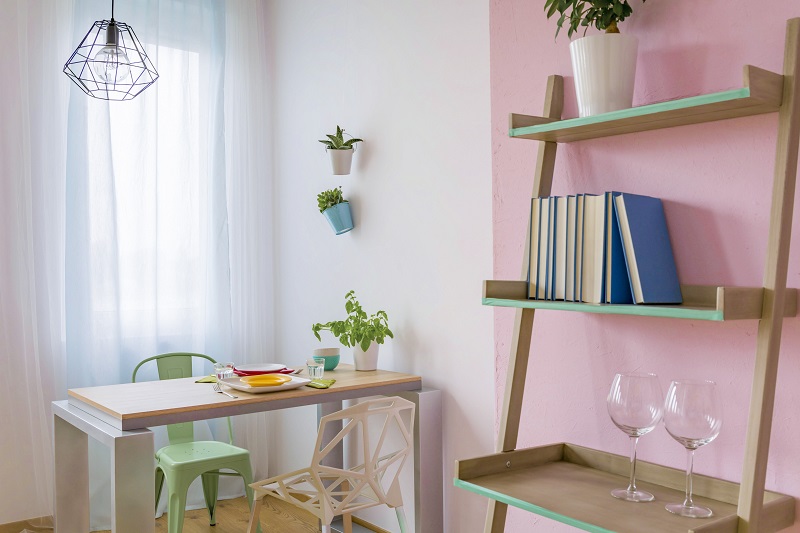 When floor space is limited, it's time to think vertically. Install floating shelves on the dining room wall to create extra storage space for your dinnerware, glassware, and decorative items. Display stylish dinner plates, wine glasses, and charming framed art to infuse character into the room. These shelves not only save space but also provide a functional and visually appealing element to your small dining area.
#8 Leverage the Power of Illusion
Trick the eye and make your dining room appear larger with some clever optical illusions. Long sheer curtains placed high above the windows help create the illusion of height. Use striped rugs or flooring to elongate the space. It's like waving a magic wand and transforming your small room into a grand ballroom fit for a royal feast!
#9 Play with Colors and Patterns
Just because you have a small dining space, it doesn't mean you can adorn it still. In fact, big and small dining rooms can both be upgraded with this dining room decor idea. Don't be afraid to bring colors and patterns into your small dining room. Experiment with vibrant accent chairs or upholstered dining chairs to inject personality into the space. Patterned peel and stick wallpaper and area rugs are also great for creating bold accents. Consider using floral arrangements or patterned tablecloths to add a pop of visual interest. Be bold and let your dining room reflect your unique style!
#10 Add Artwork and Wall Decor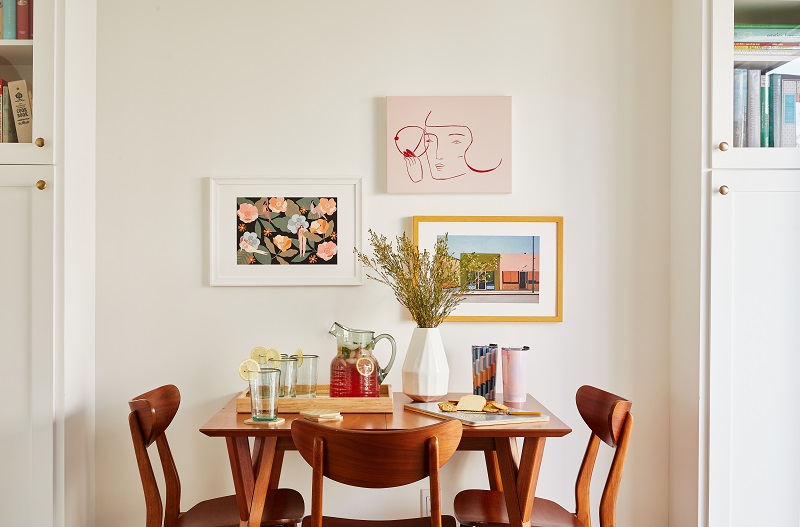 Don't forget to adorn your dining room walls with captivating artwork and wall decor. Create a gallery of artworks, photographs, and art prints, and arrange the pieces in a well-balanced manner by playing with different wall art sizes, shapes, and frames.
If you prefer a statement piece, choose something that demands attention and becomes the room's centerpiece. It could be a large painting, a sculpture, or an eye-catching tapestry. Choose decor pieces that resonate with your personal taste and complement the overall style of the room. Whether it's an abstract painting, a gallery wall layout of family photos, or a statement art piece, the right artwork can visually elevate the small dining space.
#11 Let Nature In
Incorporating elements of nature into your small dining room is like adding a breath of fresh air and a splash of natural beauty to your dining experience. Add a touch of greenery to your small dining room with beautiful potted plants or fresh-cut flowers. It's like inviting a piece of the great outdoors to join your dinner party. Plus, plants bring life and vibrant energy to any space.
Now that you know how to decorate a small dining room, check out the decor at Society6 for inspiration! With beautiful furniture and home decor in unique designs by independent artists, you can create a stylish, cozy dining room. Shop now to start styling your space with these dining room decor ideas!