Artsy acrylics, punchy posters, warm wall hangings—welcome to the wonderful world of wall art. No matter the room you're looking to jazz up, wall art is the icing on the cake of interior design and is about to be your new favorite decor tool—if it isn't already.
Shopping for art is all fun and games until it comes time to select what dimensions you'd like. Deciding between a larger canvas or smaller pieces? Too small of a print can leave your place feeling empty; too big and you risk a cramped wall.
To help you select perfectly sized pieces that pull your room together, we've compiled this wall art size guide. From standard wall art sizes to size-specific curation tips, get ready to learn how you can find the Goldilocks solution for your space, frustration-free.
Standard Wall Art Sizes
Finding the right size wall art for your space is key. Let's start by laying out a wall art size chart of standard sizes you'll encounter when shopping. Keep in mind that there is much diversity in the world of art dimensions, so you'll run into varying shapes and sizes. Additionally, the frame of a piece can add a few extra inches to its total width and diameter.
| | |
| --- | --- |
| Small Wall Art Sizes | Width: 8-13″, Height 10-19″ |
| Medium Wall Art Sizes | Width: 18-20″, Height 20-24″ |
| Large Wall Art Sizes | Width: 20-22″, Height 28-36″ |
| Oversized Wall Art Sizes | Width: 24″ and up, Height 36″ and up |
Small Wall Art Sizes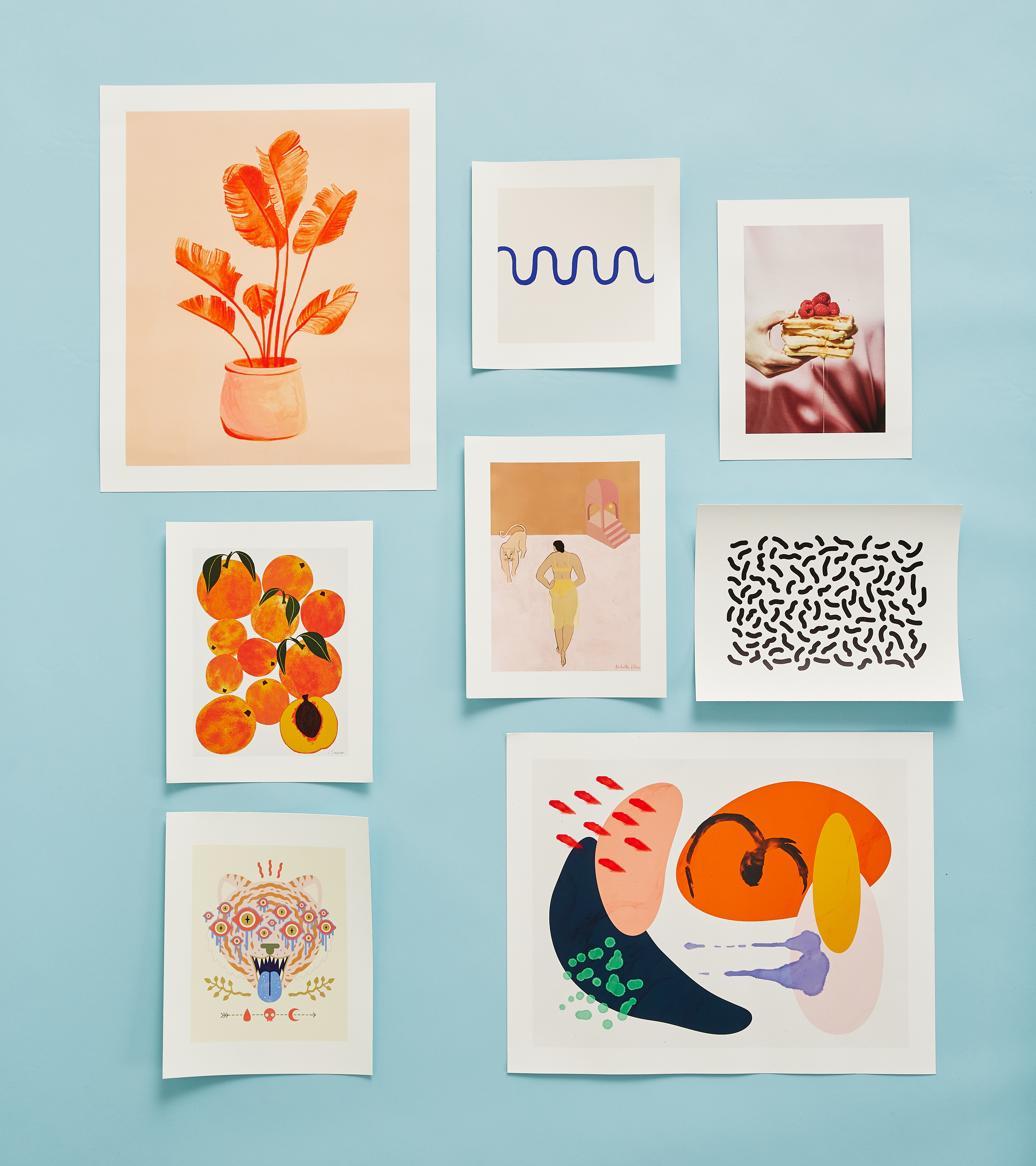 The cool, quiet kids of the art world are, without a doubt, small wall art. The standard dimensions of these petite prints are often in the following range:
Width: 8–13"
Height: 10–19"
Medium Wall Art Sizes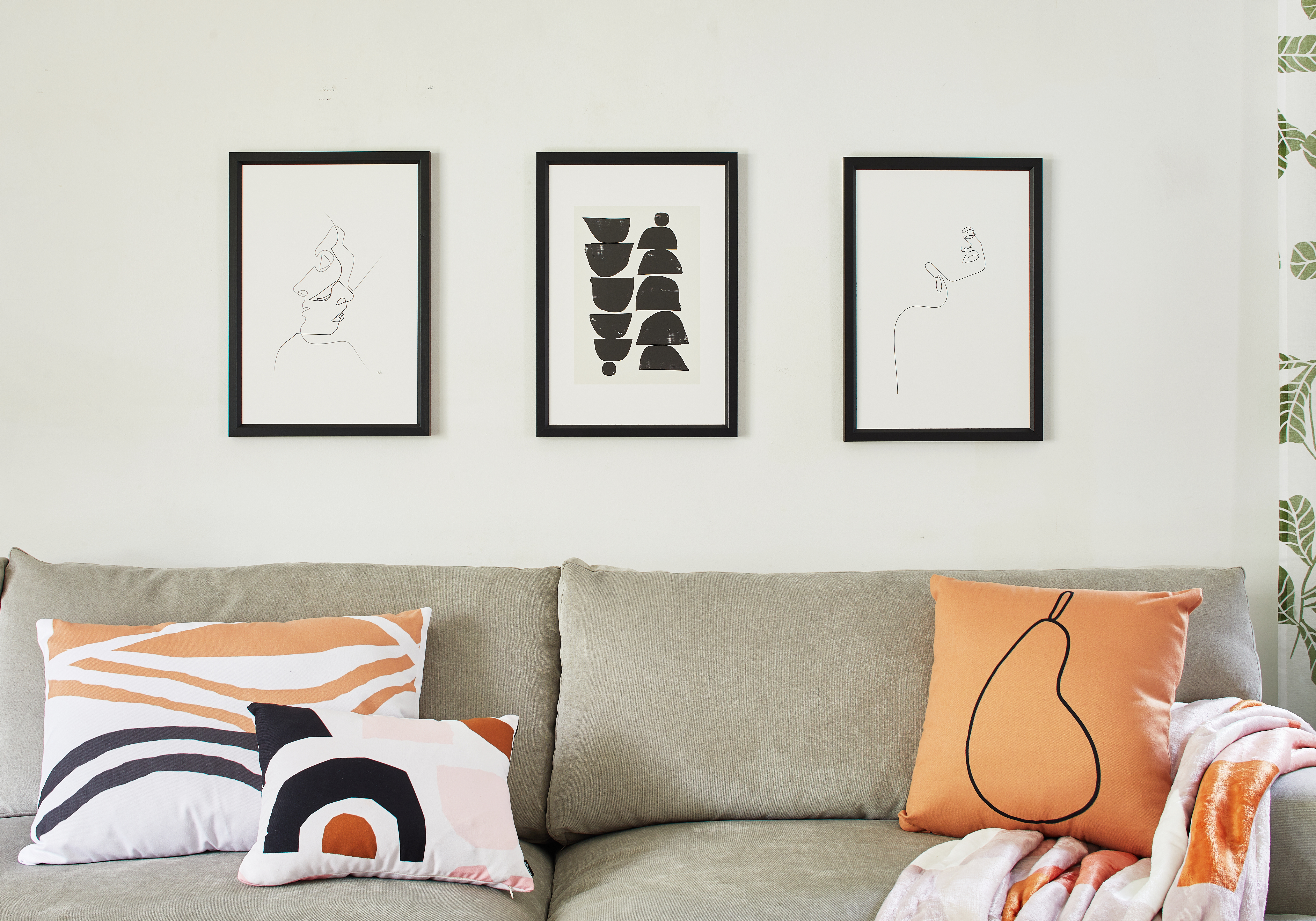 When you want your art to be a bit punchier, medium wall art will do the trick. They function well as stand-alone pieces in smaller spaces but are still able to share the mic with frames of any size. Their dimension range is:
Width: 18–20"
Height: 20–24"
Large Wall Art Sizes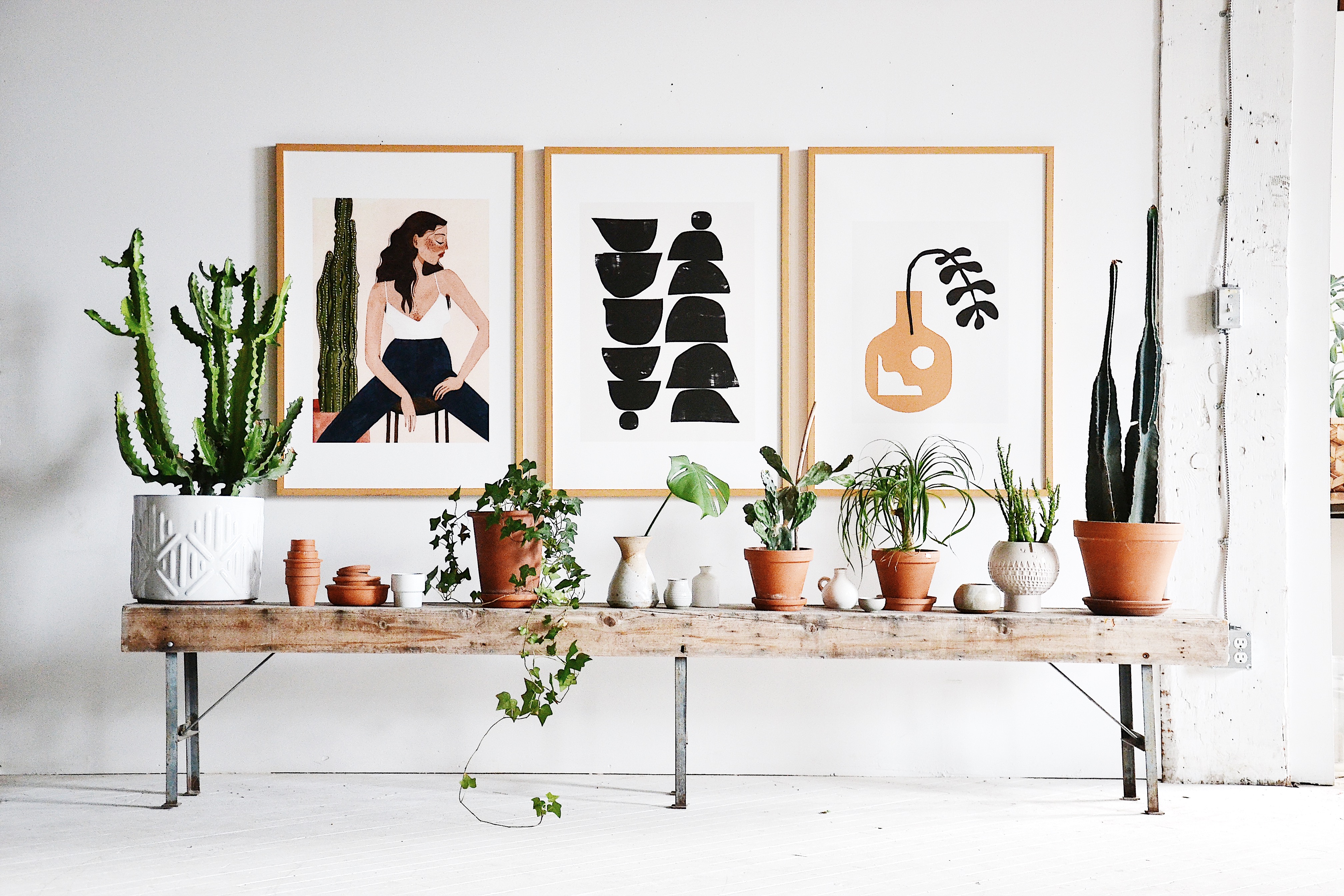 Large wall art is where we begin to see the power of a piece in wide open wall spaces. Although not all large wall art is suitable for commanding an entire blank wall, their dimensional range saves you a bit of time from nailing up a million small and medium art prints:
Width: 20–22"
Height: 28–36"
Oversized Wall Art Size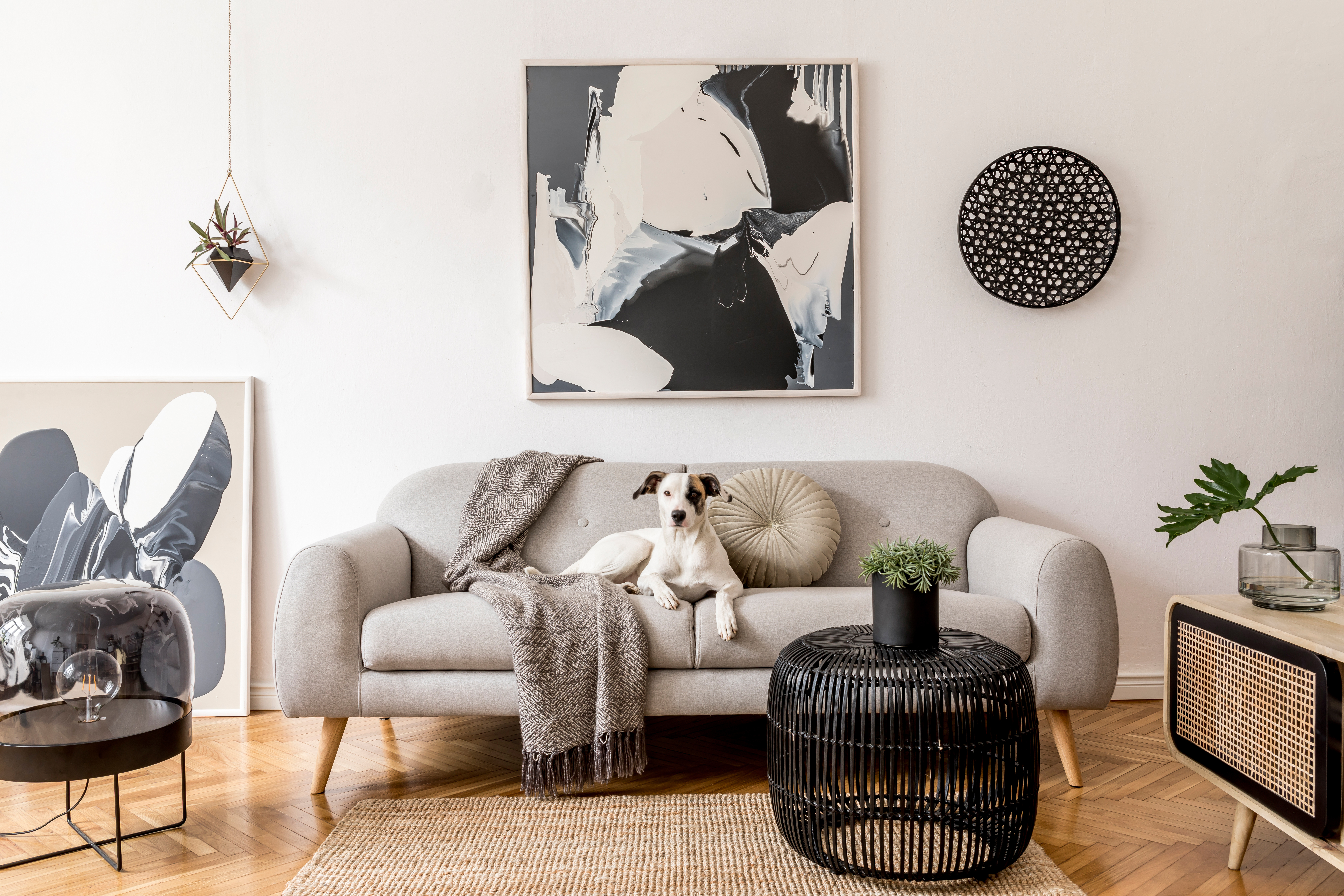 Oversized or extra-large wall art is the grandest of all. Perfect when trying to fill or decorate a large wall space with a single piece, they call attention with a dimensional range of:
Width: 24" and up
Height: 36" and up
How to Choose the Right Size for Wall Art
The main goal when it comes to selecting the proper art size for your space is achieving balance—not too empty, and not too cluttered. Usually, your eye won't fail you when it comes to intuitively discerning what looks good and what doesn't, so trust what feels just right.
Need to fill in a tiny, vertical patch of wall in between a window and a bookshelf? Hang up a stack of cheeky mini prints.
Got a huge wall area to fill above your sectional? Opt for an oversized attention-grabbing abstraction.
A blank wall is a black canvas you can decorate in many ways, whether that be using multiple pieces of different sizes to create a gallery wall or choosing one art piece to fill up the space.
When to Choose Small Wall Art
Small pieces work best in, you guessed it, smaller spaces—think bathrooms, bedrooms, or offices. While there are no hard and fast rules here, hanging up a mini 8" x 10" print in the middle of that space above your sectional couch won't quite have the impact you hope for.
Small art prints are perfect in pairs and clusters, playing off of one another to make a contemporary collage or sunny series. Some of our favorite ways to curate small art prints are as follows:
Including multiple pieces  in a patchwork gallery wall
Curating a horizontal series of small prints
Decorating bookshelves and pint-sized desks
Tacking onto cork boards
When to Choose Medium Wall Art
Not too big, not too small, medium wall art pieces are the chameleons of the art print world. They start to become big enough to function as stand-alone pieces, but it all depends on the wall space you're working with.
We recommend including them in your:
Floor-to-ceiling art installation
Bookshelf galleries
Hallways and entryways
Smaller offices
When to Choose Large & Oversized Wall Art
If you're searching for wall decor ideas to fill up a large space, large and oversized wall art makes a statement—and we're here for it. They're pros at setting the tone of any interior and tying together the color scheme in a space, all with one hook.
Our favorite ways to implement larger pieces into home decor and design are:
Single oversized art piece above a sofa, bed, or fireplace
Grid art gallery walls with only large pieces
Alongside smaller prints to create an interesting contrast
So, how big is too big? The limit is up to you—but House Digest recommends that any large artwork you hang above furniture be half to two-thirds of the furniture's width. This is to ensure that the size of the art is just right for the living space and doesn't overpower your sofa or bed.
Shop All Things Art with Society6
Now that you're a pro at sizing up artwork, it's time for the fun part—art shopping! Whether you've been dreaming of that statement painting for years, drawing inspiration from gallery wall ideas, or are interested in trying your hand at decorating a bookshelf, you're sure to find a few pieces you'd like to add to your collection.
That's where we come in. Meet your all-in-one art community at Society6. From tasteful wall tapestries to pronounced posters, we've got everything your bare walls are pining for—and then some. As a bonus, you're supporting independent artists with every print you welcome home.
Shop our wall art collection today to amp up your art game one piece at a time.
Sources:
House Digest. Tips To Choose The Right Artwork Size For Your Space. https://www.msn.com/en-us/lifestyle/home-and-garden/tips-to-choose-the-right-artwork-size-for-your-space/ar-AA15v9Js
Homes & Gardens. Wall decor ideas – 18 wonderful ways to transform a blank wall. https://www.homesandgardens.com/ideas/wall-decor-ideas