Masks that make a statement.
Face masks have quickly become a must-have staple in everyone's lives. However, with our brand-new release of Society6 face masks, your fans and followers can take the chance to say a little something about themselves through the designs and styles you create.
In this article, we'll cover all the technical details required to start selling face masks in your artist shop.
Activating Face Masks
To give your customers the best possible offering of face masks, we do not automatically activate this product on your behalf, but in the new Artist Studio it's easier than ever to activate new products. If you need additional control over designing your face masks, you can download the template below.
Creative Asset Details: 
Pixel Dimensions: 1245 px (w) x 1170 px (h)
PPI: 150 (minimum)
Template: Photoshop (psd)
Orientation: Landscape
Supported File Types: JPG or PNG
Brief Product Overview: 
Product Name: Face Masks
Product Category: Apparel & Bags
Material: Printed 100% polyester sheeting with microfiber backing
Construction: Dual layer construction to fit a filter or be worn by itself
Product Size: 7" x 3.5″
Activating face masks using an existing artwork is easier than ever in the new Artist Studio using the "My Products" page. To start, hover over your avatar (top right of site) and click on "Manage My Posts." Navigate to "My Products" and locate face masks under "Apparel & Bags." You will now see all of the creatives that are published and ready to be enabled on face masks under "Disabled." Any creatives that are missing assets that meet the face mask size requirements will appear under "Incomplete." You can quickly upload a new asset by hovering over the design and clicking "Upload."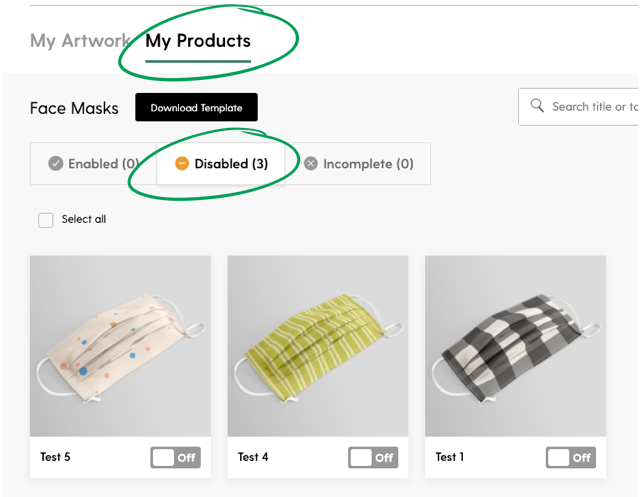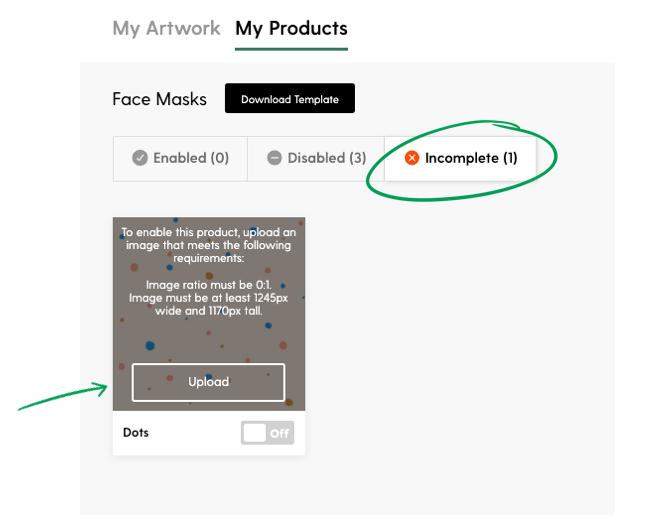 If the previews look good, you can "Select All" and then click "Enable" to activate all of the designs that meet the asset requirements at once. For the best quality products, be sure to carefully review the positioning of the creative on face masks prior to activating.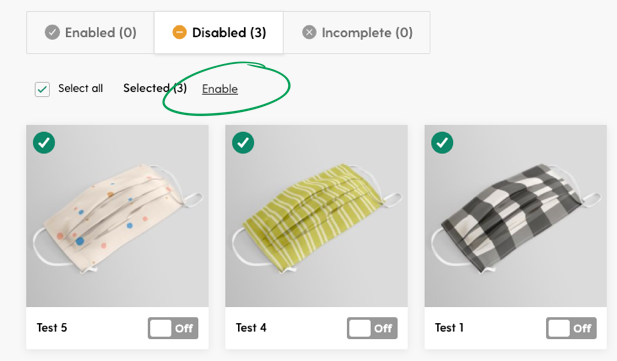 Special Considerations for Editing Face Masks
Face masks are pleated and have a small "safe area" in the center of the mask. Due to the pleating, repeating designs, patterns and abstract designs are recommended. It's best to avoid typography altogether. While editing, select "Generate Previews" to double check your work and view how the pleating will affect the final product.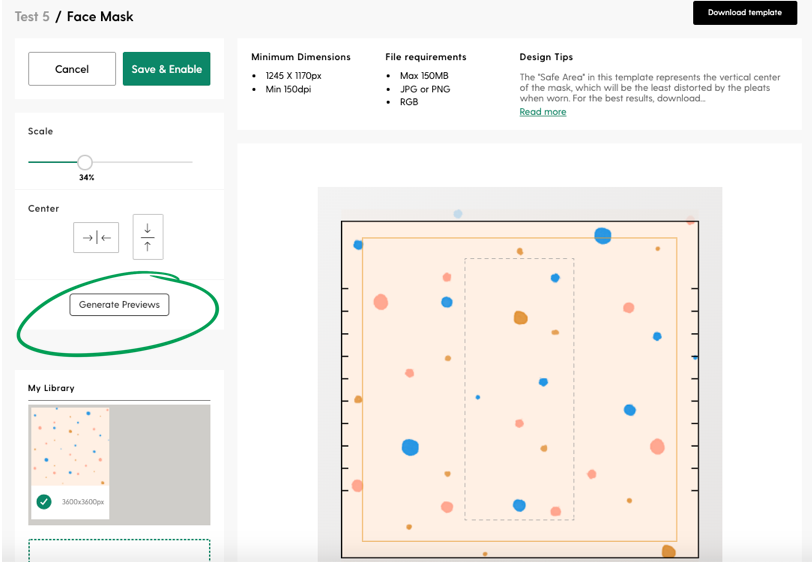 Using the Face Mask Template
Download the template to give you greater control over the look of the final product.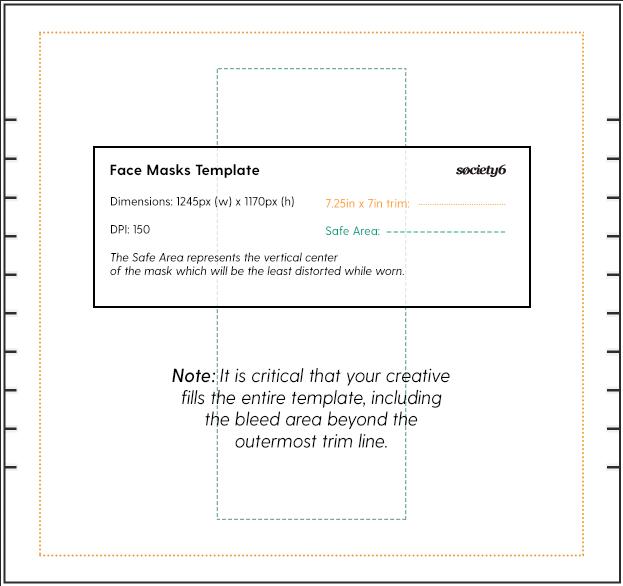 Creative must fill the entire bleed area. This ensures your customer receives the product they expect. Any bleed area left empty will result in white being printed on the final face mask.
Keep critical creative elements within the "safe area". This is particularly important given the nature of the product and the pleated construction. For face masks, the "safe area" indicates the area that will remain the least distorted while worn.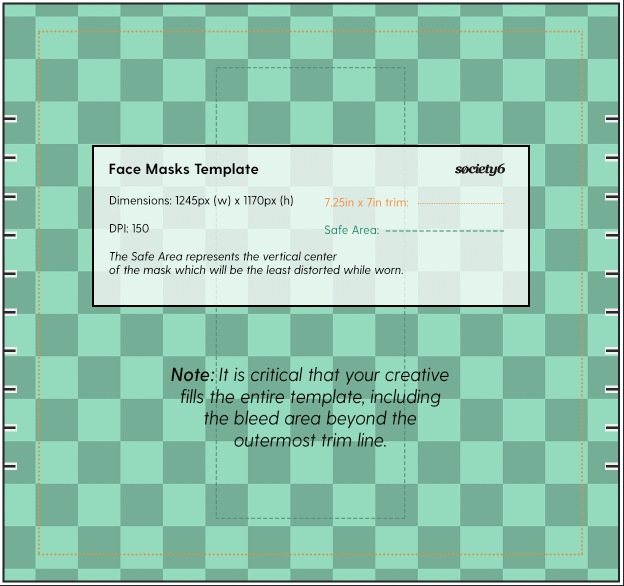 In Photoshop, hide the "Key" and "Guides" layers before exporting. Once you have positioned the creative to fill the entire template including the bleed area, click on the eye icon next to the "Key" and "Guides" layers to hide them. Both layers have a red box next to them and indicate "Delete Before Export."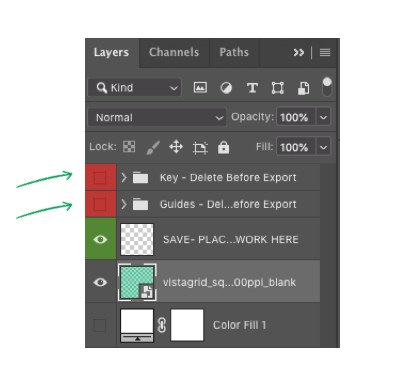 Official Face Mask Description
Our cloth face masks are machine-washable and feature elastic ear loops for a snug fit. The poly front features your favorite artist's designs with a microfiber backing for comfort. They also include a middle pocket to insert your own mask filters and their pleated construction ensures a snug fit. With so many different artists and designs to choose from, we're sure you'll find just the face mask that suits your personal style.
Printed 100% polyester sheeting with microfiber backing
Pleated construction
Flat woven ear loop elastic for comfort
Design has a dual layer construction to fit a filter or be worn by itself
Not meant to be a medical device
A portion of proceeds from the sale of these masks will be donated to help the recovery effort from the COVID-19 Pandemic.
Face Mask Content Guidelines
Society6 face masks are not medical grade and artists are not permitted to make claims that suggest this product is intended for any of the following purposes: 
For use as a surgical mask, filtering respirator or to provide liquid barrier protection

For use in a clinical setting where the infection risk level through inhalation exposure is high

To provide protection against or prevent the transmission of viruses or diseases
Artists must also use discretion in the designs that choose to make available on face masks. The following content is not permitted on face masks and may result in the removal of the design from the Society6 services:  
Content that misrepresents the purpose or protective nature of the masks

Content that is culturally insensitive, offensive, discriminatory, inappropriate, unnecessarily graphic, or that may cause harm to the victims of a pandemic

Content that is deceptive or that spreads misinformation

Any other content that is not permitted per our

Terms of Service

and

Community Guidelines
Please be aware that any designs found to be in violation of these guidelines will result in the design being removed on all products. If you believe that the design in question is only in violation of these guidelines for masks, you may contact us to reactivate your design once it has been disabled on face masks.  
For more information, product details, and disclaimers, please visit our Face Mask FAQ.