Good things come in small packages.
Sometimes making a statement requires a closer look. Whether someone is trying to improve their office decor or fill an awkward entryway, our mini art prints are likely a great extension to any artist's wall art offering. And they're really easy to enable. We'll use your previously uploaded creative so all you need to do is review the position of your artwork and enable each design within your Artist Studio.
With the framed option offering a depth of 1.25″ (3.2 cm), your mini art prints can be hung on a wall, on a cork board with a tack or just stand alone on desk or tabletop. For those looking for an even lower key look, customers can purchase your mini art print with a natural, unfinished wood stand option. Whichever way your customer goes, you can bet they care about the details as much as you do.
In this article we'll cover all the technical details required to enable and sell mini art prints (framed and unframed) in your artist shop.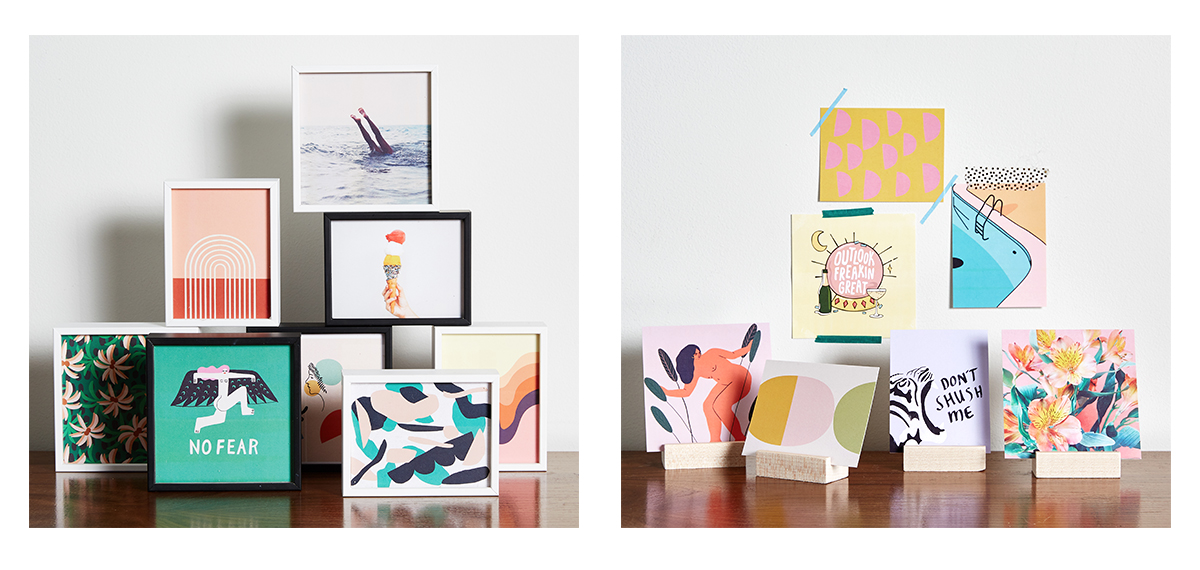 How do you enable and sell mini art prints?
To give your customers the best possible offering of mini art prints, we do not automatically enable this product on your behalf. For additional control over your mini art prints, please download the appropriate template(s) below.
Review, scale or position artwork prior to enabling. Depending on the pixel dimensions of your originally uploaded creative, you'll be presented with a square, landscape or portrait product editor. More details below.
Creative asset details:
Pixel dimensions (square): 1238px (w) x 1238px (h)
Pixel dimensions (portrait/landscape): 1238px (w) x 938px (h)
Orientations: Square (1:1), Landscape (4:3)
DPI: 300
Template: Square (psd), Landscape/Portrait (psd)
Not automatically enabled in your shop
Quick look at the product(s):
1. Framed Mini Art Prints
Product Category: Wall Art
Product size (square): 4.3in x 4.3in (10,9cm x 10,9cm)
Product size (landscape or portrait): 4.3in x 3.3in (10,9cm x 8,4cm)
Frame details: Depth of 1.25in (3,2cm), pre-drilled hole for tack or nail hanging, lightweight, shatterproof acrylic cover, dust cover on back
Frame color options: White, black, light wood, dark wood
Shipping: Small box
2. Mini Art Prints (unframed with optional wood stand)
Product Category: Wall Art
Product size (square): 4in x 4in (10,9 cm x 10,9 cm)
Product size (landscape): 4in x 3in (10,9 cm x 7,6 cm)
Woodblock details: 3in x 1.25in (10,9 cm x 3,2 cm), natural & unfinished woodblock w/ shallow slot to reveal as much art as possible
Shipping: Small flat envelope (no wood stand), small box (with wood stand)
To edit this product, hover over your avatar (top right of site) and click on Manage My Posts. Find the creative you wish to apply to mini art prints and click the vertical ellipsis, then click Edit products. Filter by category Wall Art to show your mini art print for the creative you're interested in editing.

Important considerations for editing mini art prints
This can be a full-bleed art print! This means your artwork can fill the entire surface area (similar to posters). Within your product editor, you can take your print from edge to edge. Please make sure to fill the entire bleed area if doing using the template.
Create your own white matte by scaling down and leaving white space around your creative. Any white space you leave around your design will be unprinted (white). This allows you to take control of your preferred matte size.
Your default creative impacts the product editing experience. The orientation of your canvas within the product editor is determined by the pixel dimensions of your originally uploaded creative (aka your "default creative"). For any single creative, you can offer customers a square (1:1), landscape (4:3) or portrait (3:4) mini art print, but not multiple orientations.
To change the orientation of your product editor canvas, simply upload a new creative asset and our system will detect your preference. It will then adjust the canvas within your product editor accordingly.
Set your design, then scale your design up by one percentage point. If you are not using the template and intend to sell a full-bleed print, you can avoid unintentional white space on your print by scaling up your design by one percentage point. Basically, you want to be certain that your design fills the entire canvas area within the product editor.
Using the mini art prints template
If you're interested in selling a portrait-sized print, rotate the landscape template. The dimensions between portrait and landscape are identical when rotated 90 degrees. It works both ways and the bleed, trim line and safe areas apply just the same.
Make sure to fill the bleed area. If you intend to sell an edge-to-edge print, make sure you're not leaving a single pixel of empty space before uploading.
Download the mini art print template(s). It gives you greater control over mini art prints to create the best possible final product.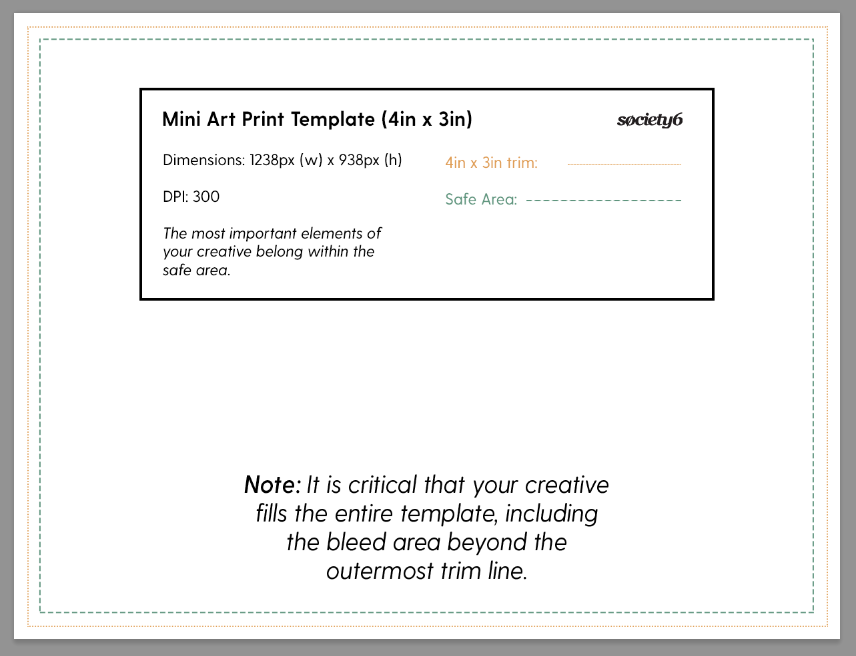 Product details for mini art prints
Mini Art Prints and Framed Mini Art Prints can be found under Wall Art. Customers can hover over Wall Art in the main navigation menu to find Mini Art Prints. They can be found under Wall Art in your artist shop as well.
Official Mini Art Prints Description:
Sometimes the best art comes in mini packages. These mini art prints make a cute and space-conscious option to sprinkle in decor to any tight space. Put them on a desk to help refine your office style or use them to fill in gaps on a gallery wall for a look that's uniquely you. They're available with an optional poplar wood stand for a warm and sleek display option.
120lb high quality paper
Optional poplar wood stand
Wood stand dimension 2.5″ x 1.25″ x .75″
PRO TIP: Mini art prints are a great way to test out new decor styles as you can outfit your desk with different looks before graduating to the bigger prints to hang in your home.
Official Framed Mini Art Prints Description:
Who doesn't love a fun-sized anything? Framed mini art prints are the refined yet space-conscious way to add art into your everyday. Available in four different frame colors (White, Black, Light Wood and Dark Wood) so you can adapt them to whatever decor style you need. They're ideal for your desk, dresser or to fill in awkward spaces on a gallery wall.
120lb high quality paper
Premium shatterproof acrylic cover
Dust cover on the back
Hole on back of frame for hanging (does not include hanging hardware)
PRO TIP: Framed mini art prints make great gifts as they don't require a ton of space or a blank wall to hang them—plus, they can act as subtle reminder of what a great friend you are!