Introducing: Wine Chillers!
Our all-new wine chillers are the latest addition to our outdoor and lifestyle category. Featuring 360 degree wraparound design, these chillers offer a unique opportunity for your customers to show off your artwork at all their summertime gatherings.
In this article, we'll cover all the technical details required to start selling wine chillers in your artist shop.
Activating Wine Chillers
We do not automatically activate this product on your behalf, but in Artist Studio it's easier than ever to activate new products. 
Reminder: We launch new products to artists before making them available to customers in order to allow for merchandising and time for artists to update their shops. At first, wine chillers will not be included in the "Outdoor & Lifestyle" dropdown in the main navigation on our site. Once it launches to customers, you'll be able to find it there.
Creative Asset Details:
Pixel Dimensions: 4476px x 2197px
DPI:

300dpi

Supported File Types:

JPG or PNG
Brief Product Overview: 
Product Name: Wine Chiller
Product Category: Outdoor & Lifestyle
Material: Stainless Steel
Activating wine chillers using an existing artwork is easier than ever in Artist Studio using the "My Products" page. To start, hover over your avatar (top right of site) and click on "Manage My Posts." Navigate to "My Products" and locate wine chillers under "Outdoor & Lifestyle." You will now see all of the creatives that are published and ready to be enabled on wine chillers under "Disabled." Any creatives that are missing assets that meet the wine chiller requirements will appear under "Incomplete." You can quickly upload a new asset by hovering over the design and clicking "Upload."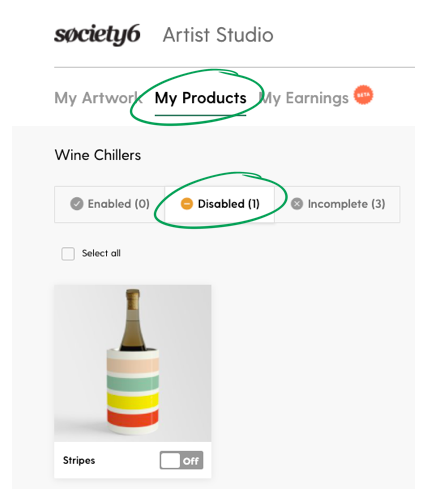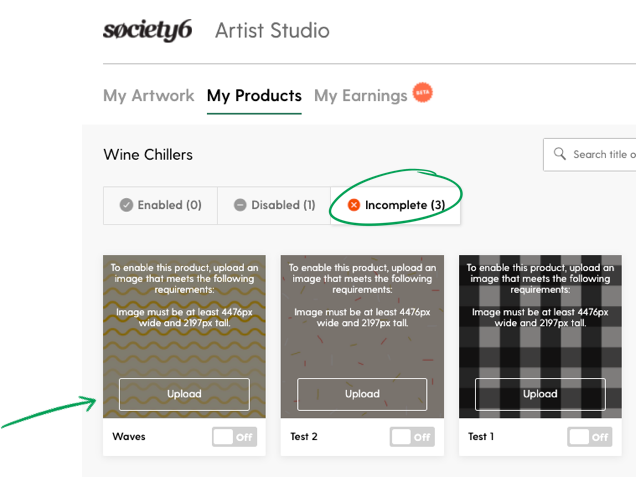 If the previews look good, you can "Select All" and then click "Enable" to activate all of the designs that meet the asset requirements at once. For the best quality products, be sure to carefully review the positioning of the creative on wine chillers prior to activating.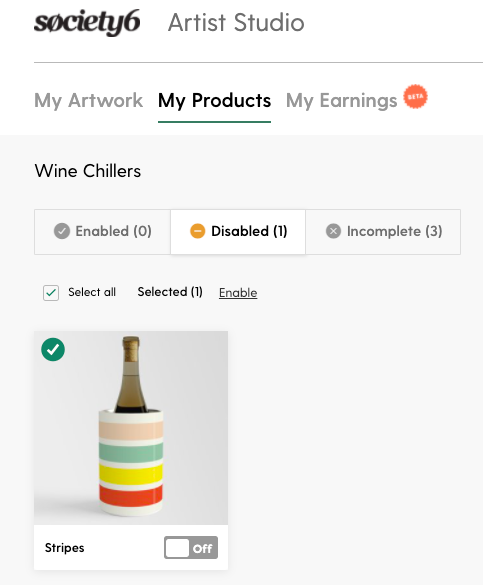 Special Considerations for Editing Wine Chillers
When enabling wine chillers, keep in mind that the creative will wrap around the product so that the left and right edges meet. The safe zone at the center of the wine chillers as indicated on the template is the area that will not be obstructed. While editing, select "Generate Previews" to double check your work and view the placement of the final product.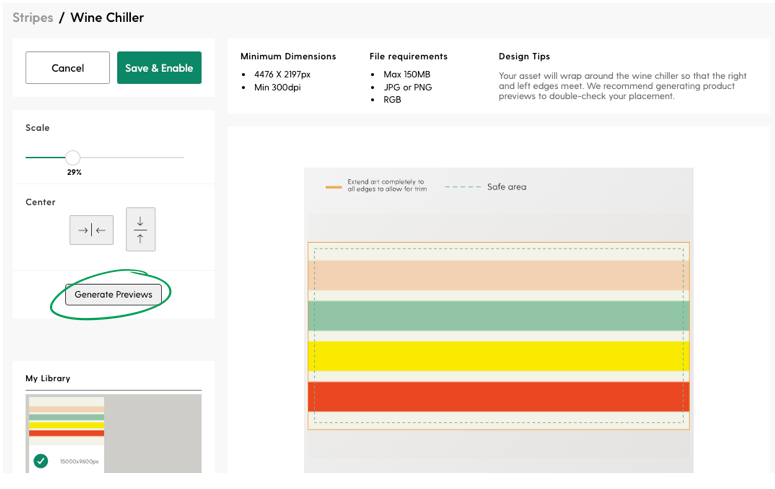 Official Wine Chiller Description
Keep the party going. Our wine chillers keep your wine bottle cool for hours—simply slide the bottle into the canister and enjoy at your leisure. Made from dishwasher safe stainless steel, they feature your artist's favorite design wrapped around the outside to match whatever your party's vibe may be.
Fits most standard wine bottles
Keeps bottle cool for up to 2 hours
Dishwasher safe
Crafted from stainless steel
360 degree wraparound artwork
Measures 7.48″ H (19cm) x 4.72″ W (11.99cm) x 7.2″ D (18.29cm)