Stories make the world go round. They capture our minds, pull at our hearts and inspire change, growth and development.
As artists, we all wish for our narratives to engage and connect with our audience, and this is why storytelling lies at the very core of the Society6 community. Whether you're an illustrator, a graphic designer, a fine artist, or whatever, the telling of tales, the suggesting of narratives, and the unravelling of stories, are the fundamentals that unite us and help start fresh and exciting new conversations.
 With this in mind, I spoke to three of the artists featured in the summer Art Quarterly: Firstly, to get their thoughts on how they see themselves as Storytellers, and secondly, to learn more about how they apply their work to the S6 product ranges in order to most effectively get their stories out into the world.
"I didn't realize I was a storyteller until I started to understand that storytelling doesn't mean having a succinct beginning, middle, conflict, and end. Storytelling is about giving people a world to step into, if only for a moment. The world I tend to create is nostalgic, warm, beautiful, bold, not too serious, and full of humility. The best part of telling your story through your art is you decide what's included, emphasized, forgotten, disregarded.
The second-best part is how little control you have over how it will be interpreted, and in turn hearing the stories, memories, and culture that are reflected back by the viewer. Our stories are as complex as we are as humans, and I like that they give us a starting place, and a lot of room to move around within them.
As of now, I've mostly applied my artwork to prints, partly because of available time, but also because the work on there was created purely to be things of beauty I would want in my own home, on my walls. Although S6 makes it so easy to apply artwork to multiple products at once, part of my story is being thoughtful about how a piece can best be utilized in the world.
Sure, some of my current artwork COULD be applied to other products, but I haven't been able to give the process due attention, and so I'd rather offer what I have now as it was intended, which is to fill the walls of homes whose owners love flowers, weird bold colors, and a bit of drama and fun. There are two stories here, the one of the artist who loves art to be functional and thoughtful, and the one of the art itself, which is bold, fun, and a sometimes retro."
"I don't consciously create paintings to tell a story, but rather try to connect to the story of others. Each pop culture pun, and dead-pan dessert attempts to humorously connect with that universal experience of adolescence. I would like my work to be an inside joke, and everyone's in on it.
When thinking about merchandising on Society6, I try to choose products that would most relate in shape and purpose to each character, instead of placing them on everything. Some images work best on a mug, but would be awkward on a shower curtain and vice versa.  I love that Society6 has such a wide variety of products, and that most are items for daily use. It gives me the opportunity to connect with people each day whether it's through morning coffee in a wiener dog mug or a grocery run with an ice cream tote."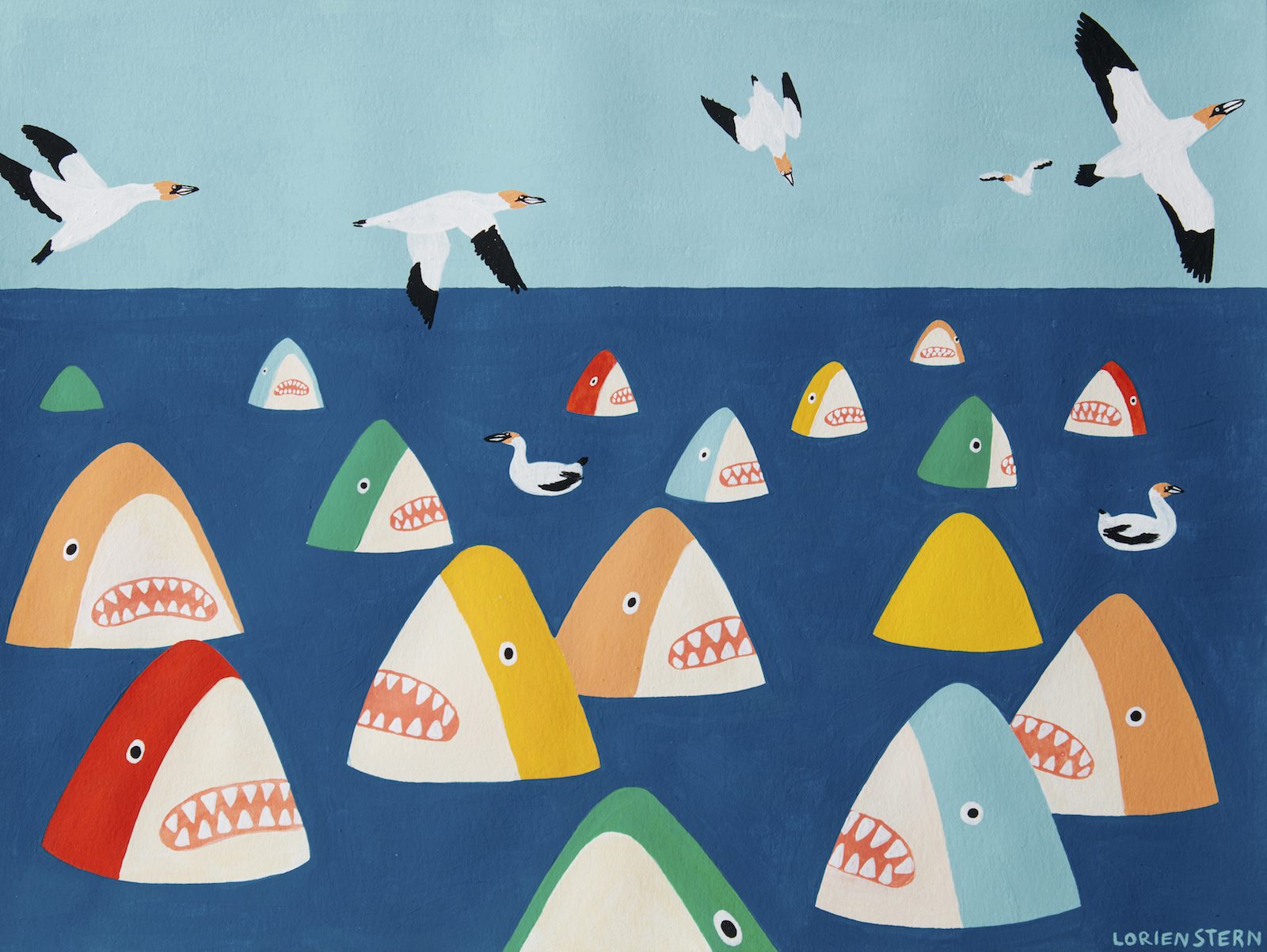 "In many works I collage my cast of characters in different scenarios while thinking about complementary shapes and colors. The relationship between the characters are open to interpretation and have endless potential narratives. I love to give the viewer a chance to be a storyteller when they see my work.
I also love the idea of my art being on affordable, quality, everyday functional objects.
I particularly like this scenario: waking up and stepping into the bathroom to get ready for the day and being greeted by the 'Shark Park' shower curtain, which is a fun and colorful painting based on the incredible Sardine Run that happens annually off the coast of South Africa. After a refreshing shower, an arm's length away is the 'Everyone is Invited' towel, a super soft towel that features a large cast of Lorien Stern characters.  The shower curtain parts to the 'Green Grass' bath mat, signaling a smooth transition and the beginnings of a great day. A glance up at the 'Swimmers' clock; still got time for a quick breakfast and a refill of coffee in the 'Mysterious Creatures' mug. On the way out the door, double check your bag for your smartphone in the playful 'All Together' case and the 'I Got an Idea' notebook for capturing creative musings throughout the day. I love that Society6 makes it easy to find goods that make the everyday routine unique and personalized."
Artist's stories stem from many places, sometimes the origins are deeply personal, other times they may be a reaction to world events or simply a humorous observation. However, no matter what the inspiration, when uploaded and shared on products as part of the Society6 community, these stories not only add to the rich narrative tapestry of the community itself, but also go on to impact, inspire and connect with others when they make their way into the big wide world. So, stay awesome and keep telling your own unique stories!
By Tim Maclean