Believe it or not, the size of your throw pillows can have a major impact on the overall look and feel of your space. Whether you're looking to add a pop of color to your couch or create a cozy oasis on your bed, choosing the right size throw pillow is key. Don't know where to start? No worries – we've got you covered with this comprehensive guide to throw pillow sizes!
Discover the average size for throw pillows, common throw pillow sizes for different shapes, and how to choose the right throw pillow size for a perfect fit.
What is the Average Throw Pillow Size?
The standard throw pillow size is typically a square measuring 18 x 18 inches. But, that's not your only option! Throw pillows come in a variety of shapes and sizes to fit any style or need. From lumbar pillows to oversized Euro square pillows, you have plenty of different sizes to choose from!
Common Throw Pillow Sizes
Throw pillow sizes come in small to large and square to rectangular, making it difficult to know which one's best for you. Check out this throw pillow sizes chart for guidance.
| | |
| --- | --- |
| Square Pillow Sizes | Lumbar Rectangular Throw Pillow Sizes |
| 16 x 16 inches | 12 x 18 inches |
| 18 x 18 inches | 12 x 24 inches |
| 20 x 20 inches | 14 x 20 inches |
| 24 x 24 inches | |
Below, we break down these most common throw pillow sizes by shape and what they're best suited for:
Square Pillow Sizes
16×16 inches – This size is perfect for smaller sofas or accent chairs and can work well in multiples. They can also be used as an accent pillow on a larger bed.
18×18 inches – This standard size is the most popular and versatile for throw pillows. They work great on their own or you can pair them with smaller pillows or larger ones, depending on the space you're decorating.
20×20 inches – This larger throw pillow size is perfect for larger sofas or beds and serve as a great anchor if you plan on adding in some smaller throw pillows as well.
24×24 inches – An oversized pillow in these dimensions is typically used on sectionals or a larger king size bed to suit the larger scale furniture.
Lumbar Throw Pillow Sizes
12×18 inches – This smaller pillow size is perfect for adding visual interest to a sofa or bed. You can also layer them with larger square pillows to add depth.
12×24 inches – This size works well in multiples and can be used to create a cozy and inviting atmosphere on a sofa or bed.
14×20 inches – This size is great for accenting chairs and smaller sofas. They can also be used as a lumbar pillow for added support.
How to Choose the Right Throw Pillow Size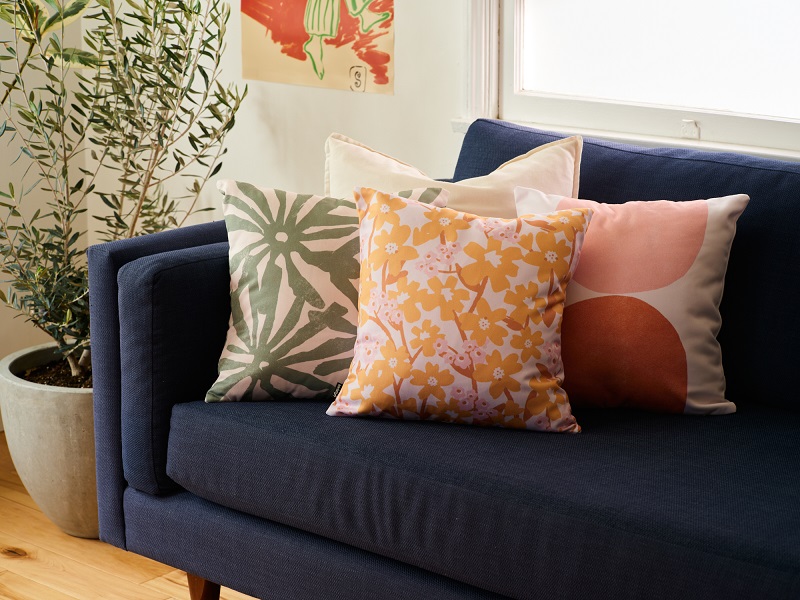 Throw pillows can turn any space into a cozy and stylish spot, but picking the wrong size can throw off the whole vibe. Fear not, here are some tips to help you choose the right size for your home decor and make your space feel like a snuggly sanctuary:
Consider Your Furniture Size
Your furniture is the foundation of your decor, so you'll want to make sure your throw pillow size compliments the size of your furniture. If you have a larger couch or sectional, go big with your pillows to balance out the scale. On the other hand, keep it cozy with smaller pillows if you're styling a small armchair.
Factor in Your Personal Style
Your personal style is what makes your space unique, so it's essential to let it shine through your decorative throw pillow choices. If you prefer a minimalist look, opt for smaller pillows. If you want to make a statement, go bold with larger pillows.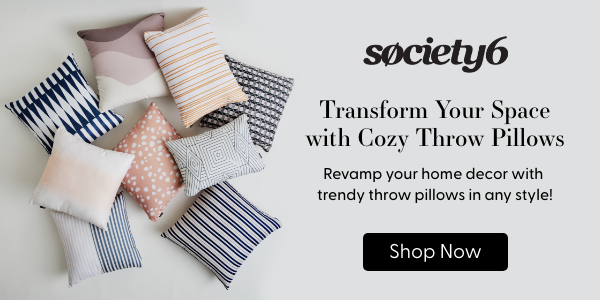 Mix and Match Pillow Sizes
You don't have to stick to one size only. Mixing and matching different sized pillows can add visual interest and balance to any space. Try different combinations and see what feels right for your space! Need some inspo for styling throw pillows in your living room? Check out our couch throw pillow ideas!
Consider the Room's Purpose
Every room has a purpose, and your throw pillows should reflect that. If it's a formal living room, go for structured and uniform sizes. But if it's a cozy family room, mix it up with different sizes and styles to encourage lounging and relaxation.
Keep these tips in your back pocket and you'll be well on your way to creating the coziest home around. Say goodbye to mismatched pillows and hello to ultimate comfort and style with the perfect throw pillow size!
Find The Perfect Pillow Fit at Society6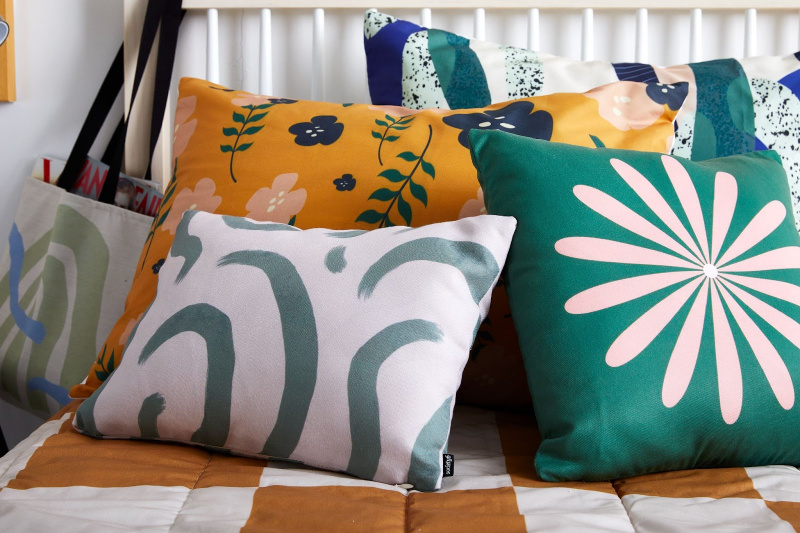 After taking a look at our throw pillow size guide, you're likely feeling much more confident about picking out the perfect pillow for your digs! From the ever-popular 18×18 inch size to the larger-than-life 24×24 inch option, Society6 has all of the square and rectangle throw pillow sizes you need.
With Society6, you also have a world of designs and styles at your fingertips, so you're sure to find something that fits your home's aesthetic. Each throw pillow comes with a removable cover for the pillow insert which makes washing throw pillows easier than ever!
Whether you need a bed pillow or decorative pillow for the couch, we have you covered. What are you waiting for? Start shopping now to find the perfect decorative pillows to finish off any room in your house!