Illustrator Tuesday Bassen has been a Society6 member and artist for years, so when we caught wind of the news today about what happened with major retailer, Zara, we wanted to ask her about it. For those who don't know, Tuesday shared her story on Instagram and it quickly took off, getting picked up by Buzzfeed, Refinery29, Huffington Post, Jezebel and more, essentially breaking the internet. Here's an excerpt of what she wrote:
"Over the past year, @zara has been copying my artwork (thanks to all that have tipped me off – it's been a lot of you). I had my lawyer contact Zara and they literally said I have no base because I'm an indie artist and they're a major corporation and that not enough people even know about me for it to matter."
You can check out the full post here.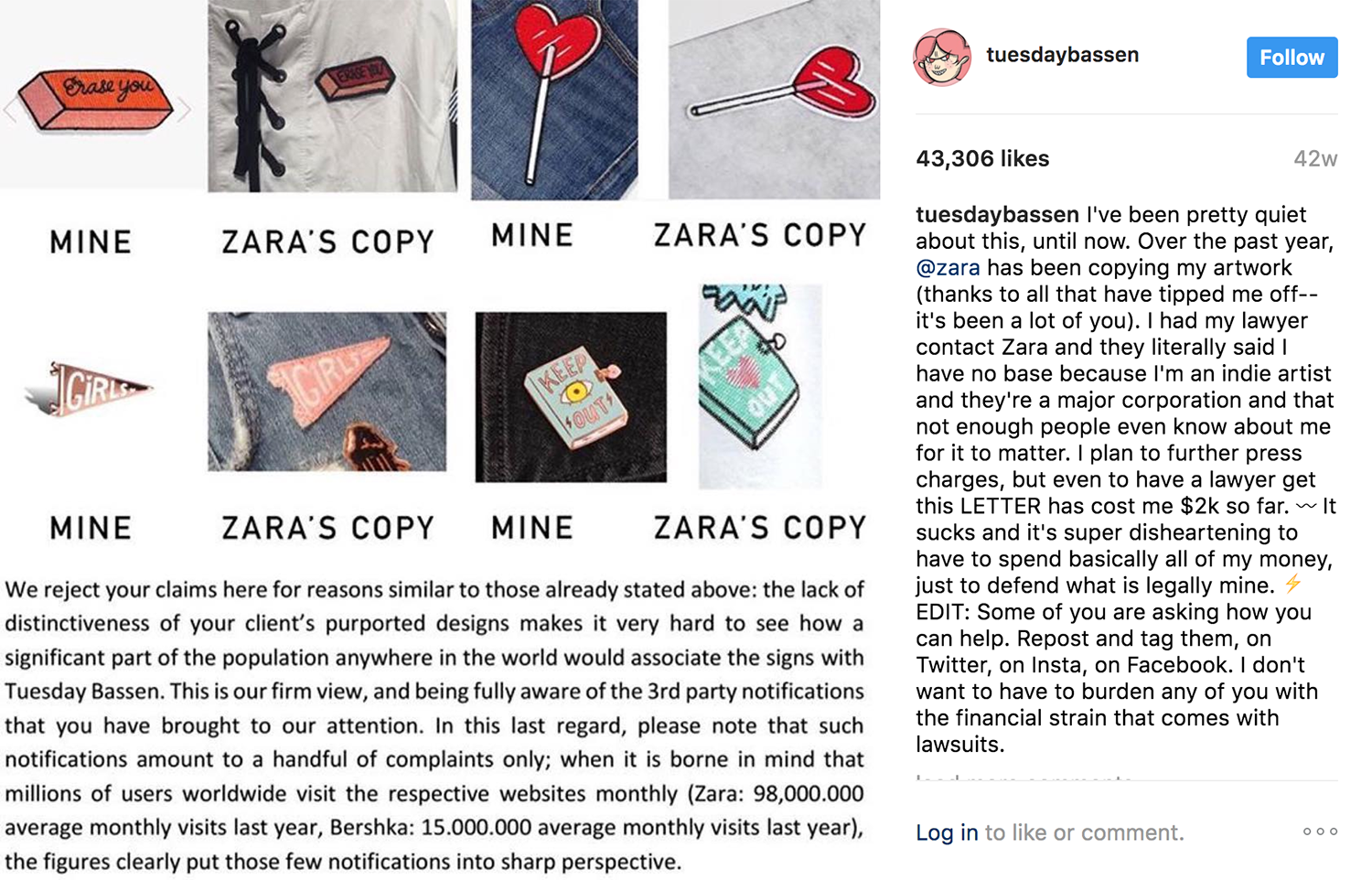 This issue seems to have hit a nerve with the creative community, as so many artists have come out to support Tuesday. I asked her a few questions about how it affected her:
NA: When did you first find out about it? 
TB: I first noticed the copies from Zara in early 2016, when hundreds of fans reached out to me privately to ask if I was working with them or if they were plagiarizing my work. Since then, Zara has copied 4 of my designs and their lawyers claim that my work is both "too simple" to defend and that I have no base because I am a small artist with 90k followers on Instagram, but they are a major corporation with 90 million customers and only "a handful of people" would notice that the designs are mine. I plan to pursue this further, even though they are trying to belittle and bully me.
NA: As an independent artist, can you protect your work from being copied? 
TB: First of all, protecting your IP can be costly and having a lawyer on retainer is prohibitive for most artists. Though some of my art is protected, it's done little to help me.
NA: How has this affected you as an artist? 
TB: It has an awful impact on the livelihood of an artist – this is how I support myself, and they are diluting my brand by literally stealing from me. I hope that one outcome is that I can raise awareness for how often this happens and how few artists can actually afford to pursue it. I would also like to be compensated for my work.
Looks like the groundswell of support for Tuesday has really made an impact. In an updated Refinery29 article, the retailer responded with a statement saying "it suspended sales of the items in question after Bassen's legal representation contacted the company." You can read the full article here.
We'll keep ya posted as this progresses, but in the meantime, check out Tuesday's badass work here. And feel free to share your thoughts and comments with us below!
Cardigan Hustle Canvas Print
11
Smelly Boyfriend Art Print
10
Hit Like A Girl! Art Print
74
Hail Satin Phone Skin
120
Be Mean Stationery Card
89