Whether you're looking to up your hosting game or just want a new little decorative something, a serving tray is an easy way to boost your parties and home in general.
Beyond featuring trendy designs to swoon for, each tray is made with a 100% sustainable, eco-friendly bamboo wood frame—so, basically, you're saving the planet by getting one. But with literally thousands of designs to choose from, it can be hard to know which tray to pick.
To save you some time, we've rounded up these 10 serving trays we absolutely love! Happy scrolling!
1. Botanical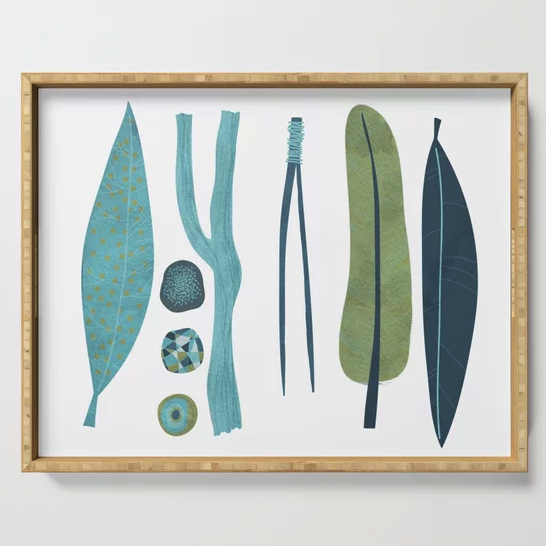 Moving beyond strictly the floral prints that covered Instagram this past year, let yourself lean into all kinds of botanical vibes. This tray is a simple, subtle and refreshing way to incorporate the trend anywhere.
2. Mid-Century Modern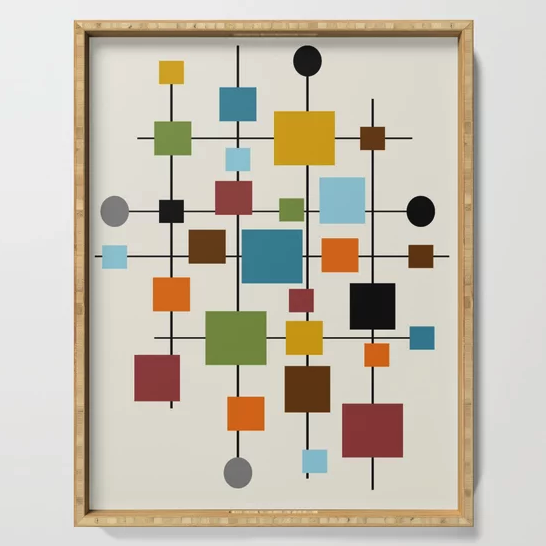 The allure of the mid-century modern style isn't going anywhere. And thanks to all of the colors featured in this tray's design, it's guaranteed to look right at home in any space.
3. Black & White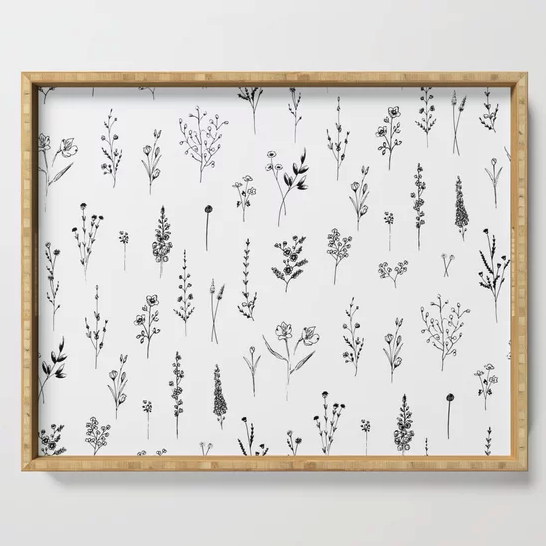 Has there ever been a more iconic combo than black and white? (Hint: the answer is no!) Get your fix with this beautiful tray covered in thistle and wildflowers.
4. Art Deco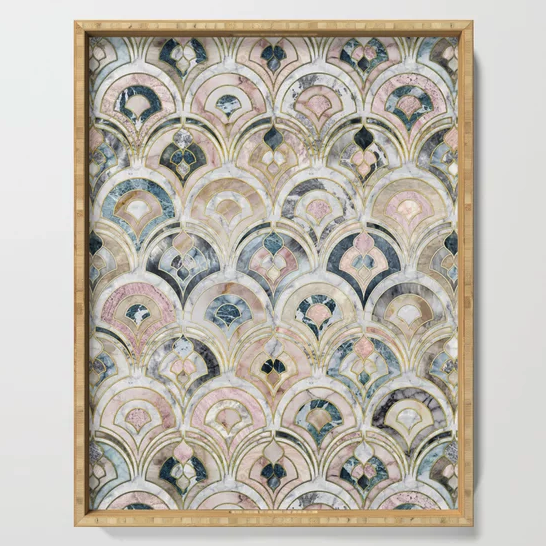 This pastel-toned tray is not only on-trend and giving off gorgeous Great Gatsby-esque feels, but it has so much glossy visual texture, your friends will swear it's made from vintage tiles!
5. Minimal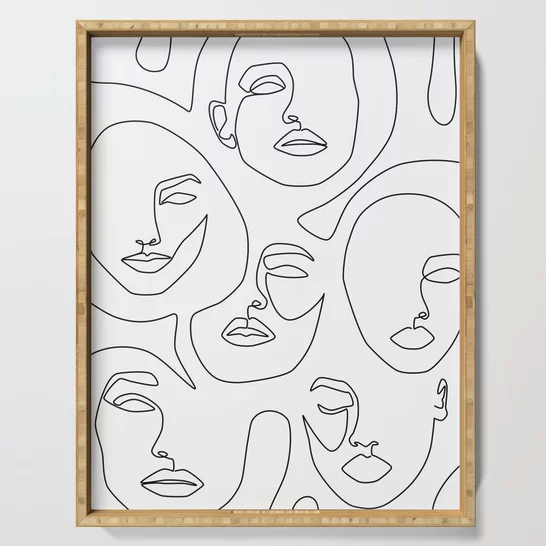 Leaning into minimal designs is an especially great idea if you're gifting a serving tray, as the simplicity can easily complement a wide array of interiors.
6. Boho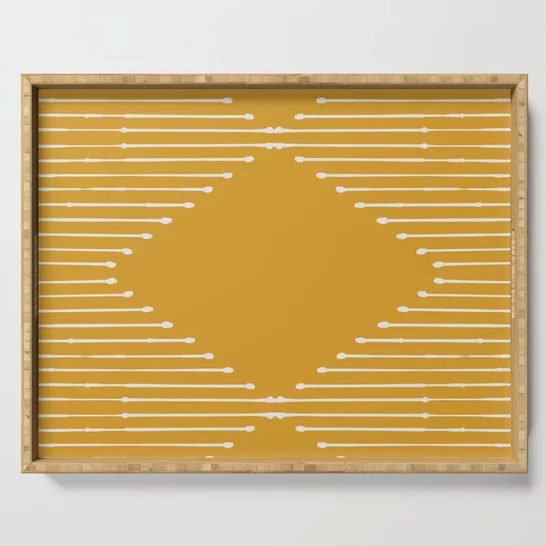 Rest easy, the beloved boho trend is always in style! This particular tray sneaks a pop of sunshine into any living space without overpowering it, and the pattern adds a definitively boho touch.
7. Preppy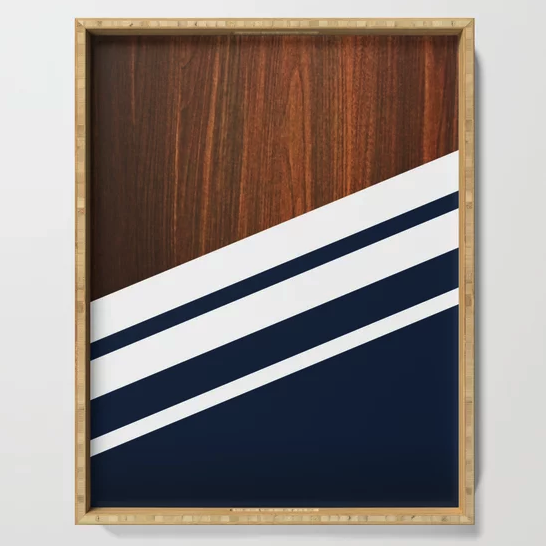 No collar-popping required to fall for this preppy trend. With clean white and navy stripes over warm wood, this tray will have you dreaming of sweet New England summers no matter where you live.
8. Abstract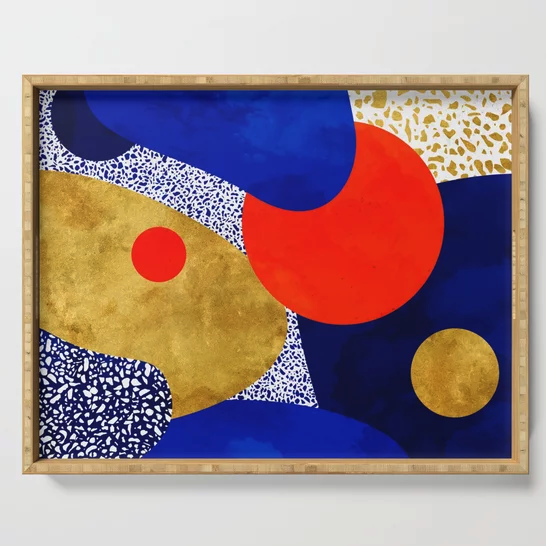 If you're looking for a serving tray that's guaranteed to be a conversation piece, then this abstract galaxy one has your name all over it. There's nothing subtle about this heavily saturated tray full of poppy primary hues, and we wouldn't have it any other way.
9. Wabi Sabi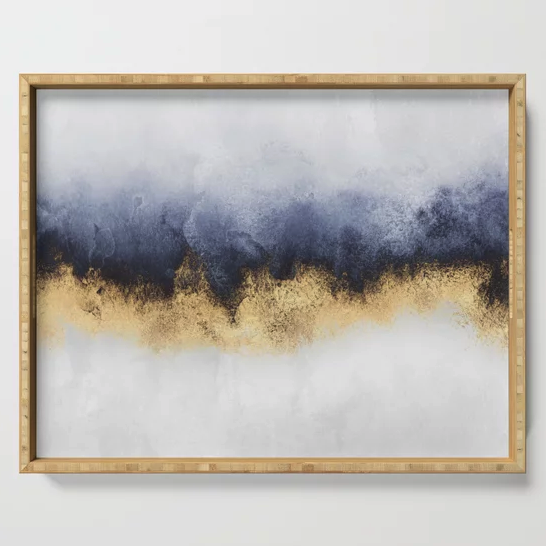 The Japanese Wabi Sabi tradition celebrates all things imperfect, impermanent and incomplete, and this serving tray perfectly encapsulates the ephemeral aesthetic.
10. Constellations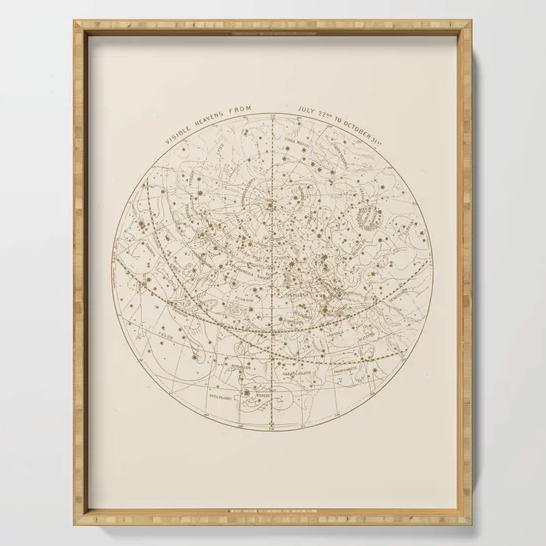 Even if you live somewhere it's impossible to see stars at night—we're looking at you, Los Angeles—you can still bring some celestial bliss to your home with this Visible Heavens serving tray featuring a luxe cream and gold color combo.
Written by Lindsey Rose Black
Sticks and Stones Illustration Serving Tray
Mid-Century Modern Art 1.3 Serving Tray
by oldurbanfarmhouse
$39.00
Wildflowers Serving Tray
by Anis Illustration
$39.00
Art Deco Marble Tiles in Soft Pastels Serving Tray
Her and Her Serving Tray
by Explicit Design
$39.00
Geo / Yellow Serving Tray
by Summer Sun Home Art
$39.00
Wooden Navy Serving Tray
by Nicklas Gustafsson
$39.00
Terrazzo galaxy blue night yellow gold orange Serving Tray
Sky Serving Tray
by Elisabeth Fredriksson
$39.00
Visible Heavens - Gold Serving Tray