Black and white doesn't have to be boring.
Decorating with a restricted color palette is an understated but super chic way to pull your space together, but we definitely get it can be kind of a challenge. Sure, everything matches, but how do you keep things from feeling too similar? We asked interior design blogger Tish Carlson of No Longer Wander to show us how she breathes new life into a black and white decor scheme. Check out her styling below along with a few tips of our own!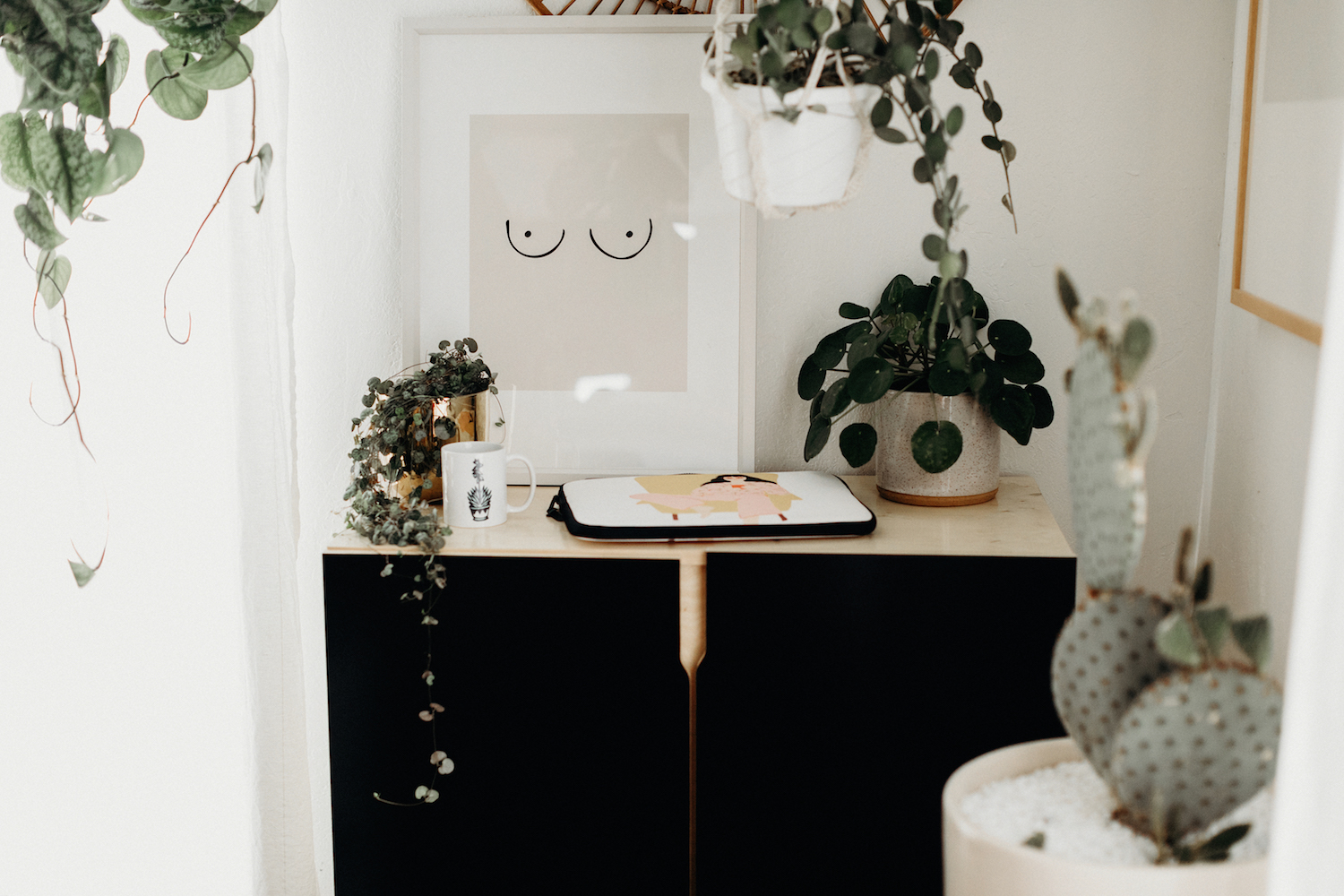 1. Start With a Statement
"Go big or go home" rings true even for a simple black and white color scheme. Choose a statement piece like this *very* black credenza to really anchor your space, and switch up its surroundings to prevent it from looking too heavy or like, well, a void. The key is to create balance so this is a great look to emulate if you have white or lightly colored walls and lots of natural light. Lighter wood finishes will also help keep the space feeling fresh and airy.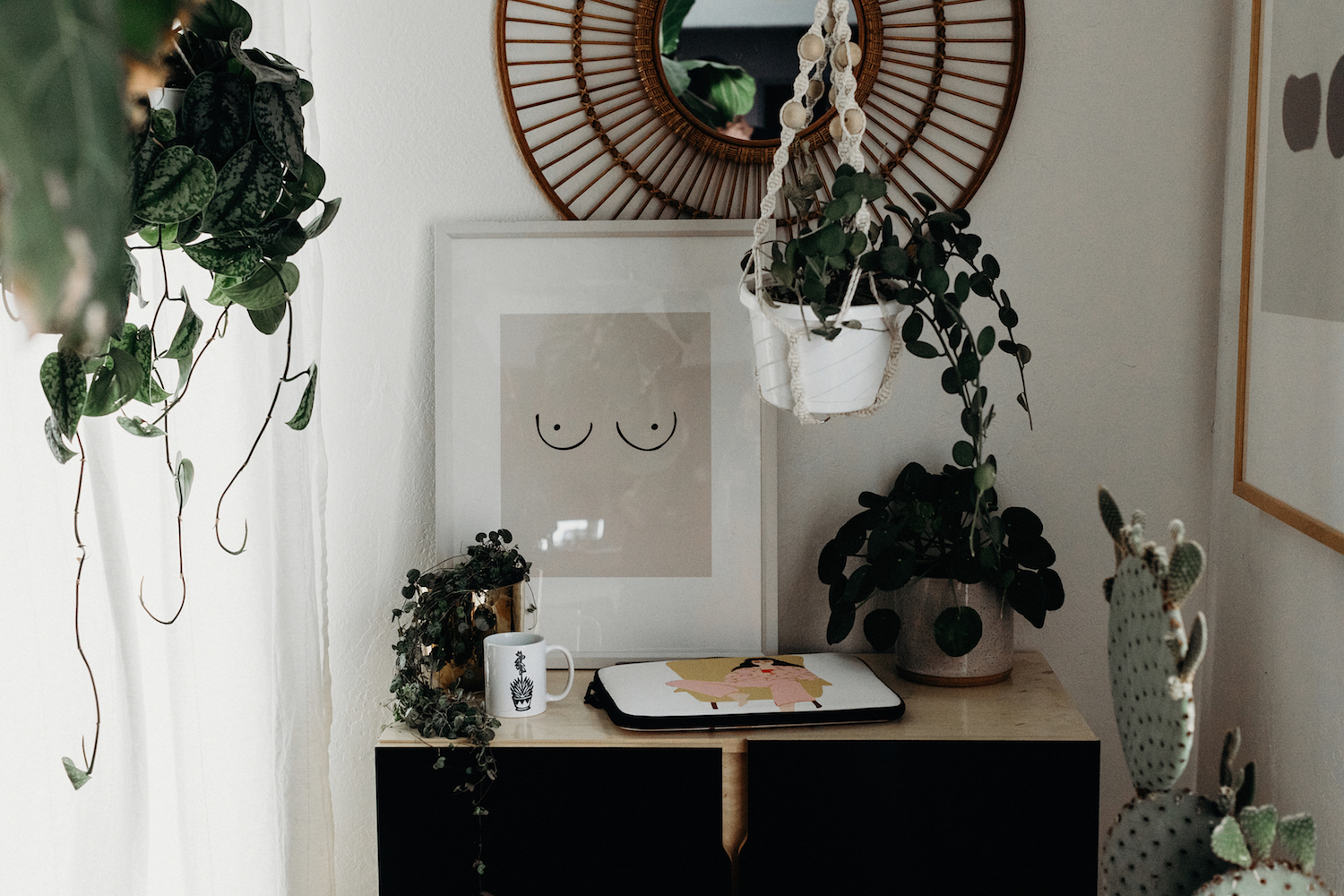 2. Spruce It Up
Once you have a statement piece, use plants, framed art prints and other accent pieces to add more dimension to your space. This textured mirror and macrame plant hanger give this setup a softer vibe, while the greenery is a subtle way to inject just a little bit of color into the mix. We're firm believers that you can never have enough plants, so go wild.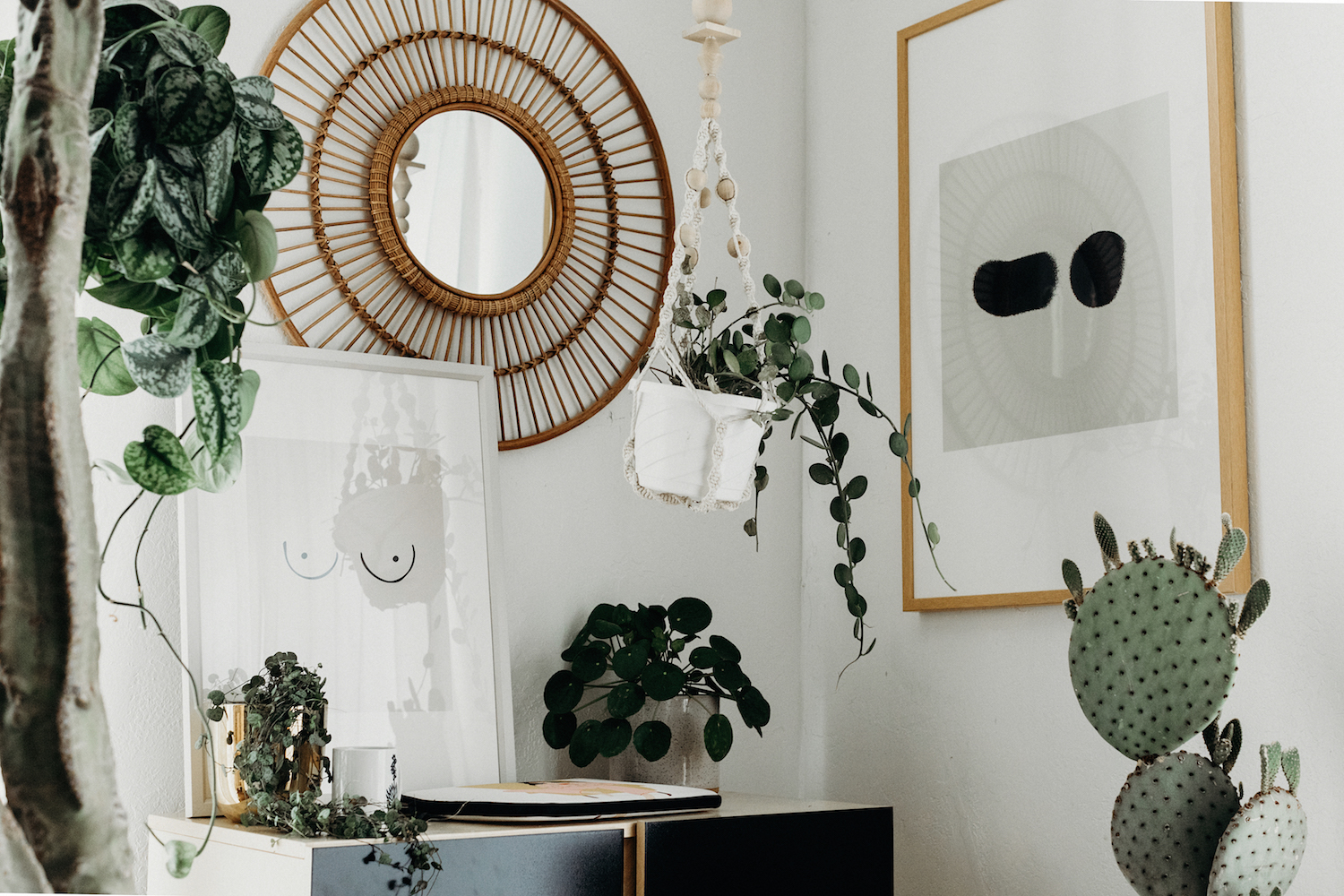 3. Mix & Match
Limiting your wall art to a black and white color palette will ensure everything is cohesive, but you'll need to mix things up in other departments to keep it interesting. Choosing works in a range of subjects and styles is one simple way to do this, and you can even extend this principle to other areas of your home (think mugs, clocks, pillows, etc). Even playing with something as simple as your frames can keep things from looking too matchy-matchy (read: boring).  Natural wood, like the plants and macrame elements, will give your space a more organic feel, while white frames are ultra clean for that minimalist look.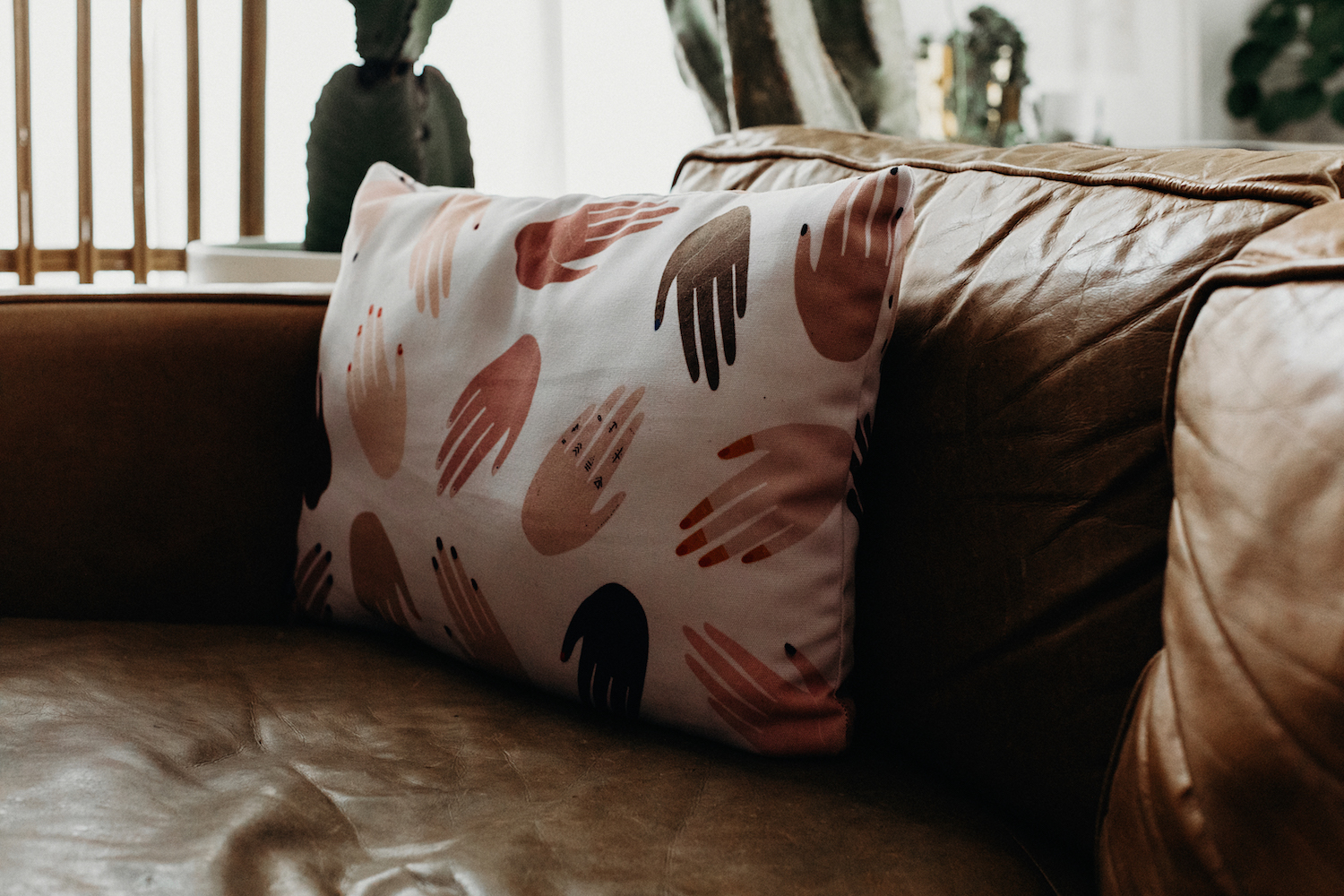 4. Cheat (But Only a Little)
Sometimes the switch from a more varied color palette to stark black and white can feel a little drastic, we get it. To ease you into your new look or to more seamlessly blend it in with your existing decor, you can definitely incorporate pieces that have some brighter hues. We recommend getting your color fix with accessories like throw pillows, mostly because they're easy to move around and are altogether removable when (if?) you're ready to fully commit to the monochrome look.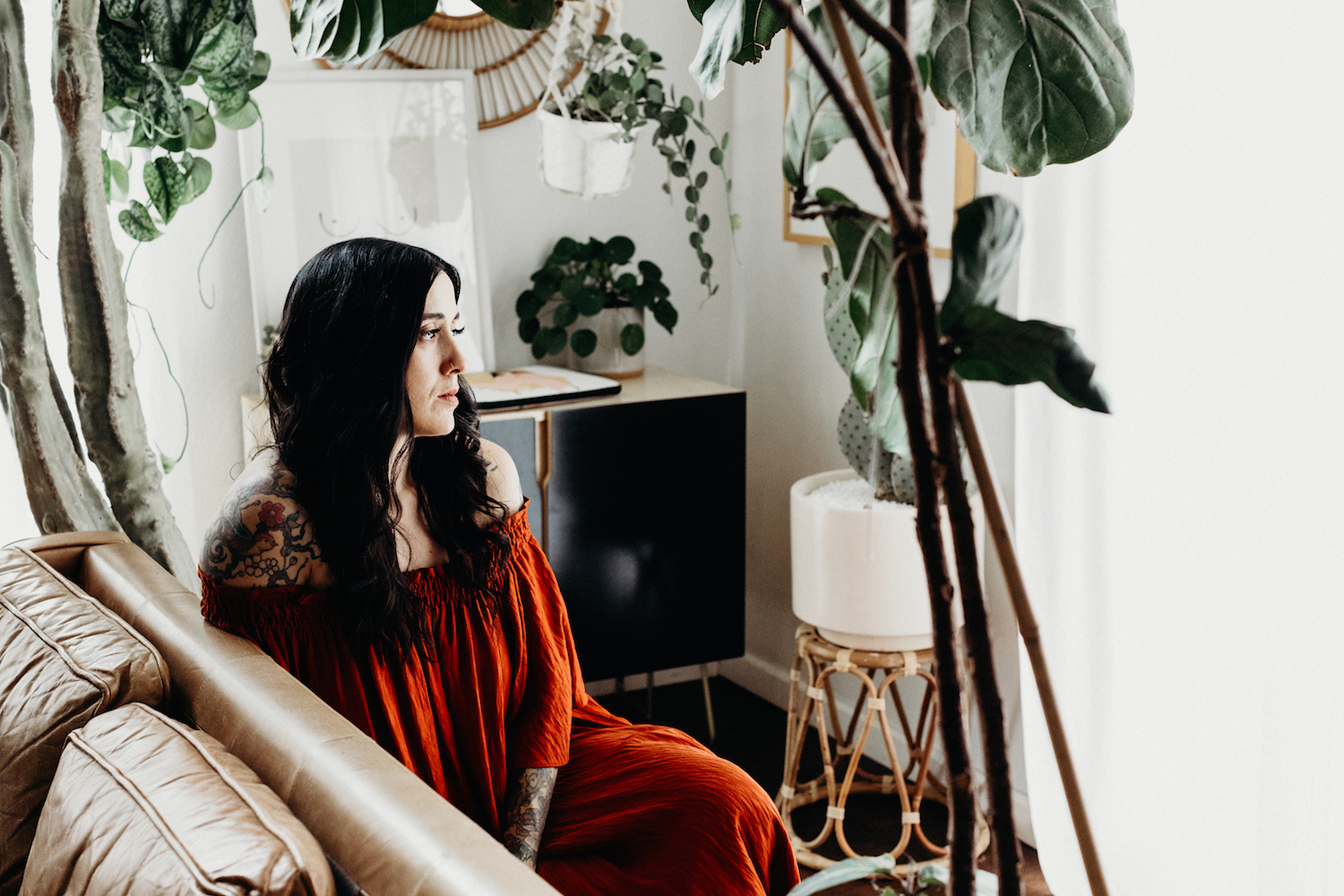 Spheres Framed Art Print
by Matthew Korbel-Bowers
$155.99
Boobs Framed Art Print
by Natalie Catalina
$86.99
Simple Cactus Wall Tapestry
Plain Solid Black Credenza
by Jane Holloway Designs
$649.00
Hearts and Shores Art Print
by Matthew Korbel-Bowers
$27.99
Pyjama Sunday Laptop Sleeve