There's a reason your favorite websites hit you with pop-up windows to collect your email addresses. It's because they work. Really, really well.
How to collect email addresses is more of a science than an art. To put it another way, if you have 1,000 email addresses and 1,000 followers on Instagram, email will always net you more sales–assuming your emails are designed for conversions, of course. Artist educator, Cat Coquillette, put together her top tips to collecting email addresses so you can start turning your fans into customers.
Email marketing is one of the best strategies to drive sales for your Society6 shop. There are a ton of approaches to growing your email list quickly so you can reap the benefits of email marketing. Consider this your ultimate guide for hacking into massive growth on your email list.
Please add your tips and tricks to the comments below!
1. Provide

great

email content
This is the most important factor when you're growing your email subscriber list. Killer email content will keep your existing subscribers coming back for more and they'll be less tempted to click the dreaded "unsubscribe". As long as your content remains compelling, you're on the right track.
2. Build a subscription landing page
You can dedicate a full page on your website as a landing page for collecting email address. This makes it super simple for customers to sign up. All they have to do is follow your direct link from Facebook, Twitter, or Instagram, which takes them directly your email sign-up page.
Bonus Tip: Don't forget to offer an incentive when you ask for someone's email address. You always want to emphasize what's in it for them.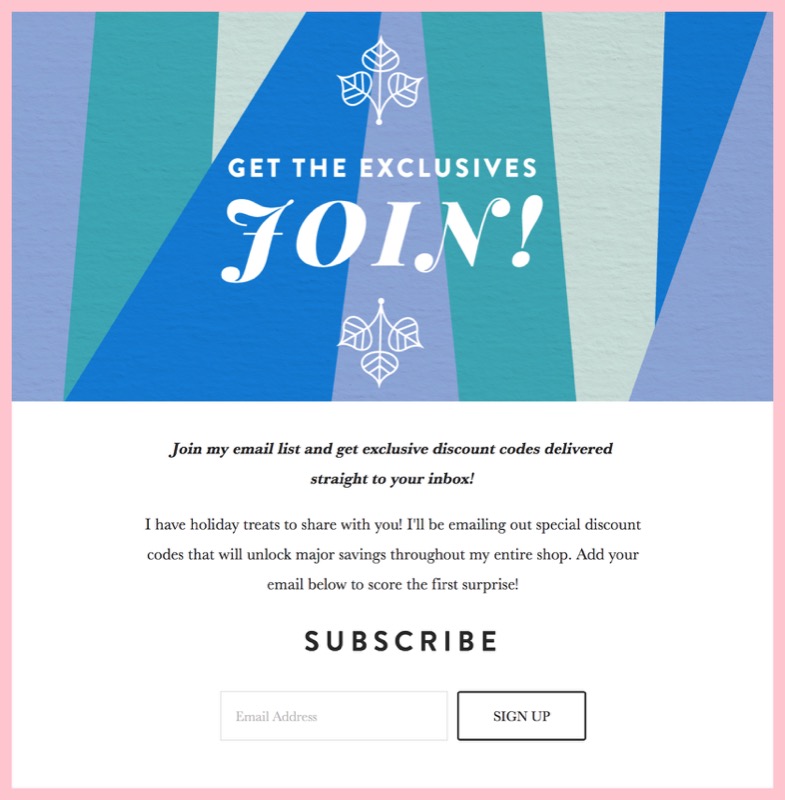 3. Embrace the email popup
We all find these annoying, but there's a reason all your favorite websites blast you with popup windows to collect your email addresses. It's because they work. Really, really well. A popup window is basically your strongest call-to-action on your website and you can take advantage of that to collect email addresses.
Bonus Tip: Rather than seeming intrusive, frame your email popup into something that will benefit your customer, like exclusive coupon codes or updates on new arrivals.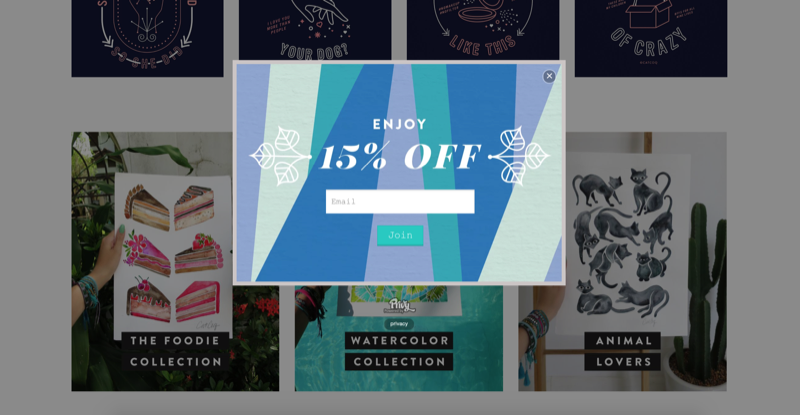 4. Add a Subscribe bar to your website
Create multiple opportunities for email signup on your website. A popup box is a great start, but you should also add an email signup "bar" easy to find on your home page or in your main navigation.
Bonus Tip: You can include the signup box in multiple places throughout your website, especially on pages like blog posts where your customers might be interested in reading updates that can come through an email newsletter.
4. Include a "share" option on your emails
Encourage subscribers to share via social channels or "share with a friend'. This makes it easier for people to share your content within their networks, which helps increase awareness of your brand as well as expand your reach.

5. Use a "funnel" to collect email addresses
A "funnel" is the path in which you want your customers to follow–including the actions you wish them to take. In this instance, we're interested in collecting email addresses. So, an example funnel would be driving traffic from Facebook to your website, where they get hit with a pop-up asking for their email addresses. That's part one. Part two of that funnel is sending emails to everyone and getting them to purchase your products.
6. Offer incentives in exchange for a fan's email address
Offer people an incentive to provide in exchange for their email address. If you want to be thorough, create a landing page specifically for that promotion. There are a ton of ways you can go about this. You can host an online contest with a free giveaway, offer digital files for wallpapers or at-home printables, or provide a special sales code to your shop. Whatever it is, make sure you deliver your lead generation content through email; this gives you a reason to ask for their email address.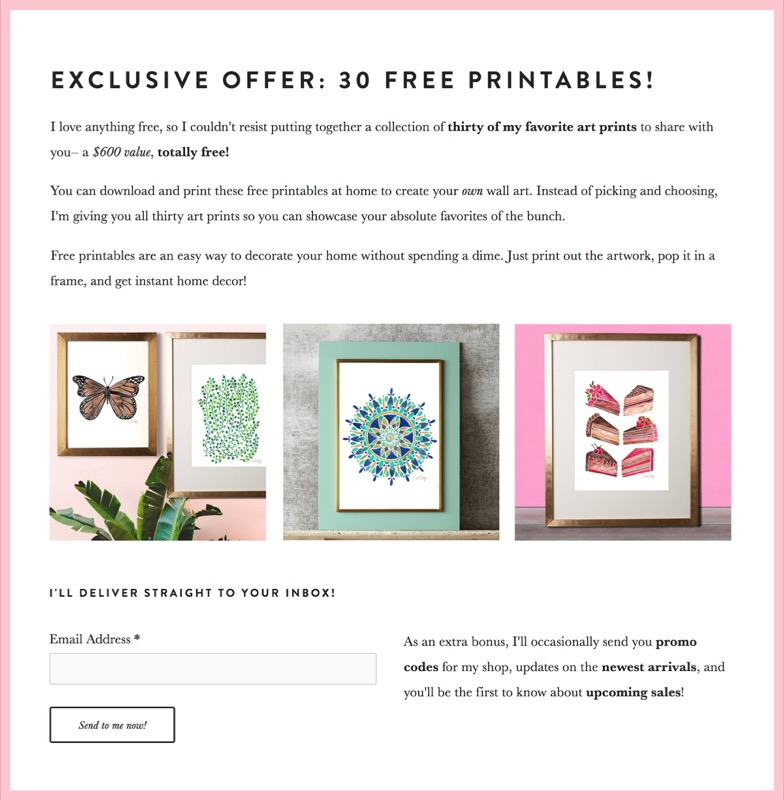 7. Promote your incentive offer on social media
Once you create your incentive offer, use social media to promote it and drive traffic to your landing page. Make it easy for people to sign up. Provide direct links whenever you can and don't ask for too much info (besides email address) when people join.
Bonus Tip: Create a call-to-action on your Facebook cover image. Provide a link in the description that directs to the landing page where you collect email addresses.
8. Add a subscribe link in your email signature
You probably send at least a few emails a day. By including your signup URL directly in your email signature, you're getting the word out to the people that are probably most interested in your content.
Bonus Tip: Feel free to have fun with the text link. "Subscribe to my email list" is boring, but "Wanna see more of me in your inbox?" will generate more curiosity clicks.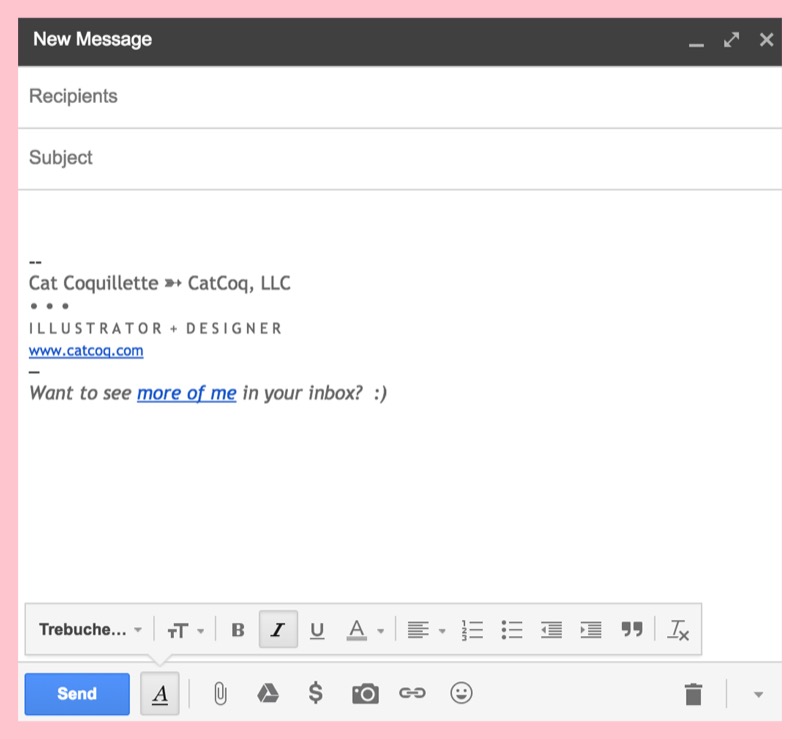 If you follow some of these steps, you'll watch your email list grow in no time. By constantly adding fresh contacts to your email campaigns, you'll know you're reaching relevant customers who are engaged with your brand. Once you've built up a solid list of subscribers, you can focus on optimizing your email strategy to convert directly into increased sales.
If you have anything else to add, please do so in the comments below!