With summer on the horizon, we can't wait to embrace those long, warm nights. So, what better way to celebrate the dreamiest season than by throwing a sun-drenched dinner party? Writer, photographer, and super-host Adriana Jaime encourages us to grab some SPF, some good friends and gather round the dinner table.
For the last few years, there have been a group of friends living in a three block radius we call the "Taborhood" – our own little part of the Tabor neighborhood here in Portland, OR. We walk to each others' houses, watch each others' kids and pets, and hang out in a sweet little courtyard during the summer. Over Memorial Day weekend, we got together for a dinner party to kick off the beginning of the much-anticipated heat wave in Portland (before the rain comes back!)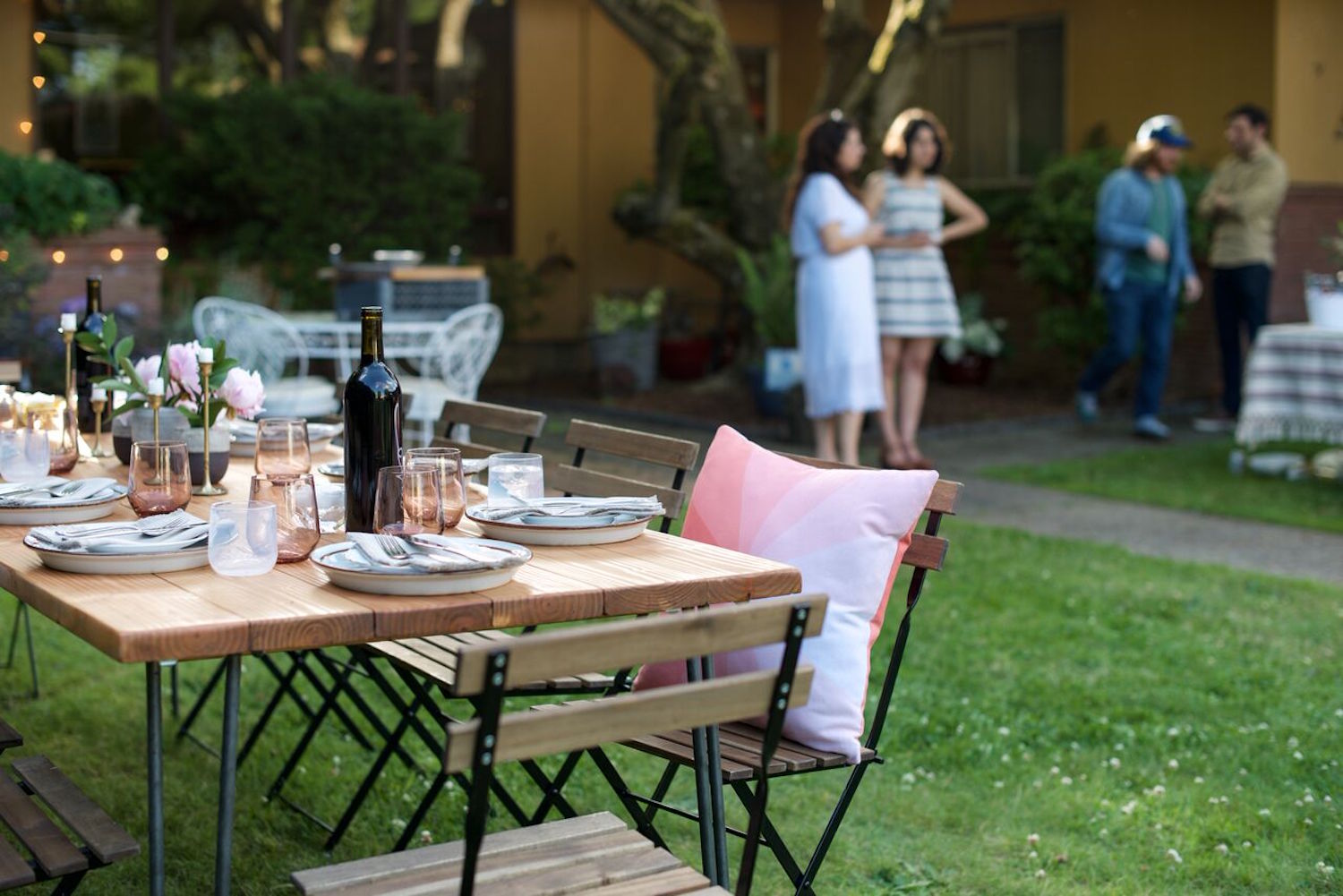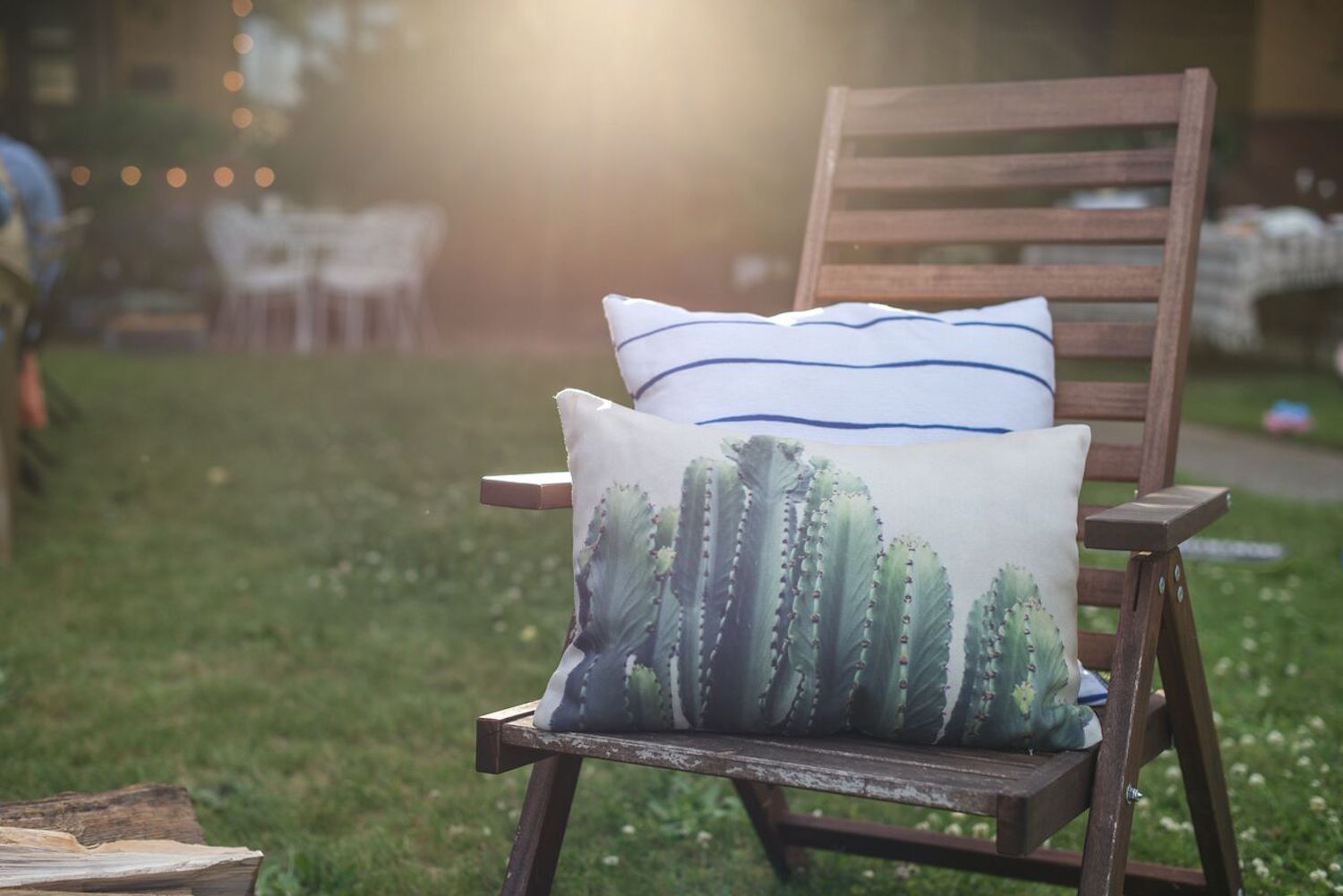 One of my favorite things about putting together a dinner like this is the immense amount of creativity my friends have; it makes a simple dinner extra special. From one friend putting her styling skills to set the table, to another making the prettiest linen napkins, to my brother-in-law making the absolute best brisket in Portland (y'all, the dinner coincidentally fell on National Brisket Day!), and another helping me in the kitchen all day – this became the perfect example of friends doing what they love to make a evening come together.
Not only did friends pitch in their help, but some of my favorite Portland makers shared their wares to add a little flair to the dinner. For example, Kyle D'Auria is a woodworker who blends traditional craft and modern style to make some of the most beautiful cutting boards and I was thrilled to use a few of them for cheese, fruit and the main dish – the brisket.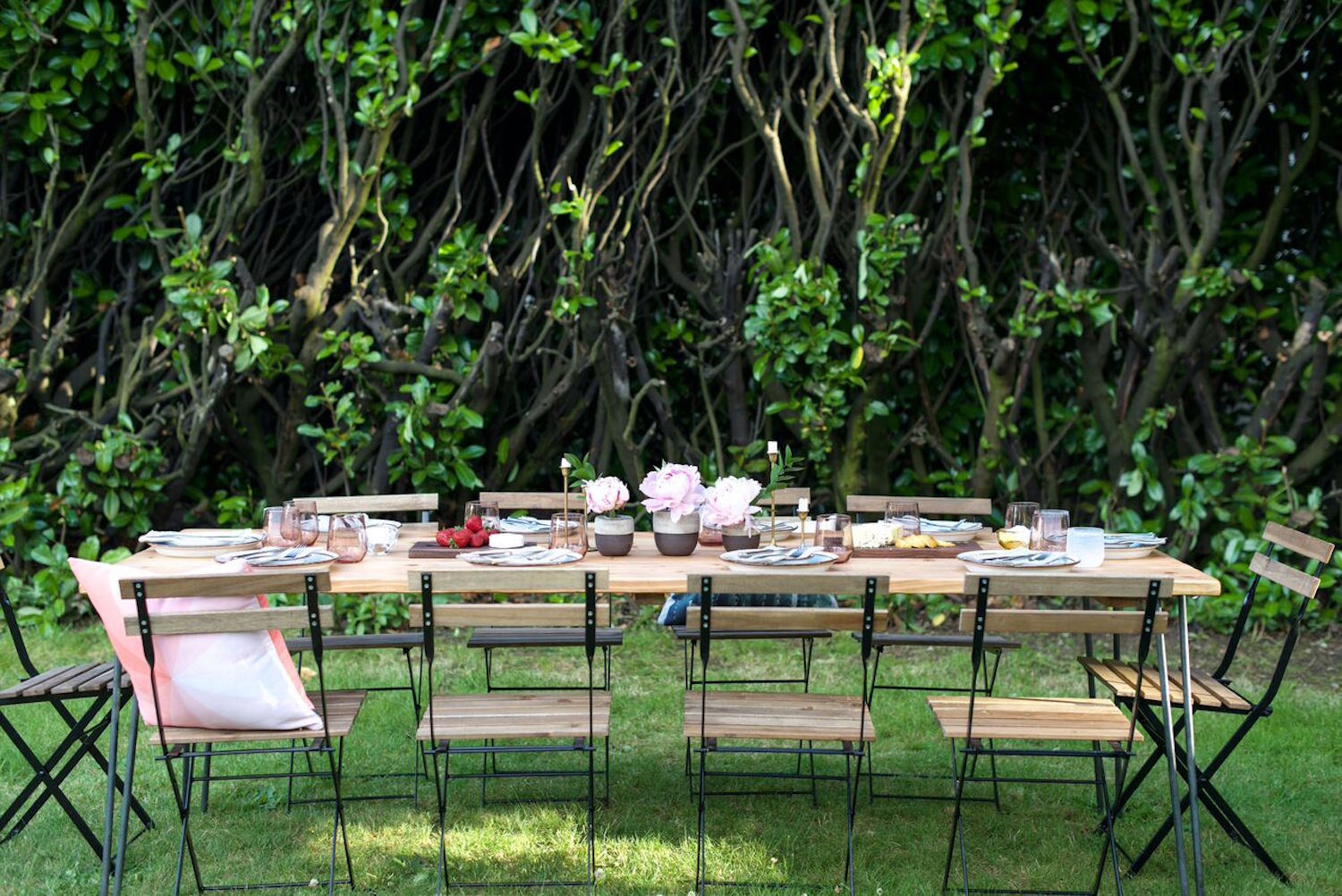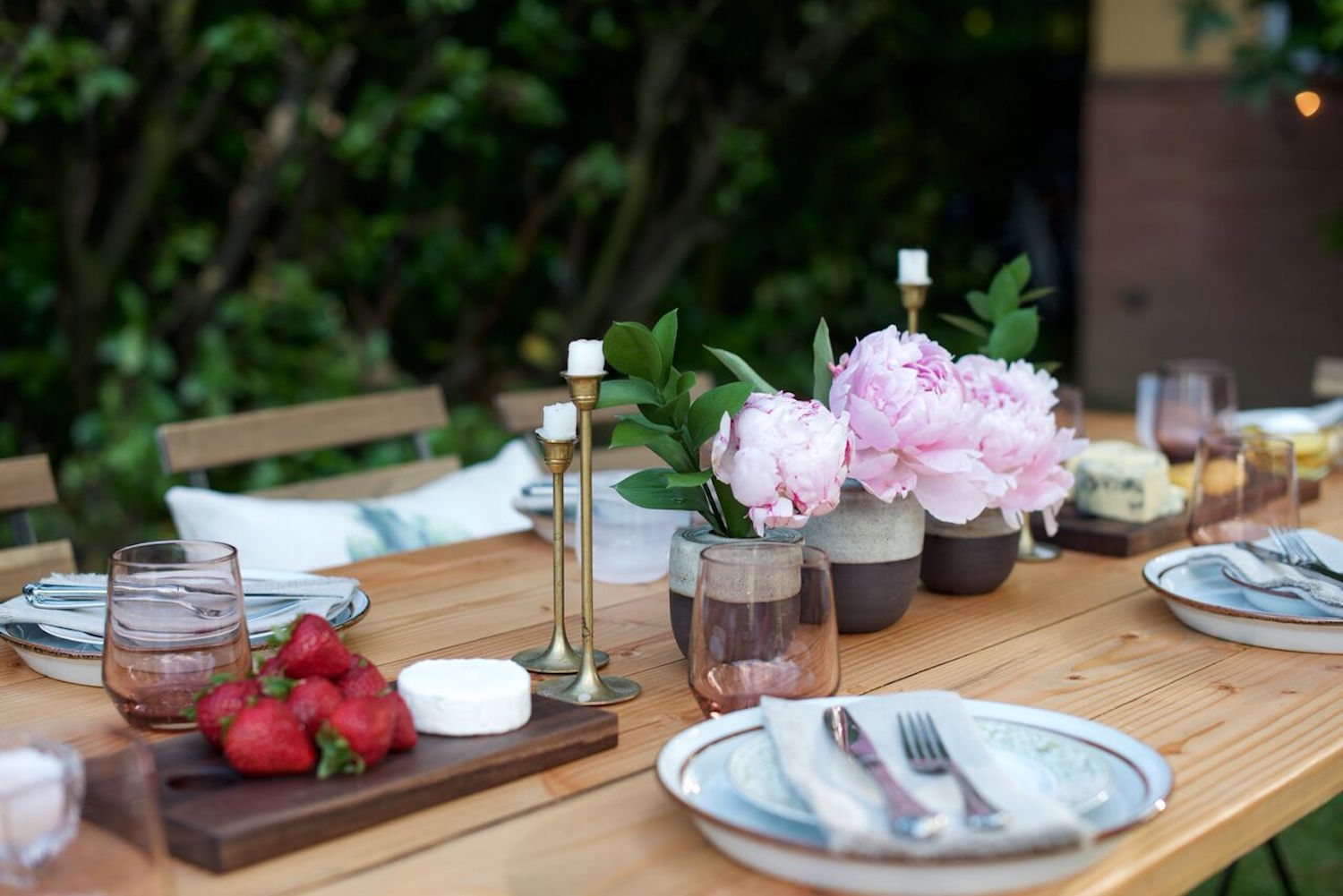 Cooking and baking is one of my favorite parts of putting a dinner together – there are few things that bring me more joy than getting to work in the kitchen knowing it's going to feed those I love. (Getting to do it with music blaring and a friend helping made it even better!) I spent a few blissful hours making my favorite cornbread, coleslaw, potato salad and the cutest little almond & cherry preserve tarts to accompany the main dish. Soon we were all enjoying a delicious meal in the courtyard that has come to host so many moments of joy and celebration.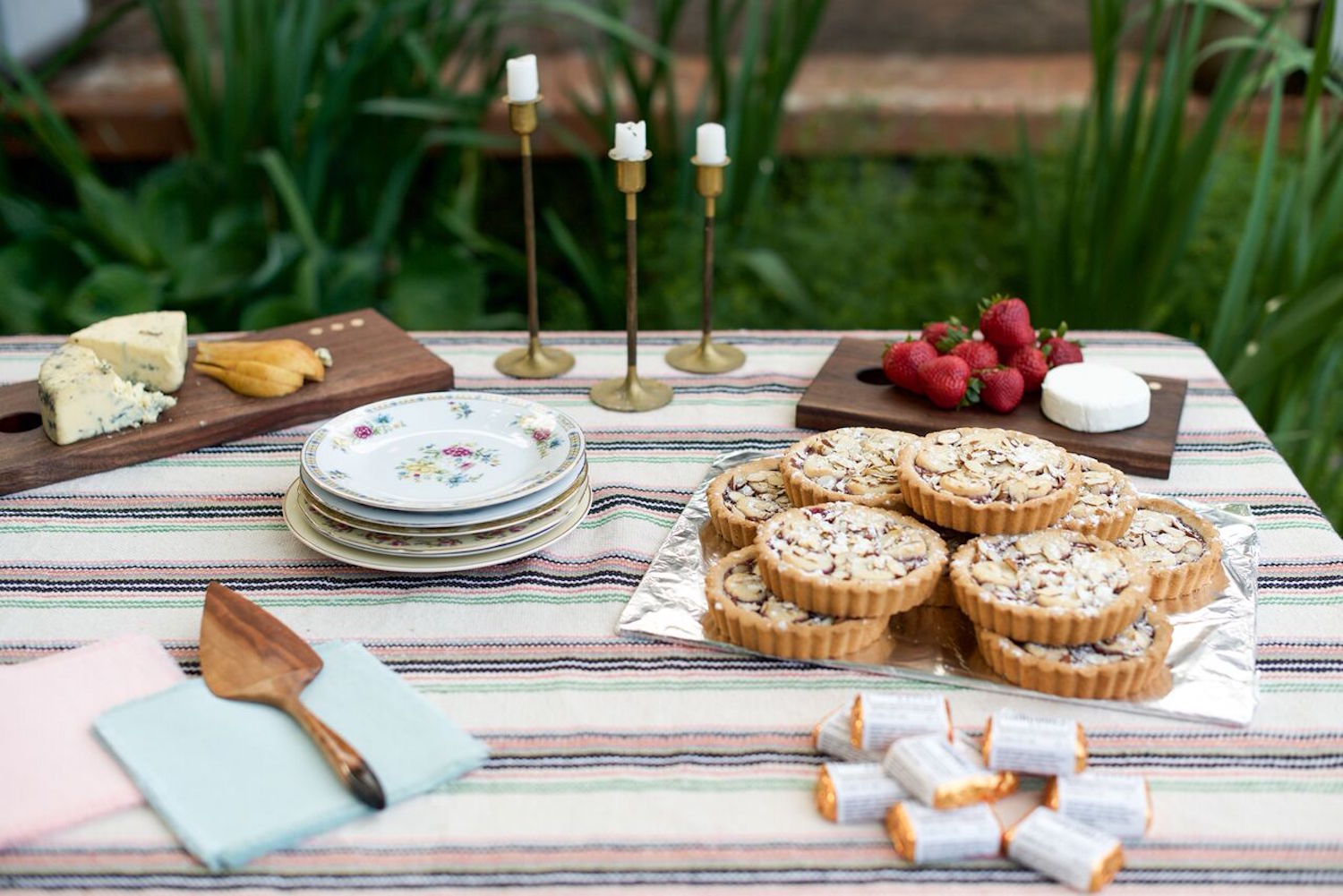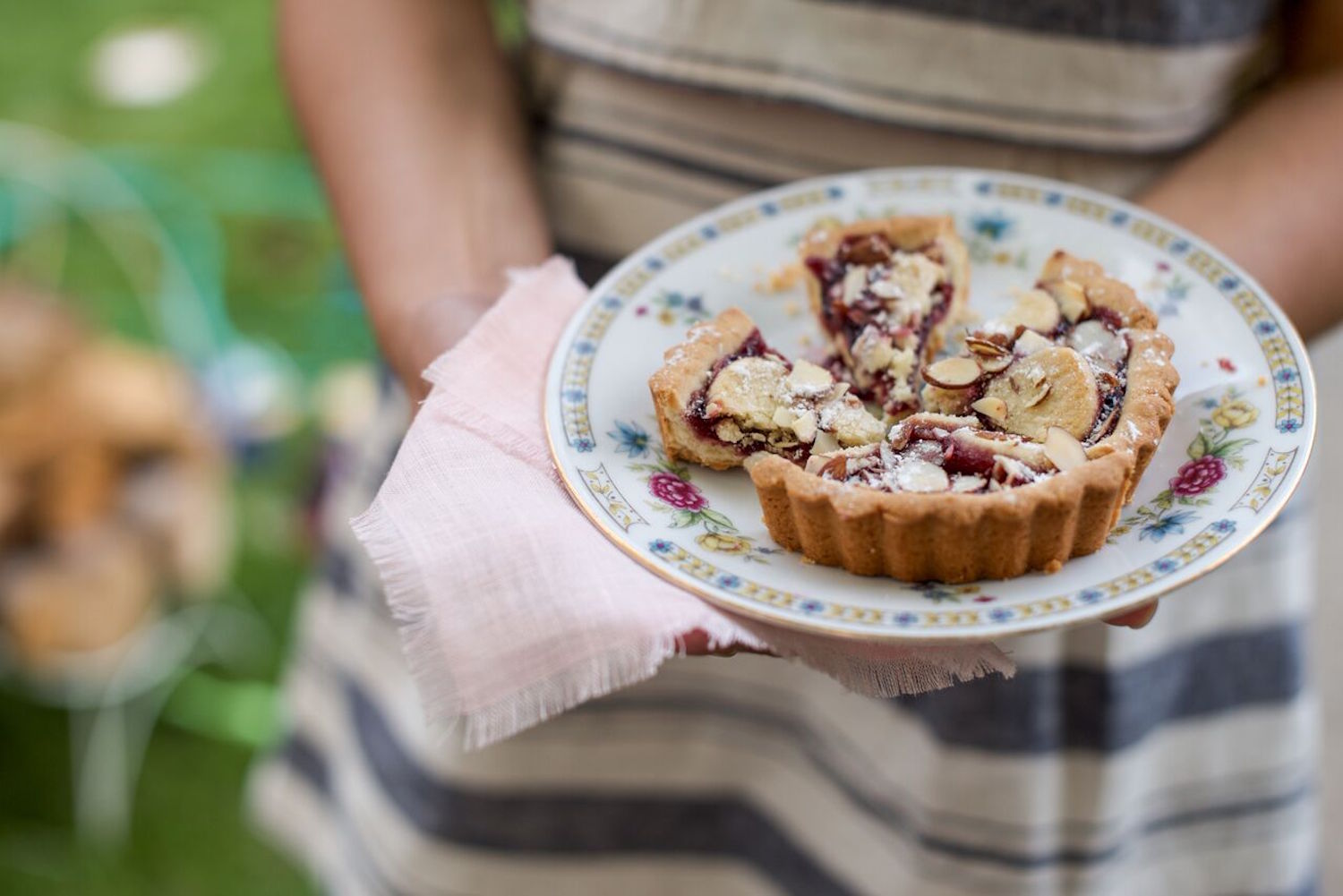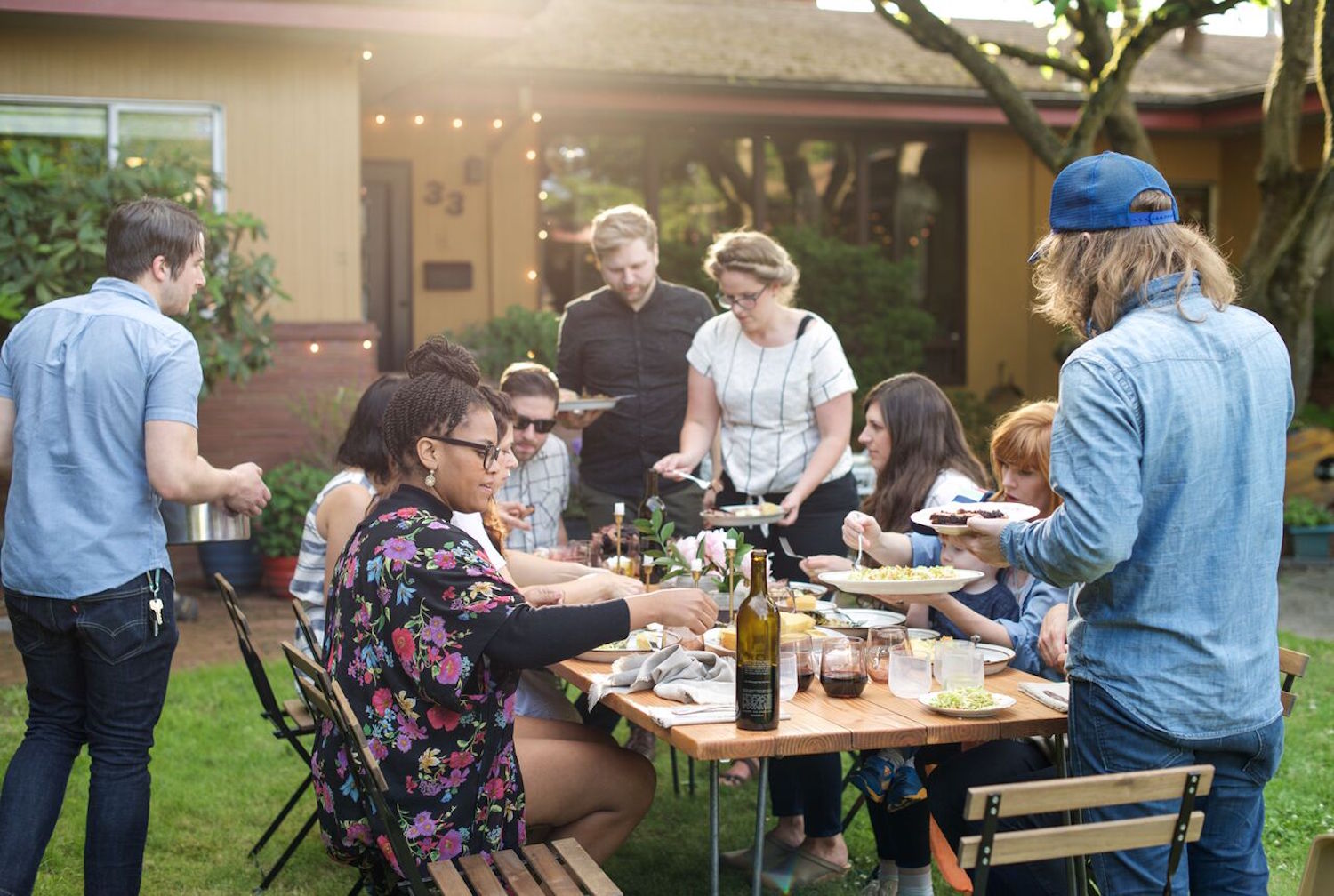 I encourage you to make some time to sit down for a good meal with loved ones; it really is one of the simplest, yet most enriching things we can do. Oh, and below is my favorite cornbread recipe – it will no doubt be a hit at any dinner, BBQ or potluck you attend this summer!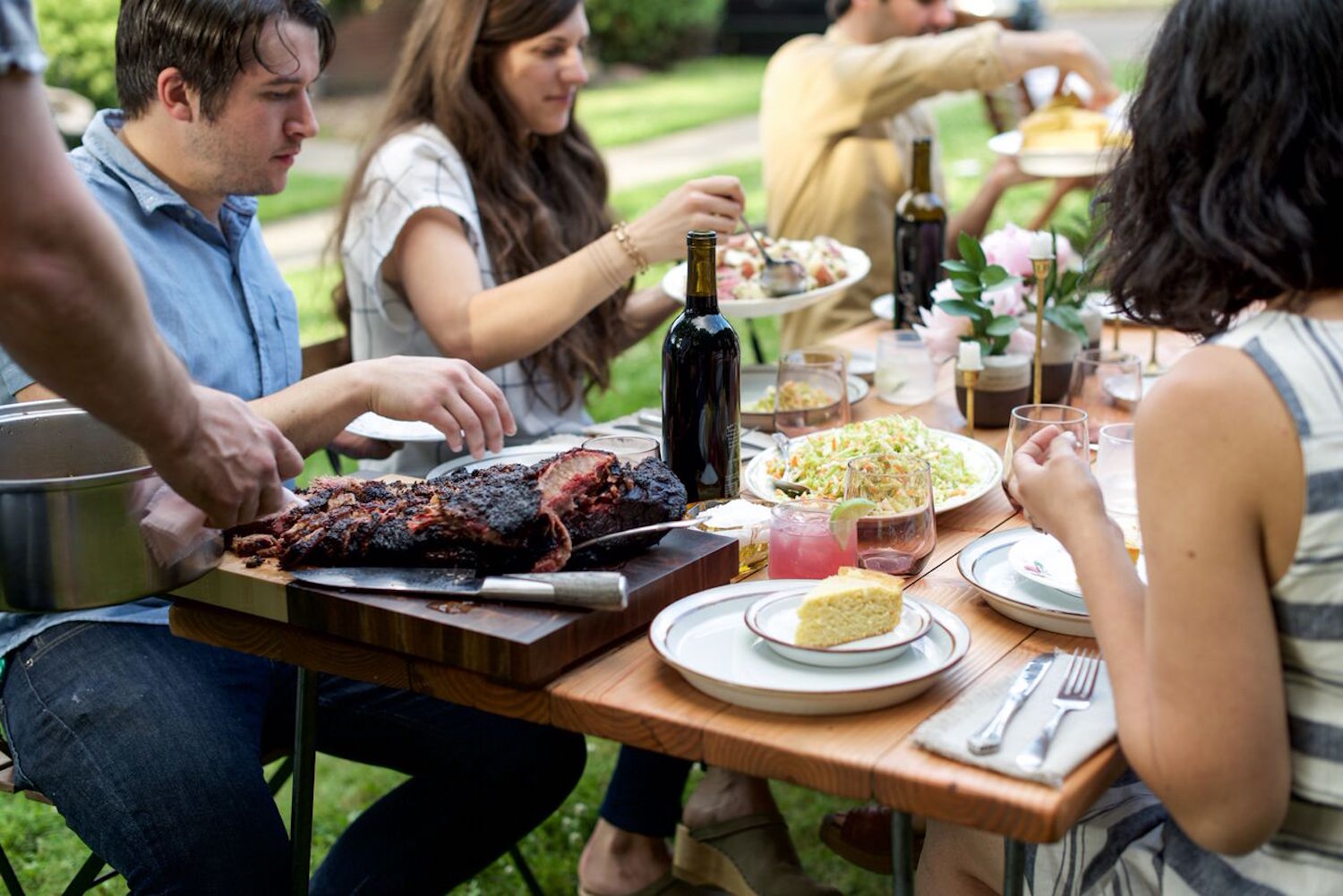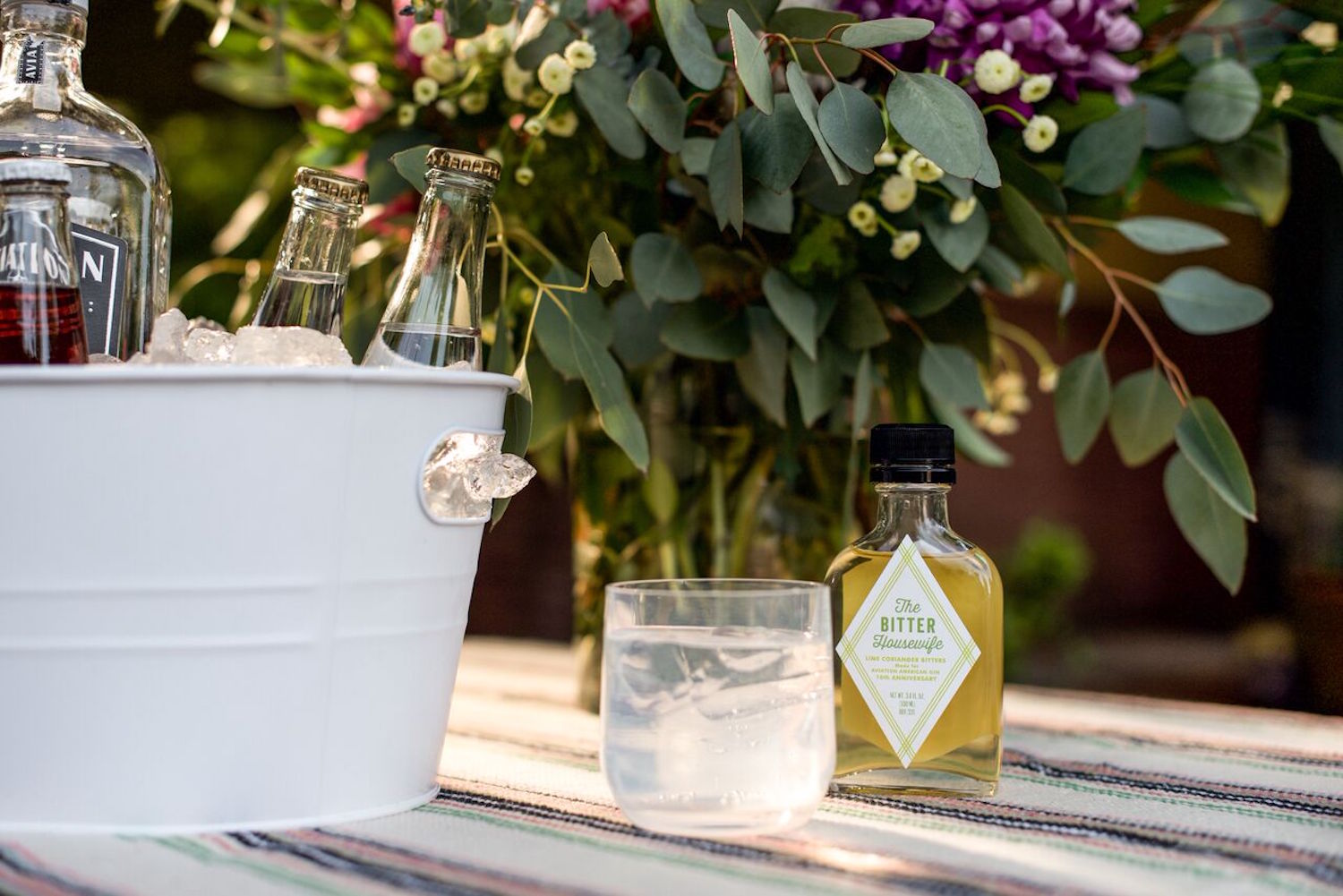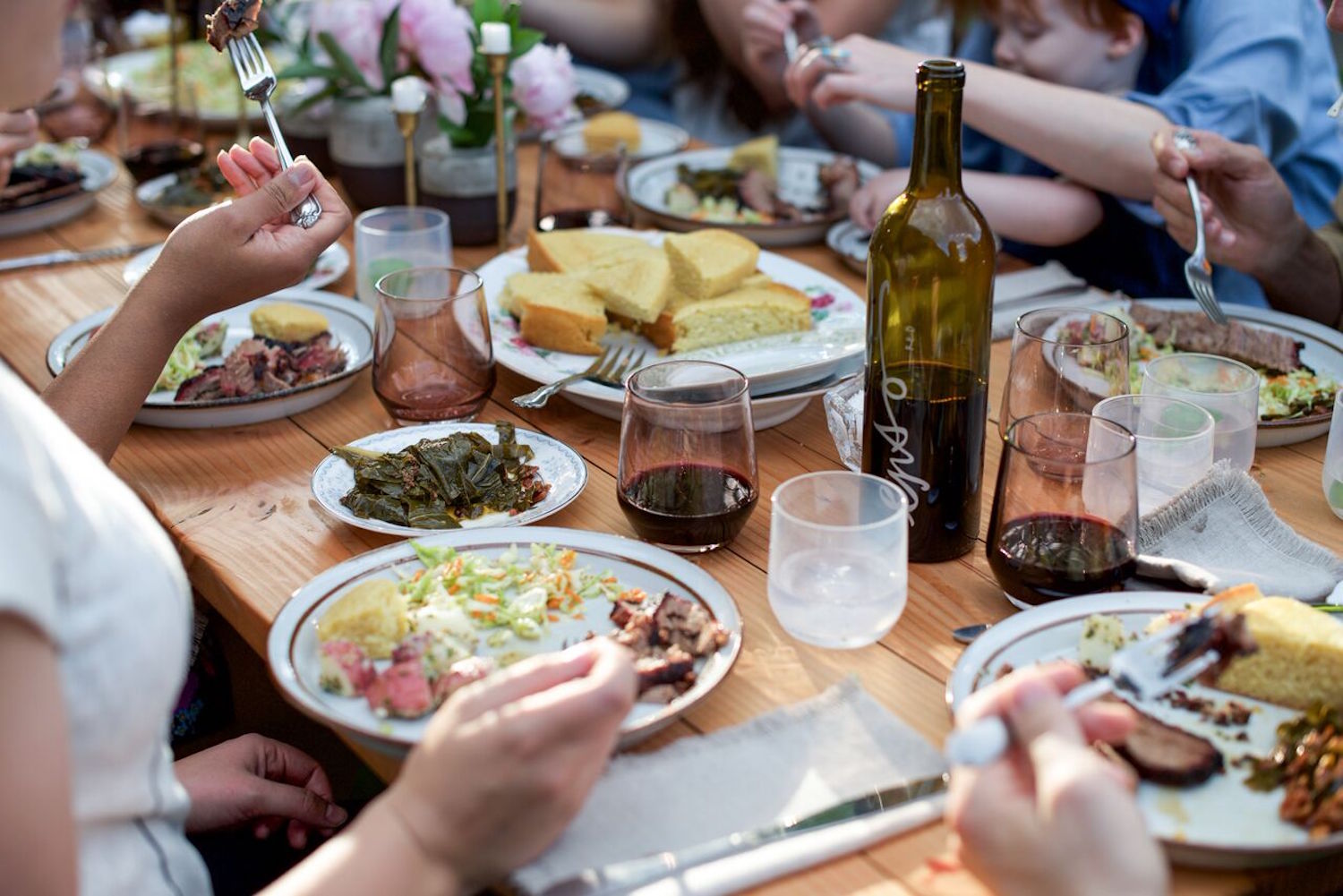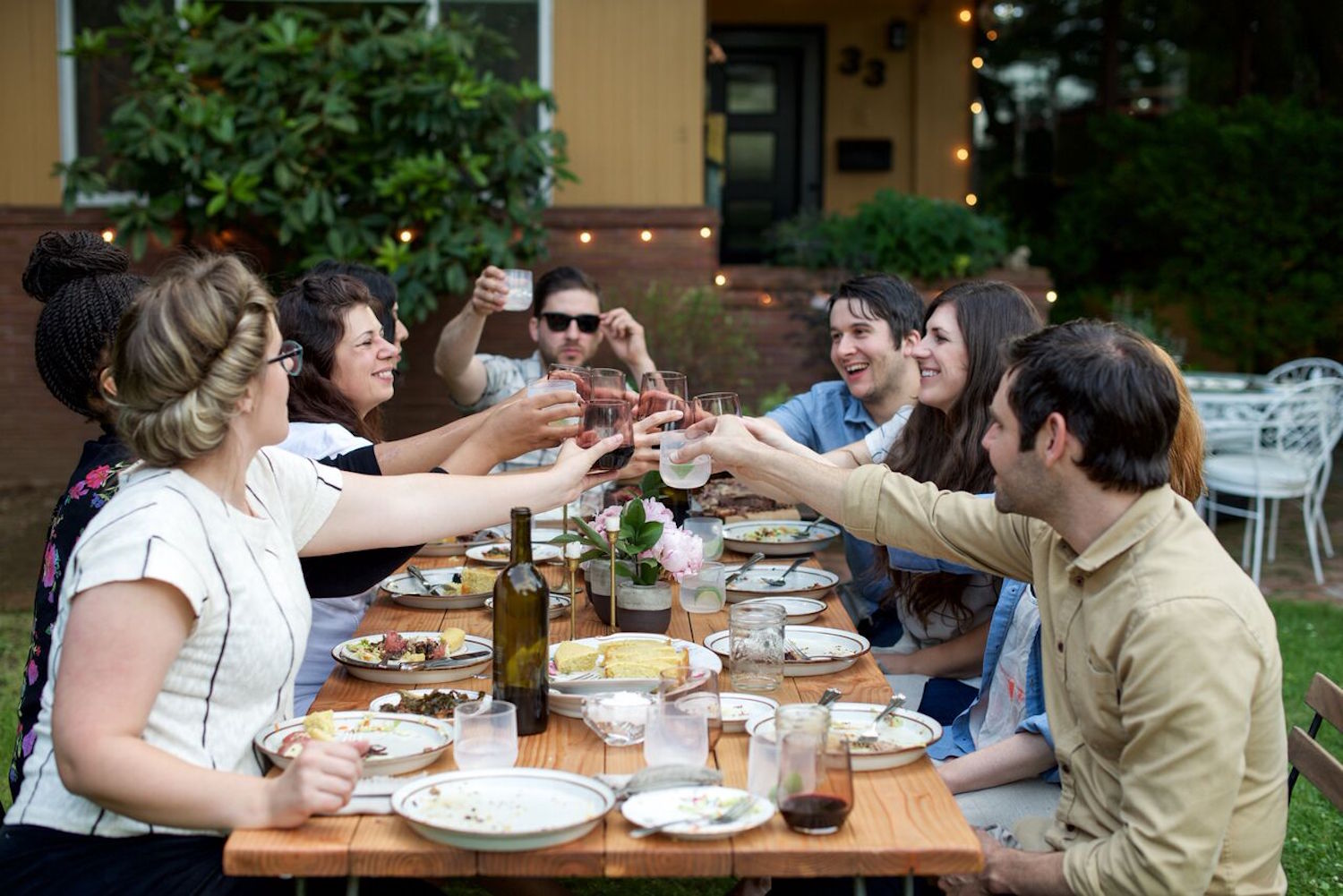 CORN BREAD
Ingredients:
1 1/2 cups all purpose flour
2/3 cup sugar
1/2 cup yellow corn meal
1 tbsp. baking powder
1/2 tsp. salt
1 1/4 cups milk
2 eggs
1/3 cup olive oil
3 tbsp. butter (melted)
Directions:
Preheat oven to 350*.
Butter a baking pan (or my favorite, a cast iron skillet).
Combine flour, sugar, corn meal, baking powder and salt in a medium bowl.
In a separate bowl, combine eggs, milk, oil, and melted butter. Mix well.
Add wet mixture to flour mixture until just blended.
Pour into pan and bake for 35 minutes or until toothpick comes out clean.
Let cool and enjoy!