Let the countdown begin. We're officially in the final stretch for your customers to order something from you in time for December 24th.
WEEK 5: DECEMBER 10 – 16
Week five's holiday prep guide focuses on all things promotion as we close in on the order deadline for your customers. The best part about deadlines is that you have the very authentic opportunity to promote with urgency–a classic and proven method to help you put customers closer to a purchase. Plus, you have eight days to submit your design for our Color of the Year Design Challenge.
We're offering expedited shipping options this year!
This is exciting because it extends the deadline for customers to receive their orders by December 24th. The order deadline is December 18th. That said, customers who order over the weekend of Dec 15/16 can take advantage of our standard shipping rates and avoid paying for rush services.
Don't forget to bookmark the Society6 Promo Schedule. This is where we'll keep you up to date with details for all holiday promotions.
DAY 1: MONDAY
Design Challenge: Color of the Year, "Living Coral"
Each week we'll be running a new Design Challenge to keep your creative skills sharp. Whether you make something new or share an old favorite, we can't wait to see what you've been creating!
This week, we're looking at Pantone's recently released Color of the year, LIVING CORAL.
Pantone released their Color of the Year "Living Coral" on Thursday and it strikes a chord. We're putting together a collection that we plan on sharing with customers and we'd love to include your work.
RGB: 250 114 104
HEX/HTML: #FA7268
Keeping in your style, submit designs–new, old or retrofitted–to highlight "Living Coral".
Submissions will be considered for inclusion in marketing material featuring some of the best displays of Living Coral in their artwork. We'll also be giving away free product to our favorites!
Submit by: Sunday, December 16, 2018
DAY 2: TUESDAY
Quick Tip: Pricing Your Artwork
With art, pricing is rarely an exact science, right? Double check your art print prices to make sure you're not pricing yourself out of a customer purchase!
Hands down, the most consistent piece of advice our top-sellers offered was to research what similar artists were charging. You can always fine-tune pricing along the way, but knowing what the general market value of your artwork is will help you identify what growth looks like when sales improve.
@marcjohnsart: I base my prices on what my peers are charging, and match it. When I say my peers, I mean artists and illustrators at a similar level as me. If you price yourself similarly to your peers, you'll avoid overvaluing or undervaluing yourself.
@biancagreenart: I research and observe. I personally try to stay in the middle. I don't want my work to be more expensive than others, but I also want to be priced fair and worthy. But the price can vary depending on the market. Each shop has a certain type of customer. Finding out as much as possible about them, like average age, how much they spend on a purchase, mainly female or male, etc. helps. That way you can adapt better to your audience.
DAY 3: WEDNESDAY
Quick Tip: Cross Promote Other Artists
When partnering with another artist to cross promote each other's work, you don't have to sacrifice your opportunity for a sale. Look for artists that compliment your style. More specifically, find an artist that you think has a low overlap in audience, but high affinity for what you're both creating.
I'm going to go very basic with this example, but if you paint cats and an artist you like paints wine. Bets are wine drinkers are also cat fans. Work together. If you illustrate motorcycles and an artist you like takes landscape photos, that might be a good partner too because road trips. Low overlap in your audiences, but high likelihood that your fans like both of those things.
Then send your fans to both shops during the holidays!
DAY 4: THURSDAY
15 Minute Task
This is a repeat from week 2 of this series because we've seen such positive response from them. We released a series of mockups (PSDs), in several ratios to help you promote your artwork on various social platforms, in its purest form–as art prints. While they're pretty self-explanatory in their use (drag 'n drop your artwork), there's a short video to help you navigate using them should you have any questions. Don't forget to tag us so our social team can keep an eye out!
Download your social-ready mockups for Framed Art Prints >
DAY 5: FRIDAY
5 Minute Read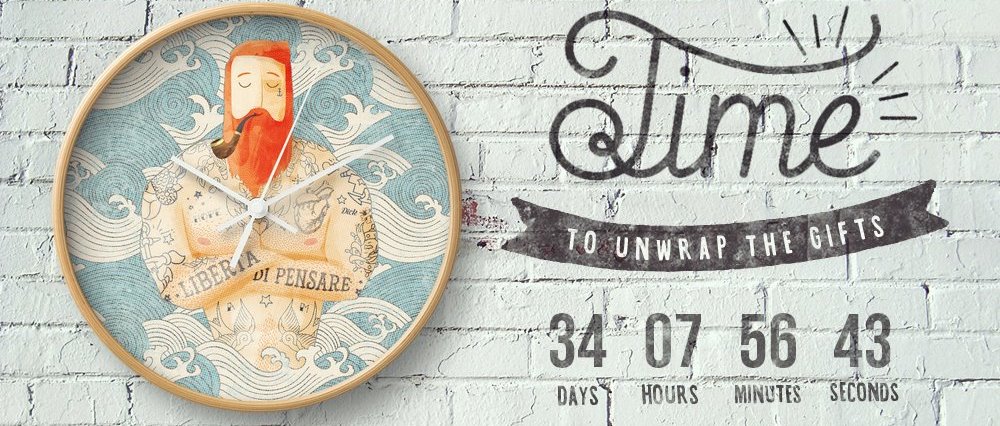 This doesn't need to be hard. It doesn't need to be a heavy lift. Remember Instagram stories is your new best friend! IG posts have more value long-term, but with sales changing day to day, sometimes you don't want to break the look of your feed. We pulled a bunch of awesome examples from Society6 artists getting creative with how they promote.
Get tips on creating your own marketing material >
DAY 6: SATURDAY
Sample Captions to Help Promote Your Shop w/ Urgency
You probably have a few assets to promote yourself with by this point, but you need a little spice in the caption. Feel free to steal or chop these up however you need! Use our sale details to inform the following captions. Don't forget to add some of your own flavor–your own voice. These are just a few examples to get your head in the game, but feel free to make it as "you" as you can get! The more authentic the better.
Ending soon…so so sooooon! My [product name] are on sale at x% off. Give a gift your nearest and dearest because holidays.
Last chance to get my [insert product]!
Only two days left to get x% off on [insert product]!
Tis the season to gift like you've never gifted before. Pick up one of my [product name] by midnight to get x% off! #supportsmallbusiness
DAY 7: SUNDAY
Promote
Normally, we'd say take the day off, but this is the last day for your customers to take advantage of standard shipping and receive packages by December 24th. Remember that urgency works in your favor when guiding a customer to your shop. Using the last five weeks of daily tips, don't miss the opportunity to promote today and the next few days.
Again, we recommend encouraging your customers to get their fix of your products before they have to pay for rush shipping options!
THAT'S A WRAP ON YOUR HOLIDAY PREP GUIDE!
If you missed any of our previous weeks, we'd encourage you to scan through them at the very least. There's a lot of great tips from top sellers, articles from promotion pros and so much more.
Please join us in our official Facebook group where artists will be helping each other throughout the holidays! We'll chime in where we can too!