Cyber week is in full swing!
The biggest sales of the year are here and customers are heading to Society6 looking for great gifts for their friends, family and maybe even a deal for themselves! We've spent the last few weeks going over the important steps you can take as an artist to prepare for this huge opportunity to drive customers to your shop. In this week's prep guide, it's all about the many ways you can get the word out about the products in your shop that are on sale.
Reminder: Take a minute to update your shop before sharing sales with your followers! Review last week's prep guide along with our Artist Holiday Checklist for more tips.
Stay up to Date on Our Promo Schedule
From now until mid-December, we'll be running exciting promos every day! Check out our Black Friday – Cyber Monday promo schedule below and stay in the loop by bookmarking our Promo Schedule. We also send an email every Saturday with the most up to date info. 
11/15-11/30: Cyber Week Sale – Up to 50% Off
Start: Tuesday, 11/15/22 at 12:00AM PT
End: Wednesday, 11/30/22 at 11:59PM PT
Details: 50% off art prints, posters, mini art prints, android cases, iPad folio cases, iPhone cases, iPhone skins, laptop skins
40% off framed canvas prints, framed art prints, wood wall art, metal prints, floating acrylic prints, floating acrylic prints, stationery cards, notebooks, stickers, wrapping paper, puzzles, desk mats, all remaining tech accessories not listed above
30% off canvas prints, recessed framed prints, framed mini art prints, wall hangings, wall murals, all apparel, all bags, all home decor, all kids, all outdoor & lifestyle, all tabletop
15% off all furniture
HOLIDAY FLASH SALE
11/24-11/28: 60% Off iPhone Cases and Laptop Sleeves & 50% Off Desk Mats
Share Engaging Promos in Your Own Style
There's no better time than now to let your fans and followers know about the deals going on in your Society6 shop. We recommend sharing a promo post at least once a day, so make a plan to promote your shop and sales all your social platforms. Ideally, you'll want to share these promotions on all of the major social media platforms (Facebook, Instagram, TikTok, etc.) but it is worth focusing the bulk of your efforts on the platform you've seen the best engagement on. 
A quick and effective hack to grab the attention of your audience and turn them into customers, is to pull elements directly from your artwork and use them to create simple but attractive promo graphics. The best promo designs give your viewers a taste of your vibe while enticing them to snag the deal you're offering. Get creative! We've seen artists use cut-outs of our product preview images to make a collage for Instagram stories, or even just sharing an entire design with some text to let customers know about big holiday sales happening now. Check out the examples below.
However you choose to promote yourself, make it authentically you.
If you feel like you just don't have enough time to invest in creating unique promotional content, don't worry! We've done some of the work for you. Download the current promo overlays here.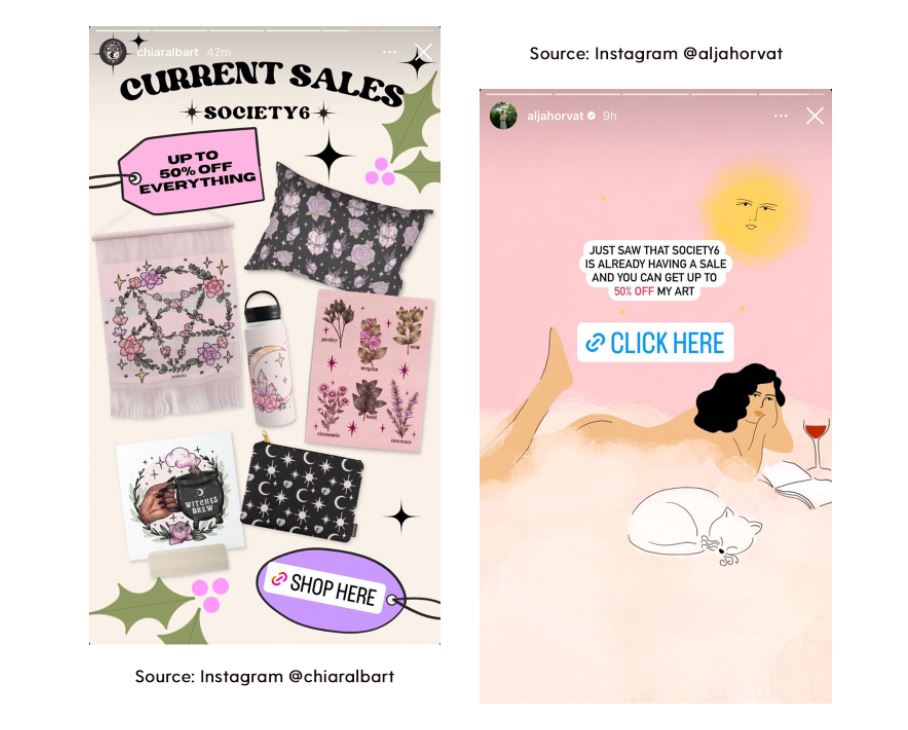 Make It Easy for Customers to Find You
When someone sees your promotional content and becomes aware of the awesome products and sweet deals you can offer, it should be simple for them to get through the door to your shop immediately. Your potential customers won't want to spend too much time clicking around, trying to figure out how to purchase what you've advertised, so it's crucial to have links to your shop available at every step. There are sharing tools in multiple locations of the site; from the artist studio, to our product preview pages and collection pages. Use these as a quick way to share products directly to the platforms we've made available. Below are some additional tips to keep in mind while sharing your products.
Add a link to your shop, a collection, or a

design detail page

in your bio on all social platforms.

Whenever you share a promotional post on social media, include a link to what you are advertising directly on the post.

Use hashtags in your posts to reach beyond your immediate audience. If you're not sure of what hashtags to use, check out accounts you admire to get inspiration. Just remember to keep the hashtags relevant to the content in your post.
Remember: Any time you use our on-site share tools, your unique affiliate link will be automatically included which means even more earnings for you! Not a member of the affiliate program yet? Learn more and signup here. It's quick, easy and free.
Show Love to Your Community and Fellow Artists
It's not an easy job being an artist, and neither is running a business – and you're likely doing both. So are a lot of your creative peers. This Small Business Saturday (November 26th), we encourage you to take some time to proclaim your small business-ness and thank everyone that's been supporting you thus far.

In addition to taking the opportunity to thank others, consider highlighting the work of the fellow artists or businesses who have made an impact on you or your journey as an artist. Share why they've made an impact as well.
Ideas on how to do this:
Send a direct message.

Callout your favorite work from an artist in your IG Stories.

Leave a comment on something they've posted recently.
Create a Gift Guide
Want to show your customers specific products and designs that you know will be a hit this holiday season? Help guide them to the most giftable products in your shop by putting together a thoughtfully curated collection. We recommend keeping a theme within the individual collections to increase the chances of items being bought in sets.
Not sure where to start? Check out our gift guides if you need inspiration, then build your own using the collections tool.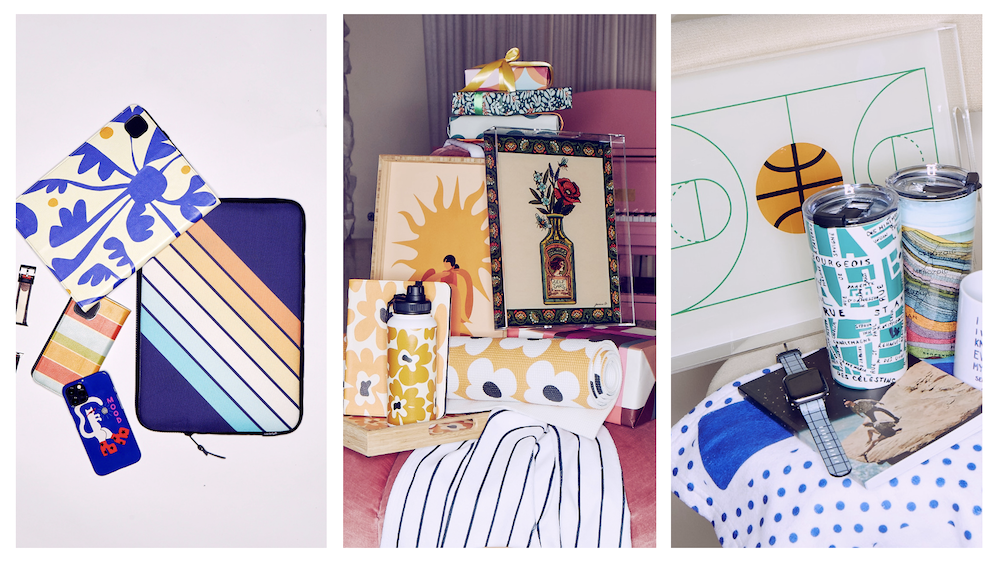 Spread the word about what you're offering in your artist shop this Cyber Week. Cheers to a prosperous holiday season!