Living at home–as in, with your parents–well into adulthood is a thing now.
You can blame the ridiculous rent prices, the state of the job market or all those avocado toasts you've shelled out for, but that still leaves you trying to live large in what's likely your childhood bedroom. The good news is that while you're saving up, you can still live in style if you approach your space with the right mindset. Here, we've outlined a few tips for turning your bedroom into the mini apartment of your dreams, all while keeping your creators happy.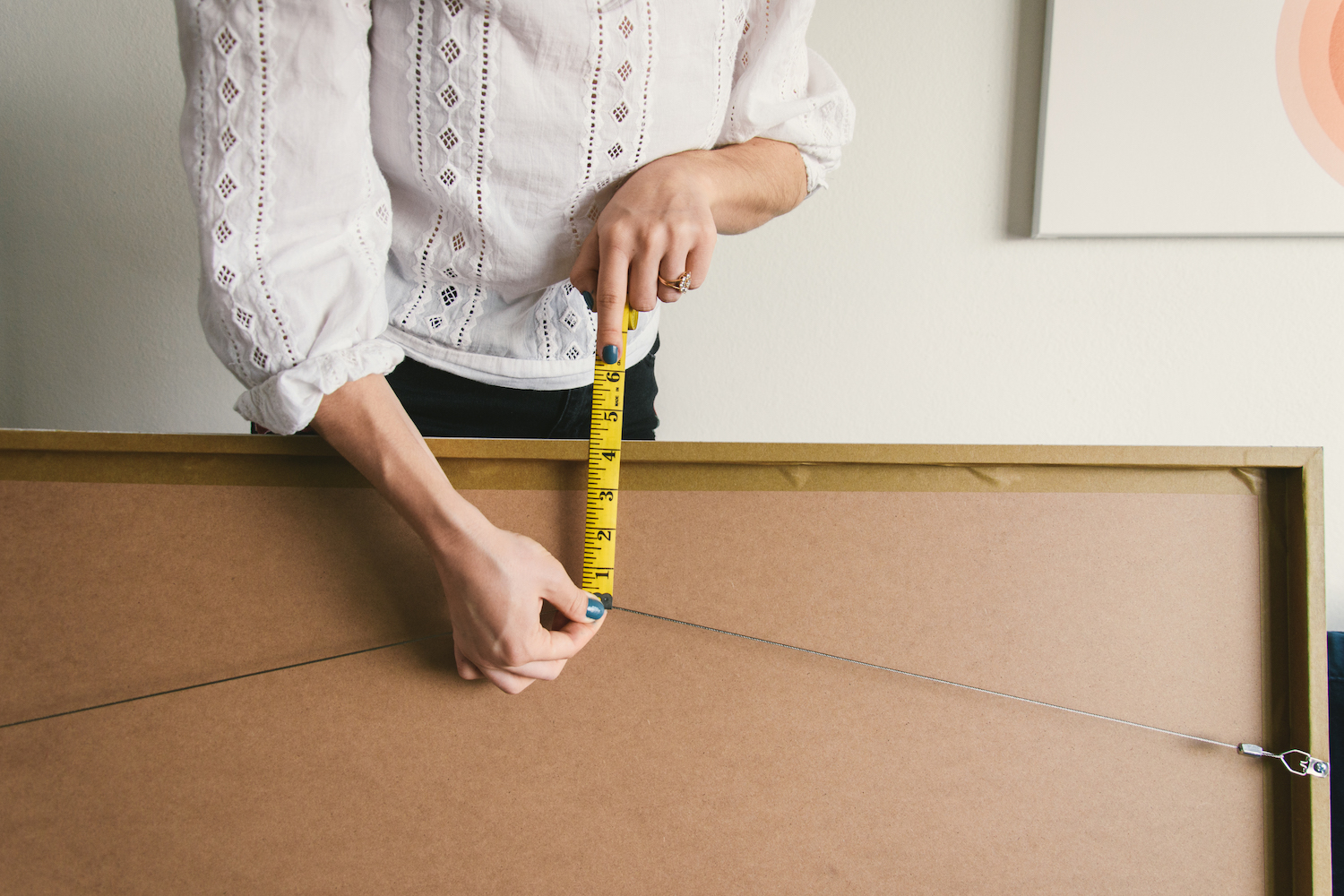 Do Your Homework
Plan for the space you have, not the one you wish you did. Nothing's worse than splurging on a piece of furniture you don't really need right now or that literally won't fit. Measure your space first and map out exactly where everything will go before making any purchases. (Pro tip: Don't place major pieces, like your bed, a loveseat and a TV all on the same wall. Break things up to give you room to breathe). It's not a bad idea to pull up those Pinterest boards while you're at it–future you will thank you for having a game plan.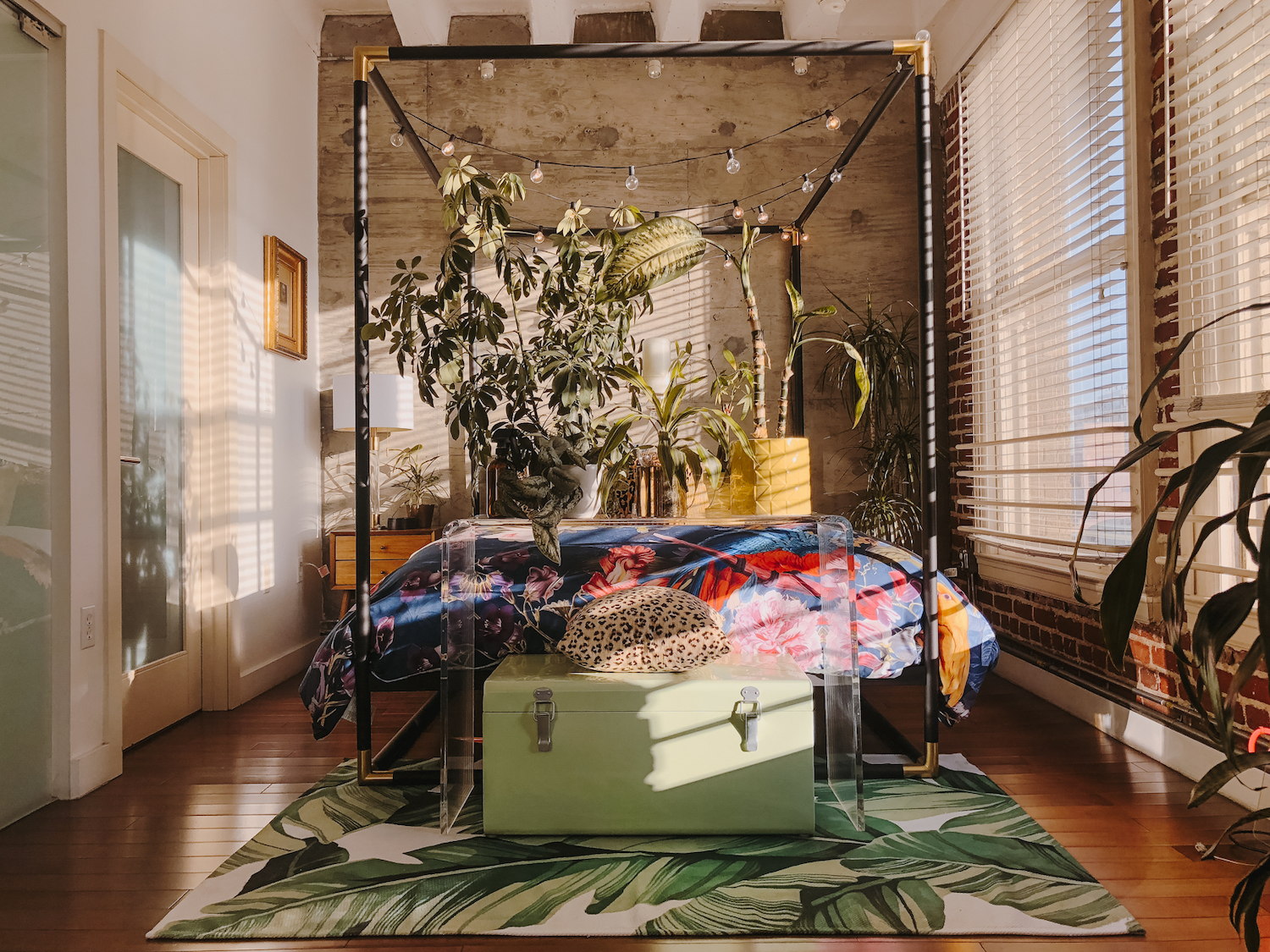 Embrace Double Duty
Ever wonder how people somehow manage to not only live in tiny homes, but make them super cozy and homey while they're at it? One key trick is to embrace multifunctional furniture – a bed that doubles as a sofa, a bench that doubles as storage, you get the picture. You can also invest in stacked storage shelves that serve as dividers to help break up your space. Sometimes setting up a visual barrier will make you feel like you have more space to enjoy.
Trick Yourself
Speaking of which, lean into optical illusions across the board. Hang a large mirror on one wall and decorate with muted colors to open up your space. If you're hanging artwork, go for larger, vertical works, which will draw the eye up. Same goes for curtains–you can fake higher ceilings just by hanging your window curtains a few inches above where you normally would. 
Carve Out Your Space
Chances are you are quarantined to one room in your parents' home, so you need to make the most of it. Create a cozy corner in your room to serve as the perfect escape when you need some downtime, and go wild, because this is the one spot that doesn't require any compromise. Think lots of light, plush pillows, a chair to curl up in and a spot for your fave books or record player. It may seem like such a small act, but curating a nook that's full of your favorite things can make all the difference in making your space feel like truly your own.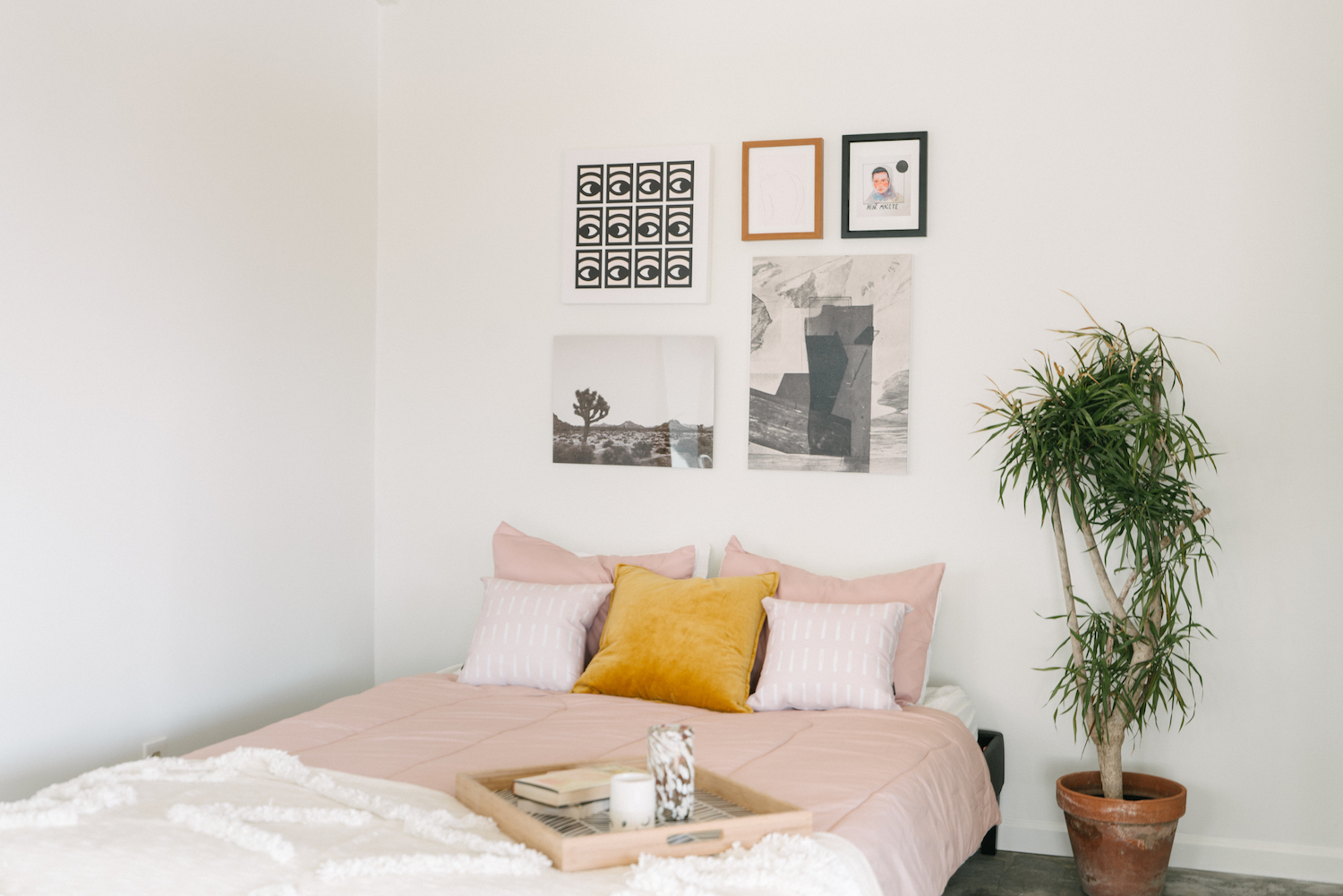 Sticks And Stones Framed Art Print
Mud Cloth Wall Tapestry
by Wellington Boot
$85.99
Shibori Chevron Comforter
FLORAL AND BIRDS XII Duvet Cover
by Burcu Korkmazyurek
$139.99
Dash Blush Throw Pillow
by almostmakesperfect
$29.99
Good Vibes Rectangular Pillow
by Cat Coquillette
$34.99