We all know someone (ahem someMAN) who needs a little help styling themselves. I legit went on a first date with a guy whose shirt said "Elvis's Birthday Bash" underneath an illustrated fat Elvis Presley covered in chocolate cake. A First. Date. Writer Kira Cook has too felt the aesthetic pain of a dowdy dude. So when we asked if she wanted to do an overhaul of her fashion-illiterate husband, Tyler, she jumped on the opportunity faster than the A/W2016 collections became irrelevant. Check out what happened (insert makeover montage here).
He hates it when I tell this story, which is partially why I love to tell it, but when I first met my husband, he had the worst style. I'm bonkers for clothes, so it was a real tough nugget to swallow when I walked into the bar on our first date and took in the slipshod rural Ohio fashion platter that he presented.
Just south of that sweet smile and those beautiful blue eyes were light-wash (bordering acid) baggy jeans with cargo pockets (why?), an ugly, ill-fitting button down shirt, and, oh. Dirty white New Balance sneakers. He hadknown we were going on a date, right? Yes. Yes he had.
Of course, once we got talking, his lack of a sartorial sense turned out to not matter much at all,  I was immediately smitten. Plus, I knew how to rectify the situation. A gentle guiding hand in the direction of awareness of shapes, textures, prints, and styles is sometimes all a person needs to see the vestiary light (speaking of seeing, those weird narrow glasses needed to go, too).
When Society6 offered me a gift card to dress my husband, I immediately hopped-to, sweaty with excitement at the challenge. A chance to re-assert myself in his wardrobe? Uh, yes please. A chance to inject his current minimalist sailor-fella style with some fun art prints? Dolphinitely.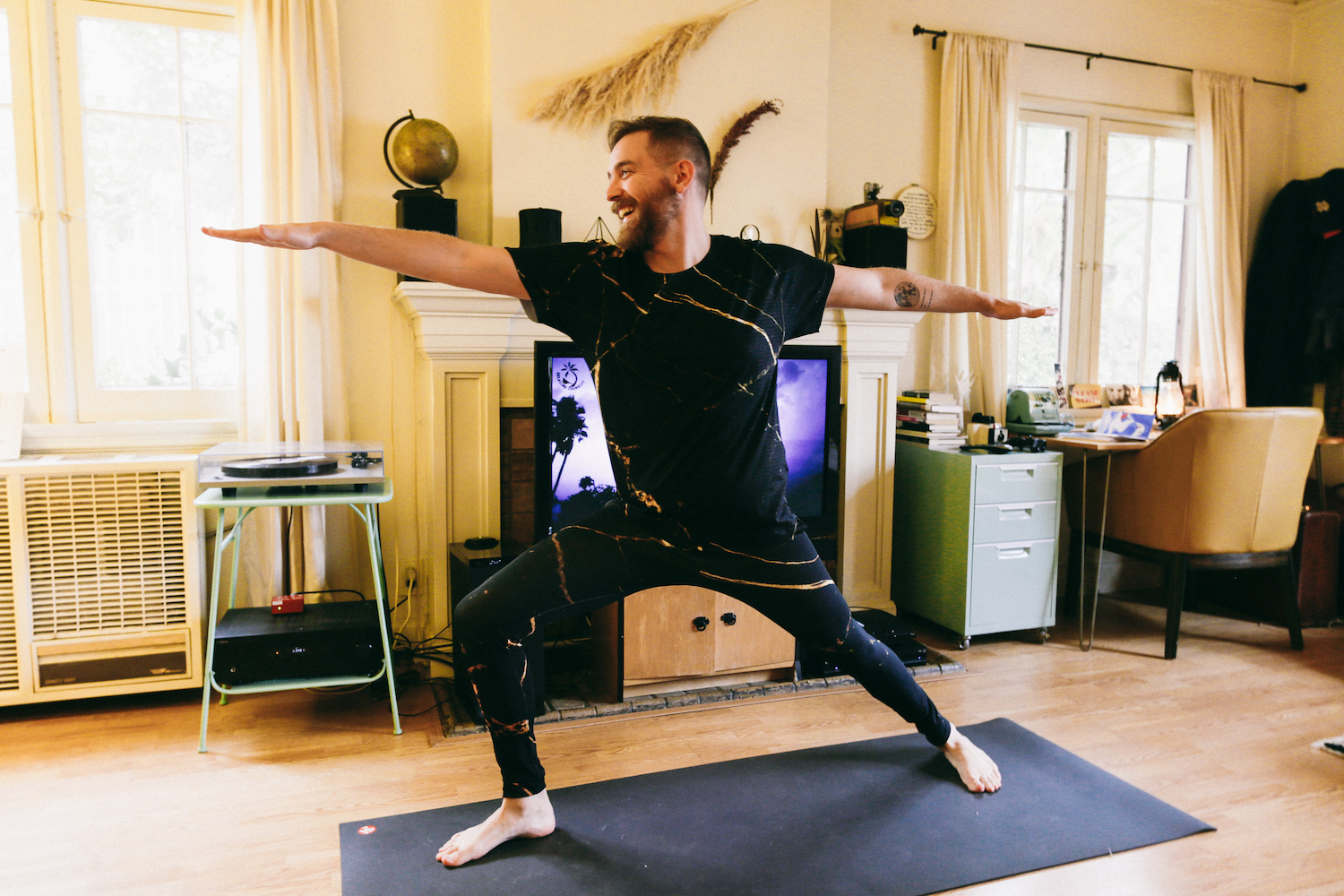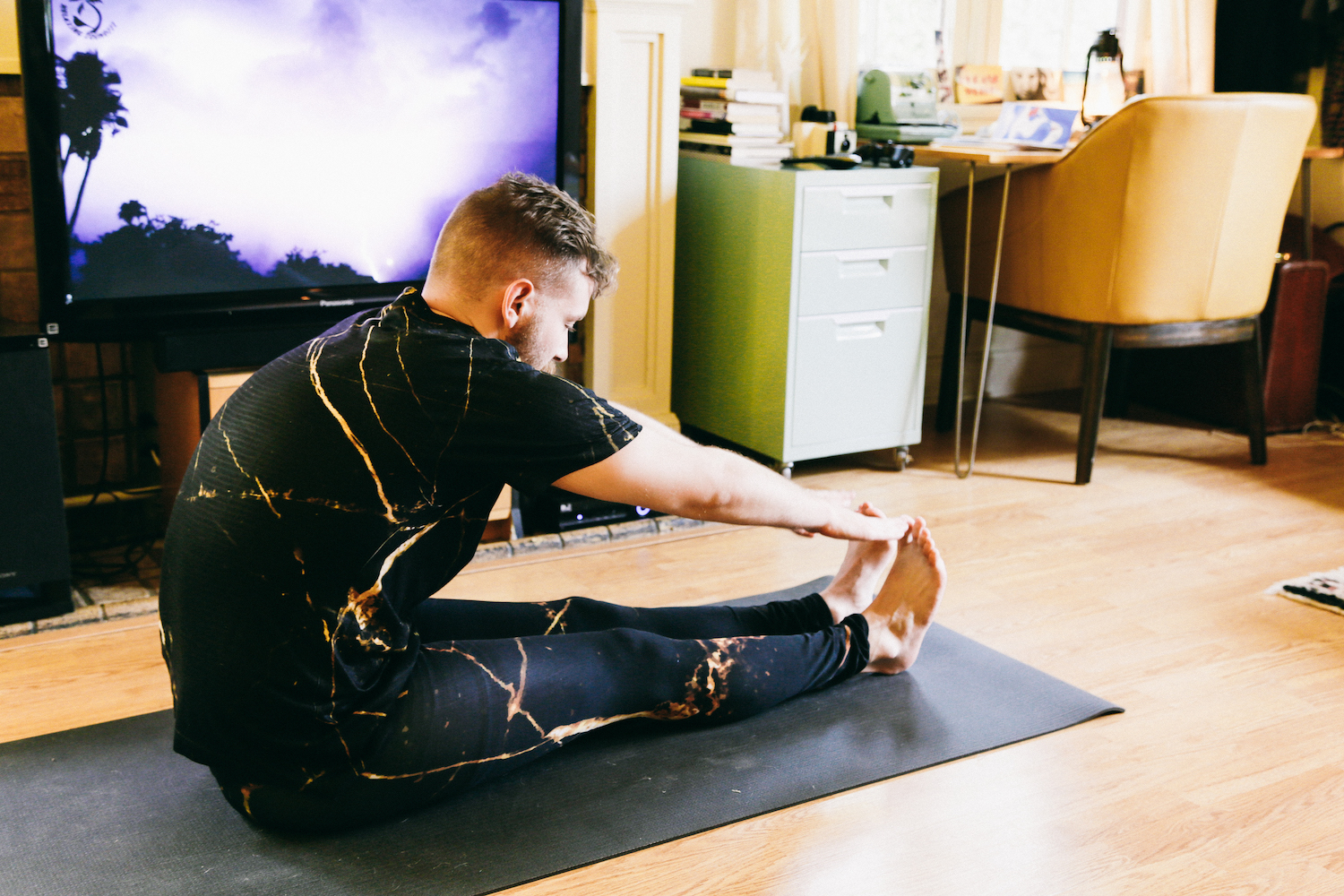 First off: revamping his fitness wardrobe was a must. Homeboy loves his ancient, decaying basketball shorts. He's recently taken up yoga (cute) because of a bad knee (sad), and I knew S6 could step in with a cool athletic outfit ideal for some warrior poses. I loved the look of the comfy Society6 leggings, and they fit him like a dream. The rad gold marble pattern on stark black background by 83Oranges looks really sleek when the leggings are paired together with the tee.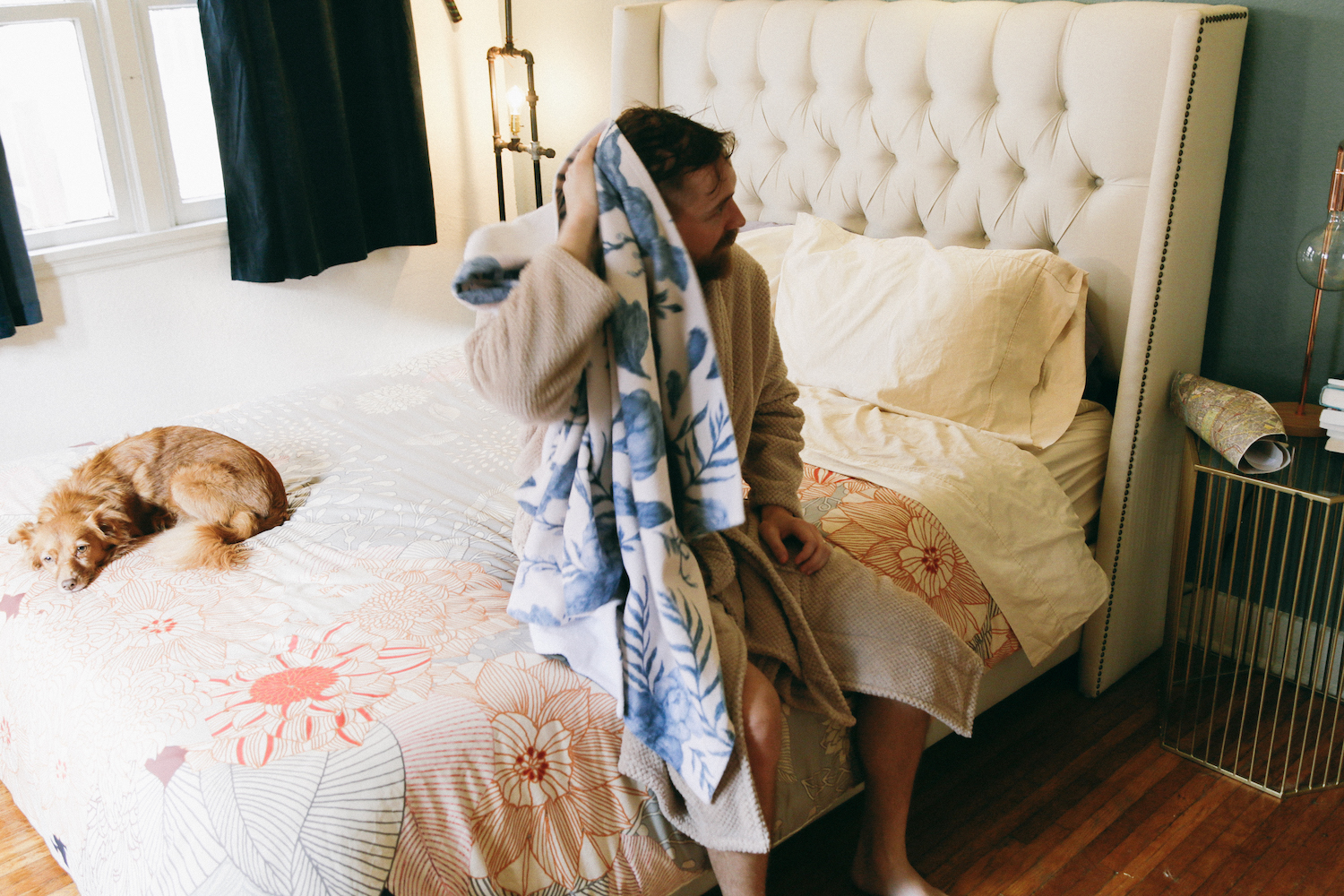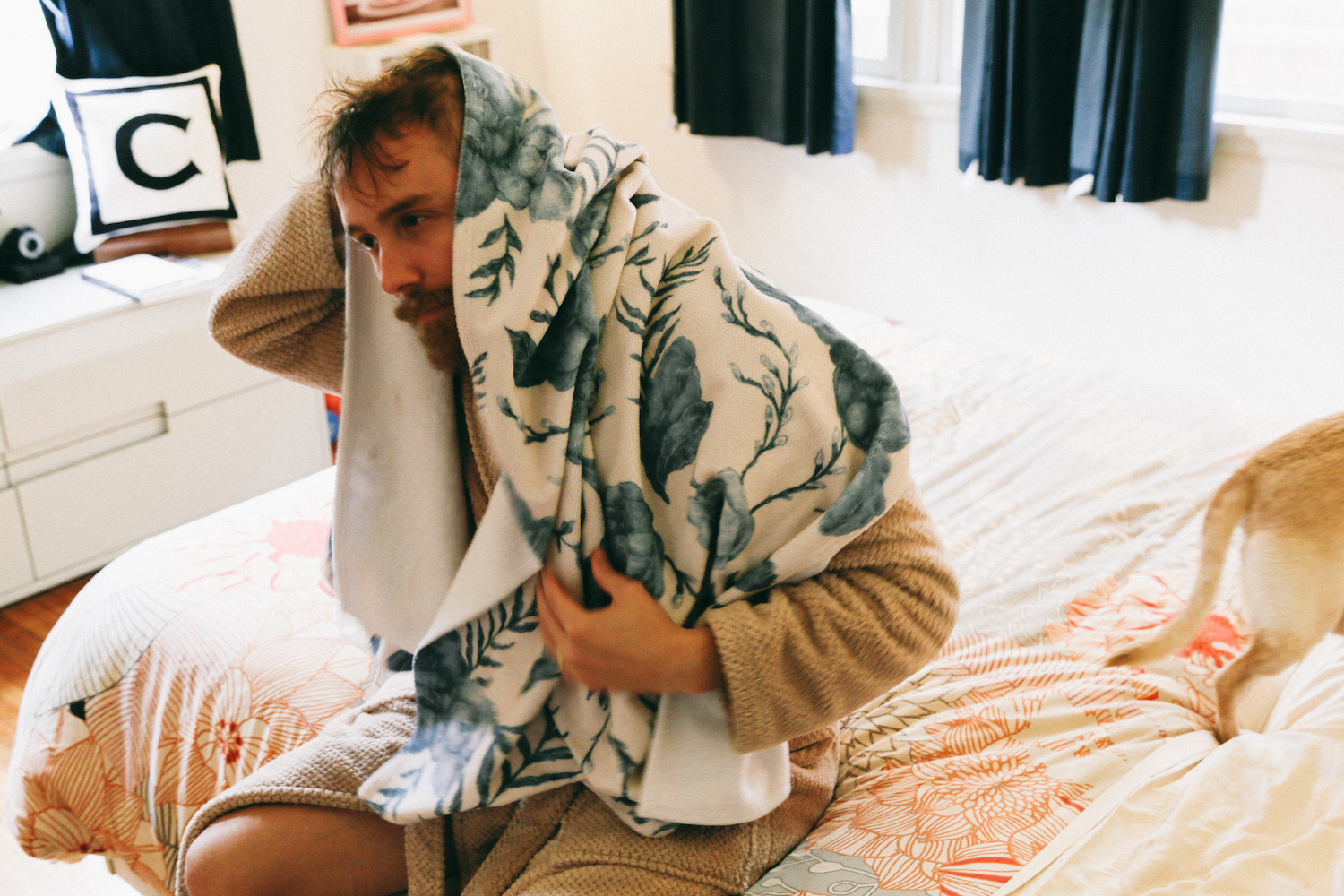 After a grueling 5-minute yoga session, he rub-a-dubbed and came out of the shower looking all cozy in this lovely blue floral print by Jessica Roux. Honest to gourd, swapping out our dark green bath towels for ones in this elegant, light print made our bathroom look twice as big. Hard recommend!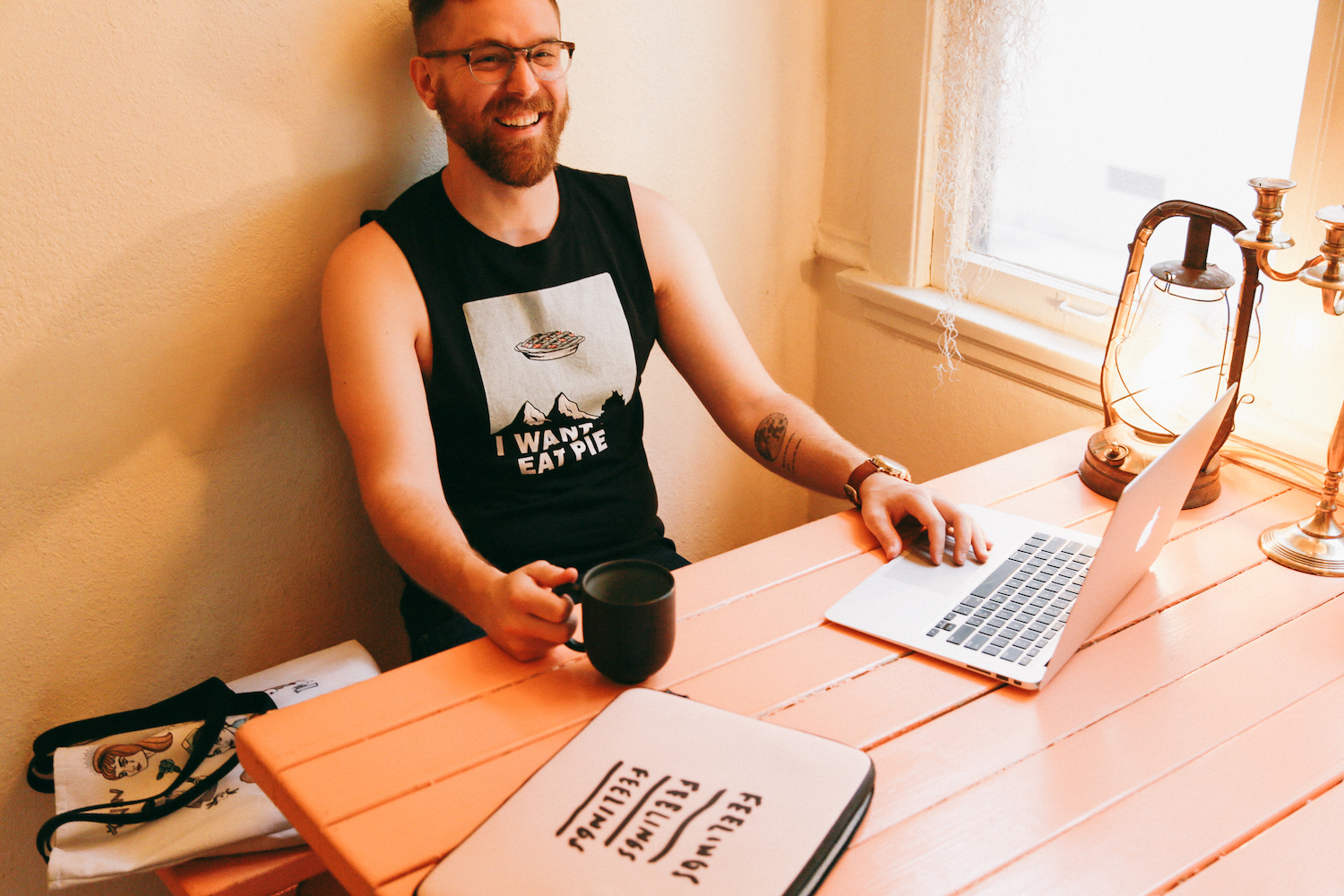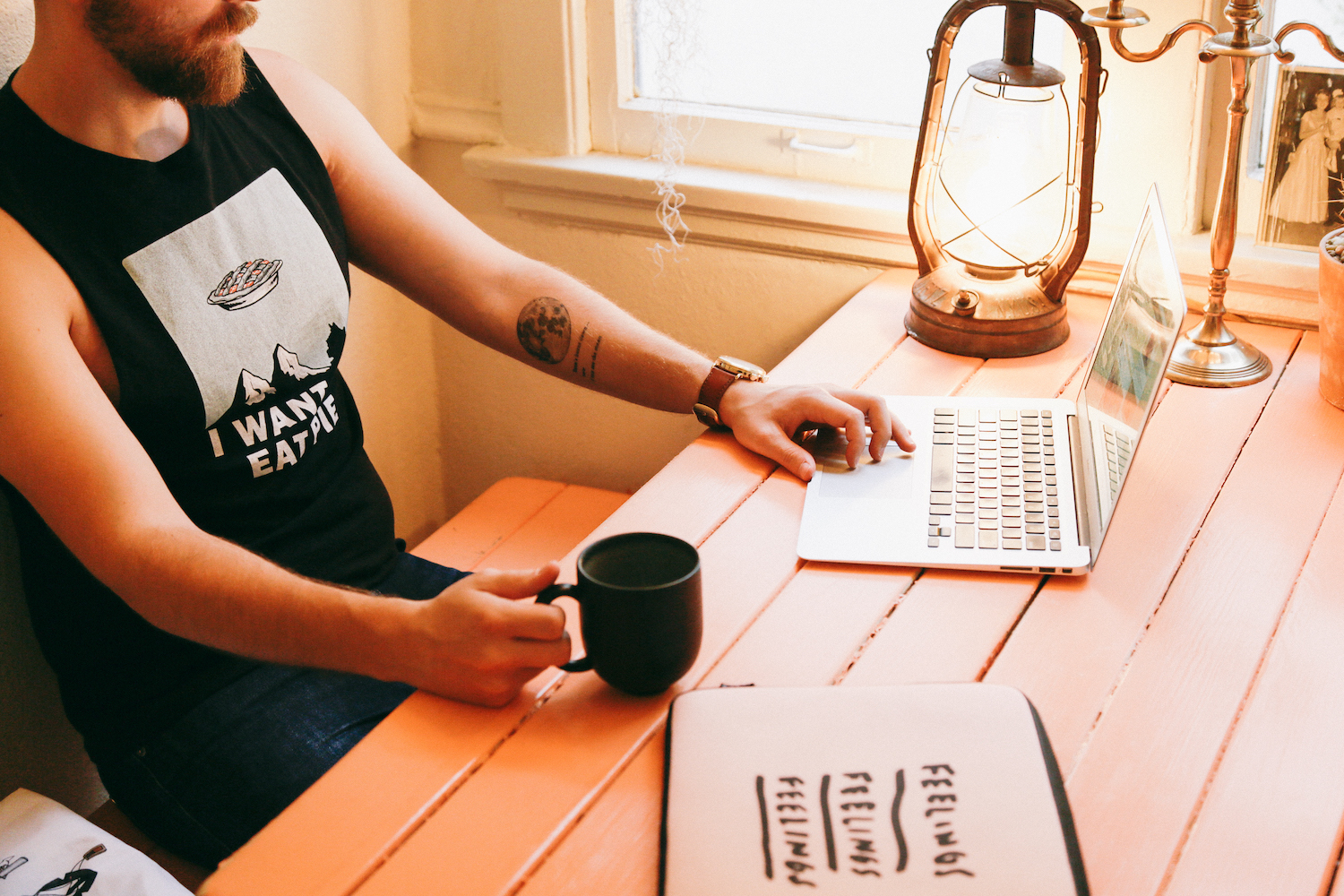 Tyler is a master pie-baker. His father was a baker, and so he knows how to just casually bake pies from scratch in his spare time, crust included. I know, I know, not sure how I got so lucky. It's almost as though vision boards work or something. Anyway, the point is, when he's got a spare weekend, he's baking a magical pie, and this weekend was no exception. He debuted a new recipe: Strawberry Balsamic Glaze Crumble, using the 10-year aged balsamic we bought at a tiny deli in Rome this summer. This shirt seemed pretty apropos.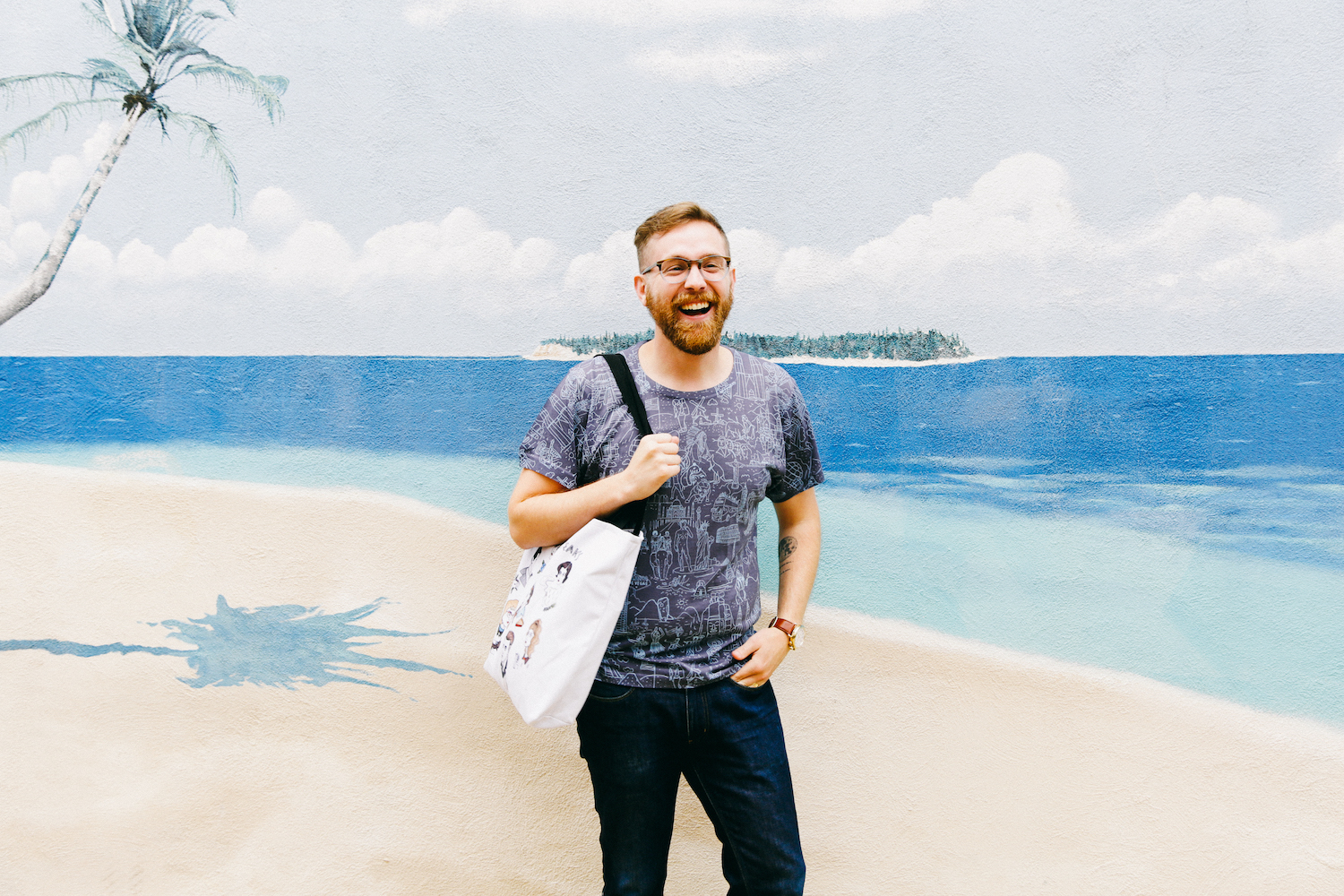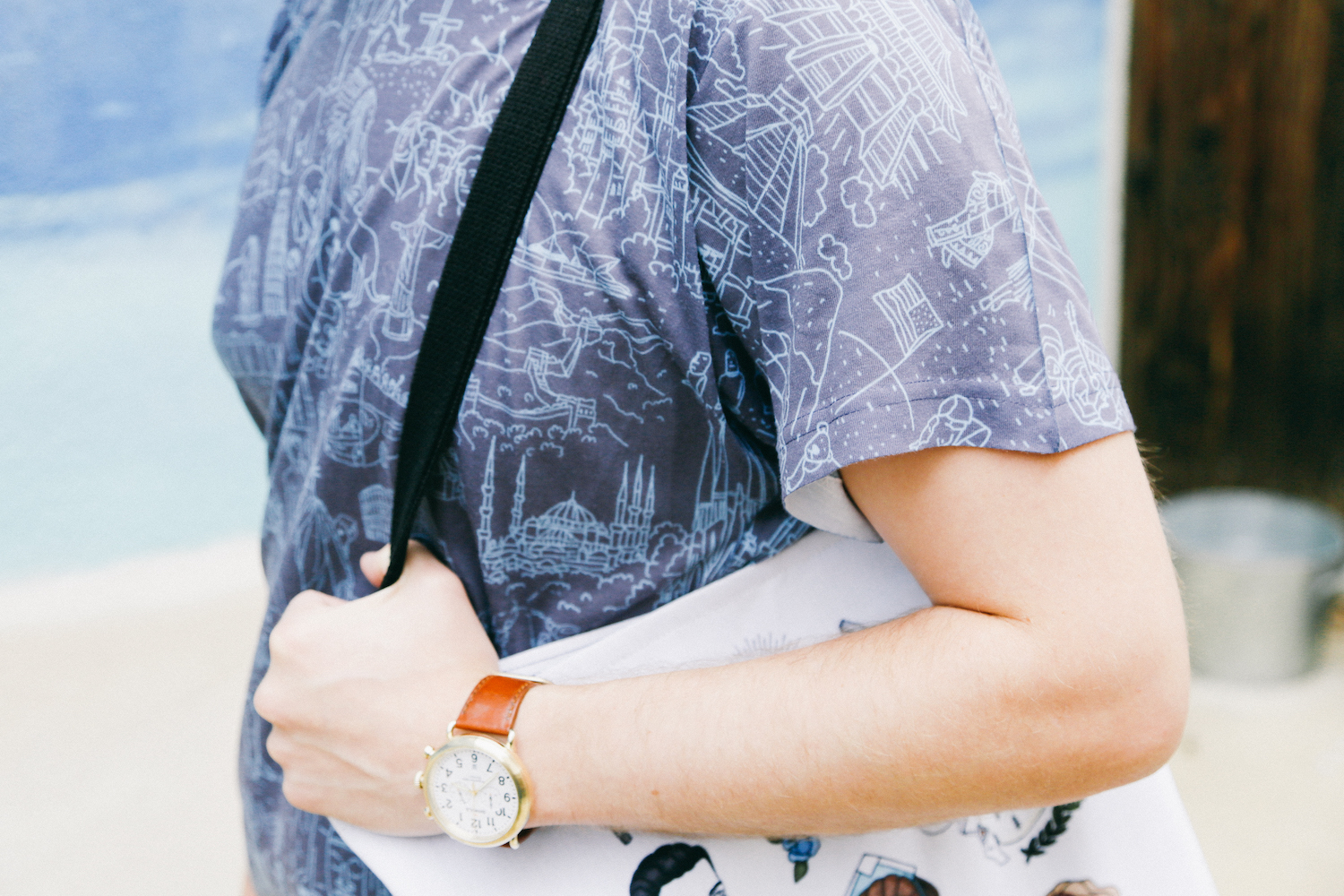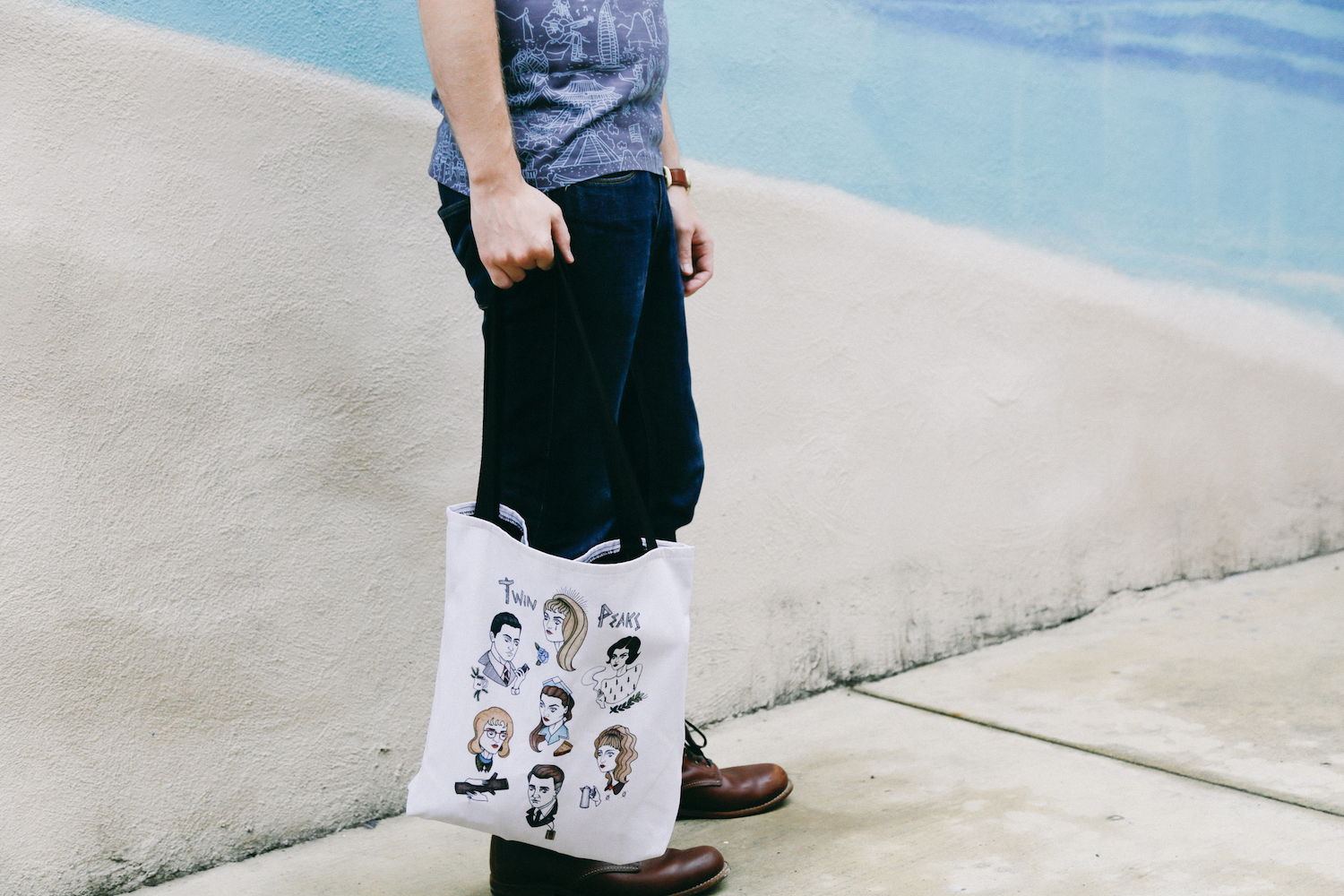 Over the weekend, we headed to an outdoor screening of Truffaut's Jules & Jim and a picnic with friends. I figured a shirt that represented the love of world travel made sense considering we were traveling to early 20th century France via celluloid. This "My destinations" print features illustrations of Michaelangelo's David sculpture, the pyramids of ancient Egypt, the Statue of Liberty, Notre Dame, and more in a sweet all-over chalkboard style sketch print.
To pair with the top, we carried our baguettes, salads, and about 17 too many types of cheese in the Twin Peaks cast tote by Bunny Miele. Roomy enough for our overzealous picnic choices, empty enough on the walk home to let us know we ate too much of that cheese. The perfect tote for any Lynch-loving dude.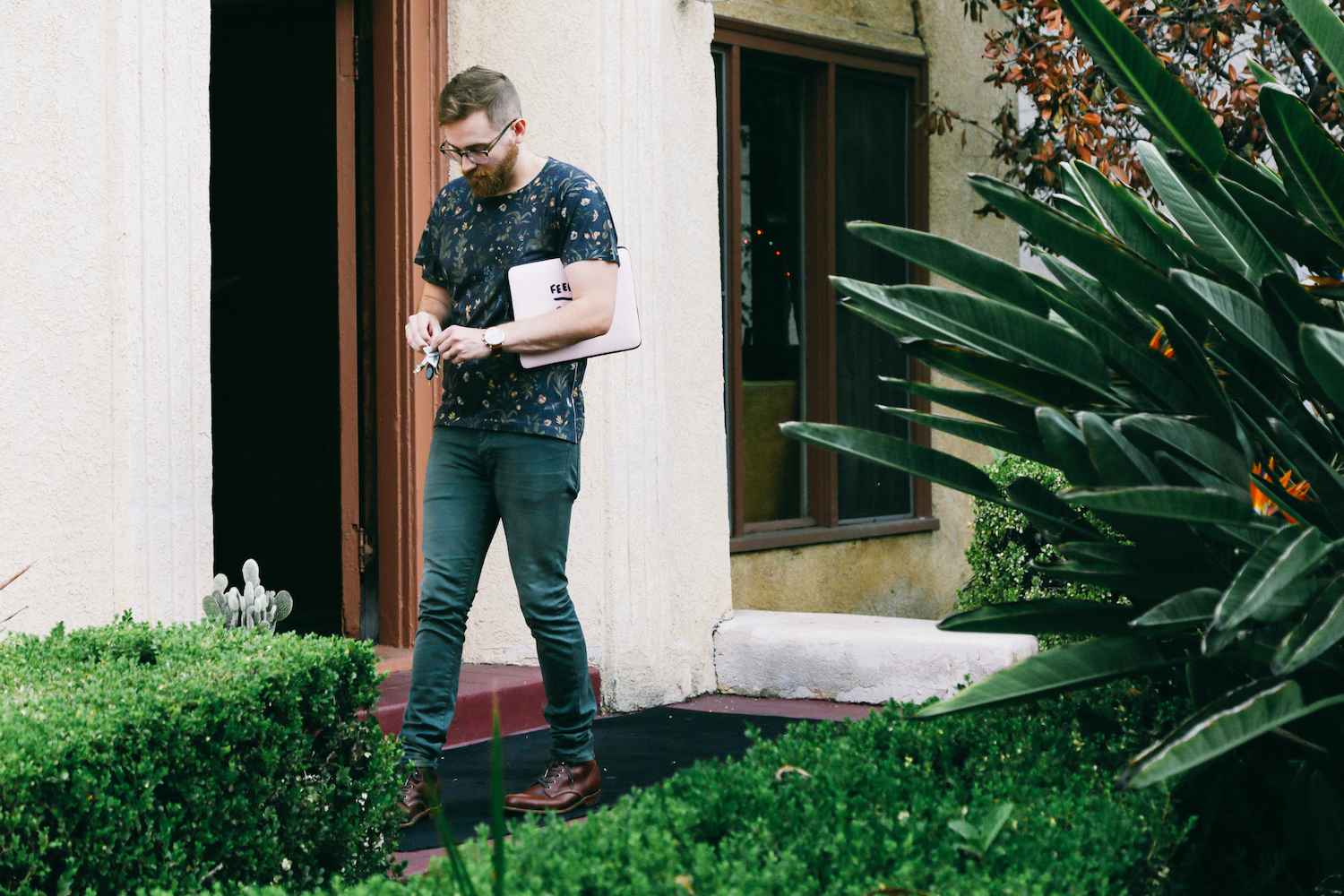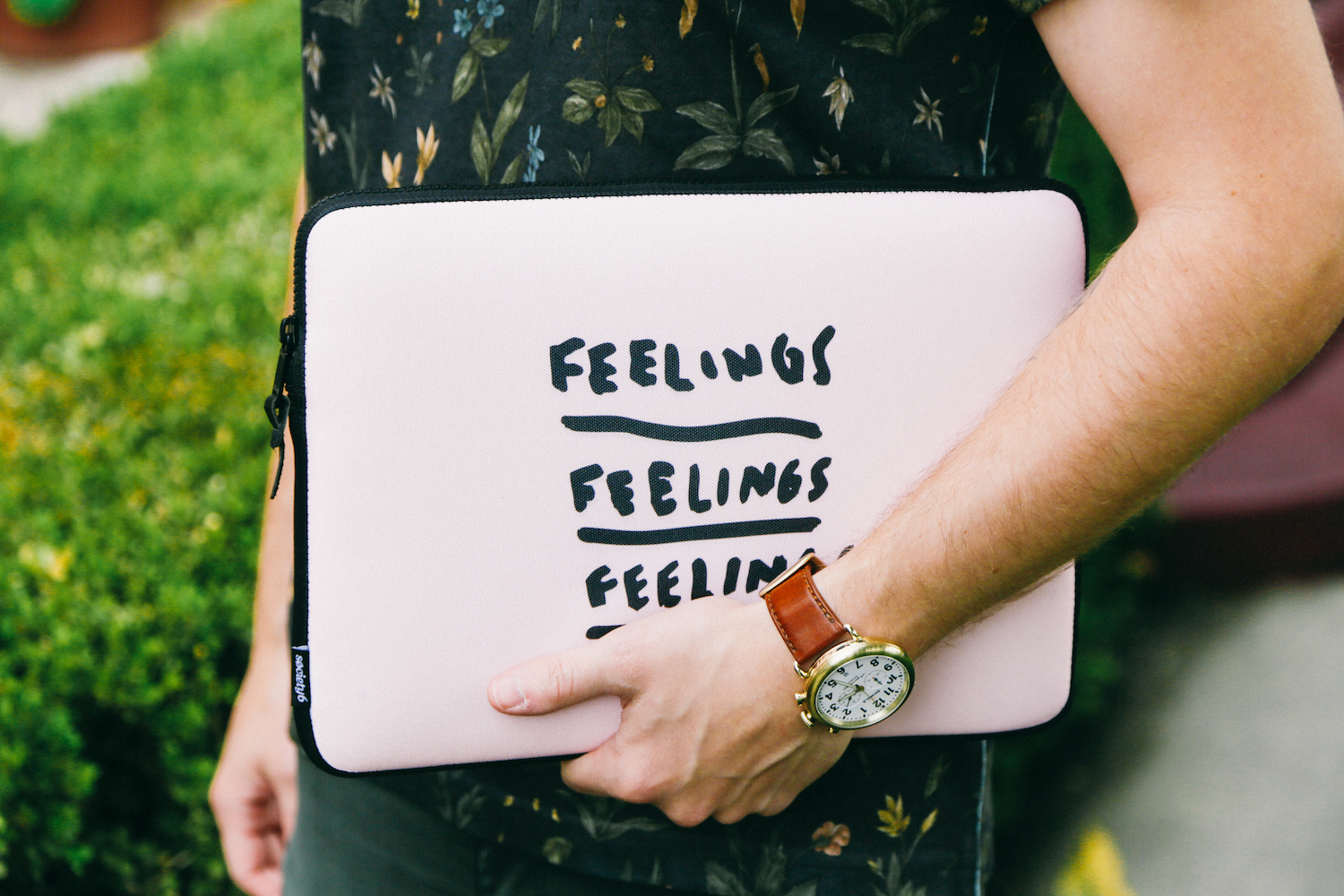 I caught Tyler on his way to work one morning wearing the Old World Floral tee by Jessica Roux and carrying the FEELINGS laptop sleeve by Melody Hansen. This is how men wear florals, folks. Man, nothing gets me like a dark floral print on a dude. Okay, maybe homemade pie gets me more, but that's IT!!! This shirt goes with everything, and subtly lifts the mood of those in its vicinity. And that laptop sleeve! The assertive typography reminds me of the delightful David Shrigley and the overtly feminine color combine to make him look like sentimental badass.
All in all, dressing Tyler in Society6 goods was almost too much of a cinch. You can easily populate your fella's whole wardrobe with the site's goods. There's a print template for every style of dude: your geeks, your foodie freaks, heck, even your cinephile with the rosy cheeks. Go forth, and conquer that wardrobe! Thoughtfully.
Photos by Samantha West.
Old World Florals Shirt
1339
twin peaks cast Tote Bag
20
FEELINGS Laptop Sleeve
83
by Gimetzco's Damaged Goods
$23
Blue Floral Pattern Towel
88
Black Beauty V2 Leggings
568
Black Beauty V2 Shirt
568