Back and better than ever.
We've given our Android cases a full makeover. Now supporting all the latest Android phone models, your customers will finally be able to find a phone case to fit them. Available in both slim and tough case styles, they're the perfect counterpart to our already successful iPhone case models.
In this article, we'll cover all the technical details required to start selling our new Android cases in your artist shop.
Activating Android Cases
To give your customers the best possible offering of Android cases, we do not automatically activate this product on your behalf, but in the new Artist Studio it's easier than ever to activate new products. If you need additional control over designing your Android cases, you can download the template below.
Reminder: We launch new products to artists before making them available to customers in order to allow for merchandising and time for artists to update their shops. At first, Android cases will not be included in the "Tech" dropdown in the main navigation on our site. Once it launches to customers, you'll be able to find it there. We'll be launching these all-new cases to customers next week. 
Creative Asset Details:
Pixel Dimensions: 1300px (w) x 2000px (h)
DPI:

300dpi

Template: 

Photoshop (psd)

Supported File Types:

JPG or PNG
Brief Product Overview: 
Product Name:

Android Cases

Product Category:

Tech

Material: 

Slim style case — I

mpact resistant Polycarbonate material, Tough style case — Impact resistant Polycarbonate outer shell / Inner TPU liner for extra impact resistance
Activating Android cases using an existing artwork is easier than ever in the new Artist Studio using the "My Products" page. To start, hover over your avatar (top right of site) and click on "Manage My Posts." Navigate to "My Products" and locate Android cases under "Tech." You will now see all of the creatives that are published and ready to be enabled on Android cases under "Disabled." Any creatives that are missing assets that meet the Android case requirements will appear under "Incomplete." You can quickly upload a new asset by hovering over the design and clicking "Upload."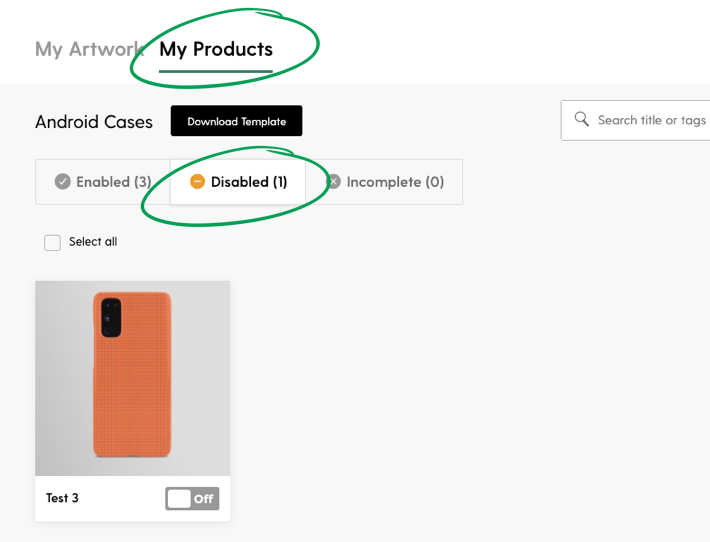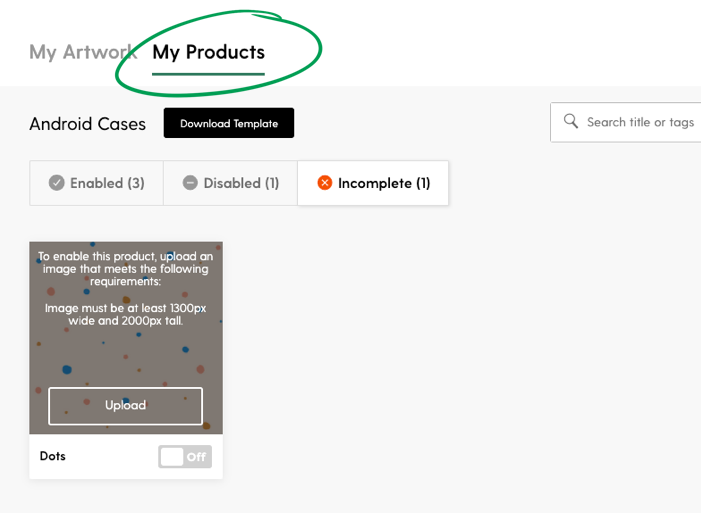 If the previews look good, you can "Select All" and then click "Enable" to activate all of the designs that meet the asset requirements at once. Android cases accept the same asset as the iPhone case so if you select "Android Case" under "My Products," you will easily be able to enable all of the designs that can apply to Android cases at once. For the best quality products, be sure to carefully review the positioning of the creative on Android cases prior to activating.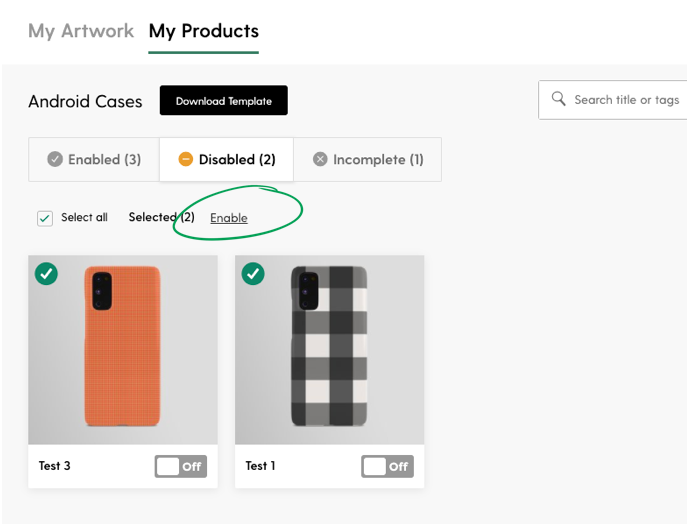 Special Considerations for Editing Android Cases
Our Android cases are compatible with multiple models of Android phones. Due to the slightly different camera placement of each Android phone model, there are certain areas at the top of the phone case that could be obstructed. The bottom half is the safest zone for these particular phone cases. While editing, select "Generate Previews" to double check your work and view how the camera placement will affect the final product.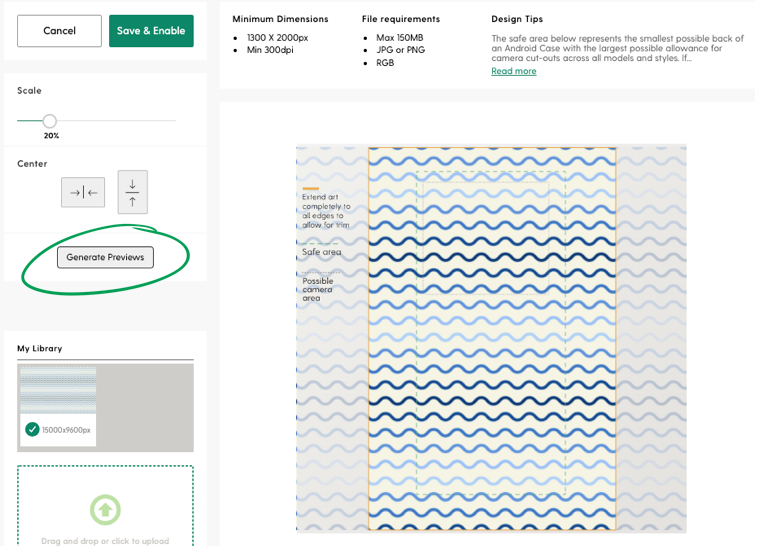 Using the Android Case Template
Download the template to give you greater control over the look of the final product.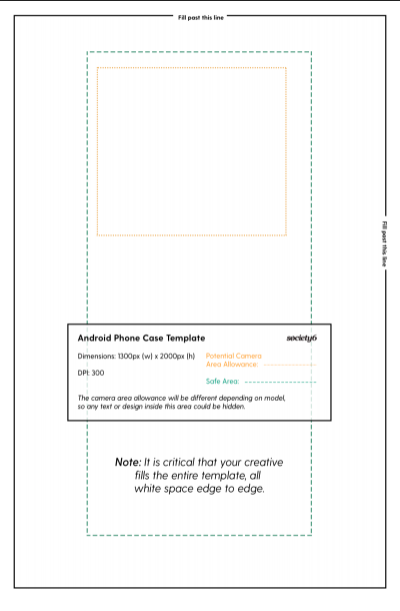 Creative must fill the entire bleed area. This ensures your customer receives the product they expect. Any bleed area left empty will result in white being printed on the final phone case.
Keep critical creative elements within the "safe area". The various Android models have slightly different camera placements so to avoid obstructing important elements of your artwork, be sure to be mindful of the safe area. For Android cases, the "safe area" indicates the area that does not have the potential to be hidden by the camera cutout.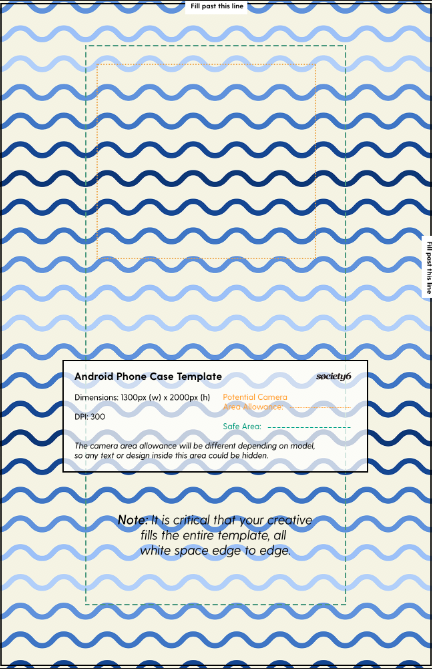 In Photoshop, hide the "Key" and "Guides" layers before exporting. Once you have positioned the creative to fill the entire template including the bleed area, click on the eye icon next to the "Key" and "Guides" layers to hide them. Both layers have a red box next to them and indicate "Delete Before Export."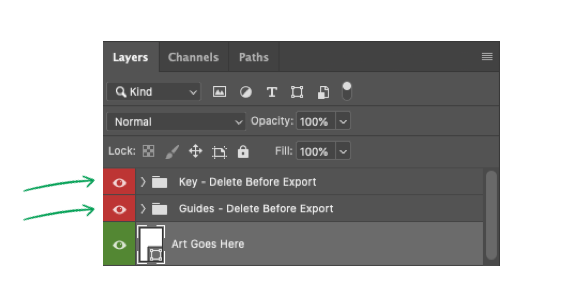 Official Android Case (Slim) Description
The case with a "custom tailored" fit every time. Our Android slim case combines premium protection with brilliant design. The slim profile keeps your tech looking sleek, while guarding against scuffs and scratches. Just snap it onto your Samsung, LG or Google phone and you're good to go.
Every product is made just for you

One-piece build: flexible plastic hard case

Easy to snap on and off

Open ports for easy connectivity
**PRO TIP**: This is the best option for those who want design without the bulk. Good for minor spills but the "frequently clumsy" should look to the tough Android case.
Official Android Case (Tough) Description
Protection from everyday life. Our Android tough cases keep a slim profile, but with increased shock dispersion thanks to a silicone liner. It'll save your Samsung, LG or Google phone's life over and over again.
Every product is made just for you

Two-piece build: flexible plastic case with silicone liner

Liner goes on the phone first, then snap on the case

Open ports for easy connectivity

Extra impact protection with shock dispersion
**PRO TIP**: This is the best option for those who need some peace of mind. After the first tumble, your bank account will thank you.