If the cooler weather has you staying in these days, you're not alone. 
But curling up for a night at home doesn't have to be boring–it's the perfect opportunity to slow down a little and embrace that off-the-grid lifestyle. Here, sisters and photographer and stylist duo Victoria and Meghan of Picture It Pretty show us how to have a legit (yet affordable!) self-care night right at home. Check out their tips below!
Life can get pretty crazy. And, in the midst of our all too often fast-paced and frenetic day to day, it can be hard to slow down and remember to make our own well-being a priority too. But you can skip the expensive spa package, the exotic yoga retreat or the off-grid weekend getaway. Self-care doesn't have to come with a steep price tag. Below, we're sharing five simple ways to make any evening of the week into a relaxing self-care night, right in the comfort of your own home, sweet home.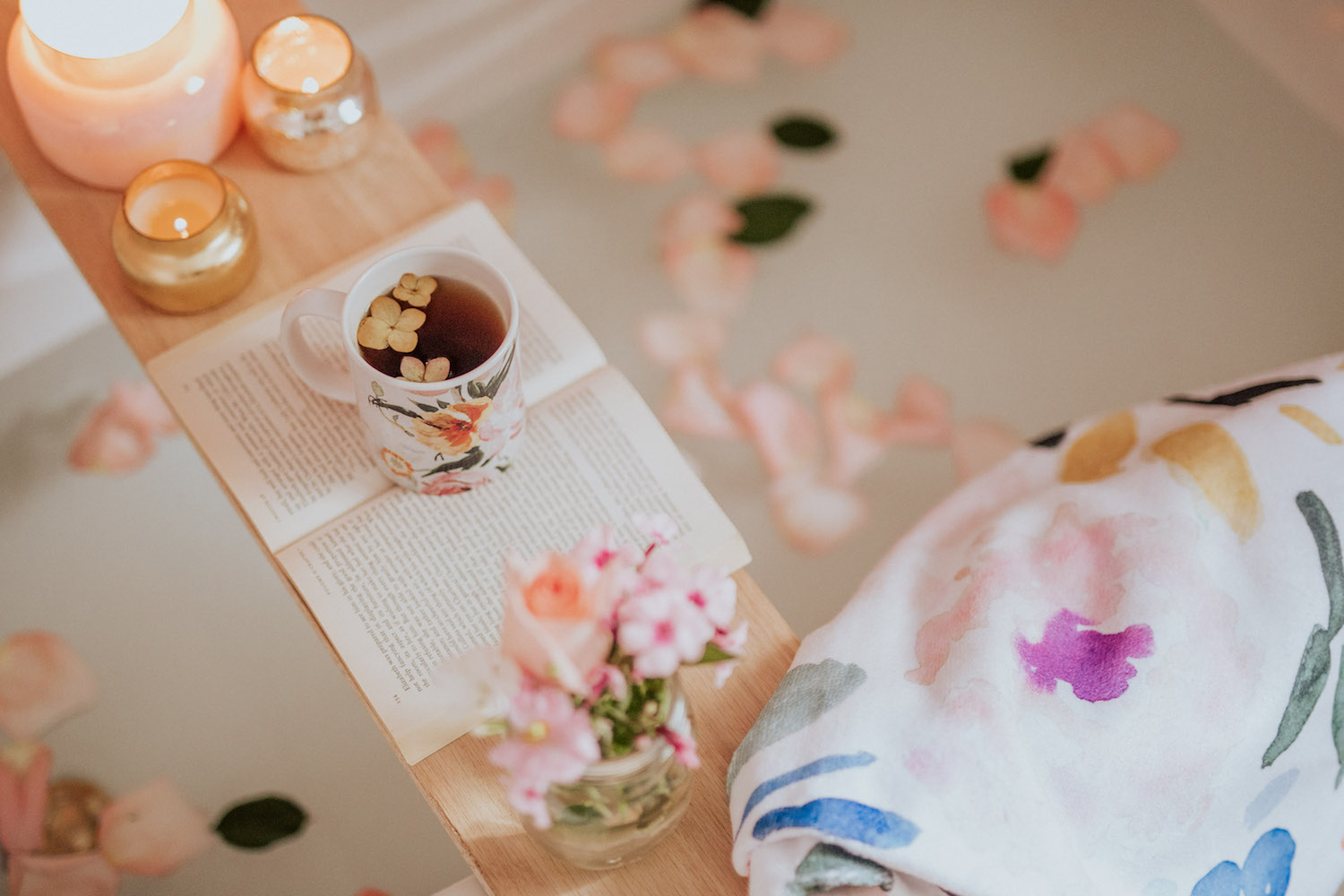 1. Take a Bath
Let's face it, most of us barely have time to squeeze in a quick shower every day before we're off to the races. So, something as simple as drawing a hot bath really can feel like a luxury. Light some candles, add your favorite salts and soaps, throw in a few rose petals – make it as simple or fancy as you like. Then hop in, soak it up and feel the tension melting away. And what better way to finish it off than by stepping out onto a cheerful bath mat and wrapping yourself in towels, as cozy as they are pretty?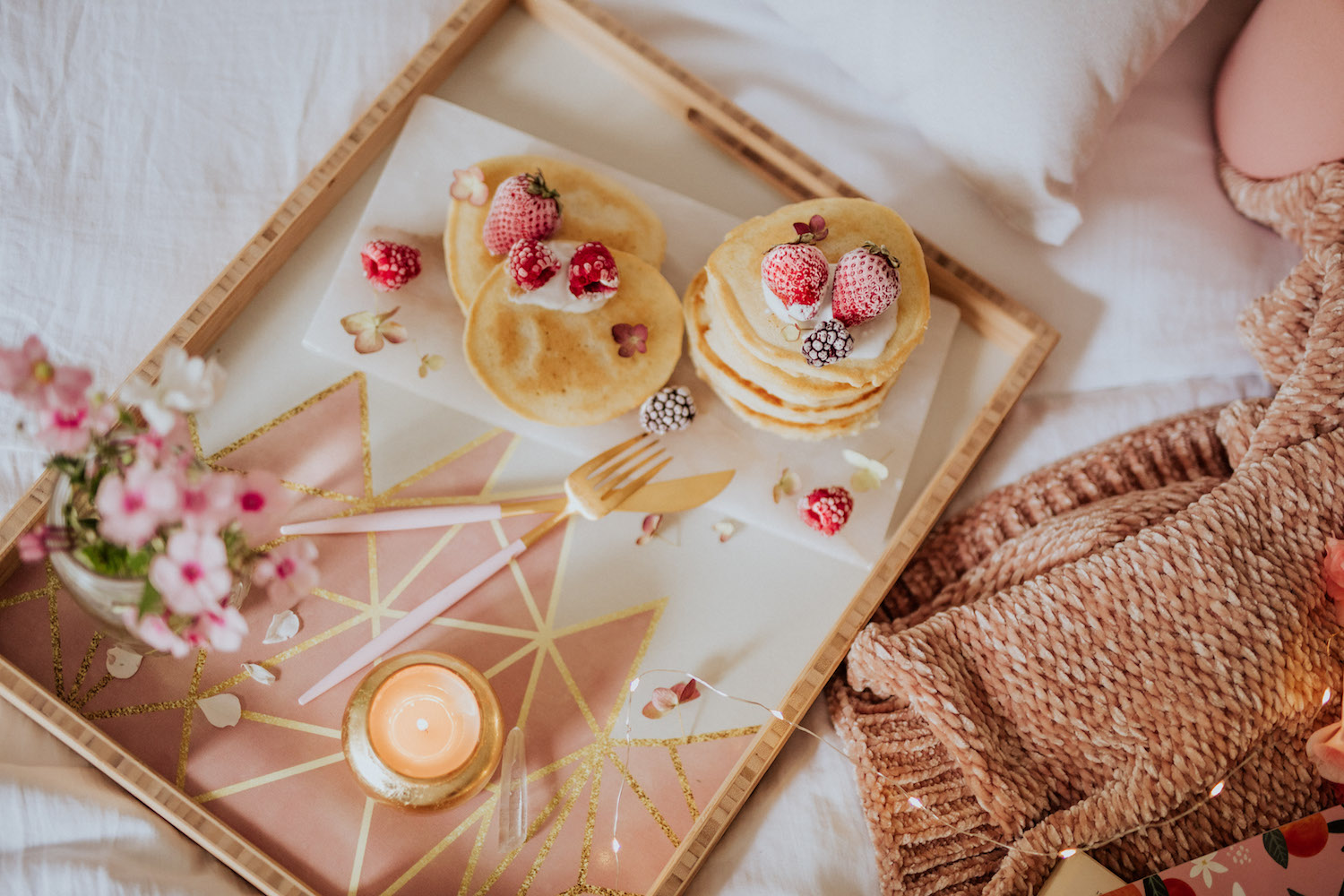 2. Enjoy Dinner in Bed
Who said only breakfast can be enjoyed in bed? And, on that note, why not have breakfast for dinner? If a stack of fluffy pancakes is your comfort food of choice, you don't have to wait for a Sunday morning to treat yourself. Add your favorite toppings, pile it all on a lovely tray and jump into bed. You won't be able to help but feel more than a little spoiled.
3. Have a Hot Drink
Sometimes a warm, soothing drink may be all that's needed to calm the nerves and comfort the body. Grab a cute mug and fill it to the brim with something piping hot. Herbal tea. Hot cocoa. Warm almond milk with honey. The options are endless, and the result is the always welcome feeling of relaxation.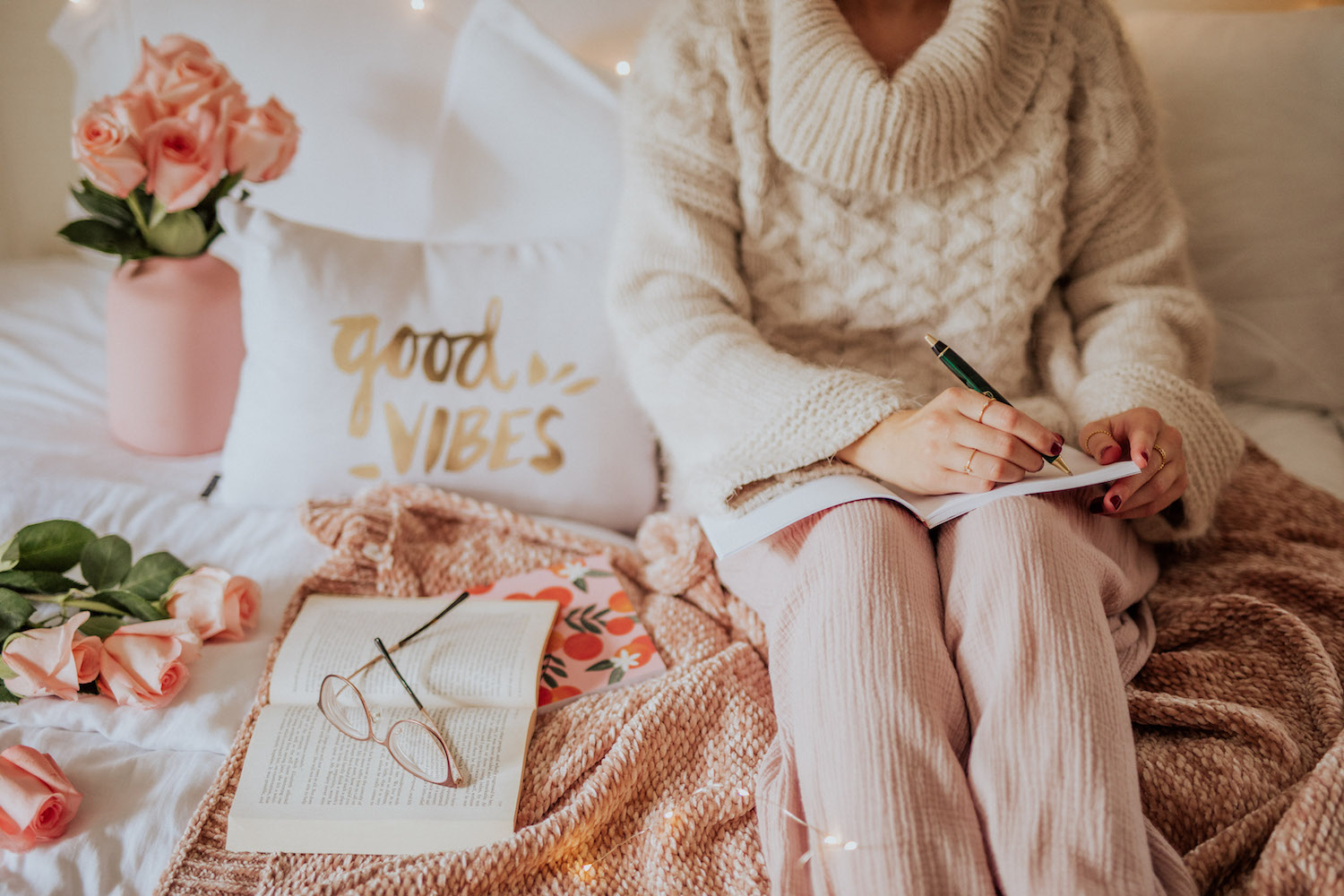 4. Try Your Hand at Journaling
Take a few hours to unplug from your devices, and plug into yourself instead. Spend some time sitting in silence, listening to your thoughts and writing it all down. Hopes, dreams, goals. A simple list of what you're grateful for. Reflect on the day you had and the one coming up. Pour it out on the page. And, if the mental clarity and peace of mind aren't incentives enough, a notebook in a fun print may be just the inspiration needed.
5. Stop and Smell the Roses
Literally. There's nothing that lifts the soul quite like the sight and scent of fresh-cut flowers. You don't have to wait for someone to buy you flowers, or hold off for a special occasion to bring a touch of nature's beauty into your space. Pick some from your garden if you have one, or stop by the local flower shop to buy a few roses. It doesn't have to be an expensive bouquet in a fancy vase to bring you joy. It could be as simple as finding a bunch of wildflowers along the side of the road and placing them in an empty mason jar.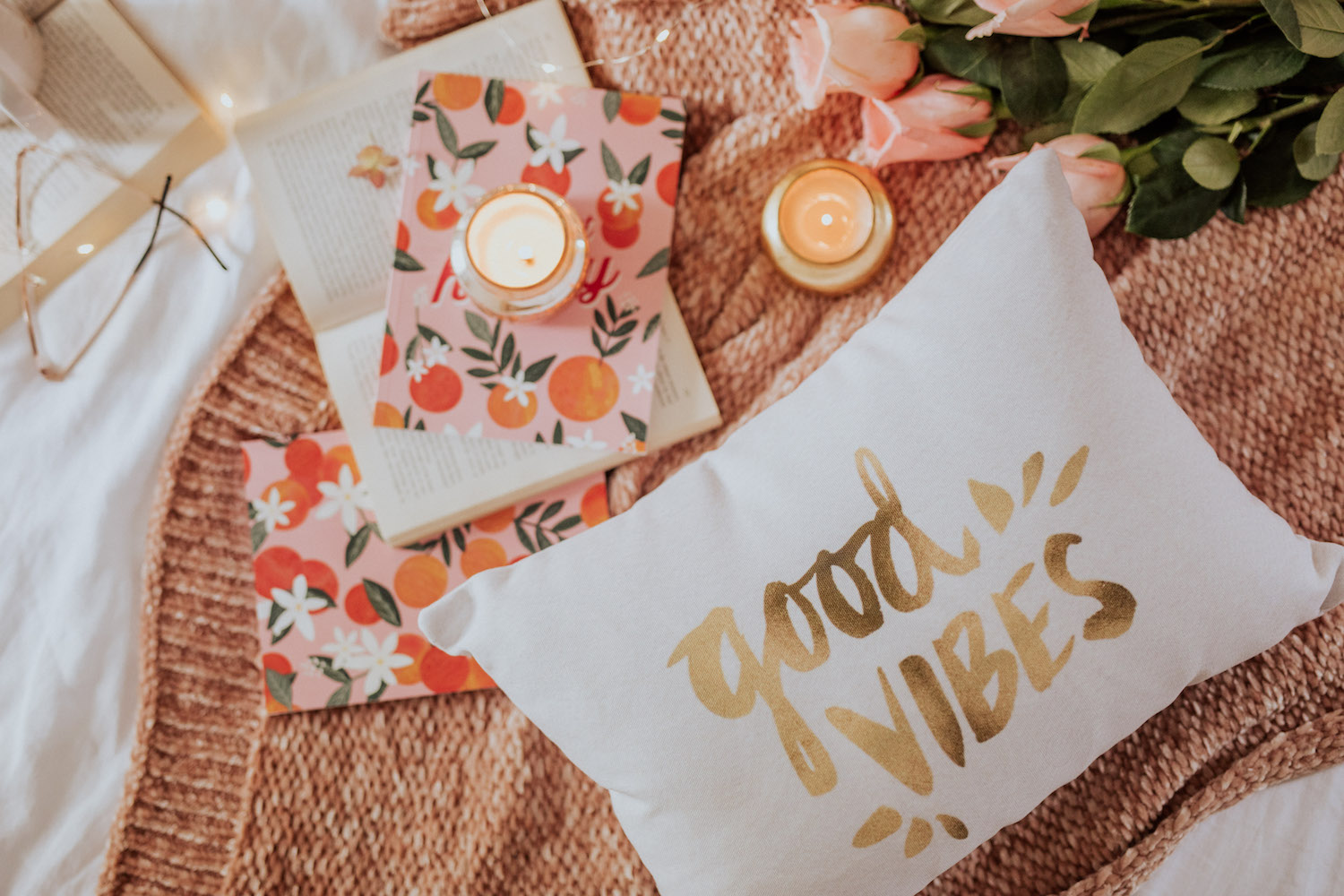 In the end, it's about taking an evening to do what makes you happy. If you prefer pizza to pancakes, have a slice (or four!). Make it takeout Chinese food if that's what you're craving. If meditation is more your style than journaling, go for it! Remembering to take care of ourselves in between all the roles and responsibilities we're juggling can be difficult. But, by spending one night solely focused on our own self-care, we can come back rested, recharged and all the more ready to take on what life throws our way.
Shop Picture It Pretty's Picks:
SHOP PICTURE IT PRETTY'S PICKS
Loose Peonies & Poppies Coffee Mug
by Shealeen Louise
$15.99
Good Vibes - Gold Ink Rectangular Pillow
by Cat Coquillette
$34.99
Pink & Gold Geometric Serving Tray
Watercolor Floral Bath Towel
Sierra Floral Bath Towel
by Crystal W Design
$29.99