From showers to shaving, your master bathroom is the place to complete life's daily necessities. And until recently, maybe you believed it didn't require more than the bare minimum home decor—a shower curtain and a colorful shower mat.
However, maybe you found yourself in a friend's bathroom, which changed your life. Masterfully decorated with wall art and matching one-of-a-kind home decor, you were ready to set up your residence right then and there. You might be determined to make a few drastic changes to your own commode by scouring the internet for bathroom decor ideas.
From whimsical wallpaper to sophisticated bathroom storage, we've curated the ultimate list of 20 bathroom decorating ideas to inspire your inner interior designer.
#1 Wrap Your Bathroom In Wallpaper
Adding a stunning wallpaper to your bathroom can elevate a traditionally simple space to a sophisticated retreat, depending on your personal design preferences. 
Choose a vibrant print for a whimsical feel, or submerge your bathroom in spa-like vibes with a floral design in neutral tones. If you're someone who likes to switch up their space with the seasons, peel-and-stick wallpaper is easily applied and removed.
#2 Mount a Stand-Out Accent Wall
If you prefer to make a statement with your bath decor ideas, embellish your largest bathroom wall with a mural. Like wallpaper, murals come in peel-and-stick varieties, making your bathroom makeover an absolute breeze. 
A single-wall mural gives you plenty of wall space to play with other design elements, too, including:
Wall hooks

Lighting

Mirrors

Shelving
#3 Curate Your Personal Style with Shower Curtains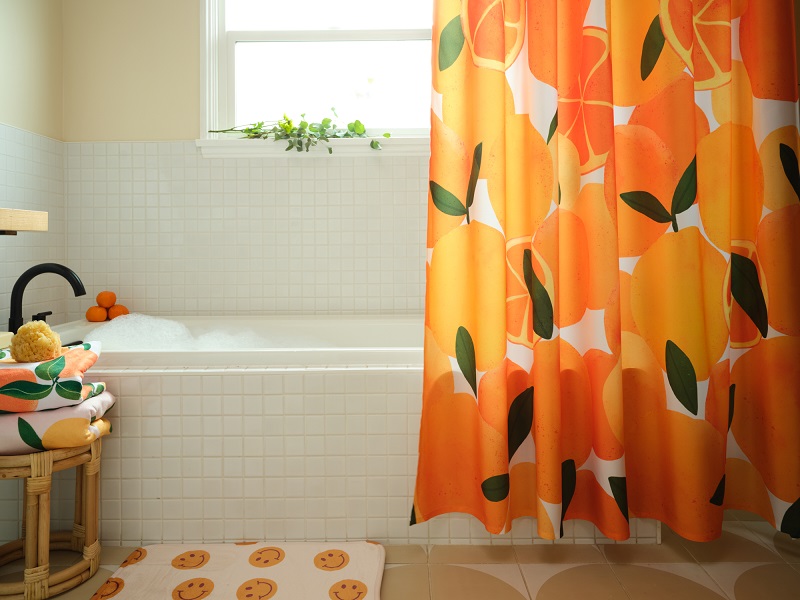 No one wants water soaking their bathroom floor—that's why we created shower curtains. But they're more than just a necessity. They're giant works of art. From simple monochrome colors meant to complement your bathroom's theme to ones that contain entire paintings and photographs, every shower curtain helps tell your bathroom's story.
That said, you'll want to ditch the sticky clear plastic reminiscent of communal gyms. Instead, accent your space with textured fabrics, bright prints, and elevated patterns to create a bold, curtained centerpiece. 
For a charmingly delightful design, choose a shower curtain in soft tones or opt for fun graphics. If you'd rather take a refined approach, look for a shower curtain with contrast, geometric shapes, and natural textiles. 
#4 Beautify Your Space with Bath Mats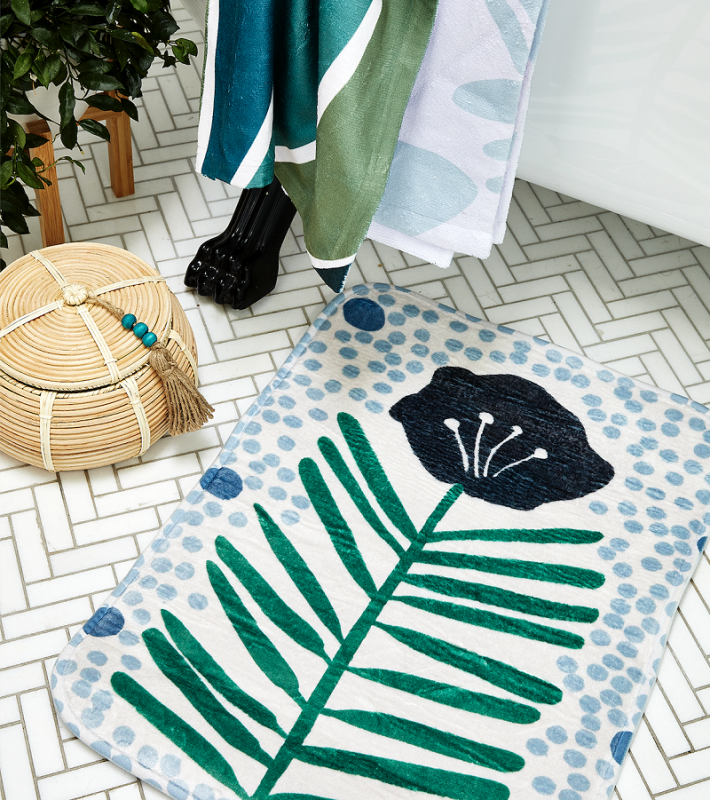 Like their cool older sibling (the shower curtain), bath mats can do so much more than collect water. Maybe your shower curtain is taking center stage. Perhaps you have a bold wallpaper that's claiming everyone's attention. That doesn't mean you can't have an understated yet stylish bath mat with deliciously earthy tones.
Or, if you appreciate a rainbow of color almost as much as you love a warm bath, choose a funkier style complete with graphics or abstract shapes.
#5 Create Cohesion with Bath Towels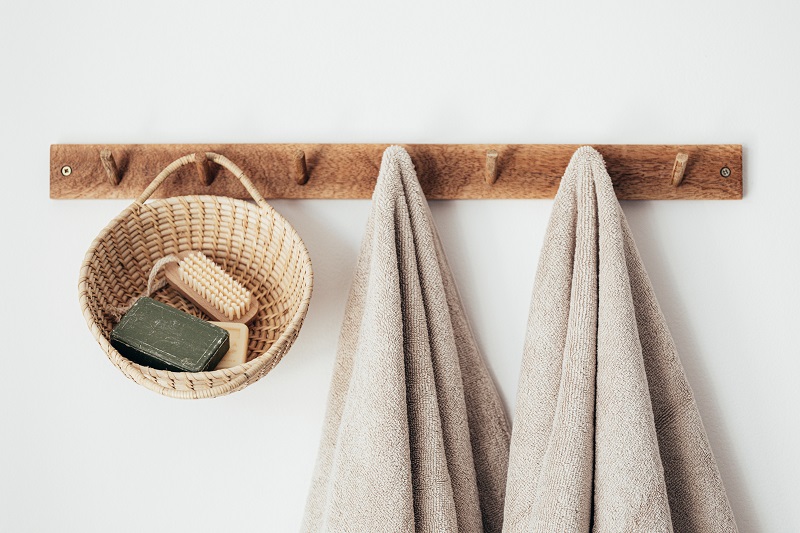 To create a uniform look, match your bath towels to the colors in your bath mats, shower curtains, and wall decor. You can hang your hand towels on a single-colored hook rack, roll them neatly into wicker baskets below your sink, or lay them over a rustic ladder. 
Additional interior design ideas for bathroom decor that put towels front and center include:
Stacking them atop a shelf display

Rolling face towels into a small bowl alongside the sink

Adding an antique coat rack to hang damp linens

Creating a recessed shelf for towels near your bathtub
#6 Designate a Self-Care Corner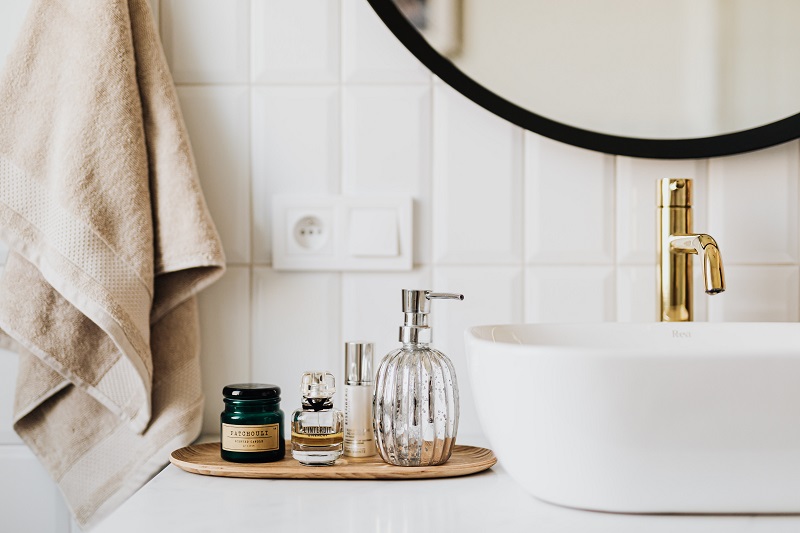 Arrange your assortment of self-care items on decorative acrylic trays that infuse understated style into any space. Include anything that makes you fall into a state of absolute bliss, including:
Perfumes and fragrances

Decorative soaps

Skincare tinctures and oils

Lotions and sunscreen

Face clays and masks
#7 Find a Place to Relax with Functional Benches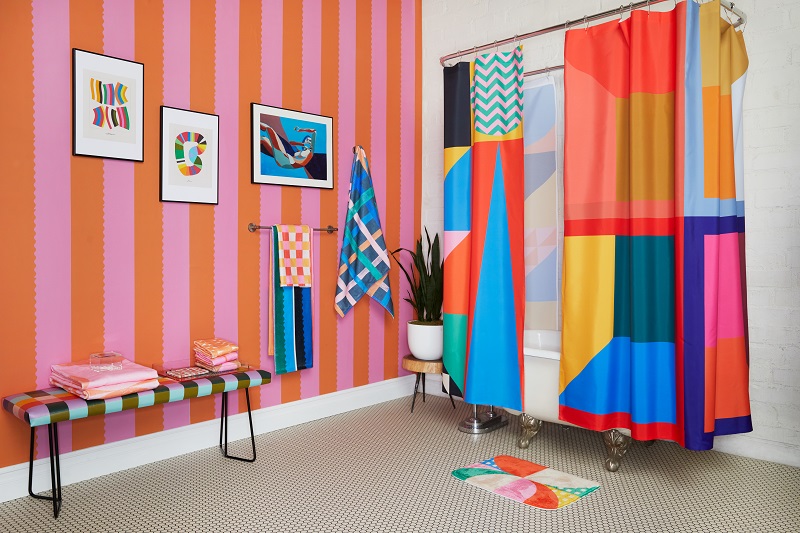 To make your bathroom feel like it's one part cozy retreat, one part luxurious spa, add a cute bench to the mix. Place it between your tub and vanity or situate it along a wall to create a space where you can sit down, relax, and enjoy your alone time. 
A bench also doubles as storage space for towels, robes, and clean clothing. 
#8 Elevate With a Gallery Wall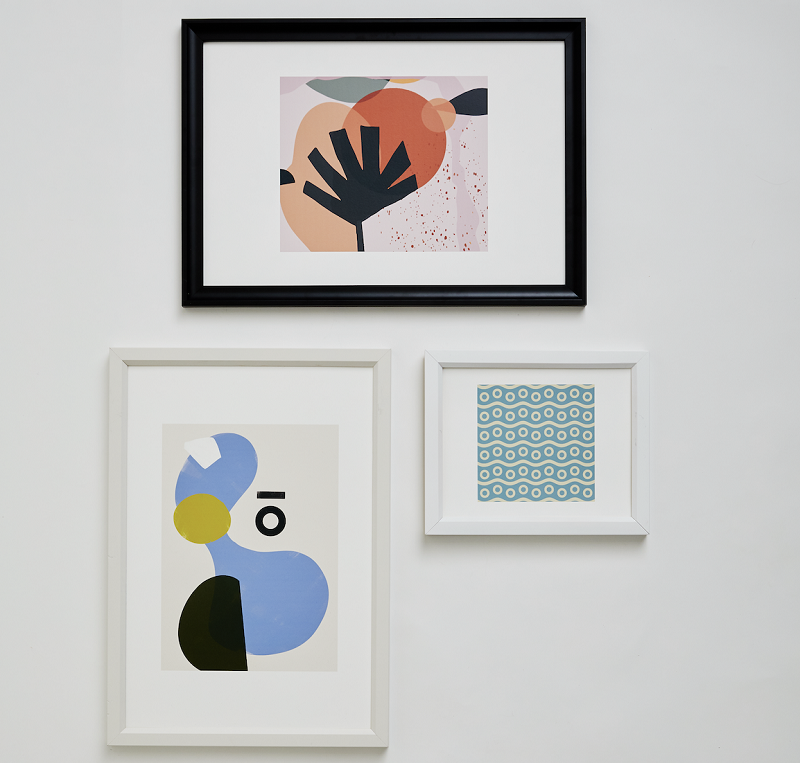 From handpicked art prints to one-and-done posters that leave a lasting impression, decorating bathroom walls with a gallery of prints can breathe life into your bathroom and give it character.
You have a variety of decor to choose from when crafting your bathroom gallery wall layout. While you can certainly go the traditional route with recessed framed prints, you can also go off the beaten path by adding mirrors, posters, and ornamental designs.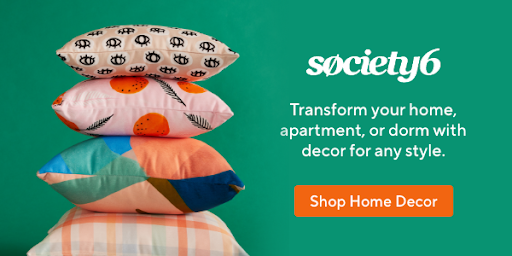 #9 Go the Natural Route with Woven Artwork
The soft, natural textures of woven artwork can imbue a bathroom space with a soothing, organic feel. Drape it adjacent to your toilet, hang it above a storage counter, or mirror it across your vanity to create a subtle centerpiece that's sure to make you feel all warm and cozy. 
#10 Accent Your Walls with Clocks
If you find that the clock ticks away as you lather your hair, suds your skin, and enjoy the warm stream of a shower, a wall clock may be the perfect addition to your bathroom accessories. Fortunately, decorative wall clocks come in a variety of styles to match your desired aesthetic, including:
Mid-century modern

Scandinavian

Minimalist

Retro

Vintage
That said, you'll want to make sure the wall clock you choose is proportionate to the size of your bathroom. 
#11 Add Stylish Storage With Shelves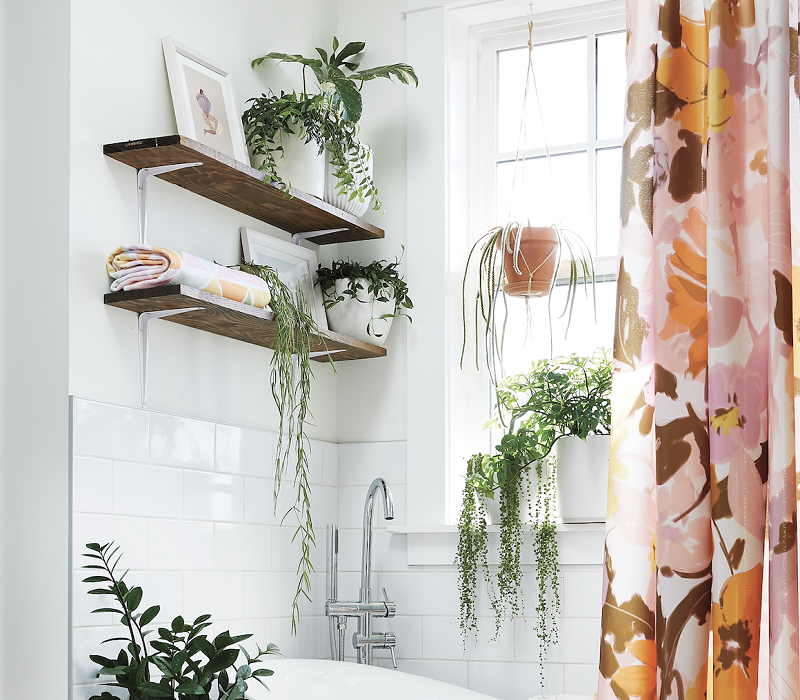 If your bathroom has limited storage space, consider adding suspended shelves to the side of your vanity or alongside an open wall. A wooden texture can bring warmth into the room, while a solid black shelf can lend itself to multiple design styles, including eclectic, contemporary, and minimalist. 
Roll small towels, add bathroom necessities, such as round makeup pads and Q-tips, and include a few specialty items, too, including:
Perfume and cologne

Candles

Plants

Mini art prints
#12 Create a Statement Wall with Wooden Artwork
For a nature-inspired space that elicits memories of warm saunas and zen retreats, create a wood accent wall with paneled artwork. For a classical design, choose natural woods in oak, walnut, or pine.
To curate a glam experience, find wood wall art in vibrant colors, unique designs, and dazzling landscapes. Set the wall as a backsplash behind a freestanding tub, or festoon the wall with hooks, shelves, and plants to make it both functional and chic. 
#13 Simplify with Metal Accent Pieces
Clean-lined aesthetics shine alongside metal artwork and accent pieces. For an orderly bathroom that thrives on simplicity, add these elements to your renovation to-do list:
Steel knobs for doors and cabinets 

Bronze shower head

Polished linen shelves

Brass waste bins and toothbrush holders
#14 Bring Greenery into the Bathroom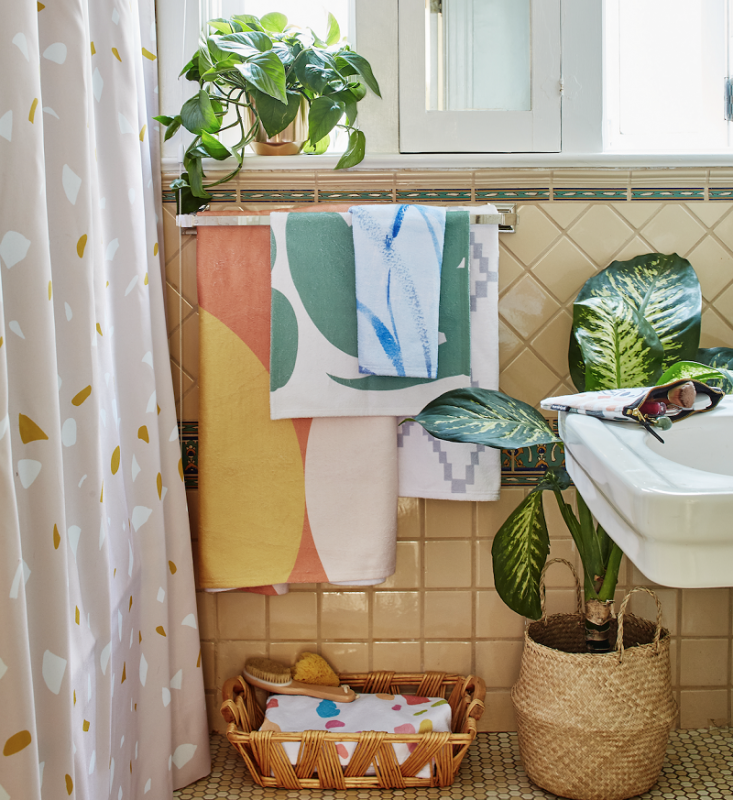 Installing greenery—with real or fake plants—brightens your bathroom and brings a garden-like essence indoors. Install propagation stations above your vanity, hang potted plants from your ceiling, or drape eucalyptus leaves over your shower head for a spritz of freshness every morning.
For those who want unnatural natural accents, look to plant-inspired art prints, shower curtains, and bath mats. 
#15 Showcase Your Jewelry
Your jewelry can adorn your bathroom, too. Use hooks to hang your dazzling necklaces across your wall for a sentimental statement or add your treasures to colorful acrylic boxes to align atop countertops or shelves. 
#16 Conceal Your Concealer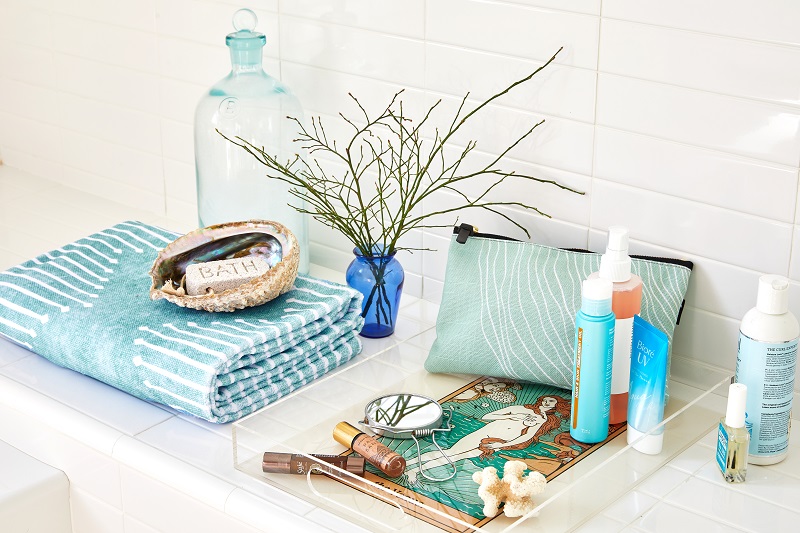 Let's face it, while your mascara, eyeliner, and foundation can certainly elevate your date-night look, they rarely elevate a space, particularly when scattered across your bathroom countertop.
Instead, give your makeup a stylish home depot that fuses effortlessly with your bathroom design. Store your essentials in:
Bold makeup bags

Acrylic boxes

Wooden containers

Wicker baskets 
#17 Add Cozy Rugs
A bath mat can undoubtedly treat your freshly showered toes, but for all-around comfort, incorporate a rug (or two) into the space. Rounded rugs can fill large spaces and unite the room, while smaller rugs can provide extra snugness near the toilet and sink. 
#18 Establish Pops of Color
While bathrooms shine with a clean aesthetic, accents of vibrant color can create visual interest within your space. When designed correctly, bold hues can actually highlight neutral tones without overpowering them. 
To create a more dynamic space, consider incorporating brightly colored:
Kleenex boxes

Shelving units 

Hand towels

Storage containers

Artwork
#19 Mix in a Credenza for Storage
Credenzas are types of cupboards that prioritize style. If you have the room, position a credenza in an unused bathroom area to provide extra storage space for towels, toilet paper, personal care items, and cleaning supplies.
While your essentials will be hidden away behind beautifully constructed doors, you can make your credenza shine by propping artwork, candles, and reed diffusers on its top side. 
#20 Customize Your Shower Space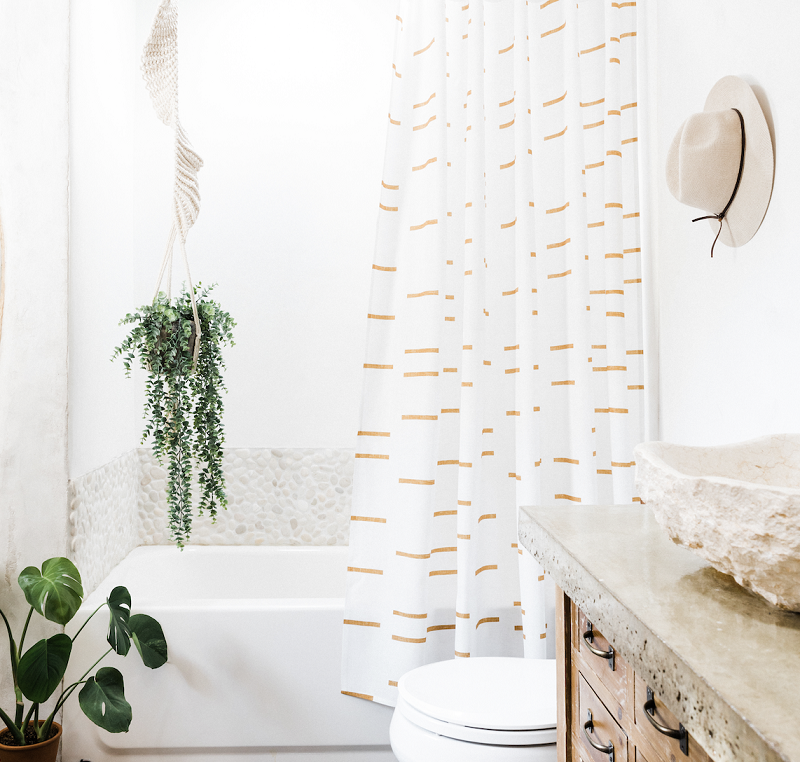 Wondering how to decorate a bathroom shower? Those with walk-in showers can place a wooden stool inside for a charming and practical touch. Top it off with decorative soap, a dry body brush, or a plant. 
If the stool features fabric, ensure that it's a splash-resistant textile, such as woven polyester.
Give Your Bathroom the Decor It Deserves with Society6
The thought of decorating your bathroom space can seem like a daunting task at first. But once the inspiration hits, the ideas begin to flow like hot water from your shower head. What you need then is an outlet where you can unleash all of those creative decorating ideas for bathroom renovation.
At Society6, we offer a staggering number of one-of-a-kind home decor for every area of your house, from your guest bathroom to your bedroom—and every nook and cranny in between. With over 450,000 independent artists hailing from countries all over the world, you'll be sure to find something tailored to your unique style prerequisites.
Start customizing your life one room at a time with Society6.
Sources:
Victorian Era.

Victorian Era Wallpapers Images, Design Patterns.

https://victorian-era.org/victorian-era-wallpapers.html

 

Architectural Digest.

9 Color Blocking Ideas for a Bright, Cheery Home.

https://www.architecturaldigest.com/gallery/interior-decorating-ideas-color-blocking