Time to spread those positive holiday vibes. Plus, get confident promoting your work in your voice, your style and specifically, to your audience.
WEEK 3: NOVEMBER 26 – DECEMBER 2
About the Holiday Prep Guide: For five weeks over peak shopping season, we'll be sharing a weekly schedule, each Saturday, with tips on prepping your Artist Shop for holiday shoppers, capitalizing on our promo schedule, fun creative challenges and insights from fellow Society6 artists. We're here to help you make the most of this season–how you follow our schedule is totally up to you!
For week three, we turn an eye to the next phase of the holidays: gifting season. Plus, get some tips on promoting yourself in your style, learn when to post on social to get the most engagement and take on this week's design challenge. Read about it all on the blog!
REMINDER: Customers should place their orders on, or before, December 16th to ensure arrival by December 24th.
DAY 1: CYBER MONDAY
Up to 50% off + Free International Shipping! Get details >
Today is the biggest shopping day of the year! Of all the days to go all-in on promoting, today is the day. Get out there and spread the word about this epic sale!
+ Design Challenge: White Elephant Gifts
Each week we'll be running a new Design Challenge to keep your creative skills sharp. Whether you create something new or share an old favorite, we can't wait to see what you've been creating!
This week we're all about WHITE ELEPHANT GIFTS. 
For this challenge, think super steal-able gifts!   A "White elephant" gift exchange is when everyone at a party brings a wrapped gift and toss it into a "pool" of gifts. Then you take turns grabbing a gift from the "pool" OR stealing from someone else who already has a gift you want! The funnier the better–let's see those silly sayings.
Keeping in your style, submit designs–new or old–that you feel would be a good fit for our White Elephant Gifts collection.
Submissions will be considered for inclusion in our Gift Guides that will be used in marketing throughout the holidays. We'll also be giving away free product to our favorites!
Submit by: Sunday, December 2, 2018
DAY 2: GIVING TUESDAY
Compliment your favorite creators
In the spirit of #GivingTuesday, we're encouraging you take 15 minutes to GIVE a compliment your favorite Society6 artists and creatives. You can keep it short and sweet or get long and rambly–you can't go wrong either way. As artists, we're often sensitive to the way people receive our work because it's intentionally personal. With that in mind, mention why you appreciate the artist and what is about their work that resonates with you.
Ways to do this:
Send a direct message
Callout your favorite work from an artist in your IG Stories
DAY 3: WEDNESDAY
5-min read
How to Promote Yourself In Your Own Style
Remember that customers are officially in gifting mode from now until December 25th and they are on the hunt for the best deals possible. If you're looking to lock in those holiday sales, share promos in your style and show gift givers why they should choose your product as the perfect gift for anyone on their list.
Society6 artist DeluxeWitch is a pro when it comes to promos. Check out how she creates posts in her signature style:
"Sometimes promoting your artwork online can feel like you're shouting into an empty well, especially if you're just starting to try and grow a following. But being recognized for your art simply starts by making your art recognizable and making it easy for your potential audience to find. It's all about carrying the experience of your artwork into promotions in a seamless way that doesn't break the fantasy for your viewers. With just a few small but mindful moves, you can shift your store into gear and create promotions that grow your brand and your following." –DeluxeWitch
Read the full article. It's a good one. >
DAY 4: THURSDAY
Post a #WIP to Instagram stories
Even though we're on the other side of Cyber Monday, now is a great time to remind people that you have original artwork for sale as gifts. If you're feeling stuck posting the same product images, sharing work in progress images or video is a fun way to give your followers a sneak peek into your creative process.
You can create a new WIP story or use an old one based on your most popular work. The only difference is you're going to announce that your artwork is for sale at the end!
Keep it to five frames on Instagram stories. Here's our suggestion:
Frame 1: Photo – early sketch of artwork
Frame 2: Video – short timelapse, shoot vertically *instructions
Frame 3: Video or photo – show off the details *fans love detail sections
Frame 4: Video – focus on a detail section and zoom out to reveal the bigger picture/final
Frame 5: Photo – Show the purchasable artwork or products
DAY 5: FRIDAY
Learn the best time to post on Instagram
Getting important activity insights based on your audience is the largest argument for making the switch to a business account. The second reason is that you have to have a business account to begin accumulating data. As you gather more info on your audience, you'll be able to more effectively market yourself because you'll know, for example, when they're most active. Here's how to find your audience's activity in Instagram…
Go to your profile page
Tap the hamburger menu in the top right
Tap "Insights"
Tap "Audience"
Scroll to the bottom to find what hours of the day your audience is most active
Our Head of Curation & Community, Nathan Spoor, let us take a peak at his insights to help illustrate where you can find the same information.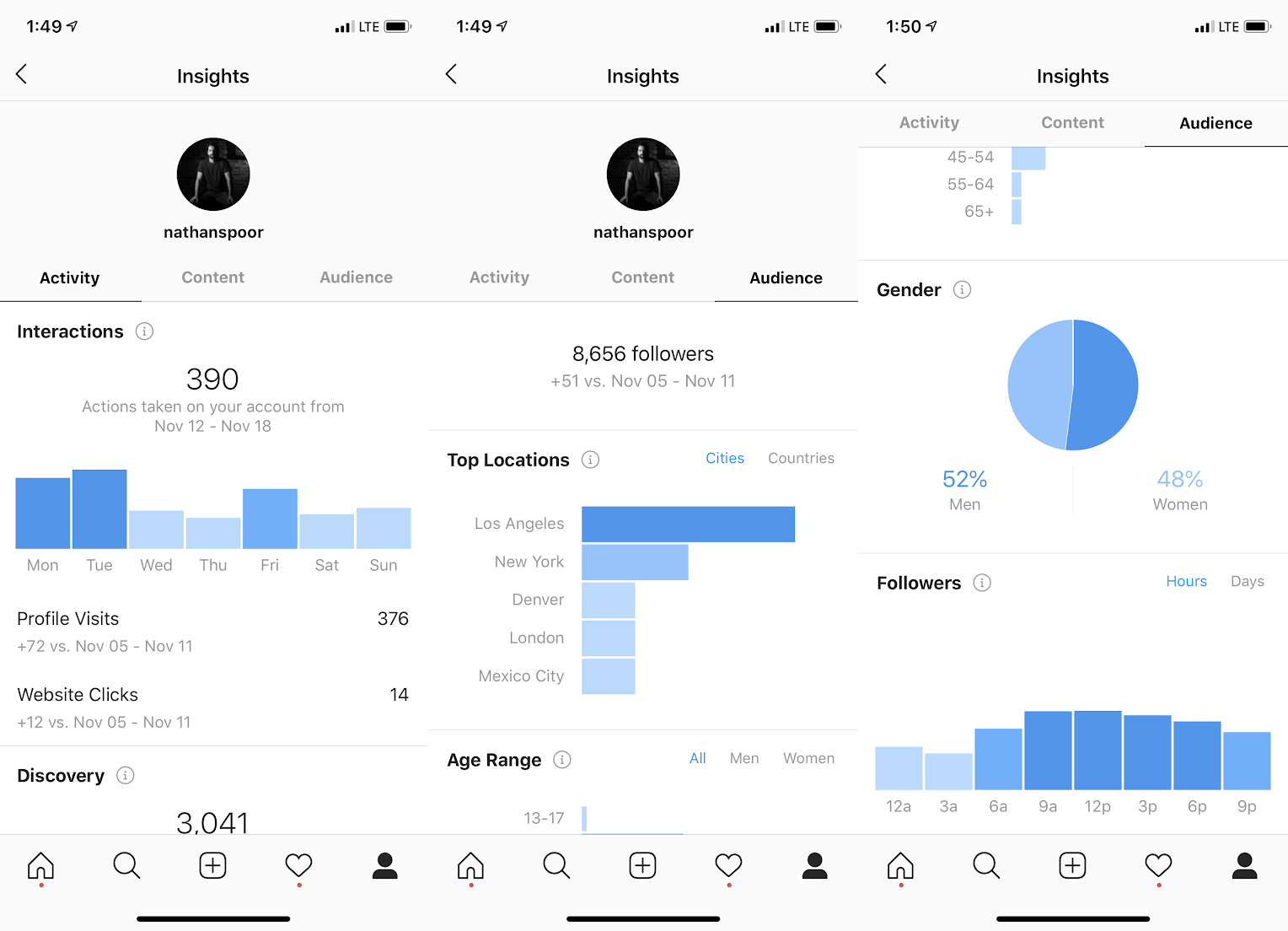 DAY 6: SATURDAY
Search hashtags on social
When aiming to boost fans or engagement on Instagram, don't forget the search section. This tip coming from Society6 artist, Hanna K.L.:
"Don't just use hashtags in your captions, but take advantage of the search section. Look up the same hashtags that you use yourself and and like the hell out of the posts. That way you will be seen in people's activity without much effort. Just make sure you're honest with what you like!" – @hanna.k.l
DAY 7: SUNDAY
Frankie says "Relax"
How can we argue?
ALL WEEK LONG: STAY IN THE KNOW
You've gotten through the busiest weekend of the year, but now the focus turns to gifting. Keep track of the promo schedule in our weekly Artist Heads Up.
If you'd like to workshop your ideas or have questions about how to approach the holidays, please join us in our official Facebook group where artists will be helping each other throughout the holidays! We'll chime in where we can too!