To celebrate warmer weather and sunnier days, we've started a new series where we ask creatives and designers to give their space the spring cleaning treatment. Over the next few weeks we'll check out four different aspirational room redos to give you some serious inspo for your own home. This week, artist Gaby Cetrulo gives us a tour of her beautiful NY bedroom along with seven tips on how you can spruce up your space this spring. 
1. Florals? For Spring?
Okay, so maybe this isn't the most groundbreaking concept, but I actually used to despise floral prints. I associated them with matronly house dresses and generic artwork I'd see in the OBGYN's waiting room. But a few artists have recently changed my opinion – floral prints can be interesting if you know what to look for. Stylized and graphic approaches keep the spring staple from feeling overly traditional. And mixing a variety of florals can breathe life into a recurring trend that happens to be older than my grandparents – which brings me to my next tip.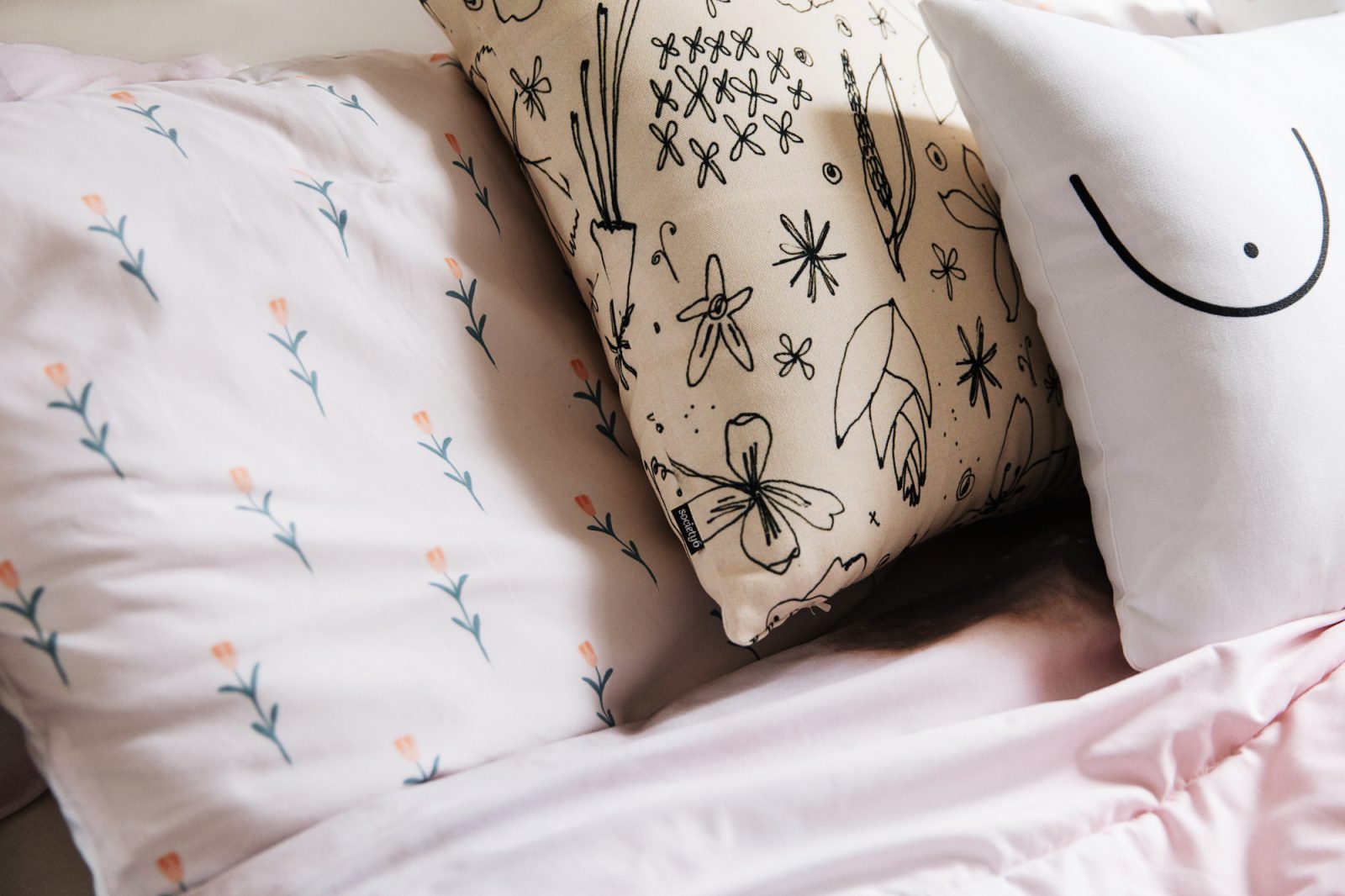 2. Mix things up.
Because my taste happens to change fairly regularly, I like to keep my surroundings eclectic. If there's too much visual consistency throughout my tiny NY apartment, the kinds of additions I'm able to make become even more limited than the space I'm working with. So a varied approach leaves room for all kinds of upgrades. Mixing patterns can add texture and dimension to a space. I chose to combine florals and tie dye with a few Scandinavian-inspired prints.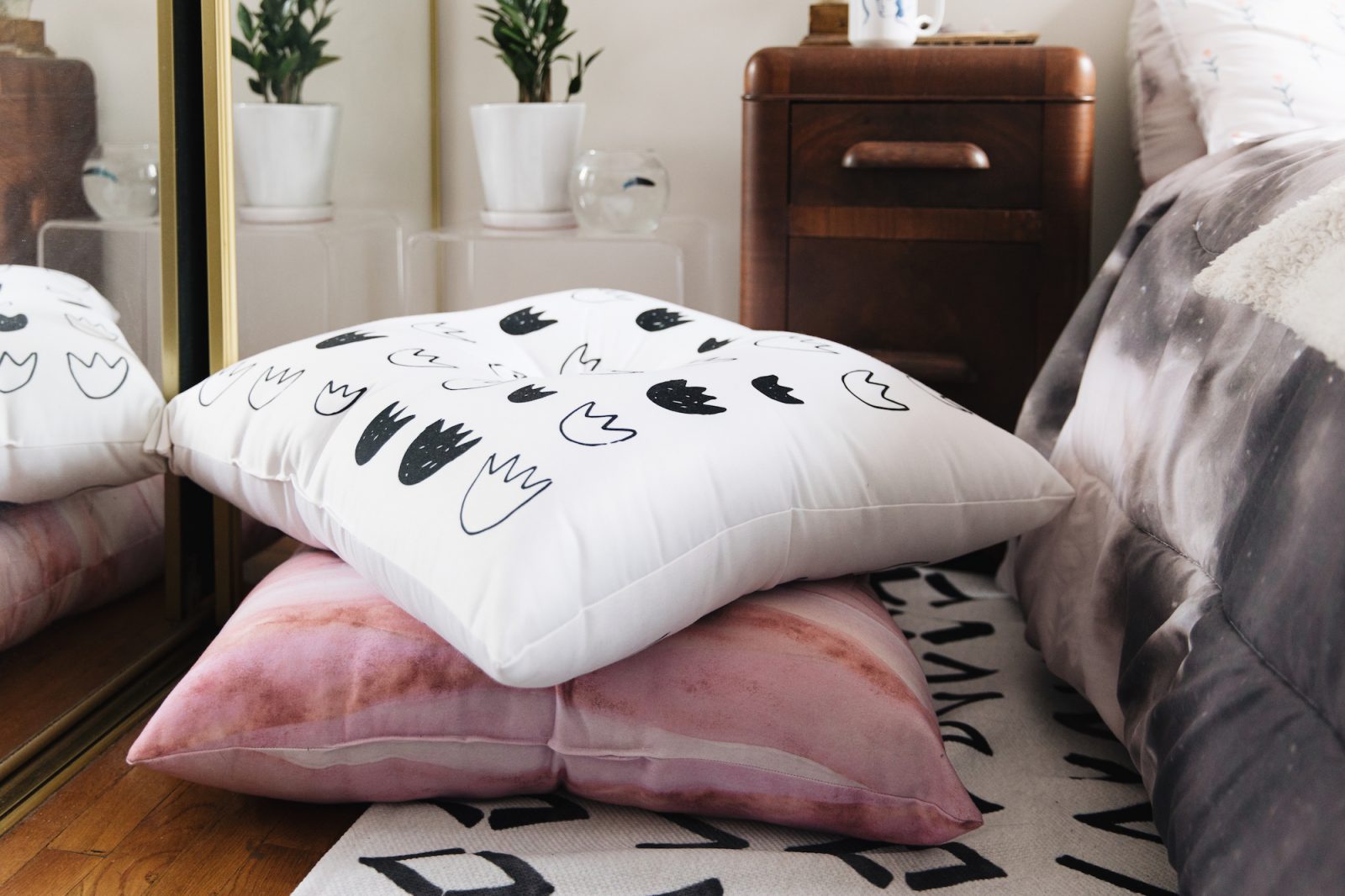 3. Embrace your womanhood.
I'm often drawn to images of women that were created by other women – artwork that has a sense of humor and celebrates rather than sexualizes the female form. Surrounding myself with this kind of imagery reminds me that I can feel comfortable in my own skin – and that I don't need to look like Gigi Hadid to feel pretty.
4. Color correct.
Don't be afraid to energize your bedroom with a few vibrant accents. If you're like me, and tend to shy away from color, you can follow my lead and focus on one particular hue. I eased myself in by choosing a soft pink. But rather than exclusively searching for pink accents (and channeling Barbie's Dream House), I tried to tie everything together by choosing accessories that have some hint or variation of the color.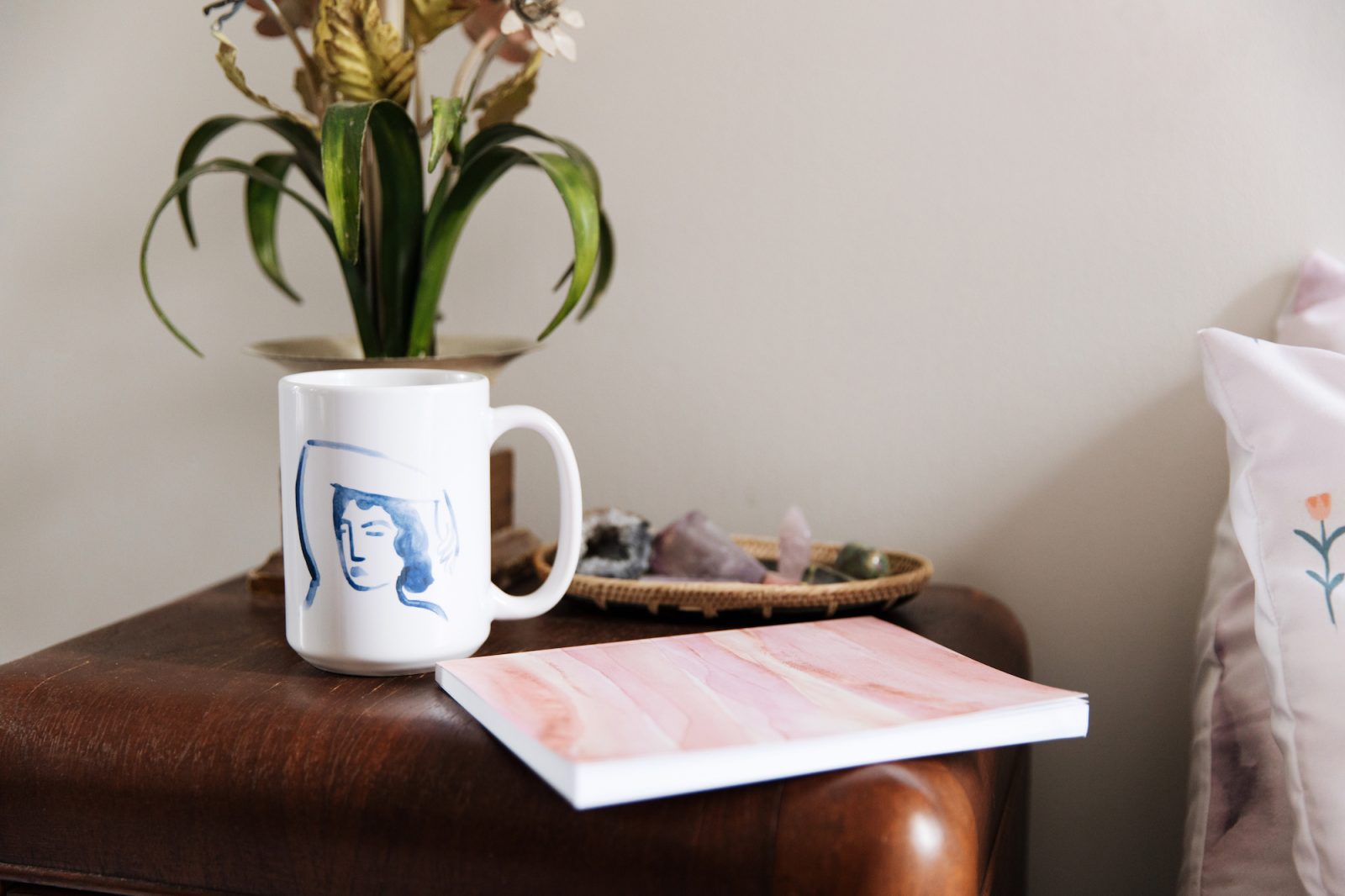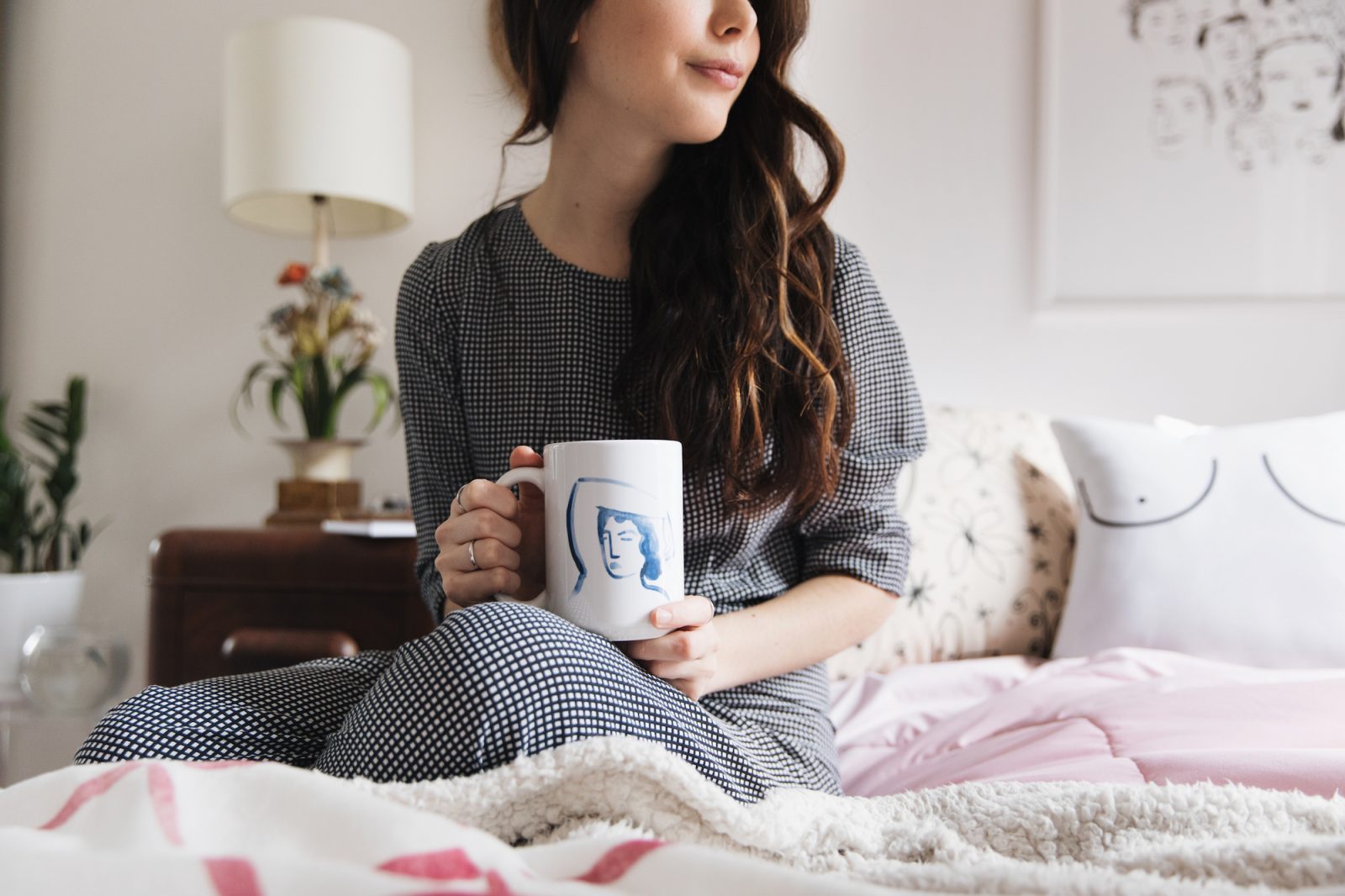 5. Be natural.
Hand-painted prints tend to add a fresh and playful quality that I love. When drawn or painted by hand, even the most geometric prints can feel fluid and organic in a way that digital designs sometimes can't.
6. Stock up on pillows.
Nothing feels quite as cozy as being surrounded by a mountain of cushions. But replenishing and adding pillows also happens to be one of the simplest ways to update a bedroom. And varying by size, color, and print will prevent your space from looking like your parents' guest room. You can also replace your basic, solid pillowcases with a few playful designs.
7. Add some plant life.
My favorite way to breathe life into a room is to literally add life. It only takes a few  potted plants to give the energy in your space a major boost. Bringing nature indoors not only looks beautiful, but it also supports physical and emotional wellbeing.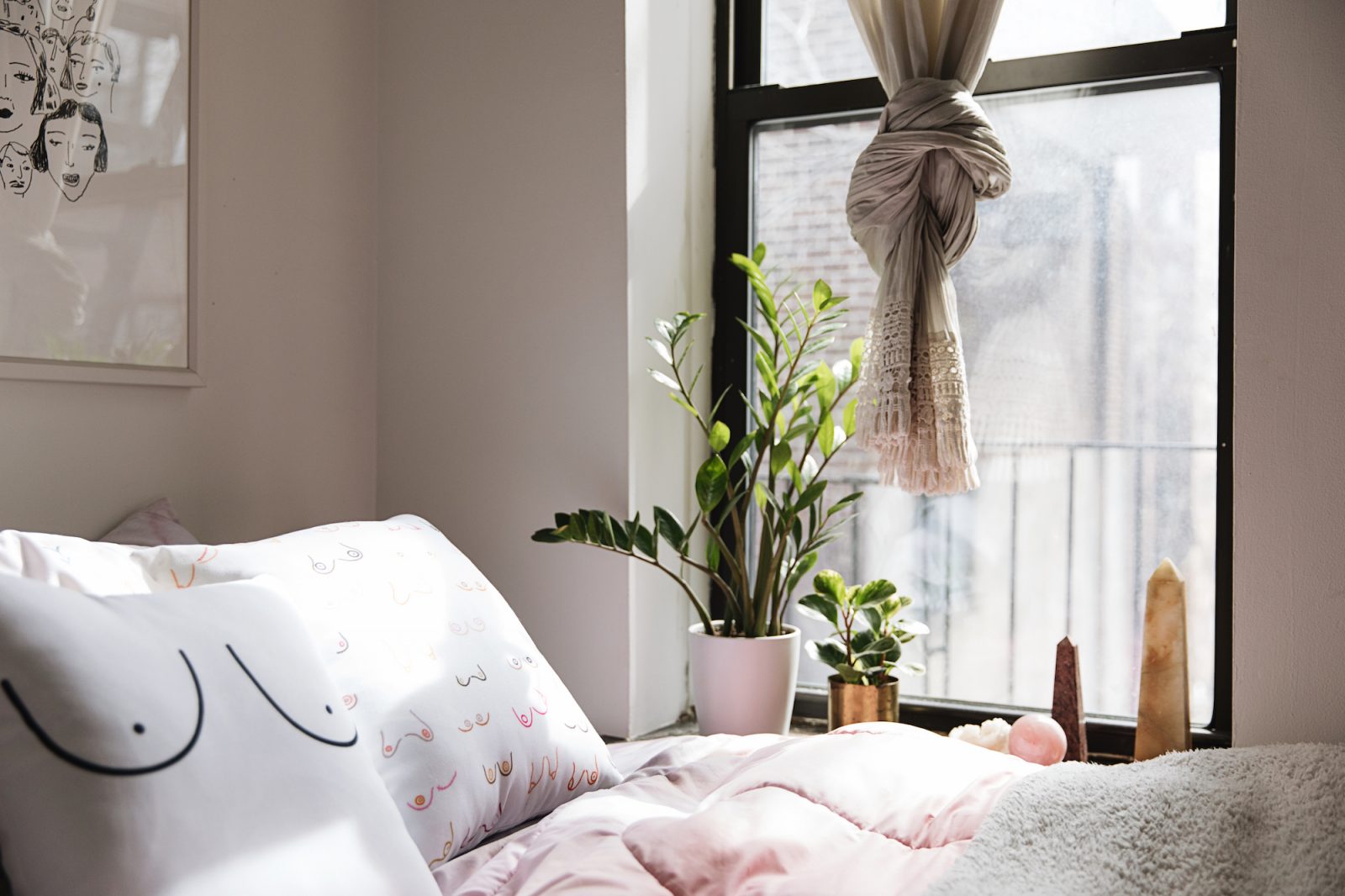 Minimal Boobs Throw Pillow
70
Diamond Pattern Throw Blanket
3
Tulip Garden Floor Pillow
13
by Alexandra Bowman
$18.99
by The Colour Study
$36.99
Watercolor Layers Floor Pillow
31
Watercolor Layers Notebook
31
Pinky Swear Wall Clock
880
by Explicit Design
$30.99
Tiny Flowers Pattern Pillow Sham
All Boobs Are Beautiful Throw Pillow
by You're Welcome Club
$32.99
Flowers Throw Pillow
by Elizabeth Graeber
$29.99