When it comes to dressing your windows, there are so many different types of curtains to choose from! Whether you want something that adds a splash of color, provides privacy, or just adds a touch of elegance, there is a type of curtain that fits the bill. From a sheer curtain to a blackout curtain, or casual drapes to elegant drapes, the possibilities are endless. Buying curtains can be a daunting task, so we're here to break down all the different types you have to choose from.  
We'll explore 16 different types of curtains and discuss their features and benefits so you can find the perfect shade for your space. Keep reading to learn the different types of curtains and what they have to offer.
1) Sheer Curtains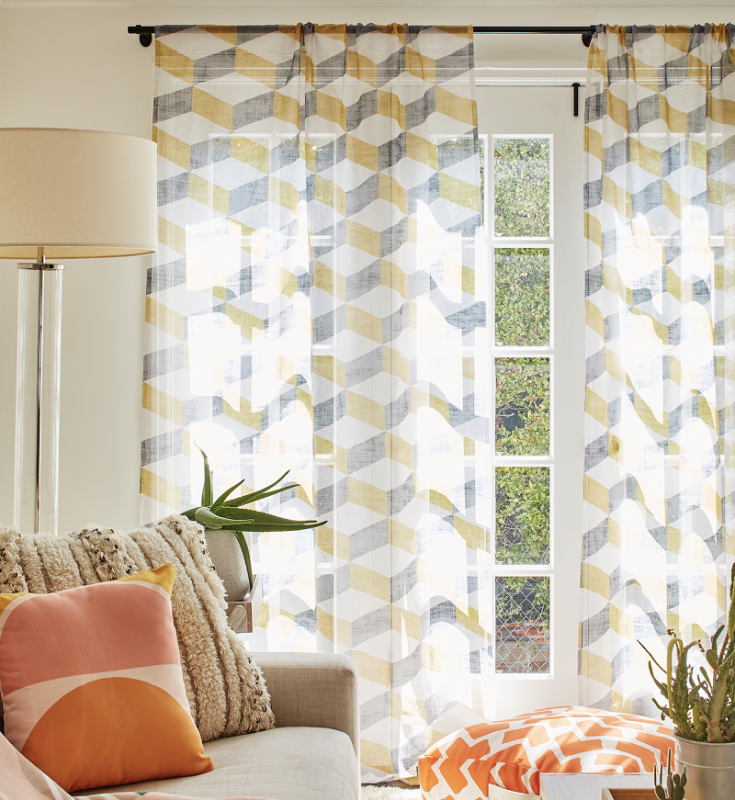 Sheer curtains are one of the most popular window curtain types because of their light-filtering capabilities. They are often used in bedrooms and living rooms because they provide privacy for your home but still allow natural light in. You can find sheer curtains in various colors, fabrics, and styles for any aesthetic. If you want a more dramatic effect, you can layer sheer curtains with other types of curtains. 
2) Blackout Curtains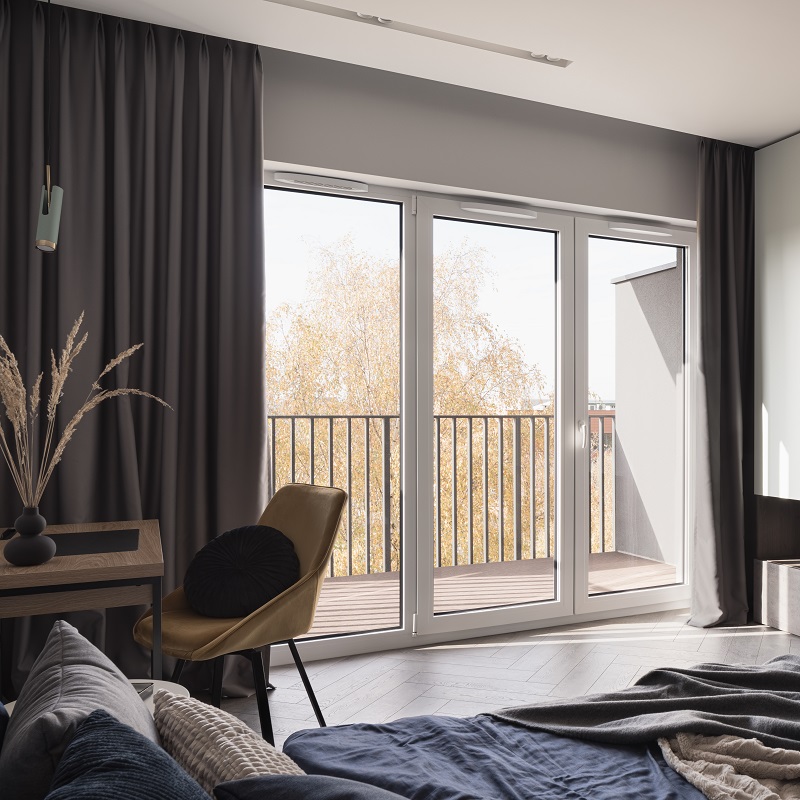 Blackout curtains are great at completely blocking out all sunlight, making them ideal for sleeping spaces or rooms where you prefer complete privacy and no natural light. They are usually made of a heavy material like velvet or a thicker fabric blend to provide maximum light blocking. Blackout curtains are the way to go if you prefer a moody vibe or want to block sunlight from your sleep routine.
3) Single-panel Curtains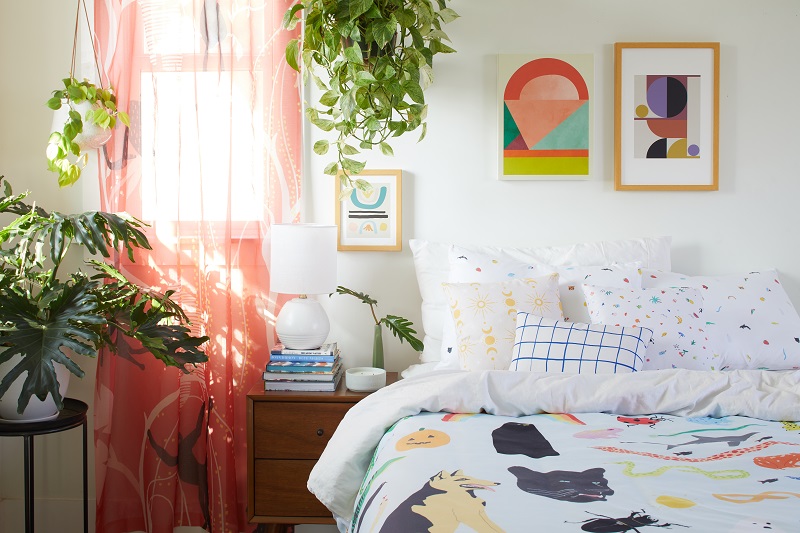 Single-panel curtains typically consist of a single, long panel of fabric that covers a window or glass door. Unlike floor-length curtains, these panels typically stop at the end of the window or door. They are a simple curtain type often used if you have a narrow window that needs dressing. Since the dimensions for your drapes need to be precise, make sure you understand how to measure for curtains before ordering.
4) Double-panel Curtains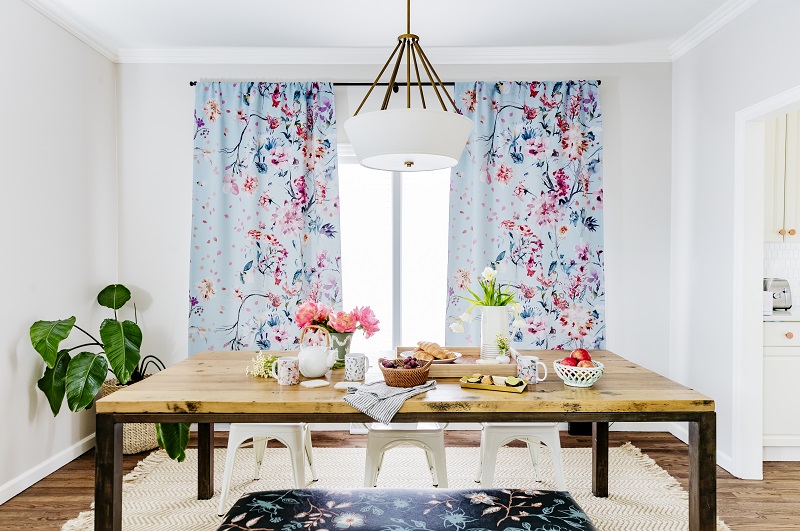 Double-panel curtains are typically better if you have a wider window, as they are composed of two panels of fabric hung on either side of the window. Depending on the type of curtain fabric used, they can be sheer and airy or heavy and insulated. They are perfect for creating an extra layer of privacy and are available in various colors and textures to match any décor. 
5) Insulated Curtains
The Department of Energy has shown that traditional curtains help prevent heat loss from a warm-temperature room by up to 10%. Insulated curtains are even better for energy efficiency because they specifically are designed to keep the heat inside your home during the winter. This type of window curtain is made with two layers of fabric sewn together to form a single panel. The inner layer is typically a thermal insulation material, while the outer layer can come in many different curtain styles. Some insulated curtains even have a reflective coating to add to their energy-saving capabilities. If you live in a place with colder temperatures or just want to keep your heating bill down, opt for insulated curtains.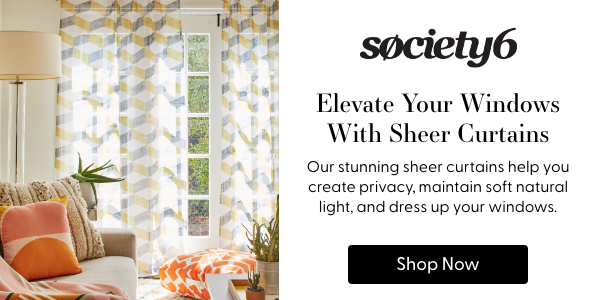 6)  Soundproof Curtains
Soundproof curtains are usually thicker than other types of window curtains and come with extra insulation to block out noise and help you achieve a peaceful environment in your home or office. They can be found in a variety of different styles and fabrics, but they all have one thing in common: noise reduction.
7) Grommet Curtains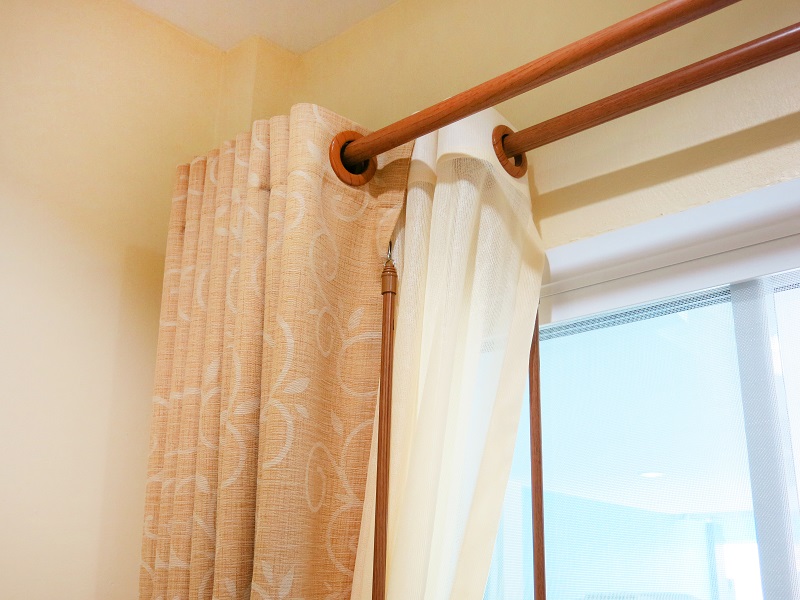 Grommet curtains are made with heavy-duty fabrics and feature metal grommets along the top of the curtain to provide a modern, streamlined look. They are usually quite durable and easy to open and close. Additionally, grommet curtains come in various colors and patterns to match any interior decorating style. Grommet curtains are an ideal choice for any home with their attractive look and simple installation.
8) Tab-Top Curtains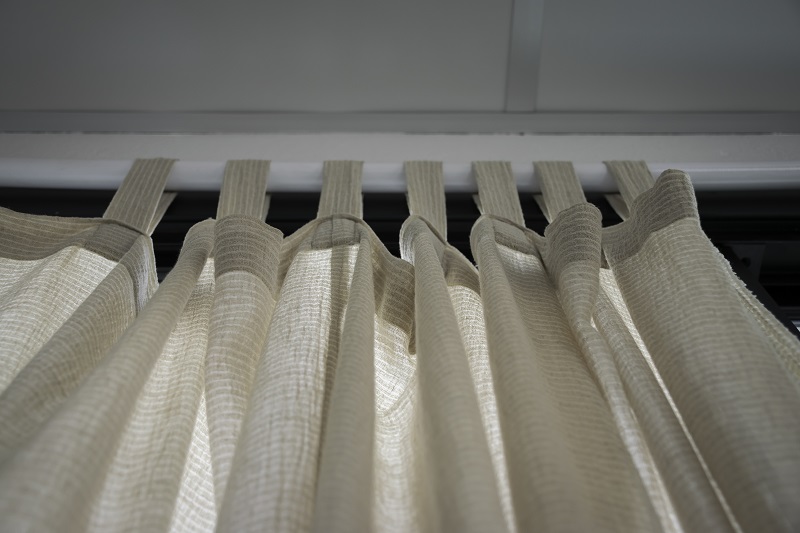 Tab top curtains feature fabric tabs that loop over the curtain rod for easy hanging, making it perfect if you like changing your curtains frequently, depending on the season. Tab top curtains are similar to sheer curtains as they allow for more light and visibility while still providing privacy. 
9) Tie-Top Curtains
Tie-top curtains hang from the rod or track by a series of strings attached at the top and offer a contemporary style you'll love in your home. They come in various colors, patterns, and fabrics, so you're sure to find something to match your home's decor. Hang them alone for a casual, beachy look, or combine them with heavier curtains to soften your windows.
10) Rod Pocket Curtains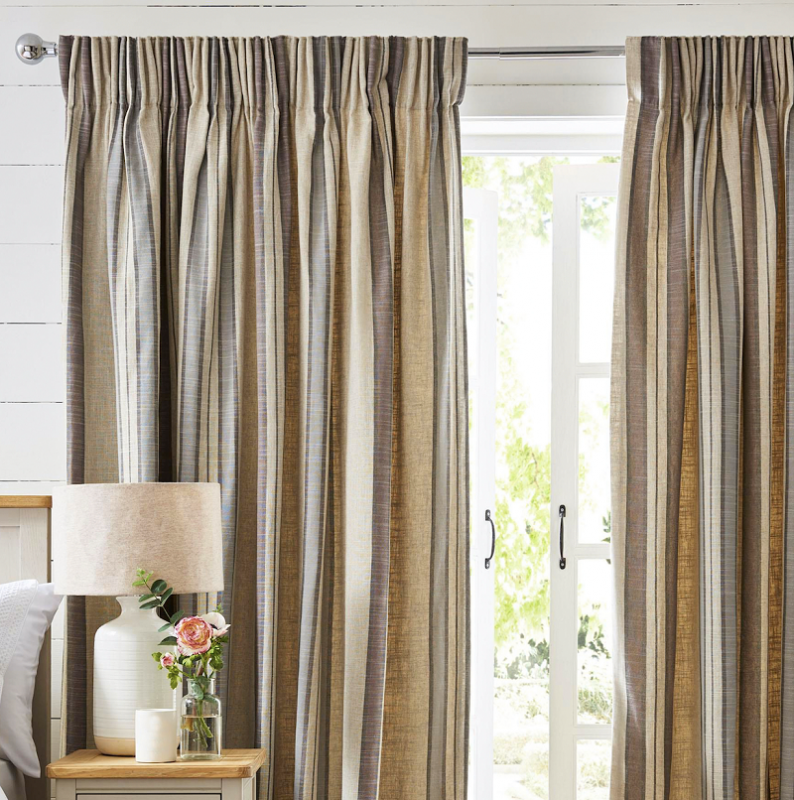 Rod pocket curtains are hung from a rod that slides through the pocket at the top of the curtain. The pocket at the top is sized to fit a standard curtain rod and can be adjusted to fit different sizes depending on your needs. The main benefit of this type of window curtain is that it can easily be changed as needed, making it an ideal choice if you like to switch up your home decor to suit your mood.
11) Pinch Pleat Curtains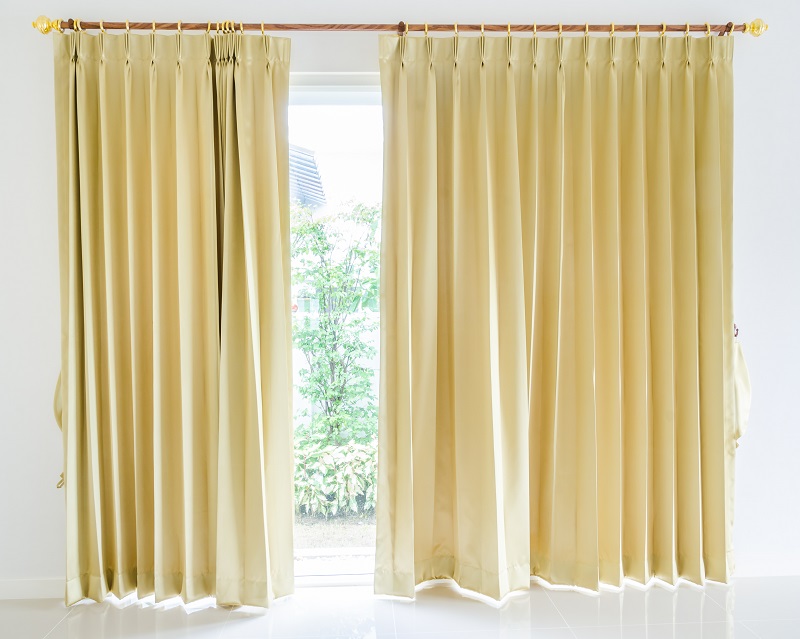 Pinch pleat curtains feature evenly spaced pleats, typically formed with three or four folds. They come in various colors, textures, and styles, and they can be hung using either a rod pocket or a drapery hook. This type of curtain is perfect for creating an elegant, classic look in any room, but it is also versatile enough to fit in with different styles of curtains. For these reasons, pinch pleat curtains are a timeless favorite!
12) Box Pleat Curtains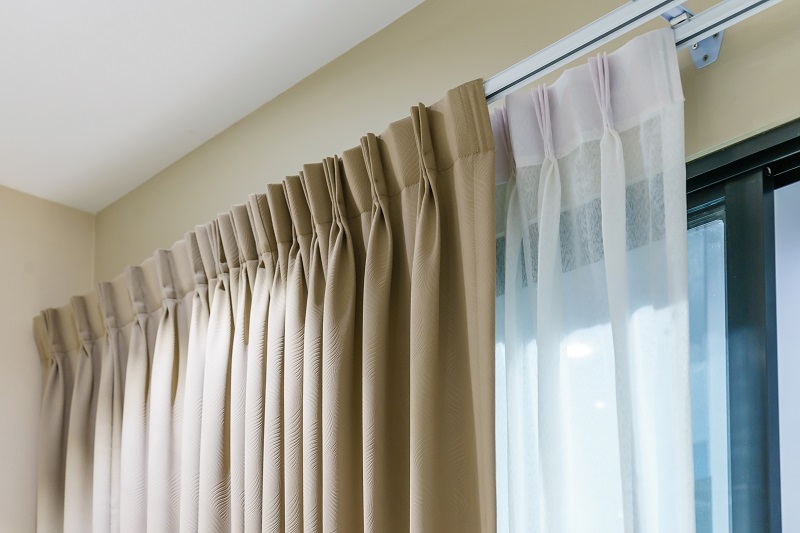 Box pleat curtains feature a square-shaped pleated panel, with the pleats creating a tailored look and fullness at the bottom of the curtain. They are typically hung from a rod attached to the wall or mounted to the ceiling and can be used with different types of curtain rods and decorative hardware, such as rings and finials, to create a unique look.
13) Inverted Pleat Curtains
Inverted pleat curtains feature inverted pleats that run along the top of the curtain panel. This curtain creates a finished, tailored look perfect for formal rooms and settings like a dining room or foyer. Inverted pleat curtains hang from hooks, with the pleats at the top of the panel cascading down for a sophisticated look. 
14) Balloon Curtains
Balloon curtains are ideal for smaller windows as they have a gathered, cascading appearance at the bottom. They have a sleeve at the top that slips over a curtain rod and are often made from lightweight fabrics in light colors. Balloon curtains are perfect for adding an elegant, vintage touch to your room and still allowing plenty of light in.
15) Swag Curtains
Swag curtains feature fabric draped and gathered in elegant folds that can be hung either from a single rod or two rods. They are usually draped in a C-shape, but they can also come in box pleats or other styles, depending on your preference. Swag curtains are perfect for adding softness and visual interest to windows, making them an excellent choice for living rooms, bedrooms, and more!
16) Tier Curtains
Tier curtains hang from a rod and are often used in kitchens and bathrooms. This type of window curtain has two layers of panels, usually with a sheer layer on top. They are typically used with separate curtains or blinds and can be used alone or layered with other types of window curtains. Overall, tier curtains provide a great way to add texture and color to your space while allowing light to filter through.
Find the Perfect Curtain Style at Society6
When finding the perfect window curtain types for your home, Society6 has you covered with sheer or blackout curtains. Our sheer curtains are made with a soft, sheer fabric that lets in natural light while still giving you privacy, and our blackout curtains have a unique construction that blocks out light and noise, creating a darker, quieter atmosphere in any room. 
Shop our wide selection of curtain designs today to find the perfect look for your windows and other home decor!
Sources: 
"Energy Efficient Window Coverings." Energy.gov,

https://www.energy.gov/energysaver/energy-efficient-window-coverings